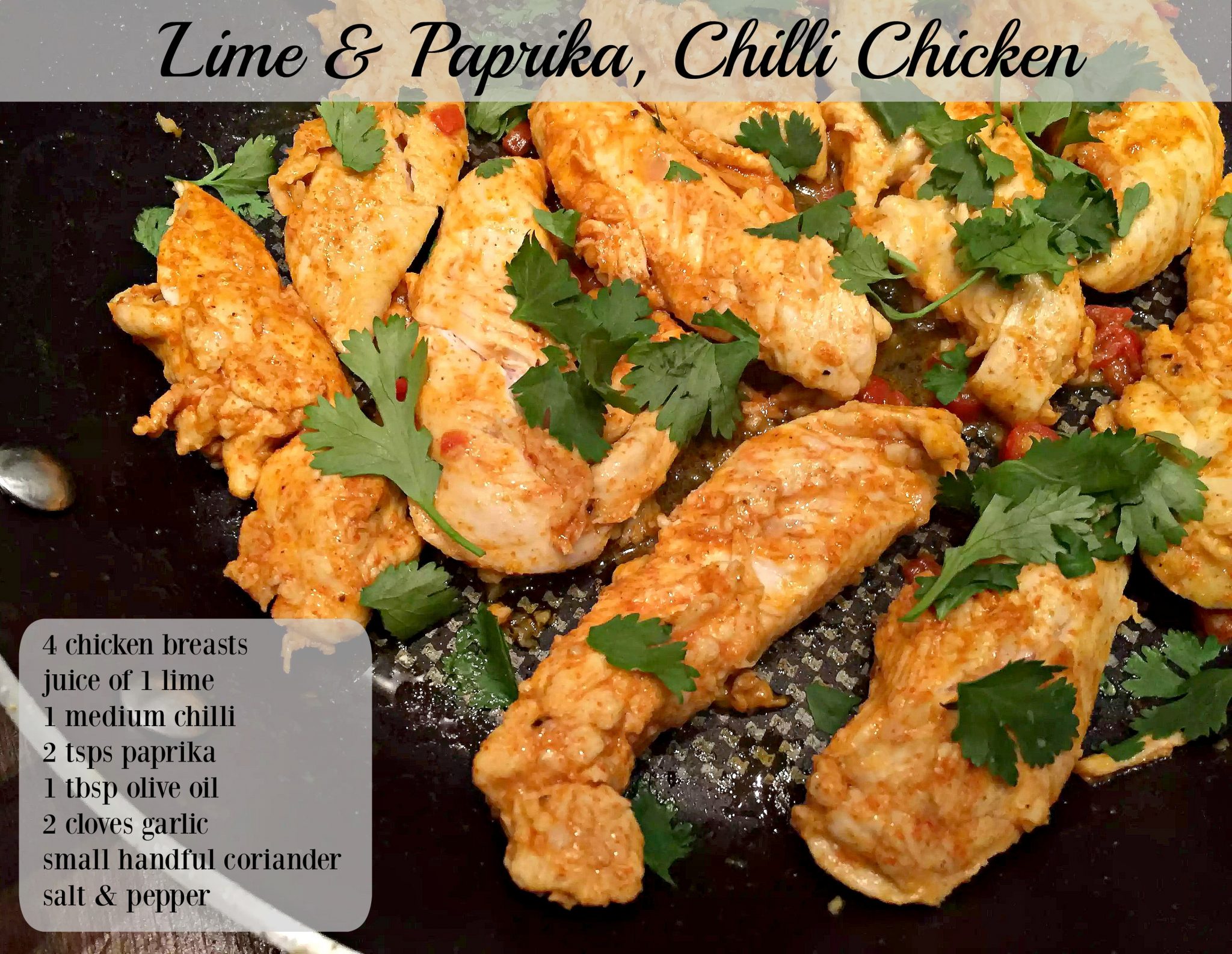 Some nights I need a little inspiration for what to cook for dinner.  On these nights I tend to trawl Pinterest as my go-to site for recipe ideas.  I knew I wanted something healthy and I saw a recipe for paprika crusted chicken nuggets.  I couldn't eat the breadcrumbs of course but the paprika got me thinking.  I've been marinating my chicken in lemon or lime for a while now and I find it really tenderises the meat and makes it really juicy in the final dish so I decided on paprika and lime chicken to try tonight – obviously with some garlic and chilli as well as those two ingredients make any dish better! I started by slicing the chicken breasts into fillets (4 or 5 mini fillets per breast) – so they would get more of the marinade than if it was just to coat the outside of the whole breast.
Then I marinated the chicken in a dish with the olive oil, the crushed garlic, the chopped chilli, the paprika and the lime juice.  I massaged the marinade all over the chicken strips and left it to marinate for at least 30mins – longer if possible.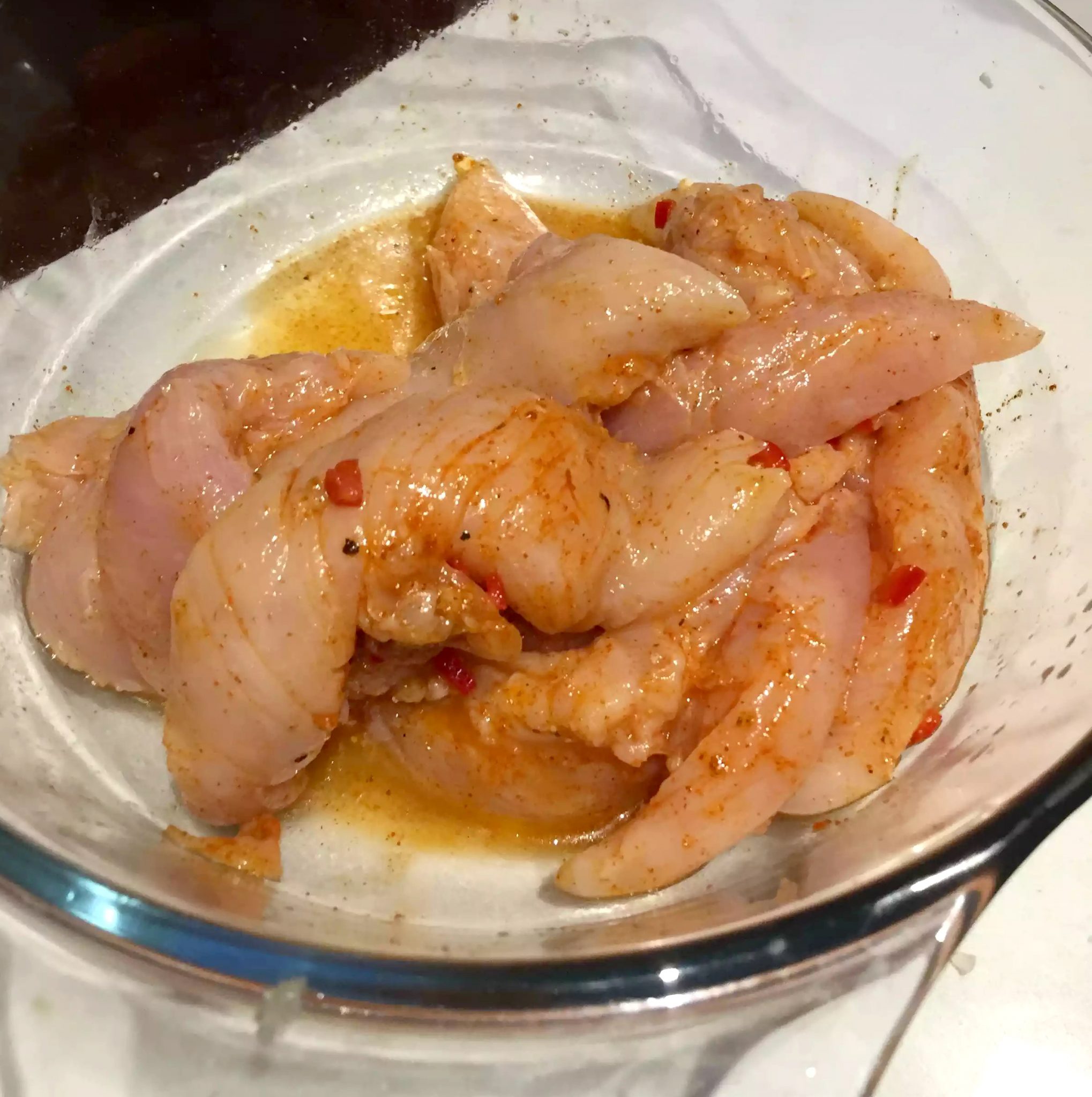 When you are ready to cook, heat up the frying pan – you don't need extra oil as its already in the marinade.  Using tongs, remove the chicken pieces from the marinade and add them to the frying pan to sear them – if you add all the sauce at this point you'll end up just boiling the chicken in the liquid rather than frying it.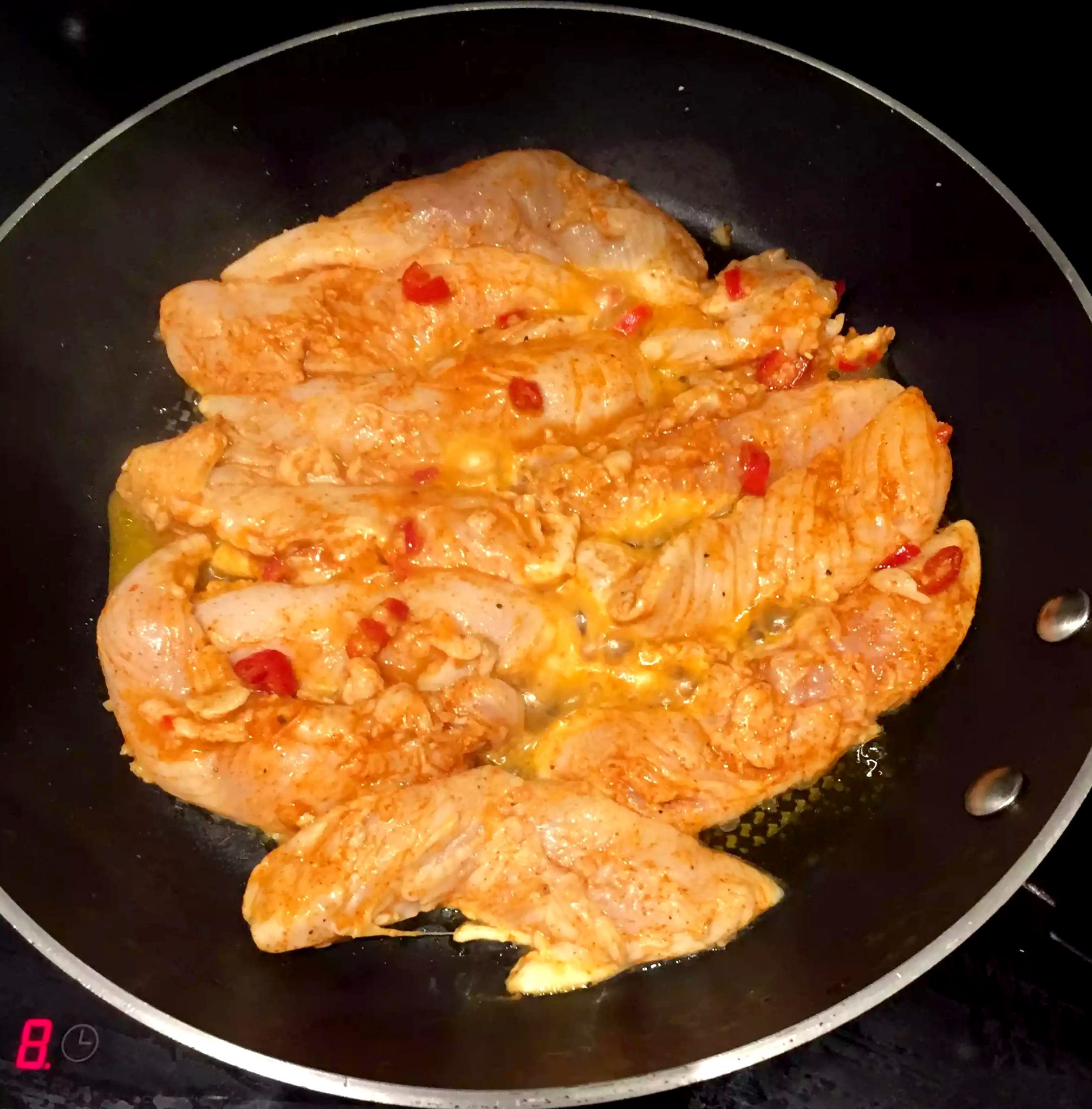 Once the chicken is cooked through (about 5 minutes – so there are no pink bits in the centre) then you can add the remaining marinade and cook for another 2-3minutes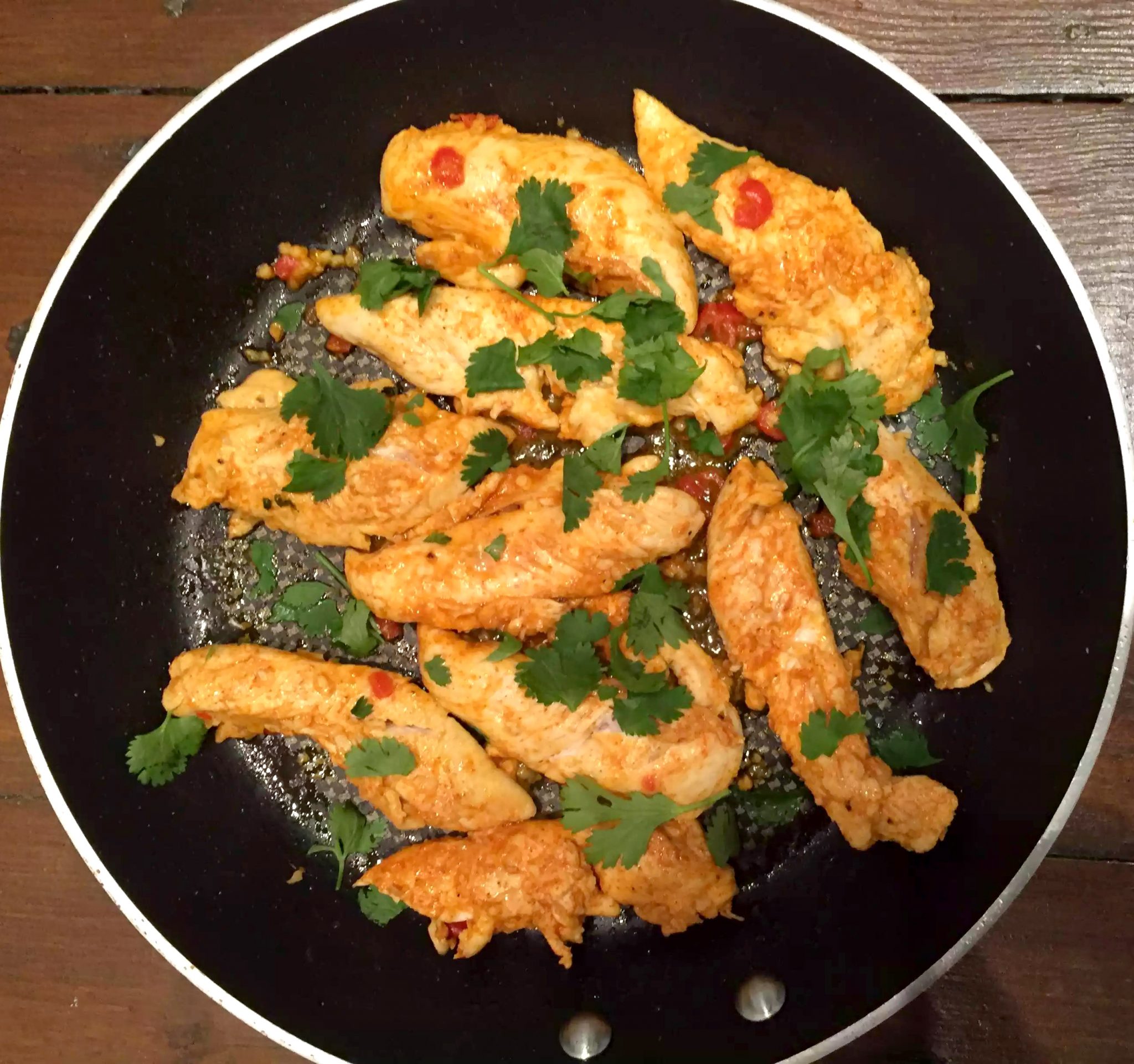 Pull off the coriander leaves from the stalks and sprinkle them over the top over the dish and serve with sides of your choice.  It works great wrapped in lettuce leaves or served on top of a fresh salad.  if you eat bread, you could serve it stuffed into a pitta with some lettuce tomatoes and sour cream.  You could also serve it with butternut squash wedges or steamed broccoli/spinach.  This served 4 of us and I served it with my Kale, Broccoli and Almond Salad for a big punch of leafy green goodness!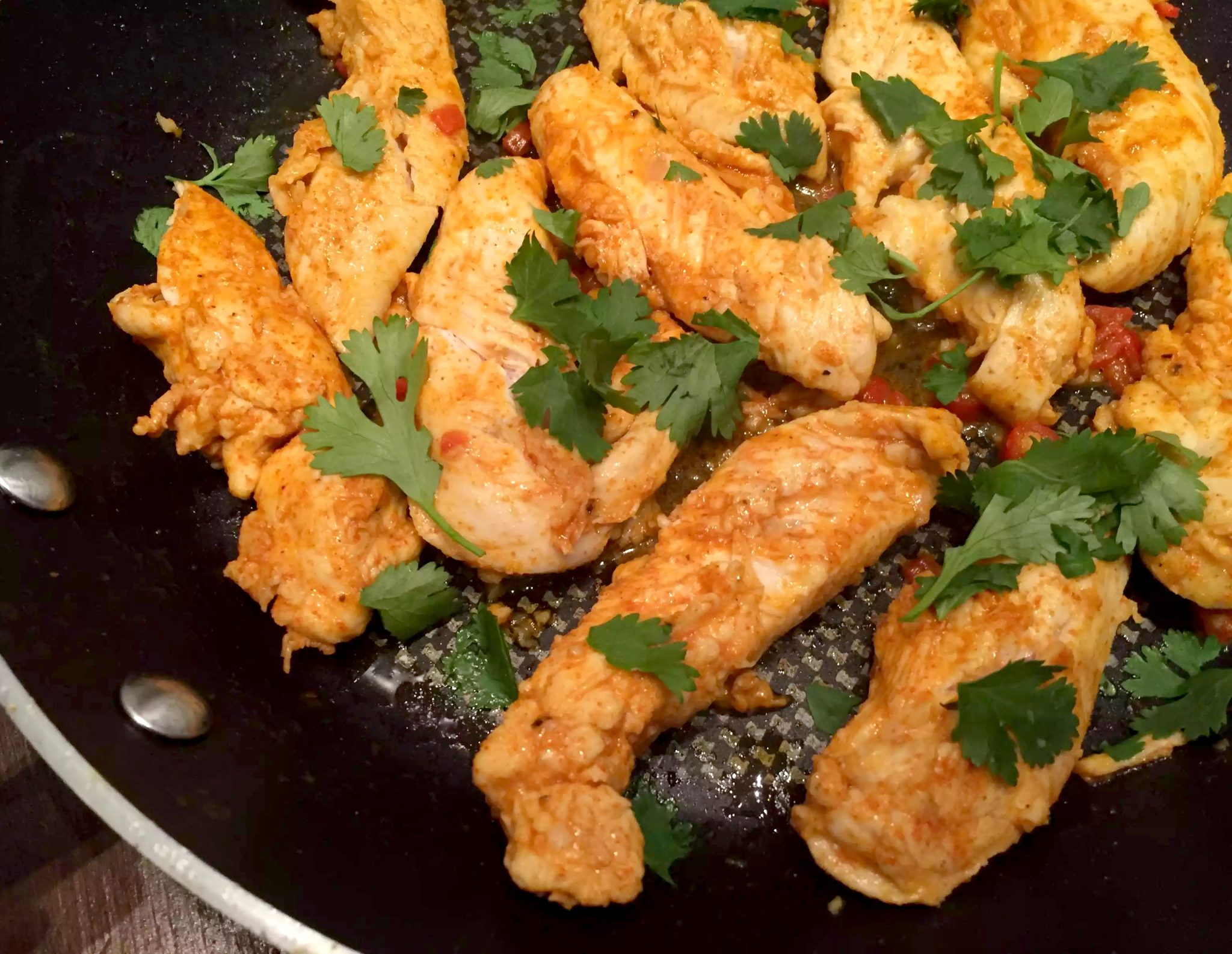 The chicken was deliciously juicy and tender and the flavours of the lime and paprika worked really well together.  It wasn't too spicy but deliciously tangy and with that smoky flavour that the paprika provides.  It would work great as a marinade for chicken fajitas and in fact – I think i'm going to swap my normal fajita seasoning for these flavours next time!