A few weeks ago when I made dinner for my Swedish Friends, I made this Lentil Feta Mint Salad and promised you all the recipe.  Well, I made it again last night and took note of the quantities  this time around to share with you all.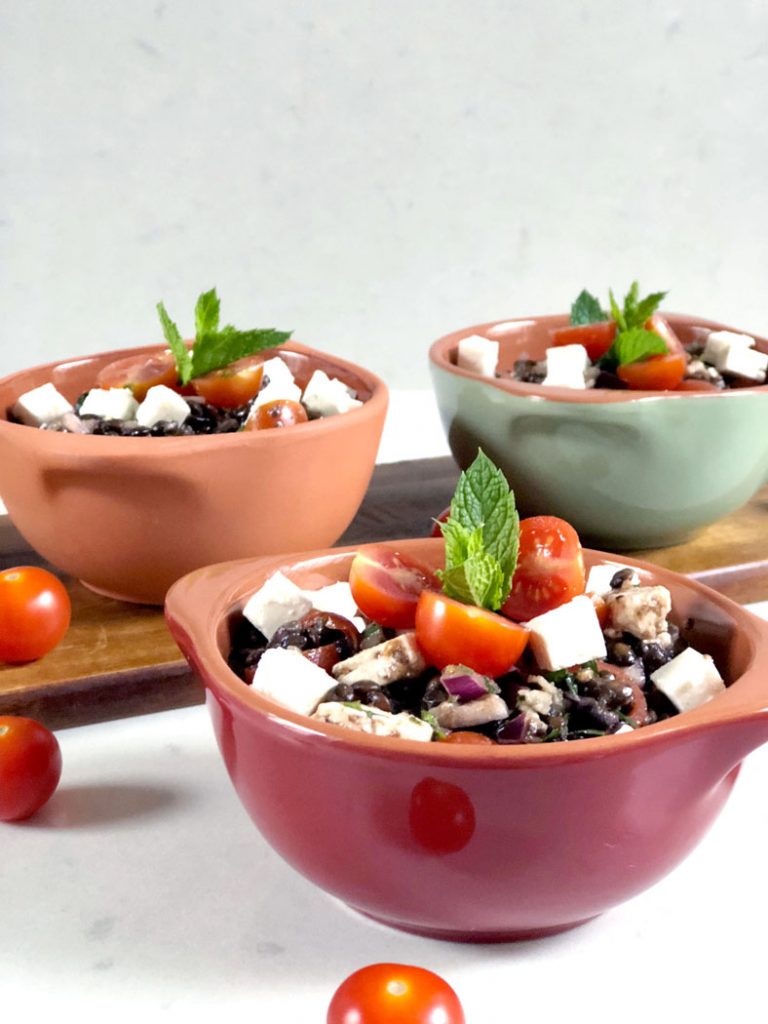 Tonight, we were having some friends round for a BBQ so I made it as a side dish to accompany the meat. I wanted a salad that wouldn't take much chopping and prep work and this salad was amazingly simple.  Dishes which mean I can spend less time in the kitchen and more time with our guests are a firm favourite!
I used pre- cooked Puy Lentils
lentils as the base.  This was mainly because I've never cooked lentils before and was worried they might turn out mushy.  (I think I need to practice cooking them on a night when we don't have guests over!)  I love the al denté, nutty flavour that they lend to a dish like this.  Lentils are fast becoming one of my go to produce ingredients when I need something that feels carby but isn't.  Lentils aren't a problem for me but if you're following strict SCD then you should buy your own dried lentils and soak them overnight before cooking.
I placed the puy lentils
in a mixing bowl and then cut the cherry (grape) tomatoes into quarters.  I diced up the red onion (quite finely), crushed the garlic and added everything to the bowl.  Then, I chopped the mint, added the olive oil and lime juice and mixed all the ingredients together.  I then cubed up half of the feta and stirred this through the salad.
Next I seasoned it well with a bit of salt and plenty of black pepper and I spooned it into the serving dishes.  At this point I topped the dishes with the other half of the cubed feta and they were ready.  It's a lovely fresh, light summer salad but packed full of protein from the lentils to keep you full for ages!  The feta gives it a lovely tanginess, but if you can't eat cheese then you could leave it out altogether or substitute it for something like avocado.  It served 6 of us as a side with the BBQ (although there was so much food, including Dan's Legendary Chilli Burgers that everyone probably had a smaller than normal portion) aswell as having enough left over for 2 portions at lunch the next day.  Depending on your serving size I'd say it's probably enough for 6 generous portions.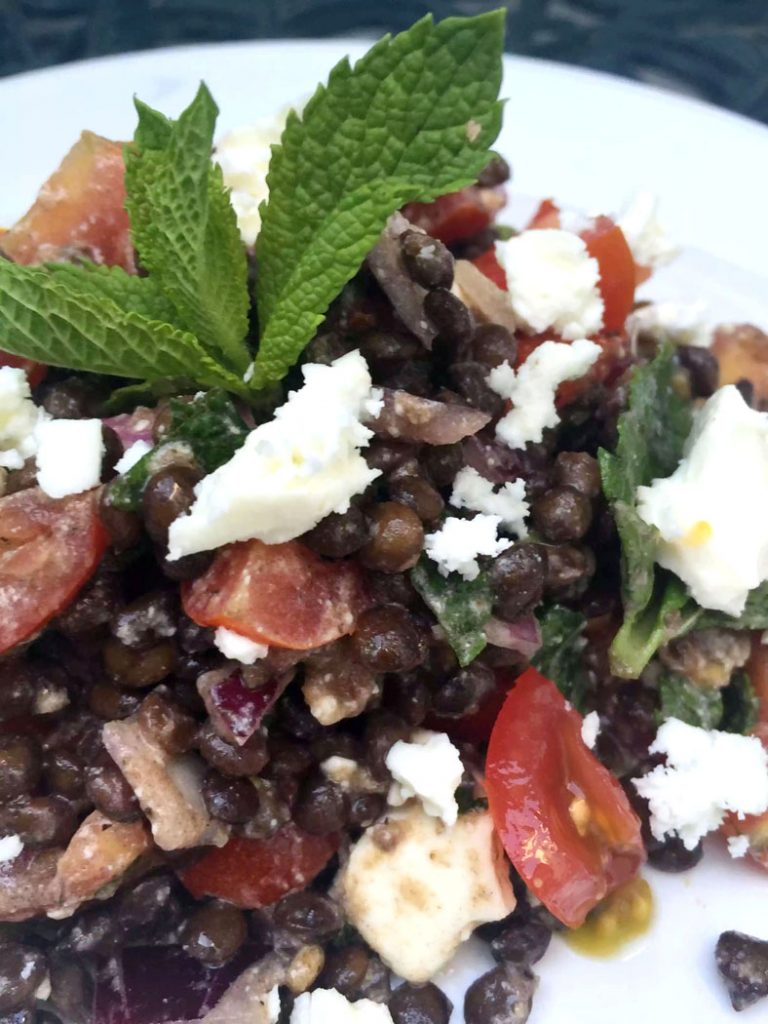 It keeps really well in the fridge for a few days and it's one of those dishes that tastes even better the next day after the flavours have had time to combine.  If you like this you'll  love my Cauliflower Rice Tabbouleh which has very similar flavours or if you're after a heartier dish then my Warm Lentil Salad with Bacon & Thyme is comfort food in a bowl!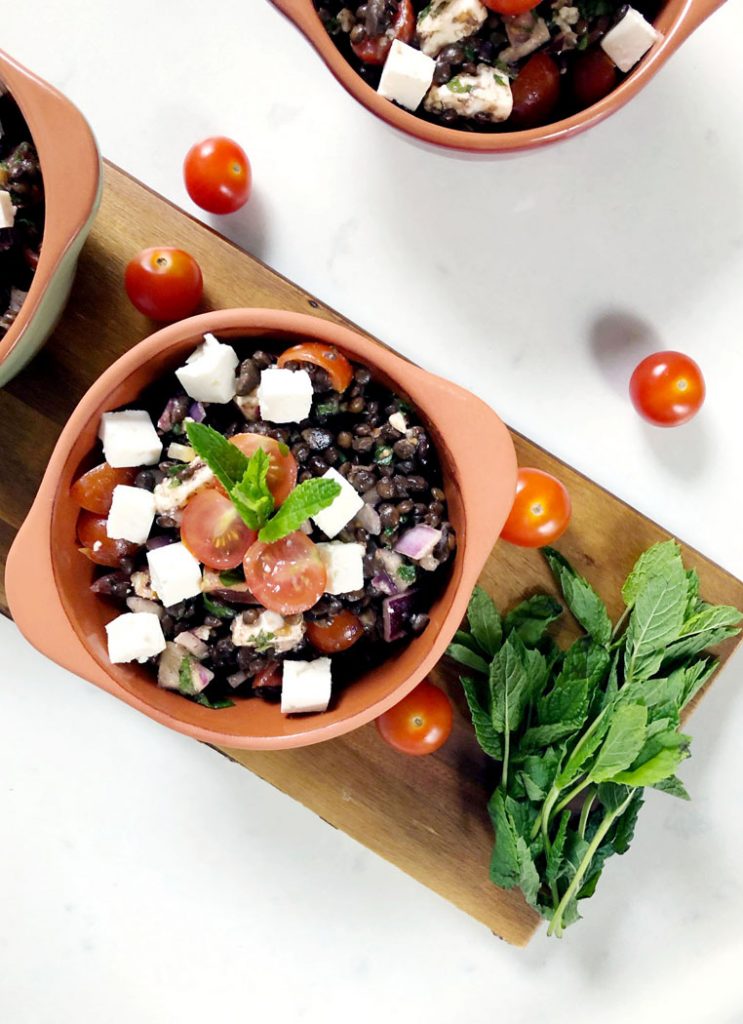 | | |
| --- | --- |
| | |

Quarter the cherry/grape tomatoes, finely dice the onion and crush the garlic.

Finely chop the mint leaves, cube or crumble the feta cheese.

Add the tomatoes, onion, garlic, mint and half of the feta to a bowl with the puy lentils.

Add the olive oil and lime juice and mix well.

Season well with salt and black pepper.

When ready to eat, top the dish with the remaining feta cheese and serve.
Dietary & Allergy Information for Lentil Feta Mint Salad
This Lentil Feta Mint Salad is are Grain-Free, Gluten-Free & Refined-Sugar Free.  Also suitable for Vegetarian, Low Carb & SCD diets.
See my Products Page for Ingredients & Bakeware that I recommend.
Pin Lentil Feta Mint Salad for later