I love finding great local producers and we have just discovered a wonderful seafood supplier down the road from us in Islington, London.  I'd had my heart set on Moules Marinières for a special Anniversary evening with Dan so I sent him off while I was at work to purchase the mussels.  Later that day I got a text from him saying they had some really nice Razor Clams in too so he bought some of them aswell!  Panic!! What on earth was I going to do with Razor Clams?   I'd never cooked them before and only ever eaten them once or twice.  Whenever I'd had them they were drenched in garlic butter so I turned to the internet for some inspiration.  I found a lovely recipe for Gratinated Razor clams which I thought sounded really interesting.  I'm not normally a fan of cheese with shellfish but I thought I'd give it a go.  It was new ingredient, a new way of cooking it and a flavour combination I wasn't sure about…what could go wrong? (lol).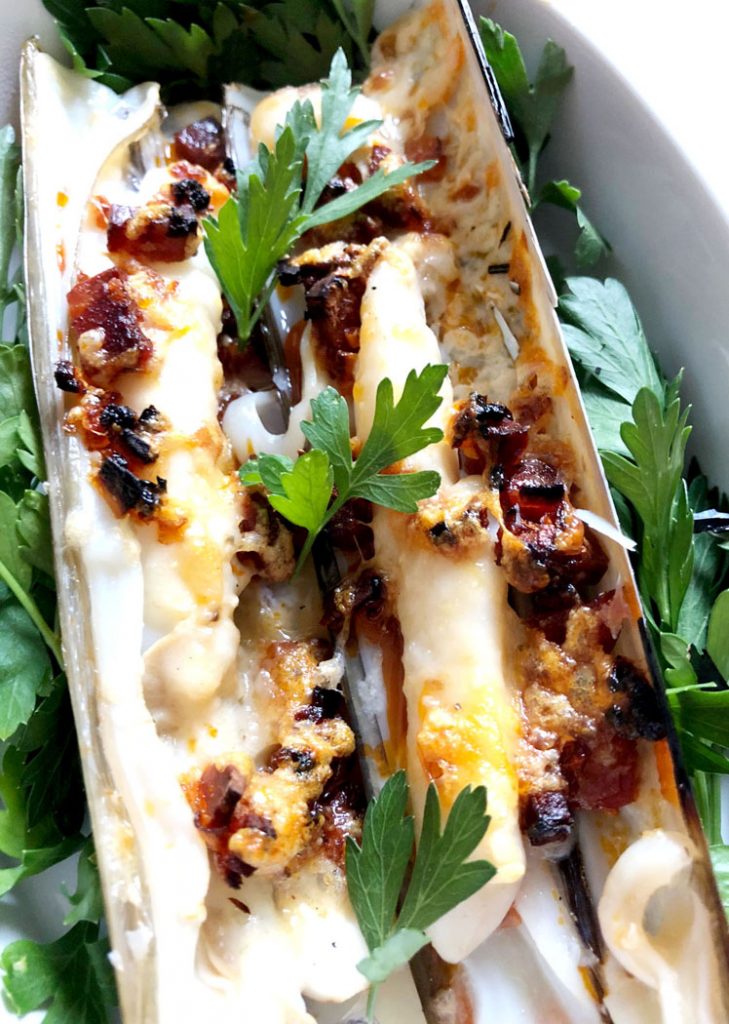 I arrived home and while looking through the fridge I stumbled upon some Chorizo
.  I'm a big fan of chorizo with everything and it's in so many of my recipes.  I thought the smoky, spiciness would add an interesting element to the dish and maybe tie the cheese and the seafood together a bit better and so Gratinated Razor Clams with Chorizo it was!
Firstly, I finely diced the shallot and crushed the garlic.   I chopped up the chorizo into very small pieces and heated the oil on a medium heat in a frying pan.  Next, I fried off the shallots, garlic and chorizo until the shallots and garlic were soft and the chorizo was slightly browned.
Now onto the Razor Clams.  I have to confess to watching a YouTube video as I had absolutely no idea how to prepare them!  You start by slicing along the membrane on one side of the shell to allow you to open it up.  There is one part of the inside that is inedible, the stomach.  It's fairly obvious as it is a brownish colour and you need to scrape this out and discard it.  Then I rinsed the clams well under cold water to ensure there was no sand inside them.
Next, I turned on the grill to heat up while I prepared the razor clams.  I spooned the chorizo, garlic and onion mixture into the open shells.  Then I topped each one with the grated Parmesan.  I grilled the Gratinated Razor Clams on high for about two minutes until the cheese was browned.  I sprinkled over a bit of fresh parsley as a garnish to add some colour, added some salt and black pepper and then they were ready to serve.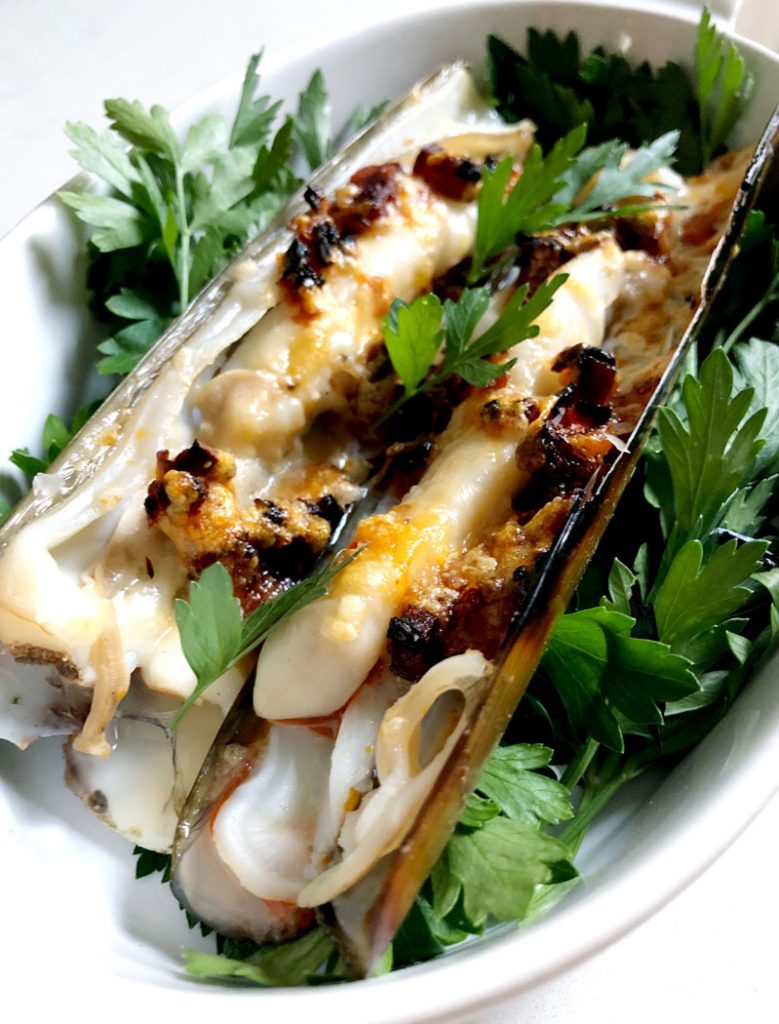 Two of these each was the perfect amount for a starter as we had a huge bowl of Moules Marinières as a main course.  I would suggest maybe 5 or 6 per person if you were doing this as a main dish.  Having been a bit skeptical at the start, they were absolutely delicious.  The Razor Clams themselves don't actually have a great deal of flavour, so pairing them with the chorizo and Parmesan was a great way of making a delicious dish.  We both agreed they'd make an impressive starter at a dinner party.  The prep can all be done in advance and the actual grilling only takes two minutes so they are quick and easy to make once your guests arrive.
Give them a go and try a new ingredient this week!  I'd love to know what produce you have been fearful of cooking with before.  Trying something new has got me thinking about what else I should give a go.  Snails?  Sea Urchins?  Leave me a note in the comments and I'll try to incorporate your ingredient into a future recipe!
| | |
| --- | --- |
| | |
Finely dice the shallot and the chorizo and crush the garlic.

Heat the oil in a frying pan on a medium heat and fry the shallot, garlic & chorizo for about 5 mins.

Prepare and clean the razor clams (see main recipe post for details).

Spoon the chorizo, shallot & garlic mixture into the open razor clam shells.

Top with grated parmesan and grill for about 2 mins until the cheese is browned.

Season with salt and black pepper and serve garnished with fresh parsley.
Dietary & Allergy Information for Gratinated Razor Clams with Parmesan & Chorizo
These Gratinated Razor Clams with Parmesan & Chorizo are Grain-Free, Gluten-Free & Refined-Sugar Free.  Also suitable for Paleo, Low Carb & SCD diets.
See my Products Page for Ingredients & Bakeware that I recommend.
Pin Gratinated Razor Clams with Parmesan & Chorizo for later