As the weather is getting colder I thought it was time to get out and dust off my Slow Cooker
which hadn't been used since last winter!! I love soup, it's such an easy way to get a lot of vegetables into your diet and I often make a huge batch and take it to work with me to have for my lunches.  I decided on Roasted Butternut Squash Soup as it's hearty and filling and so easy to make, especially if you do it in the slow cooker.  You just chop everything up and leave it to cook overnight and then blend it the next day.
I decided to add cumin because I love the smoky, spicy flavour that it adds and it goes so well with butternut squash and chilli.  And as autumn is here, I knew I wanted to make soup with the abundance of squash that is in season and in the shops now.
Butternut squash is notoriously difficult to prepare but if you have a sharp knife it doesn't take too long (just watch your fingers!).  I love the flavour of it and eat it at least once a week.  I use it in my Butternut Squash & Chorizo Frittata, in my Roasted Vegetables and I mash it as a side.  Because of this I've developed my own easiest way to prepare it.  I like to chop off either end and then use a potato peeler to remove the skin.  Then I slice it into rounds, about 1/2 an inch think and then slice each one of those into pieces (make sure to remove the seeds – you can roast them in the oven alongside the squash with some cumin or other spices for a tasty snack).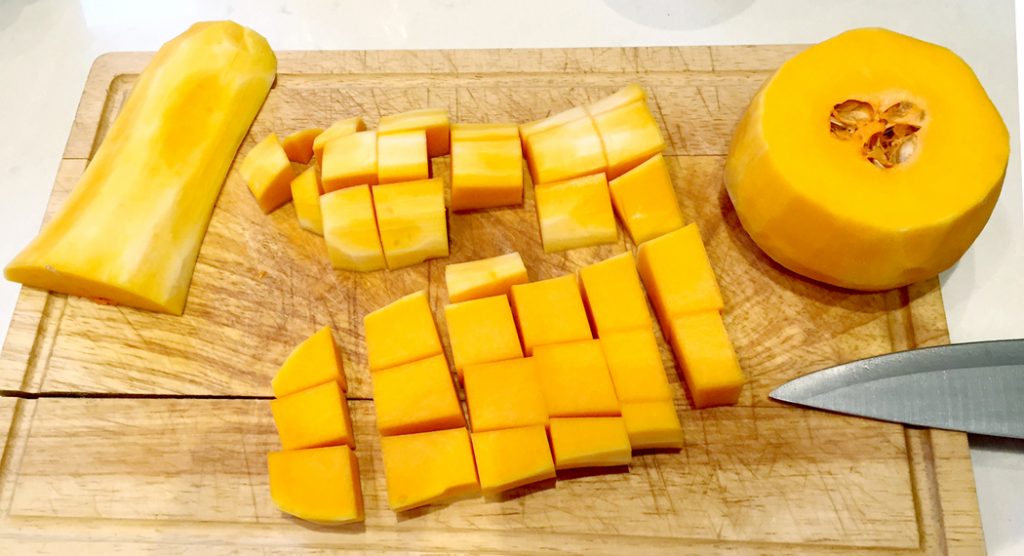 So how to make it… I like to roast the squash first but you can skip this first step if you like.  You can just add the squash raw to the slow cooker and it will cook down there.  However, I like the smoky chargrilled flavour that roasting it first, adds to the final soup.  To roast the squash you preheat the oven to 180C (350F) .  Then you drizzle the olive oil over the chopped pieces and add plenty of salt and pepper.  Make sure the butternut squash pieces are well coated and roast them in the oven for about 40-45 mins.  You can check out  My Ultimate Guide to Roasting Vegetables for more information.
Next, put the roasted squash in the slow cooker with the roughly chopped onion, garlic and chilli.  Net, add the cumin powder and 3/4 of the chicken stock.  Turn the slow cooker onto warm and leave everything to simmer overnight.  You could always achieve this step with an hour's cook time on the stove top on a high heat.
The next morning I awoke to amazing smells and everything in the slow cooker was cooked through and tender.   All I had to do was blend it in my food processor or with a Hand Blender
.  I added the last 1/4 litre of chicken stock at this point to thin it down to the right consistency but you can add more or less to suit your preference.  After a quick re-heat your Roasted Butternut Squash Soup will be ready to serve.
I served it with a tablespoon of Greek yoghurt and garnished it with a piece of chilli and a drizzle of my homemade rocket pesto.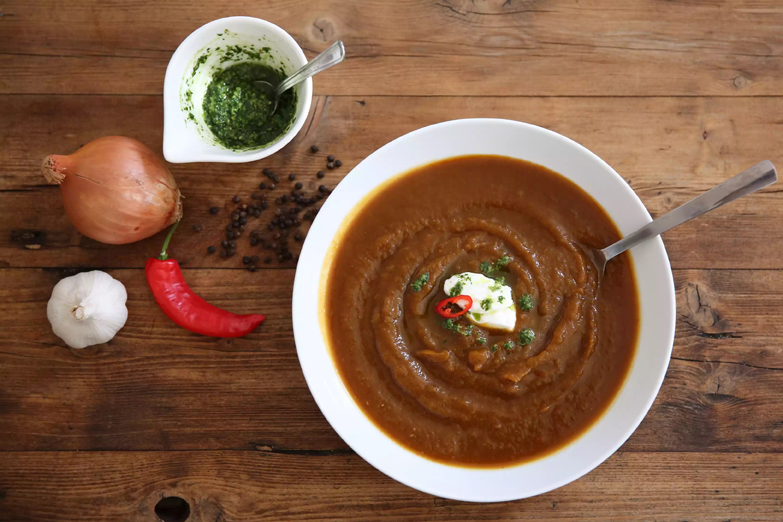 This Roasted  Butternut Squash Soup can be made vegetarian or vegan even, by using vegetable stock instead of chicken stock.  To make it dairy free, jut leave the toppings off, or drizzle some chilli oil on the top.  It was absolutely delicious and made 4 large servings but could serve 6 as a starter.  A much nicer lunch at work on a chilly day than a salad from the shop next door.  It tasted smoky and sweet and spicy all at once and was deliciously smooth and warming. I'm definitely going to be trying other soup combinations over the coming winter months!  I like to serve it with some of my toasted Grain Free Bread!
What's your favourite soups to make at home?  I need some inspiration for flavours to try next!!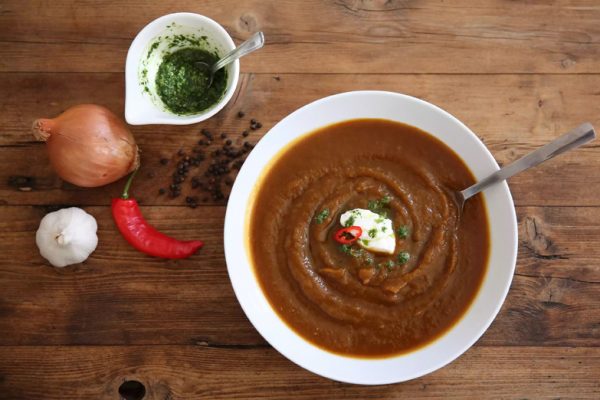 | | |
| --- | --- |
| | |
Roasting the Butternut Squash
Preheat the oven to 180C (350F)

Peel, de-seed and chop the butternut squash into 1/2 inch cubes.

Place the cubes on a baking tray and drizzle over the olive oil and plenty of salt and pepper. Make sure the butternut squash is completely coated.

Roast in the oven for 40-45 minutes until soft and browned.
Roughly chop the onions, chilli and garlic and add to the slow cooker along with the butternut squash.

Add 750ml of the stock and the cumin powder.

Season and switch on the slow cooker to medium for about 8 hours.

Once the soup has cooked, blend with a stick blender or in a food processor to liquidise.

Season well with plenty of salt and pepper to taste.

Add the remaining stock (as much or as little as you need) to thin the soup to the right consistency.

Heat through before serving and serve garnished with whatever you choose, cream, yoghurt, pesto, chilli etc.
Allergy & Dietary Information for Roasted Butternut Squash Soup
This Roasted Butternut Squash Soup recipe is Grain-Free, Gluten-Free, Dairy-Free & Refined-Sugar Free.  It's also suitable for SCD, Paleo, Whole30, Low Carb, Vegan & Vegetarian Diets.
See my Products Page for Ingredients & Bakeware that I recommend.
Pin it for later