How about a special Valentine's Day Menu that's completely Grain-Free, Gluten-Free and Refined Sugar-Free but still incredibly tasty?  Think such a thing doesn't exist?  Read on to find out how you can create a meal that's delicious and healthy and super impressive…
We're spending Valentine's Evening at home this year as we didn't want to pay the extortionate prices for a set-menu of mediocre food and wine.  Our plan is to meet after work and go for a special cocktail somewhere on the way home.  Then we'll head back and cook our own delicious dinner in for the two of us.  We can light the fire/watch a movie/drink a really lovely bottle of wine from the case that we bought back from Montalcino this summer.  Much nicer than being crammed into a restaurant with 30 other couples all trying to be romantic!  Plus this way I know I am going to be eating healthy yet indulgent dishes with no gluten or sugar to make me feel awful the next day.  I've created this Valentine's Day Menu with a few options on it so there's sure to be something for everyone!
The Valentine's Day Menu
All good evenings start with a cocktail and I would suggest starting with my Pomegranate Bellini – a great way to set the tone for the evening.  Bubbles are always a great way to start the night and this has only natural ingredients in it – no sugary syrups in this cocktail!  Just make sure to get a Brut Champagne as that's the driest, so it wont have the added sugar – or you could add the syrup to dry white wine instead!
Alternatively, if you fancy something with a bit more of a kick, how about my Mezcal Margarita?  It's smoky, spicy and sharp and the perfect aperitif.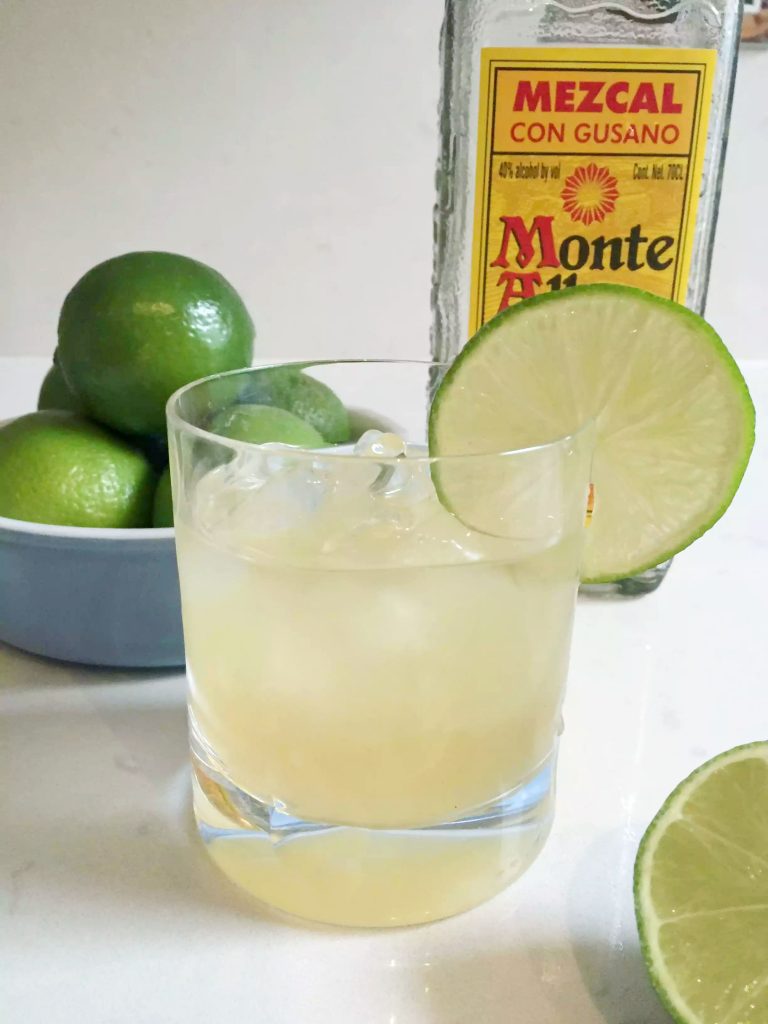 Canapés
While you're cooking, and with the cocktail I would suggest an appetiser or canapé.  There's nothing yummier than a bit of finger food you can munch away at while preparing the main.  Helps to stave off the hunger pangs too!  One of my favourites is my Courgette (zucchini) Pizza Bites (top them with your favourite toppings).  These feel really decadent without filling you up for the main course.  I also love my Prosciutto Wrapped Roasted Asparagus.  It's crunchy and salty and really gets the juices flowing for the next course!
Starters
I like to begin with something light for a starter.  There's always the classic soup option and my Spicy Roasted Butternut Squash Soup with Cumin hits the spot!  Warming and just a little bit spicy, I always love a soup to start a meal as it doesn't fill you up too much.  Or how about my Roasted Figs with Goats Cheese & Crispy Prosciutto.  Tangy, salty, crunchy and sweet it really does have everything.  If you can't eat the goat's cheese you could always substitute it for feta or a blue cheese or brie?
Main Courses (Entrees) & Sides
At the moment I'm torn between two dishes for the main course, Duck Confit with Pomegranate Molasses or Asian Style, Sticky, Sweet Chilli Salmon with Sesame Seeds.  The Duck Confit looks so special yet it's so easy to make.  And the added bonus is, if you make the Pomegranate Bellini then you will already have the Pomegranate Molasses for this dish!  It really is a bit of a showstopper and the perfect romantic meal.  It'll make your other half think that you slaved for hours in the kitchen over it!  Then there's my Sticky, Sweet Chilli Salmon.  Much faster and easier to prepare (without so many steps) it still tastes pretty decadent.  At the moment I think I'm swinging towards this one as it's a bit lighter.  With a canapé, starter, main and dessert I'm going to be so full by the end of this meal!
If I choose the duck then I think the one of  the sides would have to be my Cauliflower Mash, it just goes so well.  I'd also add some greens, maybe spinach or some green beans or Kale.  With the Salmon my Lemon and Coriander (Cilantro) Cauliflower Rice works perfectly and the tang from the lemon and the freshness of the coriander (cilantro) cuts right through the sweet stickiness of the salmon.
Dessert
And for dessert it just has to be my Apple & Cinnamon Crumble!  There really is no better way to end a meal.  Sweet and warming it really is proper comfort food.  A great way to show the one you love how much they mean to you.  But if you really can't handle something like this after all the food you've already eaten, a nice light and fresh alternative is my Berry & Mint Fruit Salad with a Honey Lime Dressing.  The title speaks for itself really.  Mixed Berries made that little bit more special with the addition of a Lime Syrup and fresh mint leaves.  Perfect if you're full from the rest of the meal.
So, plenty of options to choose from – there should be something for everyone.  Let me know in the comments if you make any of them and I'll be sure to update you with what I finally decide to make on the night!  And Happy Valentine's Day everyone!
Allergy & Dietary Information for my Valentine's Day Menu
This Valentine's Day Menu is Grain-Free, Gluten-Free, & Refined-Sugar Free.  It's also suitable for Paleo, Specific Carbohydrate Diet (SCD), Primal, & Low Carb Diets.  If you are on a strict SCD diet then you should swap the Champagne for a dry white wine (although Brut Champagne has as little sugar as dry white wine it is not SCD Legal).  Also you will need to swap the goat's cheese for an SCD Legal cheese such as brie/camembert/feta or blue cheese!
Pin Valentine's Day Menu for later