Figs have two main growing seasons so I've just found out!  The first is now, before the summer and the second is in the autumn.  This means that at the moment there is an abundance of figs in the stores.  I found some mini figs that looked so amazing and ripe that I knew I wanted to cook with them tonight. But what to make? I decided to make a really special appetiser of Grilled Figs with Goats Cheese, Crispy Prosciutto, Pecans & Honey.   I haven't always been a big fan of figs.  In fact I think it's only really in the last year that I've got into them but now I love them in every capacity, fresh, baked, dried, fig jam – it's all delicious!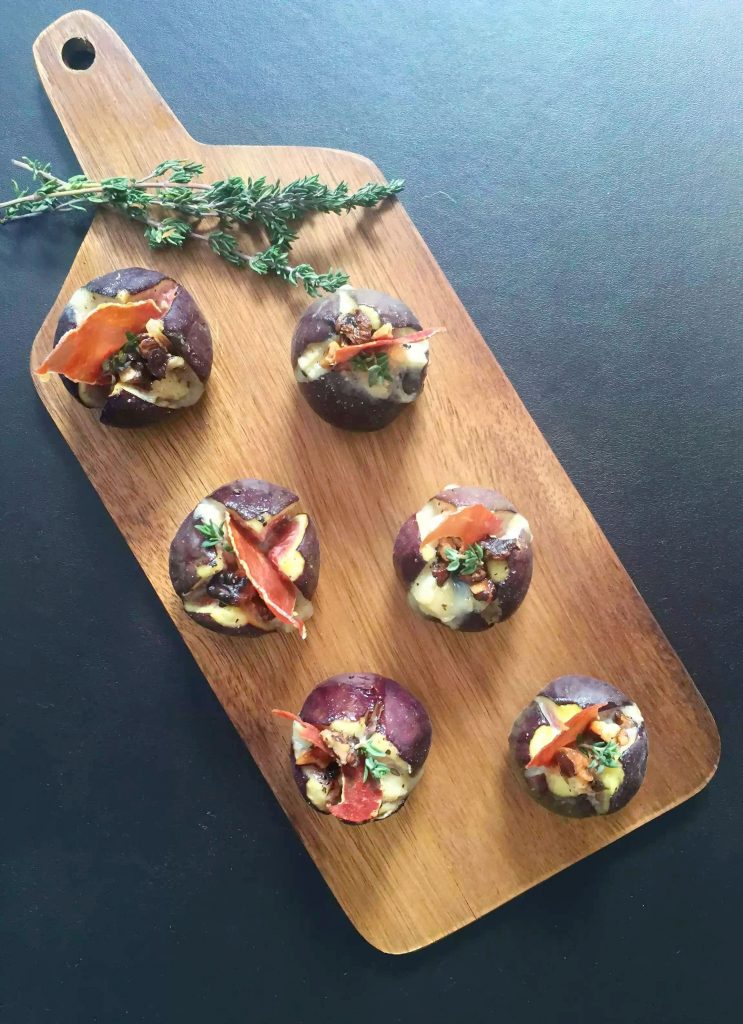 The sweetness of figs pairs so well with the saltiness of a sharp cheese so tonight I decided to pair them with goats cheese – mainly because it's my favourite.  I tolerate goats cheese well but if you don't you could use any cheese really.  Brie and Camembert would be great choices, as would a blue cheese.  In fact that's just made me desperate to try these again with a nice Dolcelatte or St Augur! (Softer cheeses work better only because they melt faster in the oven so the figs aren't in danger of being overcooked.) I decided to pair the Grilled Figs with Goats Cheese with some Crispy Prosciutto for saltiness, Pecans for crunch and a drizzle of Honey for extra decadence.
So onto the recipe.  I turned on the grill and sliced the figs into quarters, making sure not to cut all the way to the bottom so that they still held their shape.  I gently pulled the segments apart so that the figs opened up like a flower.  Then I stuffed a small piece of cheese into the centre of each one and drizzled them with the coconut oil and half of the honey.  I seasoned each with salt and black pepper and popped them under the grill for 3-5 mins.
Meanwhile I prepared the prosciutto by ripping the slices into smaller pieces and dry frying them in a pan until they crisped up – about 3-4 mins.  I also fried the pecans for a few minutes until they were toasted and slightly coloured.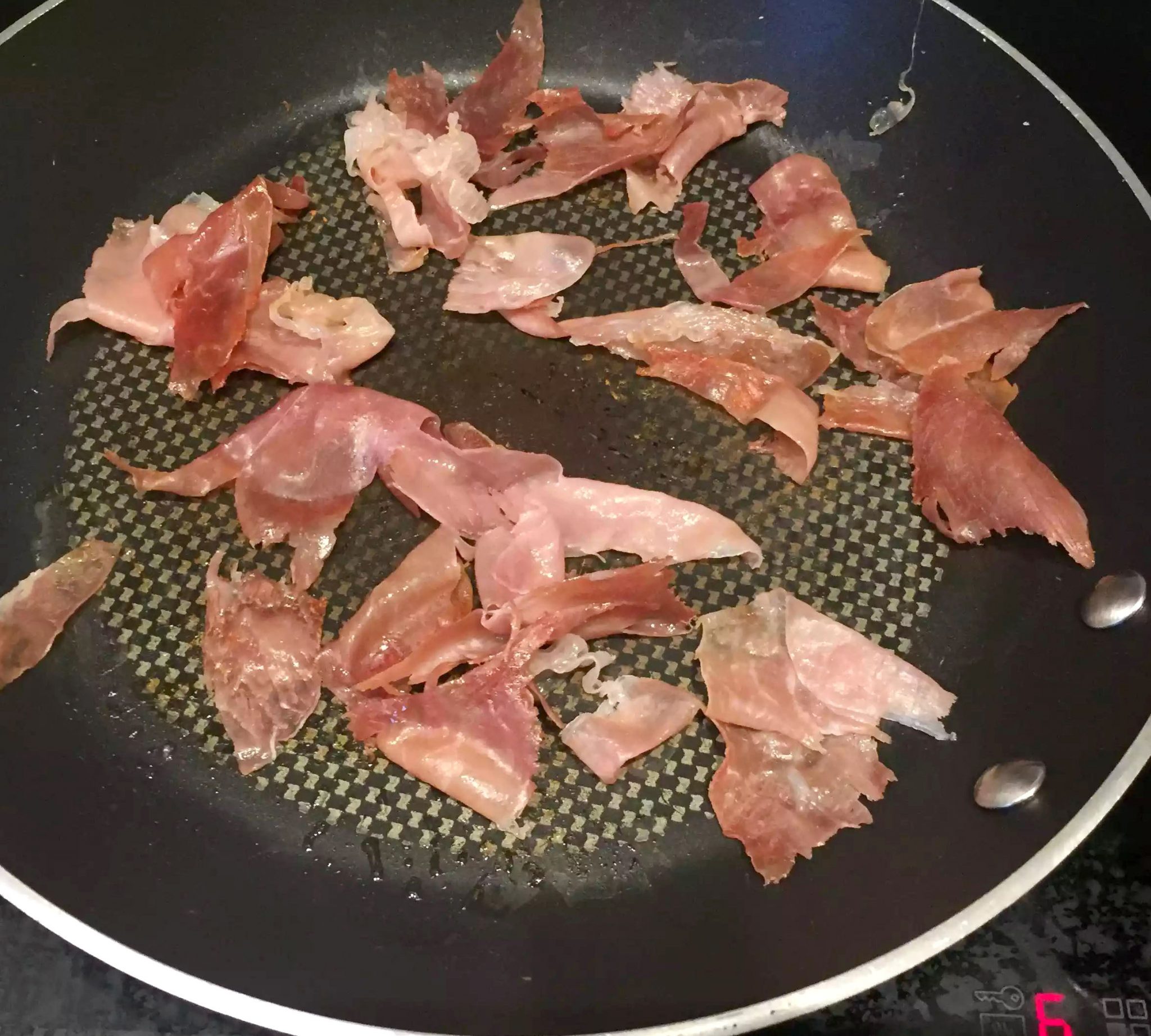 By then the figs were ready.  The cheese had begun to melt and ooze out and the figs beginning to caramelise and get all squidgy and juicy.  You want the cheese to be soft but not too much or it will just melt out all over the baking tray.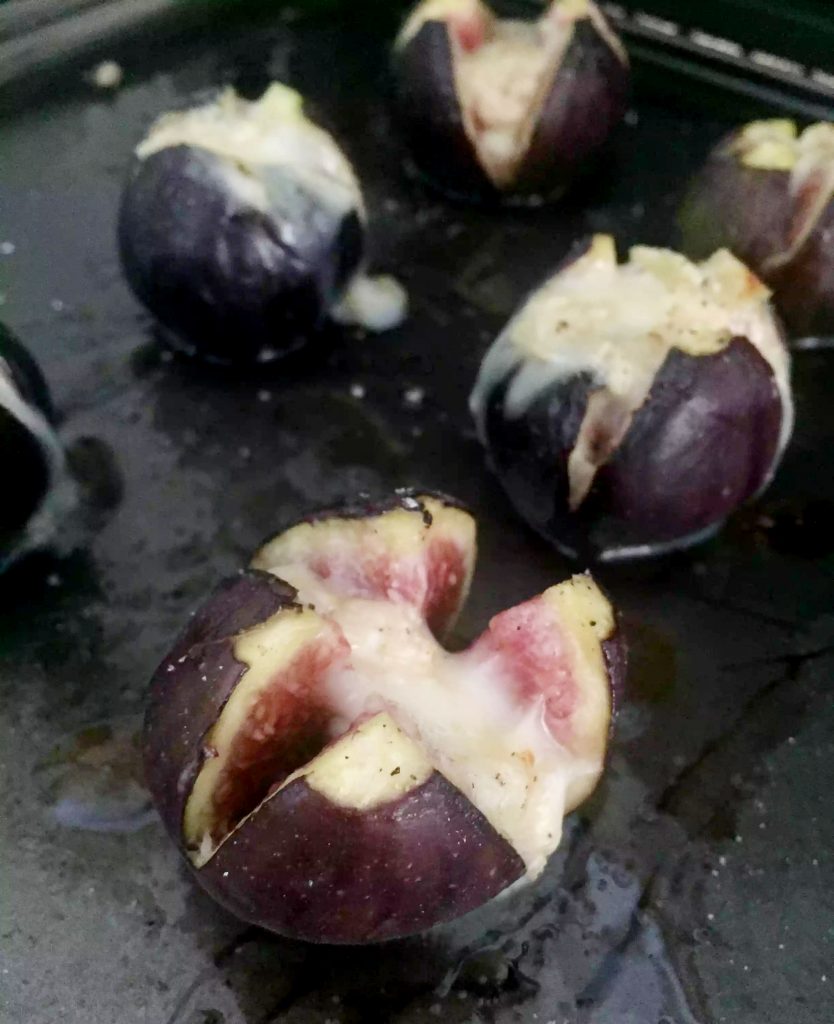 Now you have everything ready and can plate up.  I added a couple of the prosciutto shards to each fig and some of the  chopped, toasted pecans.  Then I drizzled the remaining honey over them and added a generous sprinkle of ground black pepper.  I added a few fresh thyme leaves to each one and they were ready to serve.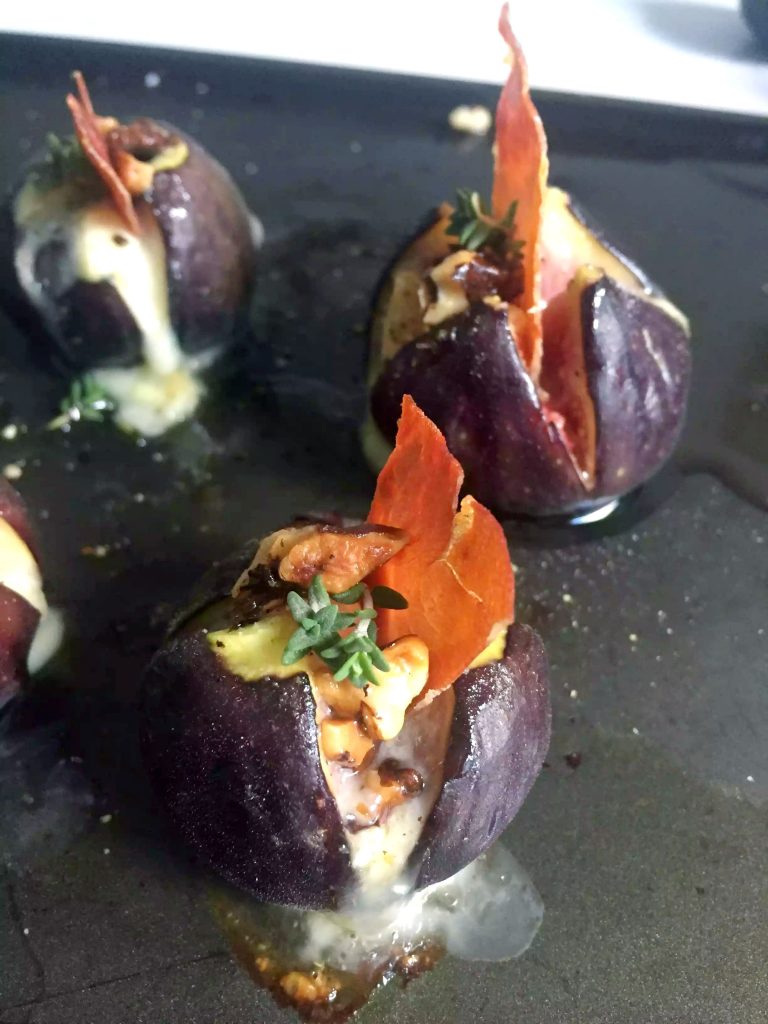 The combination of the fresh but sweet figs which had slightly caramelised and the salty, tangy goats cheese is one of my favourites.  The smoky, salty prosciutto sets them off perfectly and adds a slight crunch as the pecans do and the drizzle of honey brings everything together.  Absolutely delicious and so easy to make – one to impress your guests!  The perfect canapé to have with an aperitif before a dinner party.  They're just small enough to pop into your mouth in one bite.   You could even serve 3 per person as a more substantial appetiser with some salad leaves. I also used these figs in my Roasted Fig and Brie Salad with Crispy Prosciutto, Grapes & Tarragon and found that they paired amazingly well with all the other ingredients.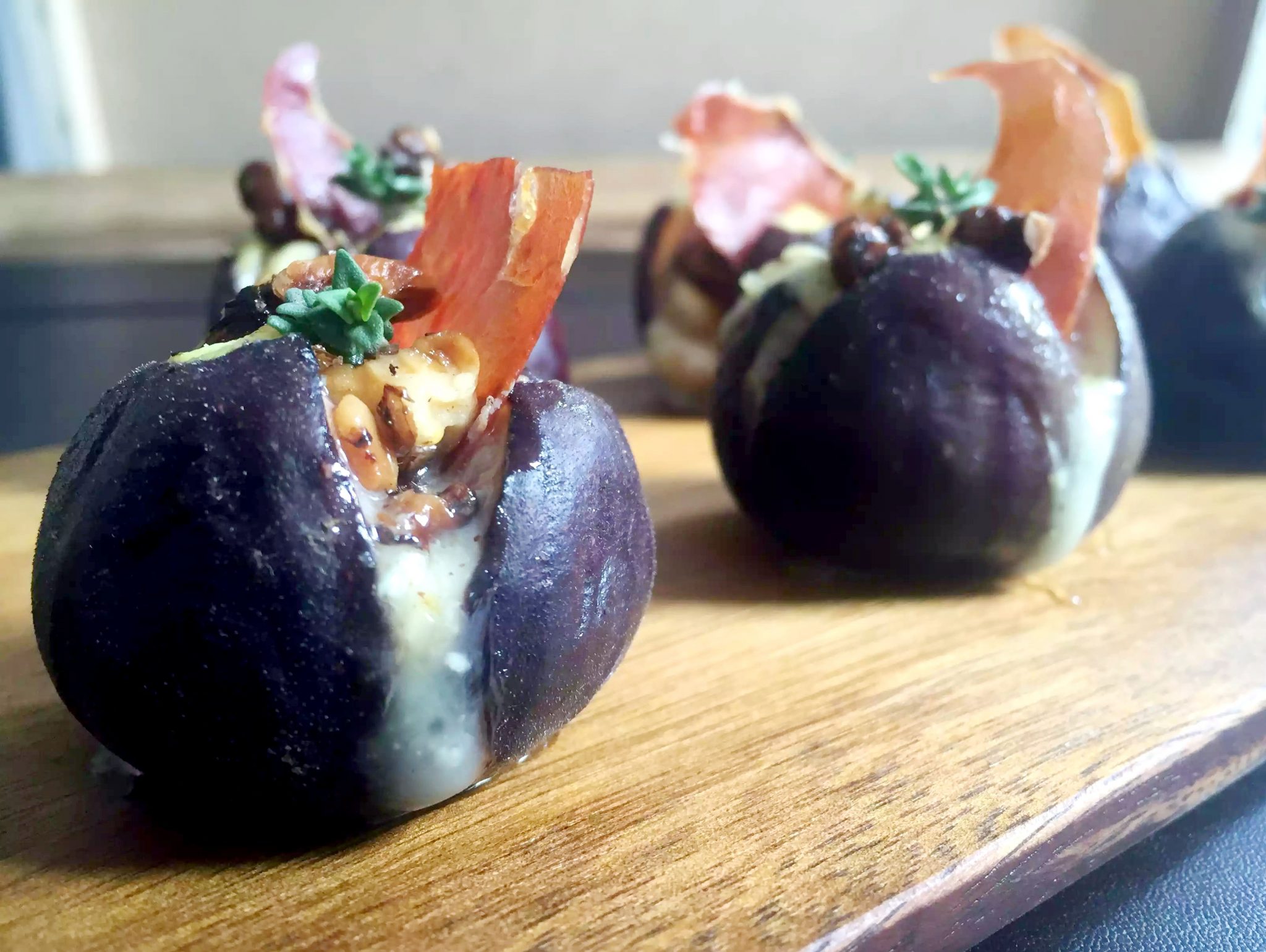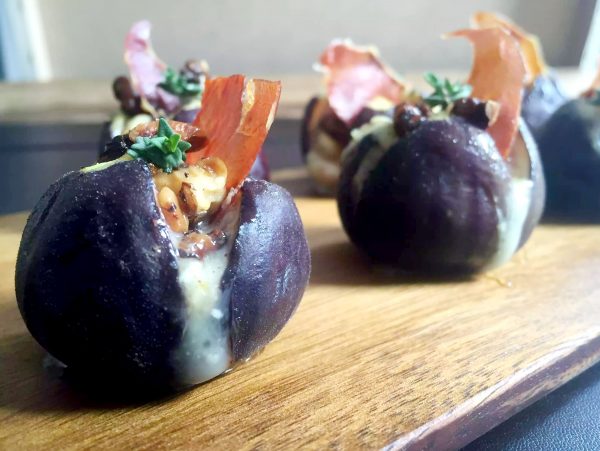 | | |
| --- | --- |
| | |
Slice the figs into quarters making sure not to cut all the way to the bottom. Gently pull the segments apart.

Stuff the centre with the goats cheese.

Drizzle with the coconut oil and half of the honey.

Season well and grill for 3-5 minutes until the cheese is soft but not melted or it will ooze out onto the baking tray.

Meanwhile, tear up the prosciutto slices and dry fry them in a frying pan until they crisp up.

Toast the pecans in a frying pan too until they start to colour.

Add a couple of prosciutto shards to the centre of each fig and some of the pecans.

Drizzle with the remaining honey and plenty of ground black pepper.

Top with a few thyme leaves and serve.
Dietary & Allergy Information for Grilled Figs with Goats Cheese & Crispy Prosciutto
These Roasted Figs with Goats Cheese & Crispy Prosciutto are suitable for the following diets:
Grain-Free, Gluten-Free, Refined-Sugar Free, Paleo, Primal, Specific Carbohydrate Diet – SCD (if using another cheese).
See my Products Page for Ingredients & Bakeware that I recommend.
Pin it for later