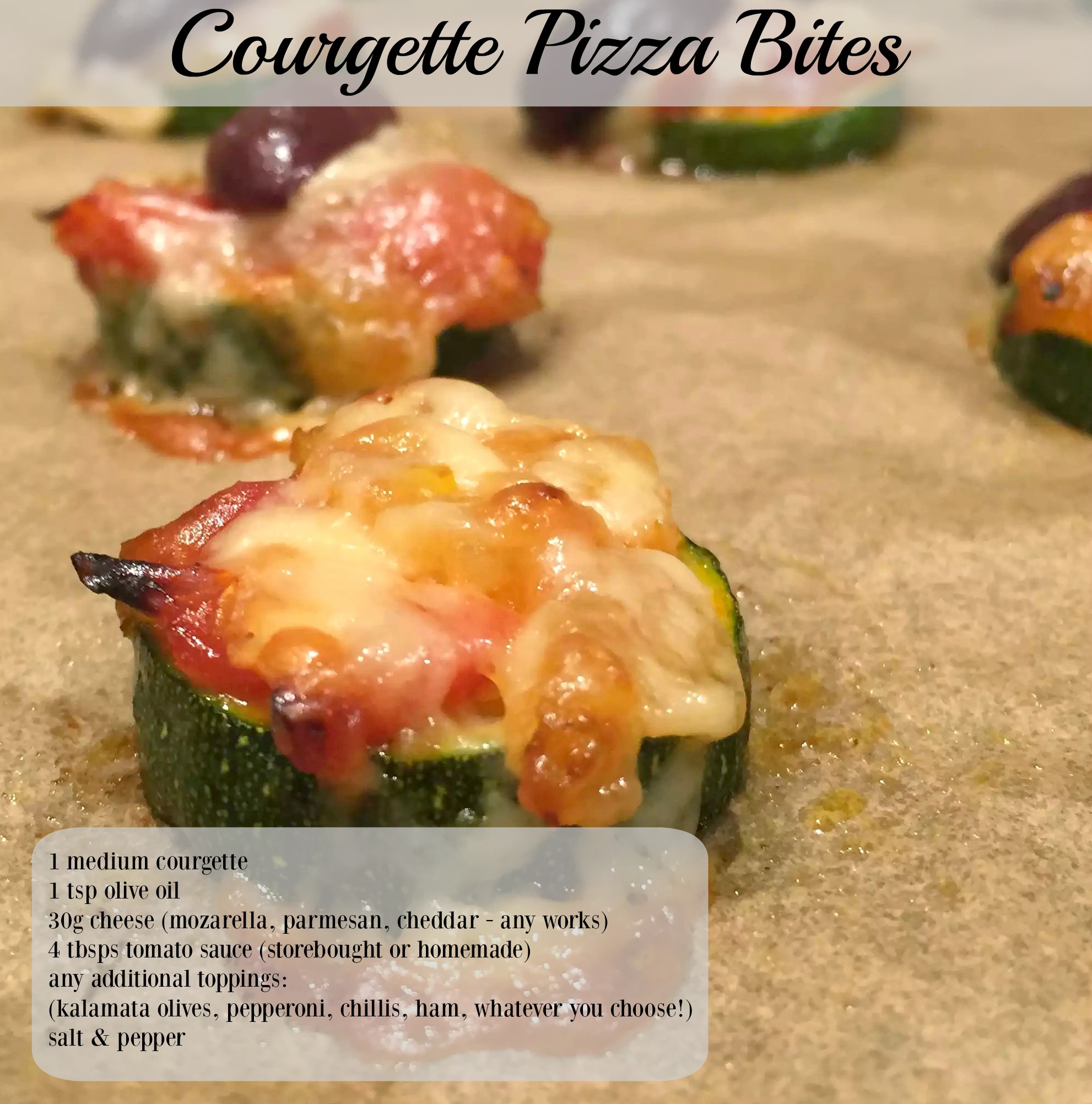 OMG These might be the best appetisers ever! When life (Lupus) doesn't let you eat pizza, these are definitely the next best thing – and they're veggie based so they're healthy and you can eat as many of them as you want? Right?
So simple to make, they literally have 4 main ingredients and then you can top them with anything you feel like.
Preheat the oven to 180C and start by slicing the courgette up into slices about half a centimetre thick. I got 12 slices but you can do as many/few as you want to feed the amount of people necessary (eat them all yourself!) Brush each slice with a small amount of olive oil and put into the oven to bake for 8 mins.
While the courgettes are in the oven you can prepare the toppings.  I had some homemade tomato sauce left over from when I cooked my Parmesan Crusted Hake with Mediterranean Vegetables which was so easy to make. I just softened some diced onions and crushed garlic in olive oil and then added cherry tomatoes and cooked on a low heat for 30 mins. It was super simple but if you wanted to skip this step you could use any store bought pasta sauce or even just tomato purée or slices of tomatoes! I also sliced some cheese thinly (I did half with cheddar and half with Parmesan to see which would work better) and I halved some kalamata olives to use as a topping
Once the courgettes have softened in the oven, it's time to assemble the pizza bites.  I started by topping each slice of courgette with a teaspoon of the tomato sauce.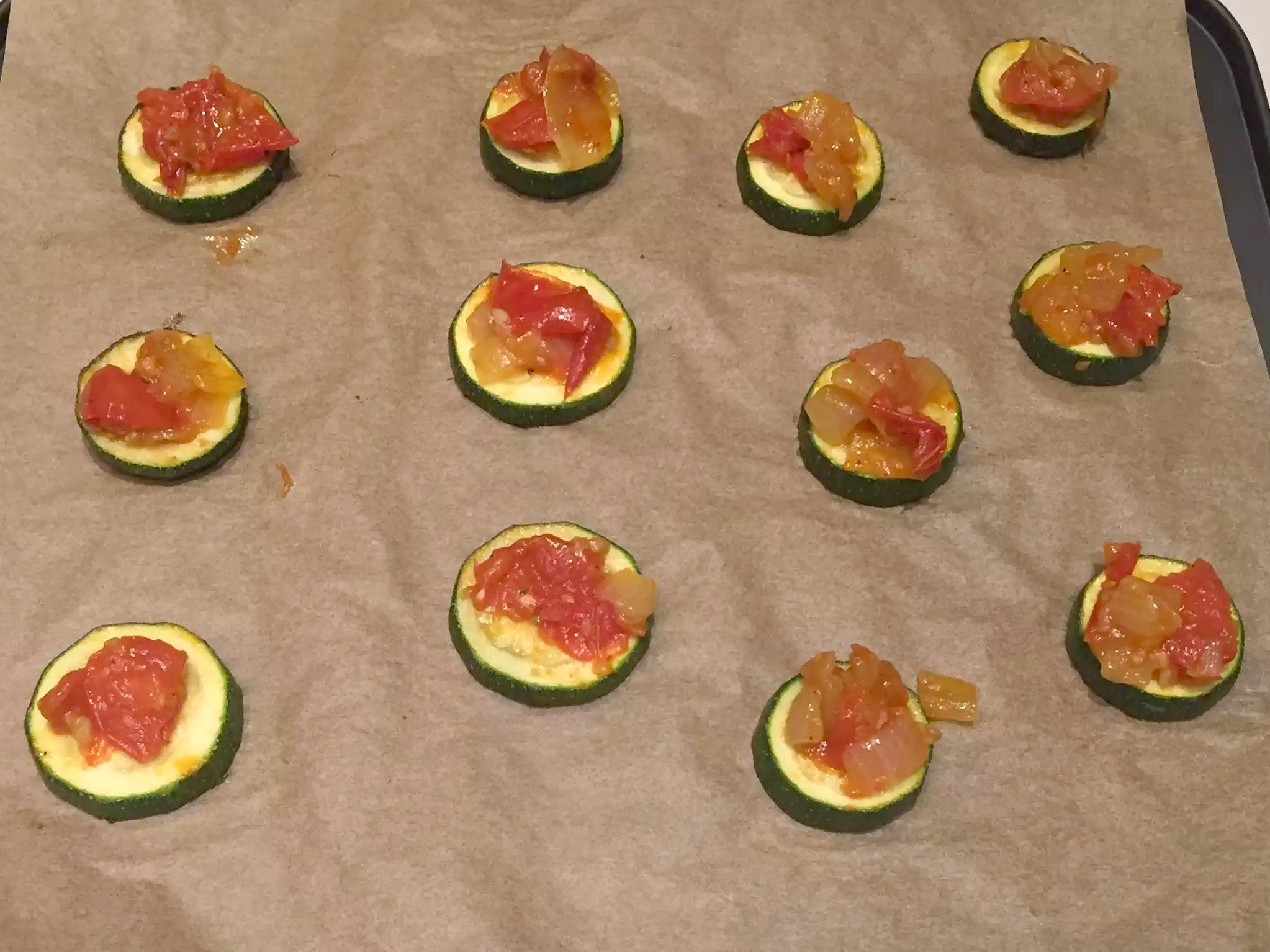 Then I topped each with a slice of cheese and half an olive.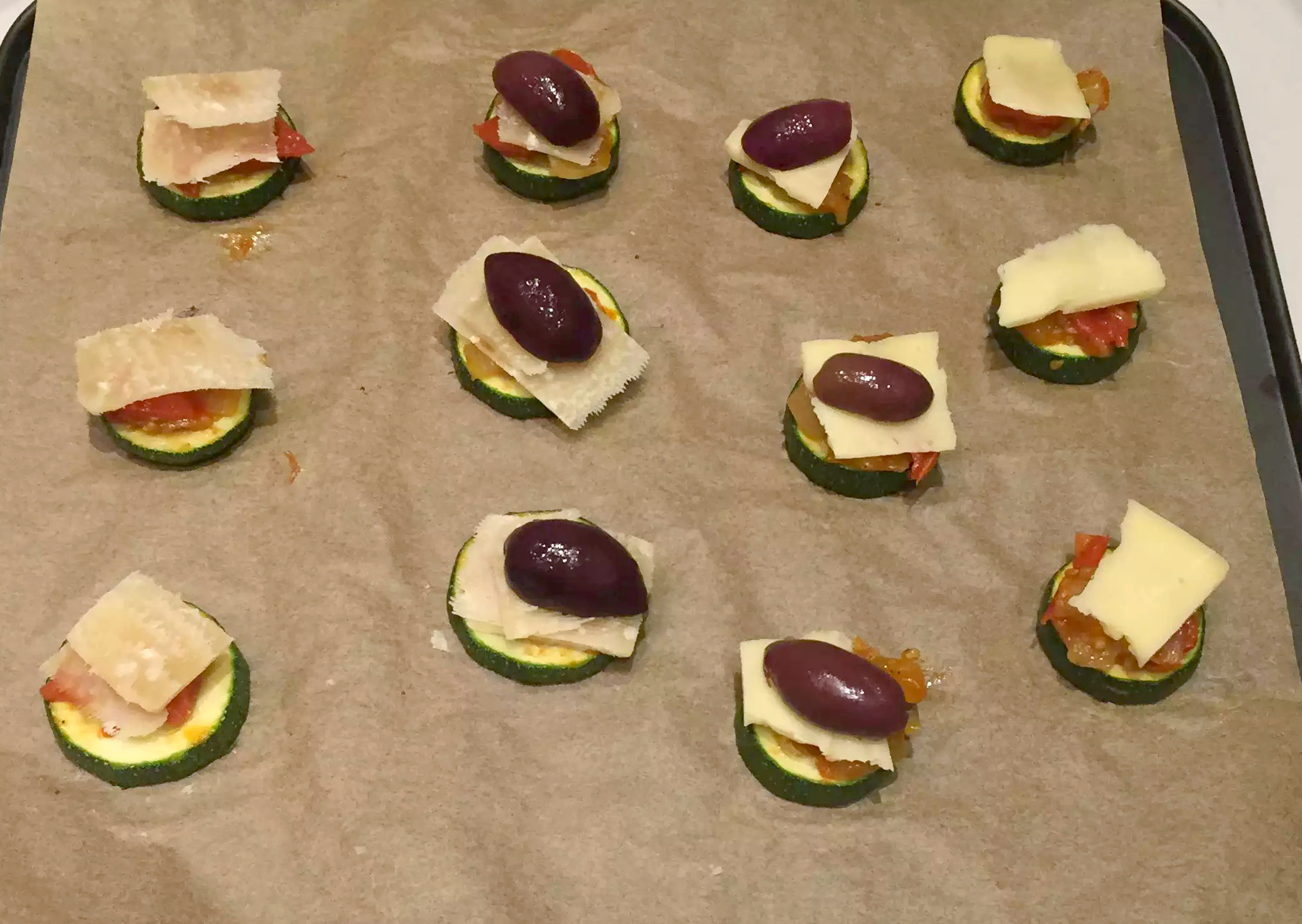 Then it's under the grill for a few minutes to melt and brown the cheese. And how amazing and delicious do they look. And I can promise you they taste just as good as they look. Perfect for taming that pizza craving in one bite and so much healthier!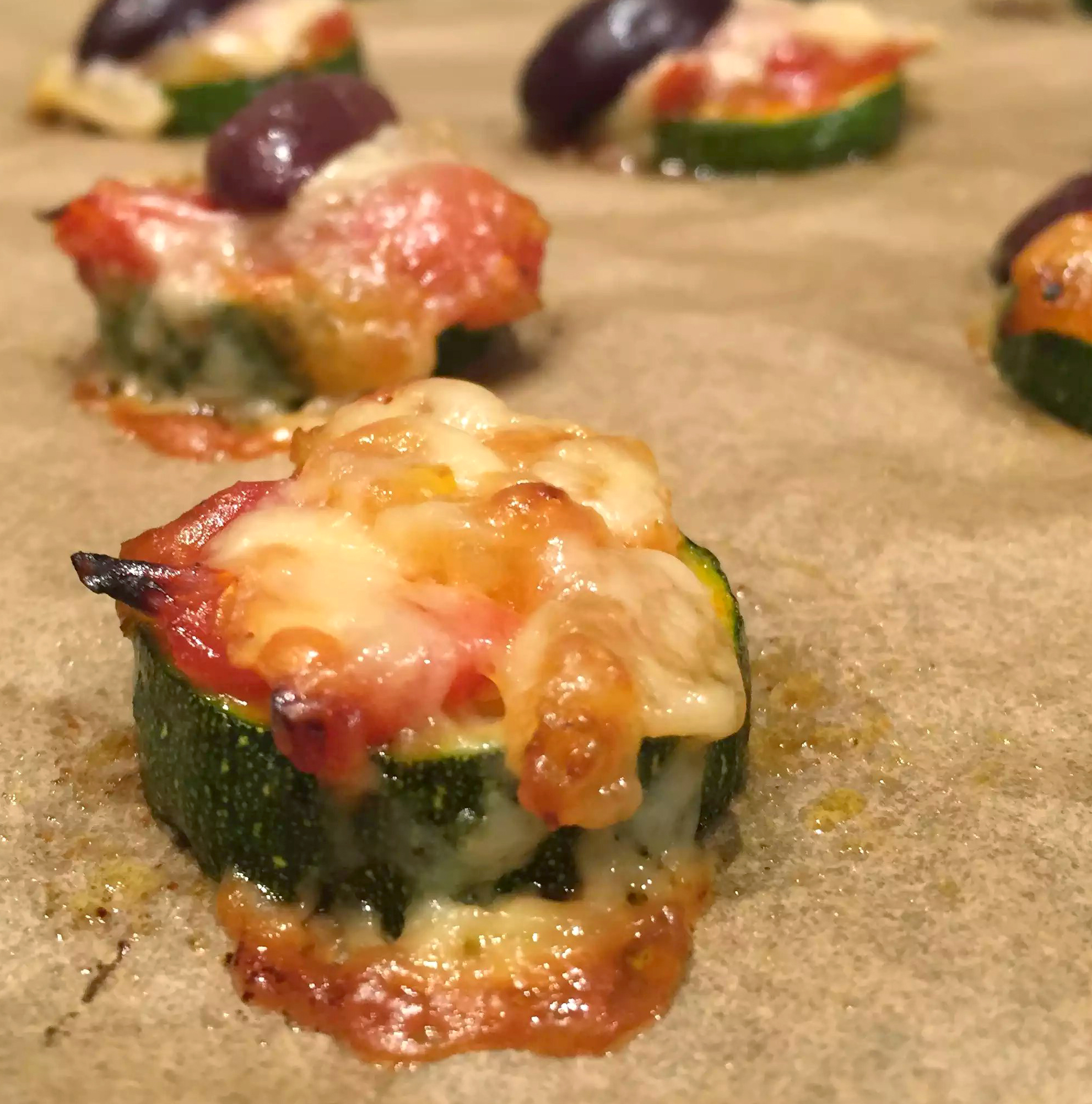 And the topping options are endless. You could stick with cheese and tomato or add pepperoni or have, or some chilli or be really inventive and add your favourite pizza toppings!  A sprinkling of dried oregano either on the top or in the sauce really helps with re-creating the pizza flavour! It really is personal preference and you can make them exactly to your style and taste.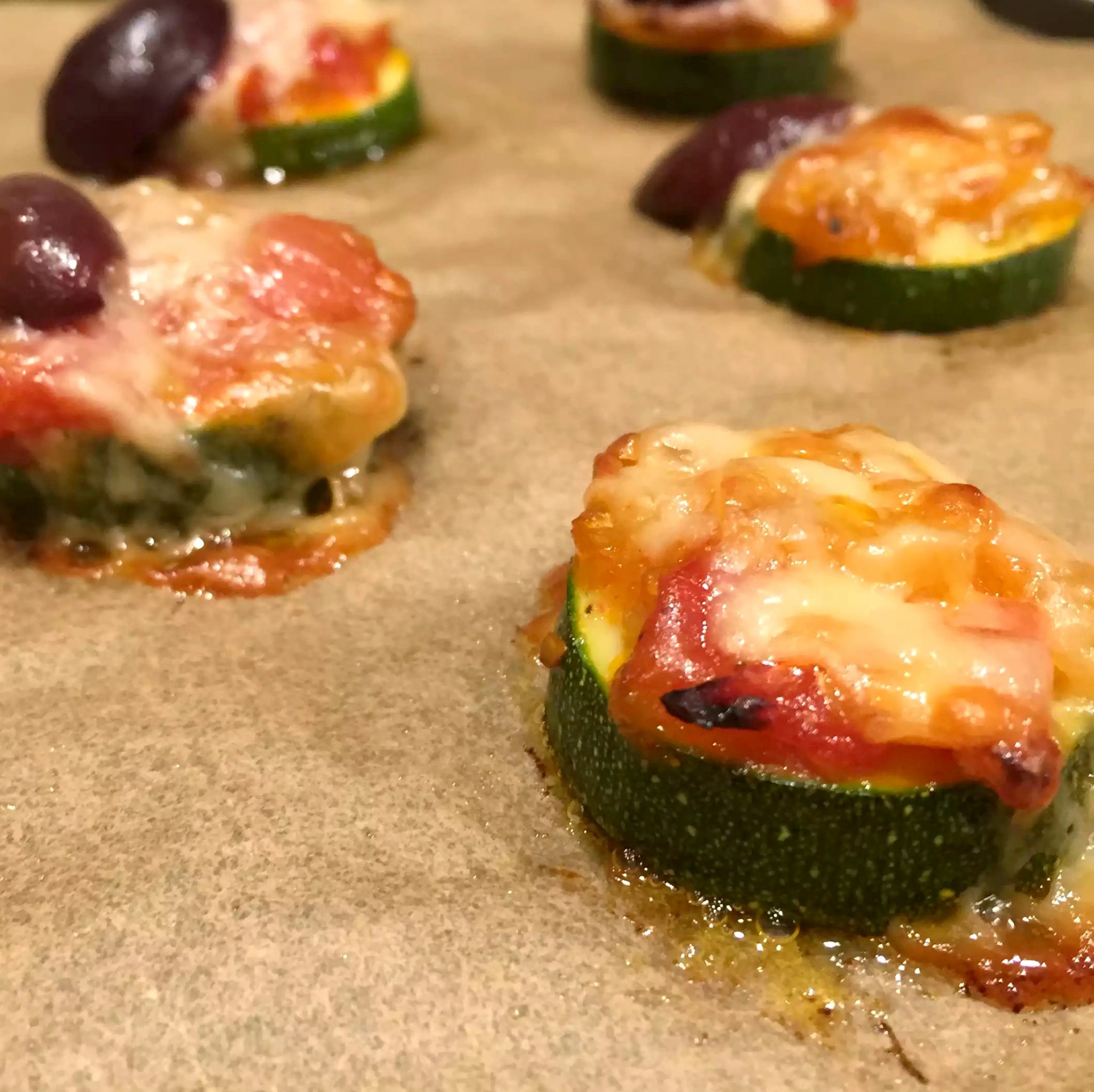 And in case you're wondering, the cheddar cheese definitely won, it melted and browned so much better than the Parmesan – although I have a feeling that mozzarella would be even better!  Have a go and let me know your favourite cheeses and toppings!
Pin it for later