Catch up on more Kiteboarding in Tarifa –  Tarifa Day 1, Tarifa Day 2, Tarifa Day 4
So…the second whisky was definitely not a good idea last night.  I didn't feel quite so fresh waking up today but Dan was excited as the wind today was much stronger.  We got up to go to our kitesurfing lesson (which I've now learnt is called kiteboarding by those in the know – I'm such an amateur).  It seemed like every other kiteboarder in the world had woken up this morning and decided to go Kiteboarding in Tarifa!  Apparently it was the perfect conditions, sunshine, stronger winds and a few waves!

I'm not sure whether it was the slight hangover or the much stronger wind but I was really not feeling the kiteboarding this morning.  The water was pretty unappealing but I put on my wetsuit, life jacket and helmet and gave it a go. This morning I learnt body dragging which is basically using the kite to gain power to drag you through the water.  It's the last step before you put the board on and try to actually surf.  I found this bit pretty easy but after an hour in the water I was happy to let Dan have a go with the board and after a few tries he got up!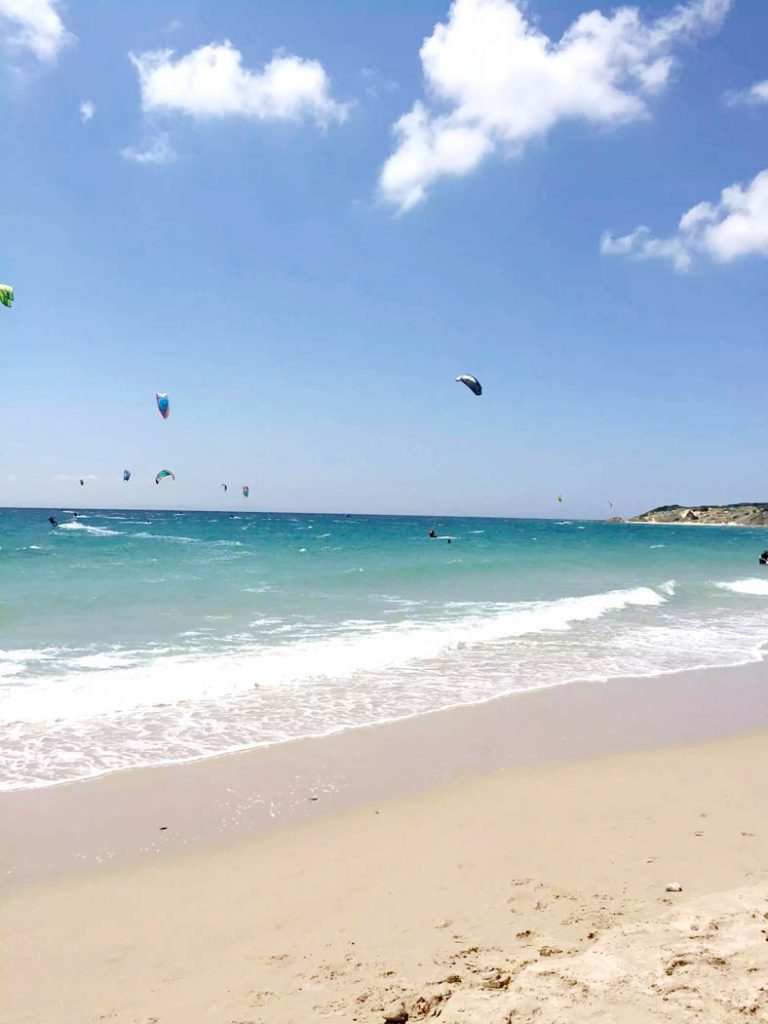 He came back all exhilarated and energised but exhausted and starving, so after our lesson was up we decided on lunch.  Enough Kiteboarding in Tarifa for one day for this girl!  Having had such an amazing lunch yesterday, El Mirlo was almost on the cards again for today!  However we decided to try somewhere new as we only had a few days to explore the whole town.
We drove back to town and walked along the beach to Cafe Del Mar which, having looked at the website appears to be a crazy party bar, but was a quiet chill out restaurant when we went for lunch.  I'd been craving a salad and they had the most amazing goat's cheese one on the menu.  It had a huge slice of cheese with toasted pumpkin and sunflower seeds, raisins and a gorgeous honey and mustard dressing.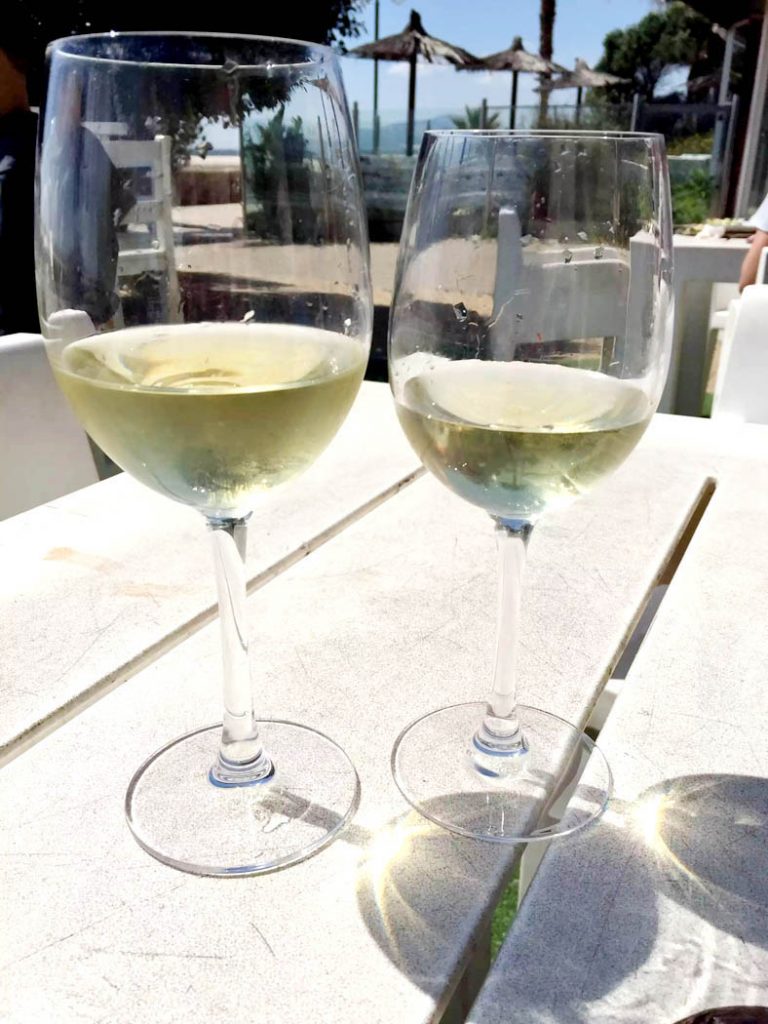 Paired with a crisp white wine I was in heaven in the sunshine.  Halfway through the bottle I noticed something that made me giggle.  My glass was twice the size of Dan's.  The waiters had obviously got the measure of me! After lunch we walked back along the beach until we came to the spot where the expert kiteboarders practice .  It looked so impressive, they were getting some serious air!
By this point it was sundowner time so we headed to a cute, chill-out bar on the beach 'Bien Star' where we ordered Aperol Spritz's and watch the sun go down.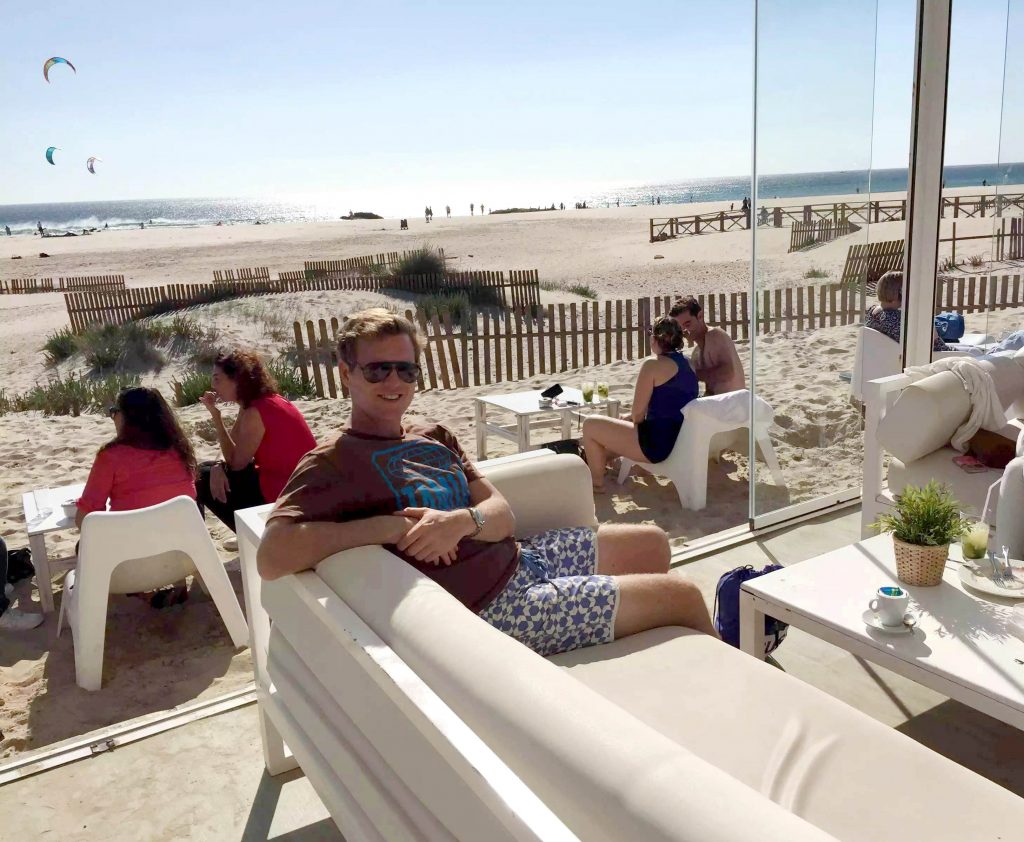 For dinner that evening, our kiteboard instructor had recommended his favourite Tapas Bars in the Old Town.  These were El Frances, Los Melli and El Lola.  Unable to pick we decided to have a couple of dishes in each and do a Tarifa Tapas Crawl. In El Frances we ordered the Roasted Aubergine topped with Goats Cheese and the Spicy Sausage Stew.  Both were delicious but a bit on the greasy side if I'm being really picky.
Next up was Los Melli, where we ordered the Gambas Al Ajillo, the Pork Belly and the Manchego Cheese.  The cheese was good, crumbly and salty, but I wasn't a fan of either of the other two dishes.  The prawns were OK but I've had better.  In fact, Dan makes better ones than that at home, and the pork was very fatty and chewy.  This was our least favourite Tapas Restaurant.
We headed to El Lola's for our last pit stop of the evening where we ordered a bottle of Rioja (which I mostly used to hide my very red and sunburned nose – see picture) to go along with the Tuna Tartare with Wasabi and some Jamon Iberica.  The ham was amazing.  Nowhere seems to be able to get that wrong (and I've heard that the best ham legs can sell for 12,000 euros wholesale) but my skepticism at ordering a Japanese dish in a Spanish town proved right.  The flavour of the tuna was completely missing, overpowered by Wasabi Mayonnaise and it wasn't a great dish.
El Frances wins in the great Tarifa Tapas War of 2016!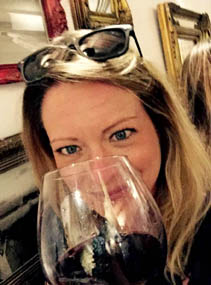 We couldn't leave Spain without a glass of sherry so a nightcap of Fino was in order before pouring ourselves into bed.
Also see… Tarifa Day 1, Tarifa Day 2, Tarifa Day 4
Pin it for later