Wow, is all I can say!  What a transformation!  I've been coming to Four Seasons Fairways in Quinta do Lago for as long as I can remember and they've had a complete revamp!  The whole clubhouse and pool has been transformed into a beautifully chic area with a new restaurant to match.  VIVO Bistro is the new look restaurant and pool bar and tonight we'd decided to head there to check out their dinner menu.  We have rarely eaten at the Fairways restaurant, preferring instead to try other restaurants in the area so it was time to give it another go.
We arrived at the clubhouse and the change was immediately obvious.  The pool has been redesigned, the pool furniture is all new and the whole place looks much more elegant.  The new look is very clean and modern but still in line with the family feel of the whole resort.  It just feels a bit more luxurious now.  The bar is definitely more of a focal point and is a stylish place to sit and have a cocktail before dinner.
We decided to have a drink there first before sitting at our table.  Three Hendricks and Sodas were our aperitifs of choice.  Sitting and drinking at the bar, we reminisced over the 20 plus years we've been coming here and how much the place has changed.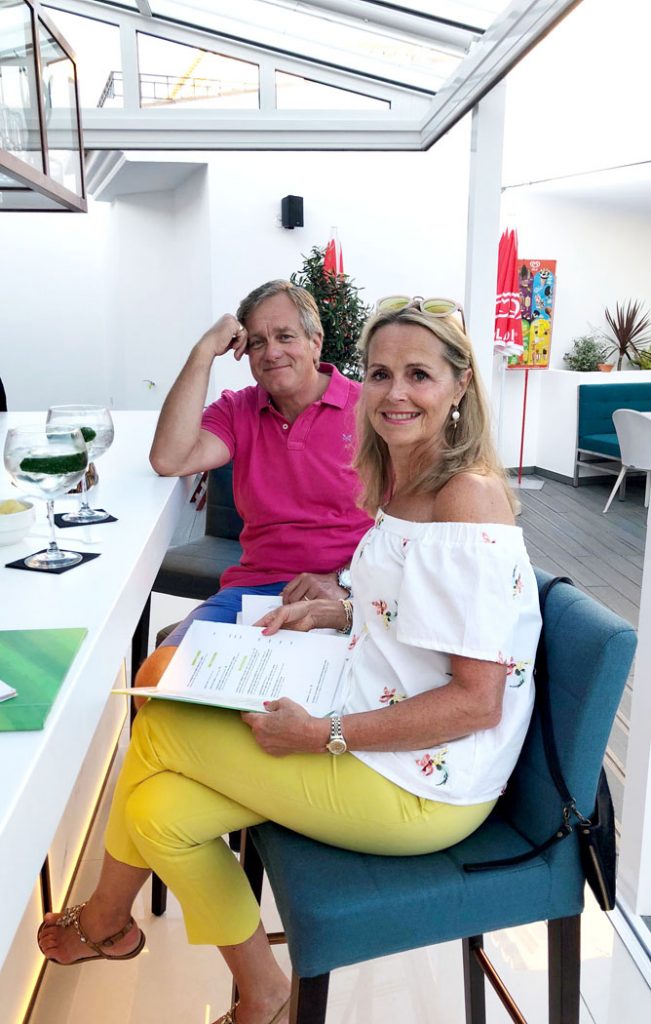 We were shown to our table and given the new-look VIVO Bistro menu.  It too, has been modernised in line with the renovations.  The food was more sophisticated and interesting but still retained all the old favourites.  There was still chicken piri-piri and burgers etc but these now sit alongside healthier options like superfood salads or grilled seafood.  And they now do oysters!  We started with a Ria Formosa oyster (€3 each) as a special treat. (The Ria Formosa is the National Parkland that surrounds the Quinta do Lago area so these babies were super fresh.  They'd probably only travelled a few hundred metres).  They were the perfect appetiser, plump and juicy and full of the flavours of the sea.  Just the way to kick off a delicious dinner!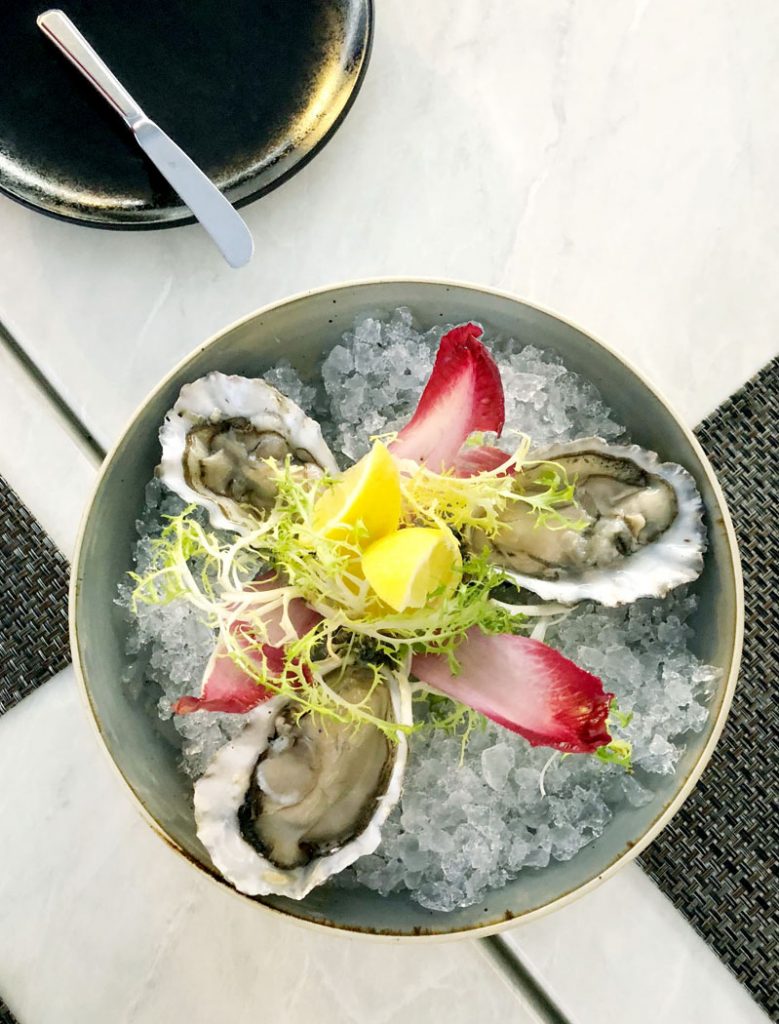 Having finished our aperitifs by now, we ordered a bottle of Esperão Reserva – one of our 'go-to' wines when we're in Portugal!  It's rich, oaked and although we were having seafood we'd all decided that we wanted some red wine rather than white.  My mum and I ended up ordering exactly the same starter, the Grilled Goats' Cheese (€8.50) with mixed leaves, nuts, cherry tomato and a honey vinaigrette.  It was supposed to be served on toast but we asked for it without that.  I just love the combination of the creamy, tangy goats cheese with the sweet honey.  You just can't beat it, and I do tend to order it every time it's on the menu.  It went well with the red wine too which was a bonus!
Dad started with Green Gazpacho (€4.60).  It was a cold soup with made with blended cucumber, green pepper, onion, garlic and oregano.  It was delicious and full of flavours.  You could definitely taste the oregano in it, which to me just screams Portugal!  They sprinkle it on everything out here!  A very refreshing starter for a balmy summer's night.  They even had warm gluten-free bread to go alongside it for him!
Then it was time for the main courses.  I'd ordered the Avocado with Grilled Tiger Prawns Salad (€15.00).  The prawns were huge and tasted incredible.  Buttery and grilled to perfection they were definitely the star of the dish. They came served on a salad of avocado, red onion, cherry tomatoes, garlic and coriander.  It was the perfect light, fresh dish and was exactly what I wanted that evening.
Dad had ordered prawns too, but he'd gone for the Fried Tiger Prawns with Garlic and Chilli (€22.00).  These again, were huge and grilled to perfection.  The chilli, garlic and butter sauce was delicious and they came served with what we call, Portuguese African Rice.   It's a kind of soy sauce rice with raisins, and bacon in and is found in so many restaurants in this region.
Mum had ordered the Black Angus burger with Cheese and Bacon (€11.00).  She is on the same medical diet that I am on and the staff were so great with all our questions.  They checked for her that the burger didn't have any breadcrumbs in it (it was 100% beef) and served it without the bun for her.  It was cooked perfectly – she likes it just pink in the middle and they served it with a salad for her instead of the bun.
We all enjoyed our meals at VIVO Bistro and agreed that the quality of the food has definitely had an upgrade along with the surroundings.  It's an area we'll use more now and great to know we have a good restaurant right on our doorstep.  Oh and I can also recommend the brunch there!  Baked Eggs, Omelettes, French Toast…everything was delicious.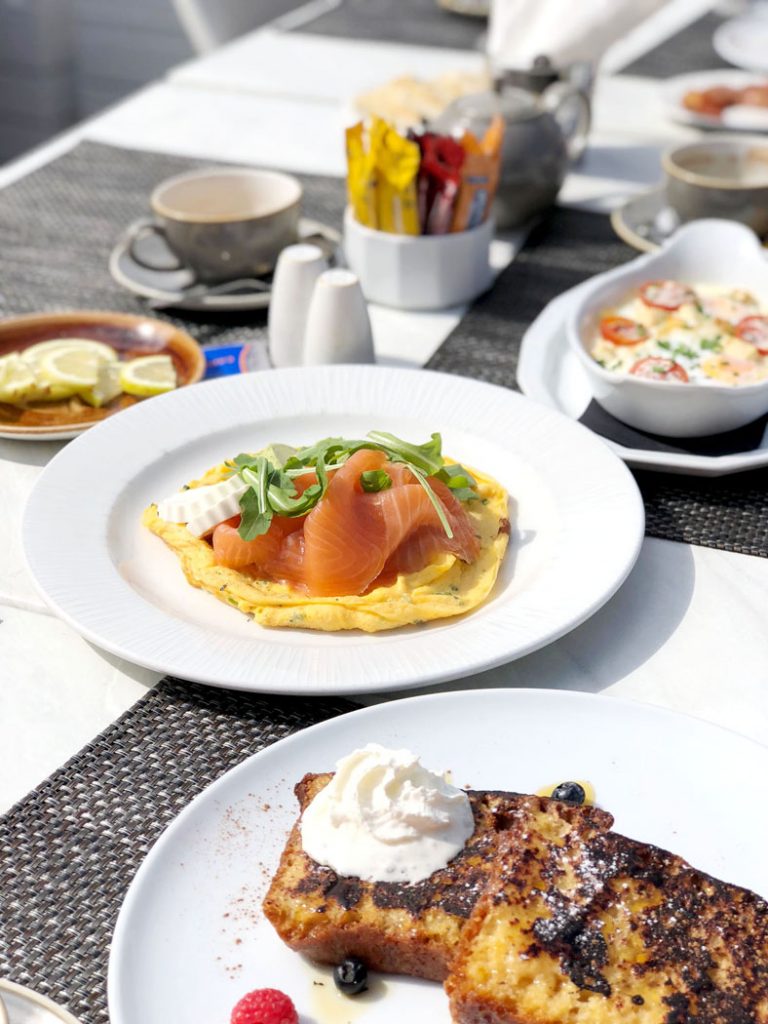 Four Seasons Fairways also have a new fine-dining restaurant on the complex which is almost ready for its launch.  It will be called Amara and looks set to rival some of the other incredible restaurants in the area.  I can't wait to check it out when it opens in the Autumn!
Quinta do Lago
Almancil, Portugal
Pin VIVO Bistro for later