Spending our mini-moon in the town of Borghetto sul Mincio in North Italy was such an idyllic trip.  And being less than 10km from Lake Garda we went there practically every day.   The first few days we hired bikes or took the public buses or ferries to get around the Lake but as we became more familiar with the area we decided that one day we just had to hire our own boat.  Hiring a boat on Lake Garda is so easy.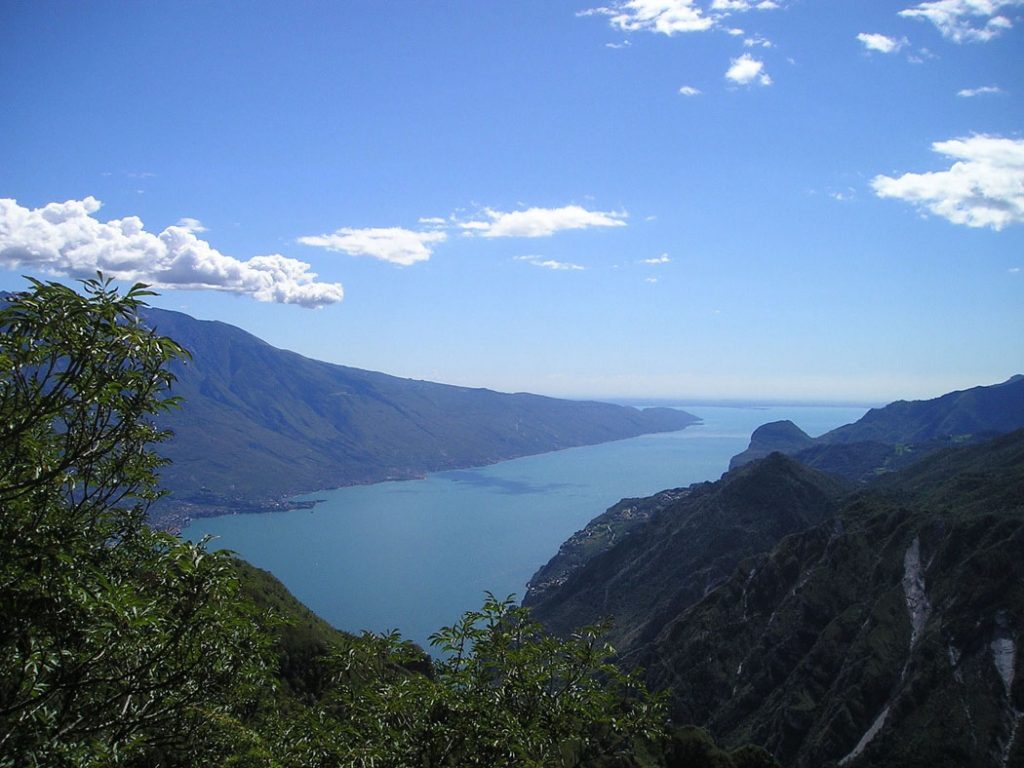 There are boat hire companies in almost every town around the Lake and they all operate in a similar manner.  There are different sized boats depending on the amount of people in your group and the prices do vary slightly so it's best to shop around in advance.  Prices vary from around €30 to hire a boat for an hour to between €200 and €300 euros for a whole day.  The other thing is that they do get booked up so it's best to reserve your boat in advance – either by going to the company's stand in the port or by booking online (sometimes there are extra discount offered if you book online).
How to Hire a Boat on Lake Garda
Our closest town to the Lake from where we were staying in Borghetto, was Peschiera.  We were spoilt for choice with Lake Garda boat rental companies in this one town alone.  For example, there were about 5 different boat hire companies all situated around the port.  The first one we tried was fully booked – we hadn't realised it was best to reserve in advance.  (They had availability for shorter hires but we wanted a boat for the whole day).  You can hire boats by the hour, few hours or the day (which is 7 or 8 hours depending on which company you use).
The second company Peschiera Boat Rent had one boat left to hire for the day so we grabbed it.  After filling out a few forms it was ours!  You don't need a licence if you get a boat under 40HP.   You just need identification (a driving licence, passport or identity card).  They will hang onto your passport as a guarantee while you have the boat so be prepared for this.  If you have a boat licence / day skipper etc you can always get a bigger more powerful boat if you prefer.  We were super happy with our little Ranieri boat.  40 Horse Power is a lot faster than you would imagine!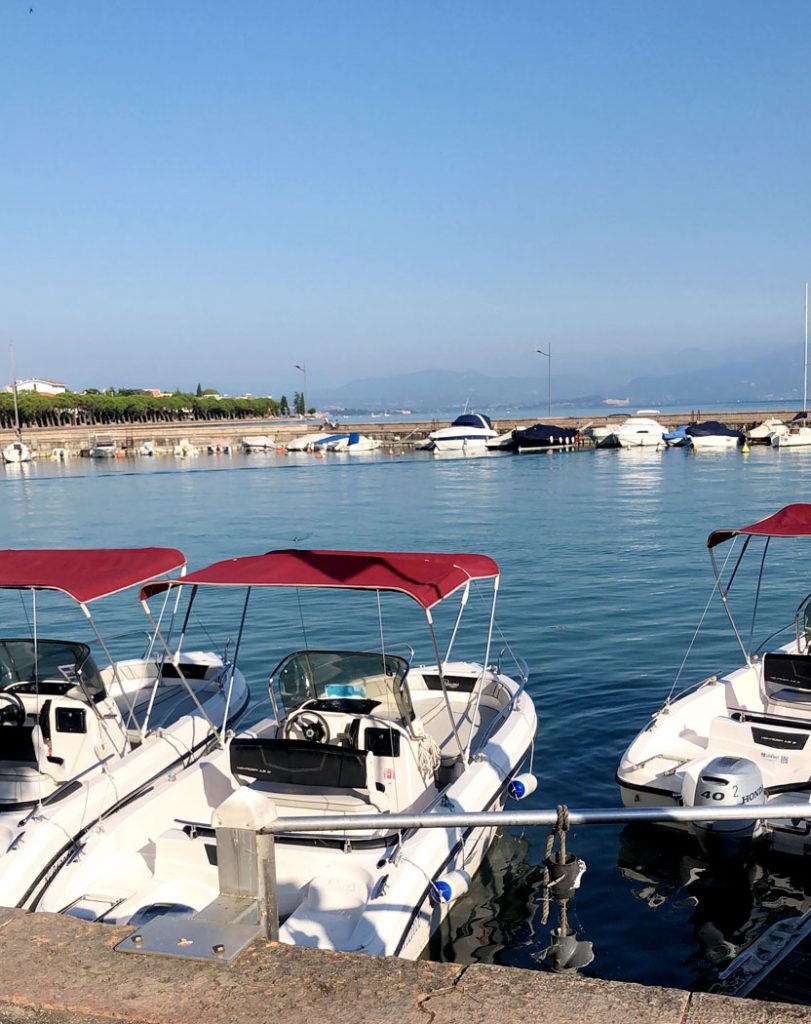 The price for the boat was €210 for 8 hours but again this differs between companies so it's worth shopping around.  It also includes all your insurance.  The boat actually seated 8 people (they didn't have any smaller ones) so shared among a group, the price is quite reasonable.  You can pay by card but you will definitely need cash for your deposit.  This varies from about €100 to €150 and is an insurance against you damaging the propeller.  Make sure they show you the propeller before you board.  It should be smooth and with no nicks or chunks taken out of it.
There are two different ways you can hire a boat on Lake Garda, with or without all-inclusive fuel.  Obviously the companies that don't charge for the fuel will charge more overall for the entire boat hire but if you're planning on spending a lot of time moving around then this may be the best option for you.  If you don't have inclusive fuel then once you bring the boat back to port, one of the guys will jump in the boat with you and you drive it round to the nearby petrol station to fill it up and pay for what you've used.  This may be a better option if you are planning on exploring the towns more and only using the boat to get from port to port.
A short safety briefing (lifejackets are provided) and boat driving lesson and we were on our way.  You have to pull out of the marina slowly but it's amazing when you are far enough from the coast that you can hit full throttle.  It feels so freeing with the wind in your hair, able to go anywhere you choose!
Where can you go
Hiring a boat on Lake Garda gives you the freedom to decide where you want to go and when!  There are so many pretty towns and villages that border the Lake so you can take your pick or visit a few.  Or you can be nosy and check out people's houses and gardens from the lakeside and places that aren't open to the public.
At the start of the hire you are shown the shallow areas of the Lake which you need to avoid, but other than that you can pretty much go anywhere.  Bear in mind that to get from one end of the Lake to the other (Peschiera to Riva) would probably take 3 hours or more travelling flat out at full speed so plan your return trip with enough time to get back!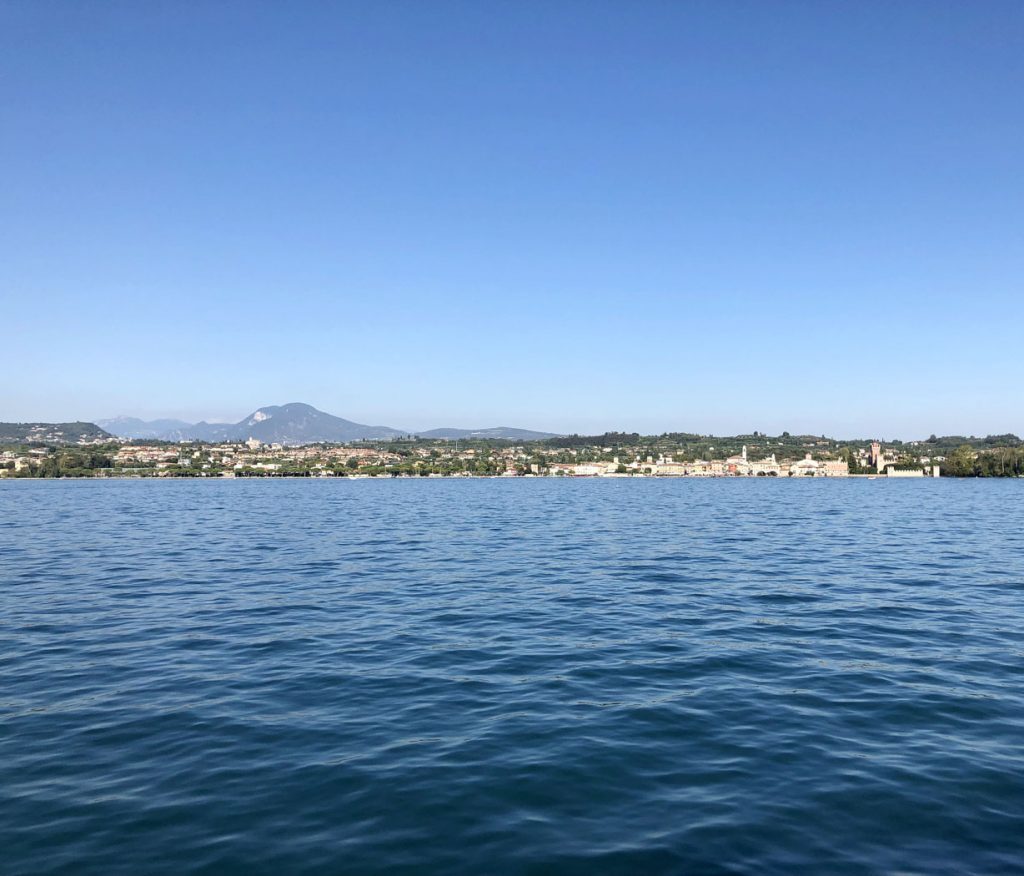 For this reason, most people choose to explore just the Southern part of the Lake as there is so much to do and see and it means you can explore more towns rather than just spending the whole time travelling.  The day before we had visited Sirmione and Lazise so we wanted to go somewhere different.  We decided to head to Gargnano (about halfway up the Lake on the West Side) as we were desperate to try a cocktail in the world renowned Villa Feltrinelli. (Turns out you can't just turn up there for a cocktail unless you are staying there or have booked a dinner reservation so we had an aperitif in one of the bars along the Lake front instead).
Halfway there we cut the engine and just floated around in the Lake for a while.  The weather was perfect so we jumped in the water for a swim and lay on deck in the sun reading a book. (There are no tides on Lake Garda so unless you are going into shore there is no need to anchor up if you just want to jump off the boat for a swim).  There was almost no-one else around.  The Lake is so huge that you never feel like anyone else is too close by.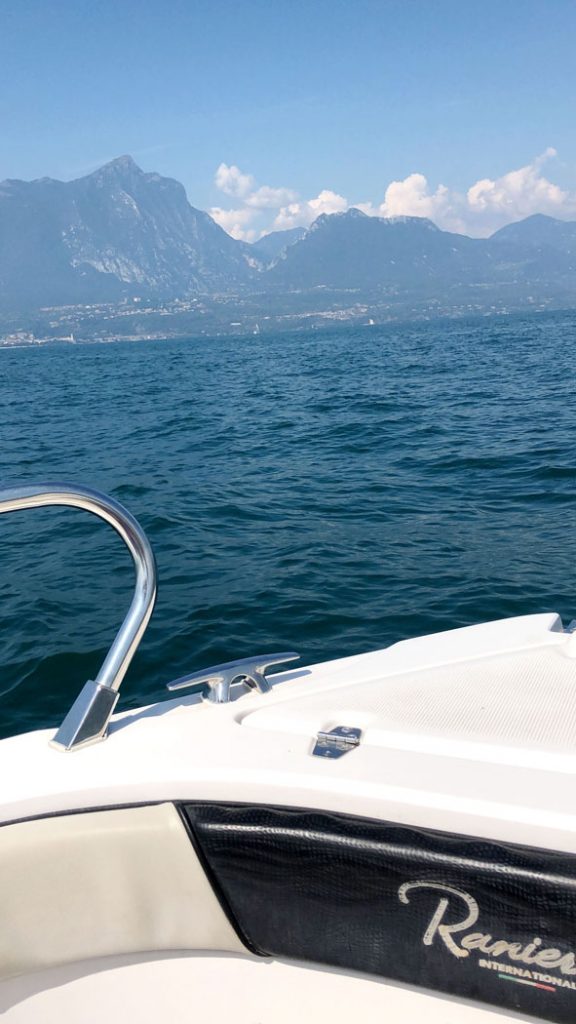 We'd bought a picnic with us so we ate that on the boat but you could always moor up in one of the towns for lunch.  Most boat companies will offer you a freezer box and ice – perfect for keeping your picnic and drinks cold.
Mooring
Most of the towns around the Lake will allow you to moor your boat for a small fee (some are even free).  You can also drop anchor and swim into shore if your prefer. We actually only ended up mooring in one small town, Gargnano as we spent the rest of the day on the open water.
It took us a long time to moor up, mainly because the ropes that the company had provided us with were not long enough to reach the mooring buoys.  (We had to tie a few together so I would suggest asking for longer ropes if you know you want to visit some of the harbours).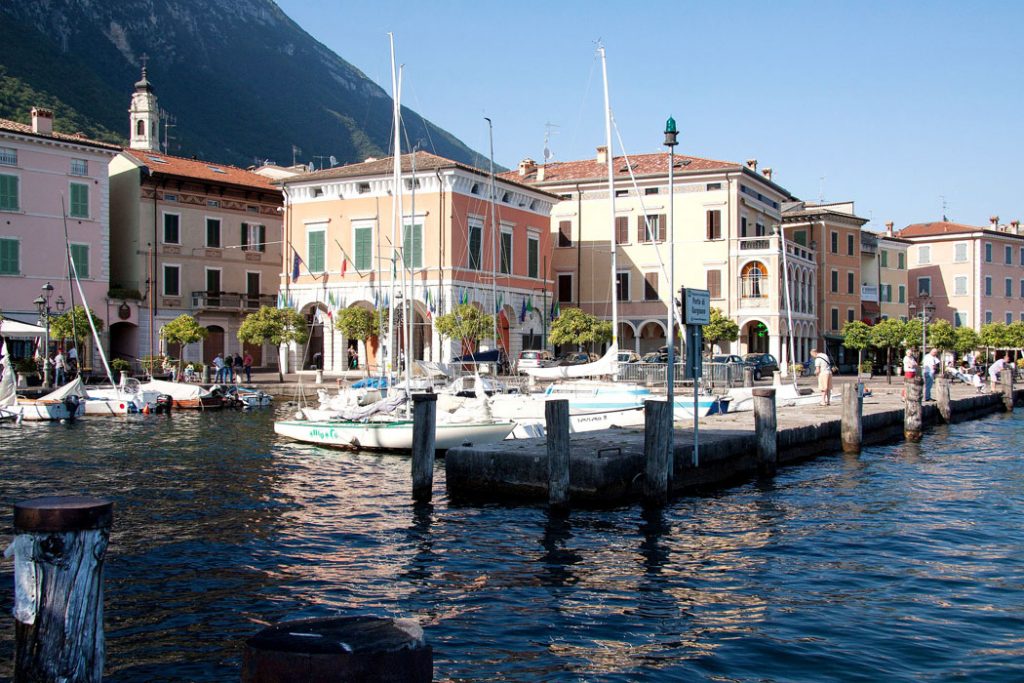 Returning the Boat
We  got back to port and one of the workers jumped aboard and we went to the fuel station to fill up.  The petrol cost around €50 which wasn't bad for a whole day on the Lake.  We headed back to the counter to get our passports and deposit before heading home, sunkissed, a bit windblown but having had a magical day.  Hiring a boat on Lake Garda was such an incredible experience.  We'll definitely be doing it again and visiting a few more towns along the way.
The boat hire company we used was Peschiera Boat Rent and they gave great service.  I would definitely use them again.
Pin Hiring a Boat on Lake Garda for later