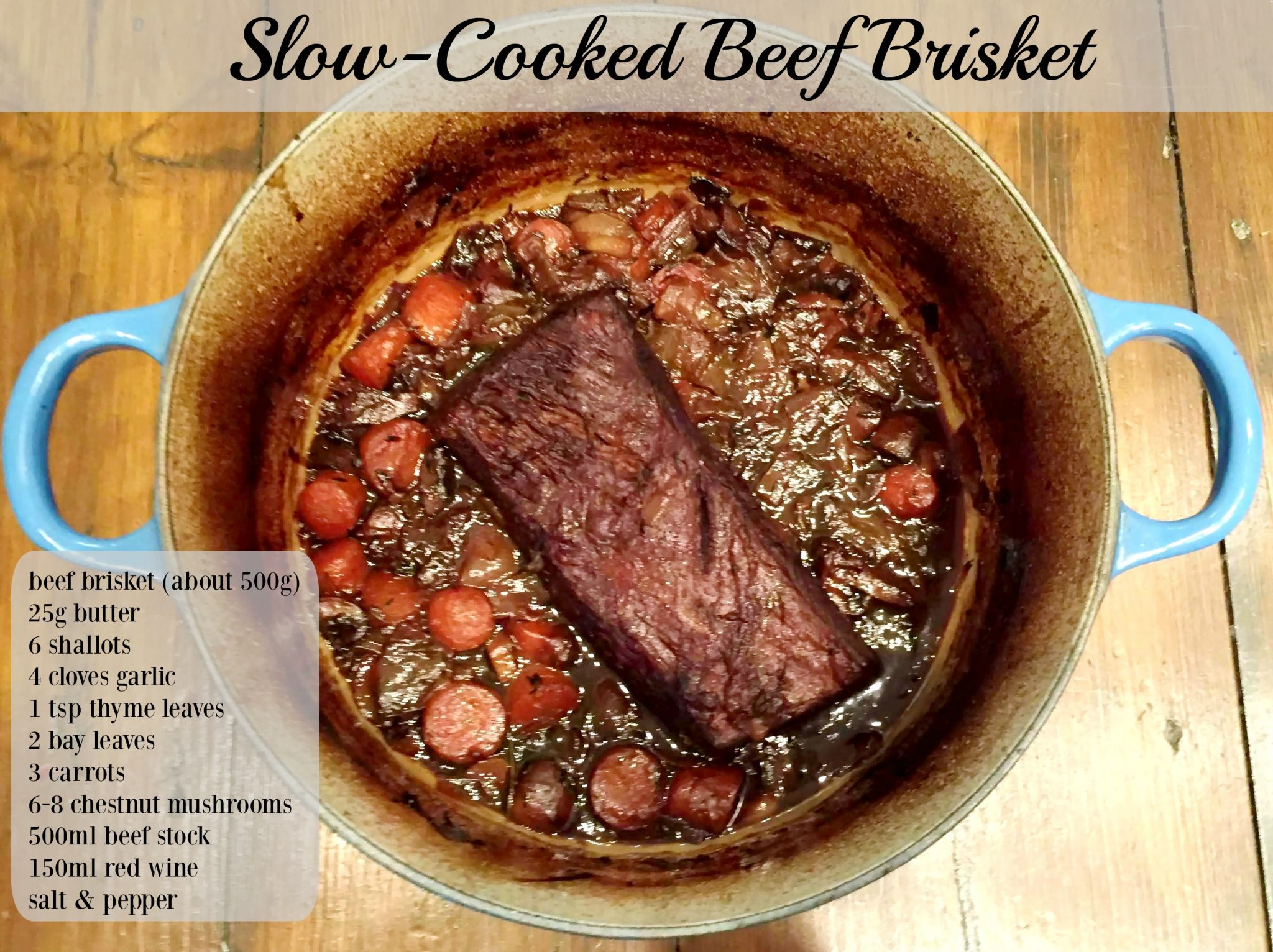 It never happens that we have a Saturday night to ourselves but we had one free this weekend and I was very excited to spend it indoors.  A night in front of the fire was in order so, to amplify the cosy feeling, I decided to cook a roast dinner.  We found a lovely piece of beef brisket that looked perfect, so I prepped it in the afternoon and put it in the oven to cook for 4 hours so it was ready in time for our evening meal.
It's one of those dishes that is so easy to make but tastes like you've spent hours slaving over cooking a gourmet meal!  And once you've done the small amount of prep-work you can just leave it to do its thing while you get on with the rest of your day – and it makes the house smell absolutely amazing while its cooking.
Preheat oven to 170C before you begin.  To prep the brisket you start by heating the butter on a medium to high heat in the oven proof dish, on the hob, and searing the outside of the meat to caramelise it slightly.  A couple of minutes on each side should do it.   Brisket is a cut of meat from the  breast or lower chest of the cow.  it's a very muscular cut so needs slow cooking to tenderise it but it's full of flavour and absolutely delicious if cooked the right way.
While the meat is searing, peel and chop the shallots and garlic cloves into quite large chunks and the same with the carrots and mushrooms.
Remove the meat from the pan and add the onions and garlic in its place along with the thyme leaves.  Cook these on a medium heat until they start to brown and caramelise – about 5 mins.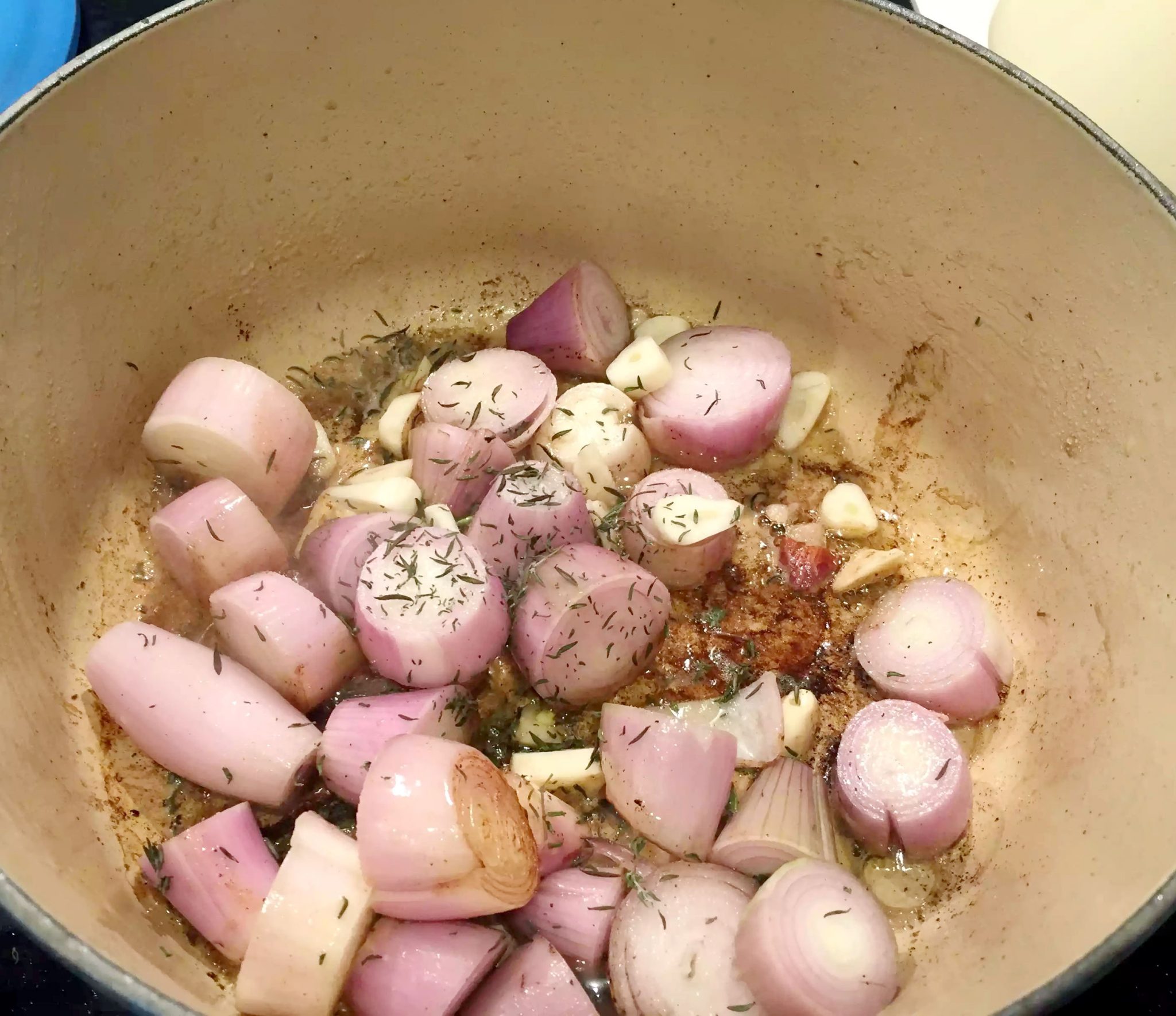 Add the meat back into the pan withe the vegetables.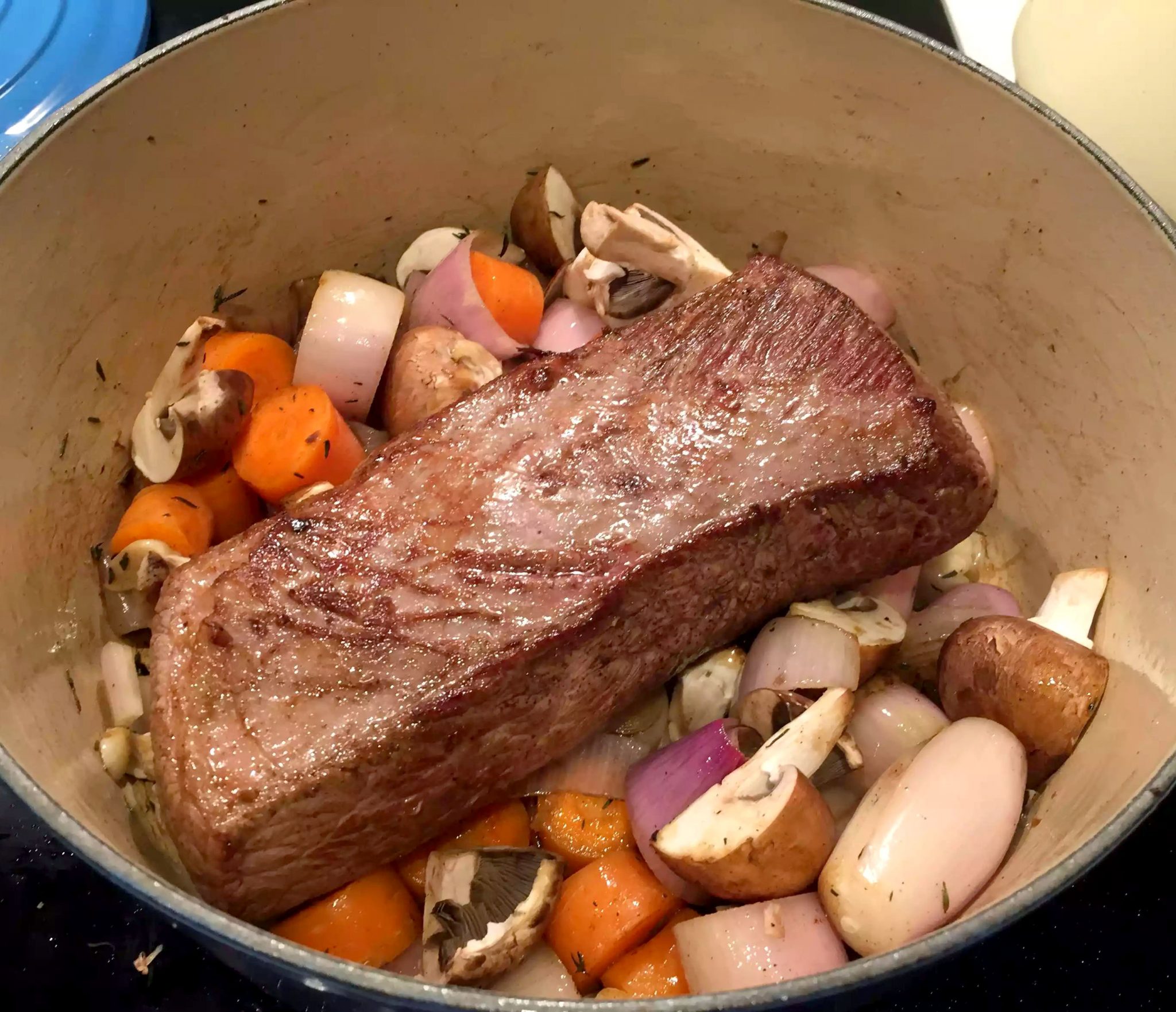 Add the beef stock and red wine, the bay leaves and plenty of salt and pepper to season everything.
Turn the heat up to a boil and then at this point you could transfer it to your slow cooker if you prefer or continue on in the oven proof dish like I did.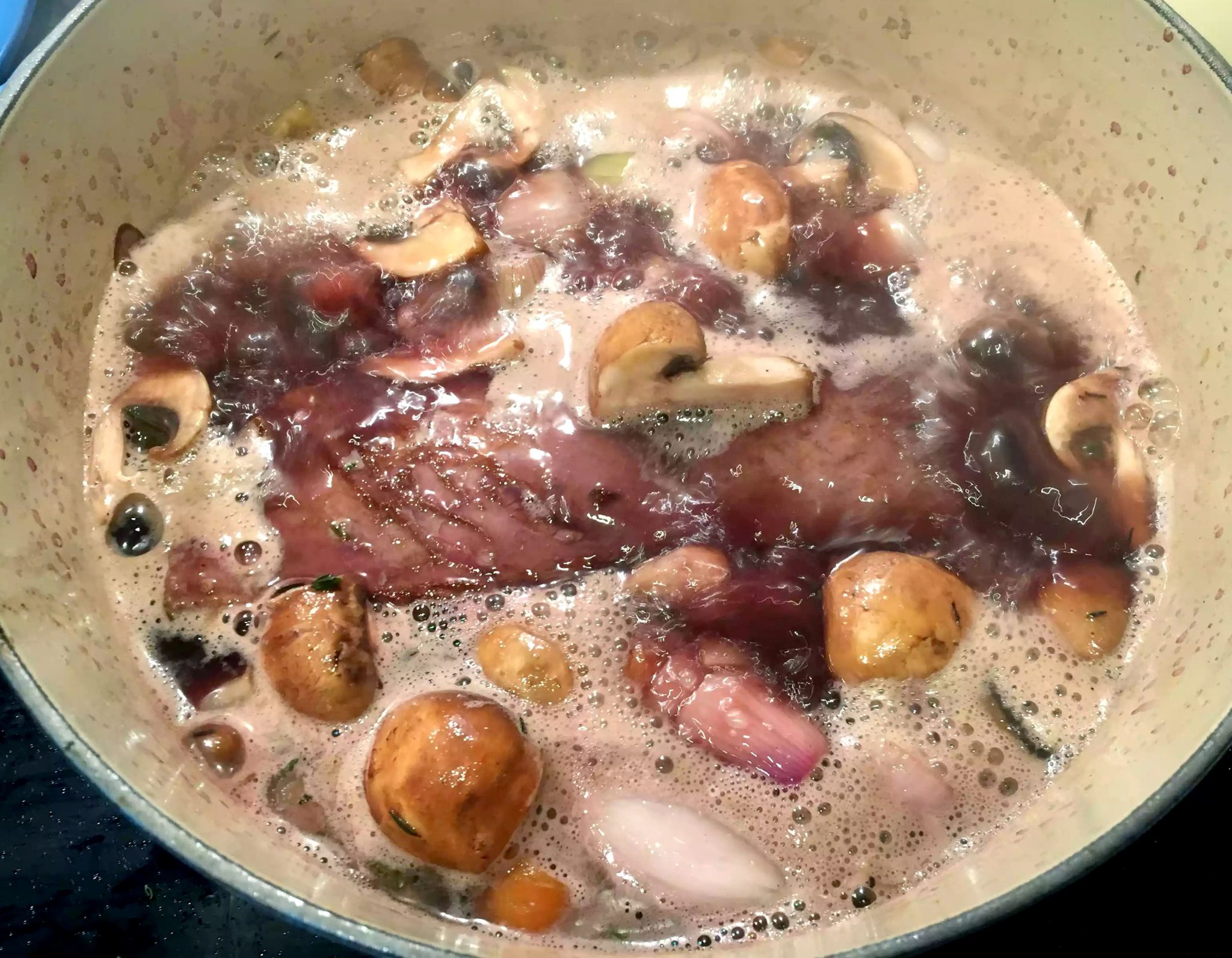 Put the lid on the ovenproof dish, or cover it in tin foil to and put it in the oven for at least 4 hours – even longer if you have more time.  Put it on high in the slow-cooker  for 6-8 hours if you're using that method.  I like to flip the brisket every hour so that one side doesn't have too much contact with the air and dry out.
Remove the lid for the last 20 mins of cooking time so that the cooking liquids have a chance to thicken and turn into a delicious gravy-type sauce.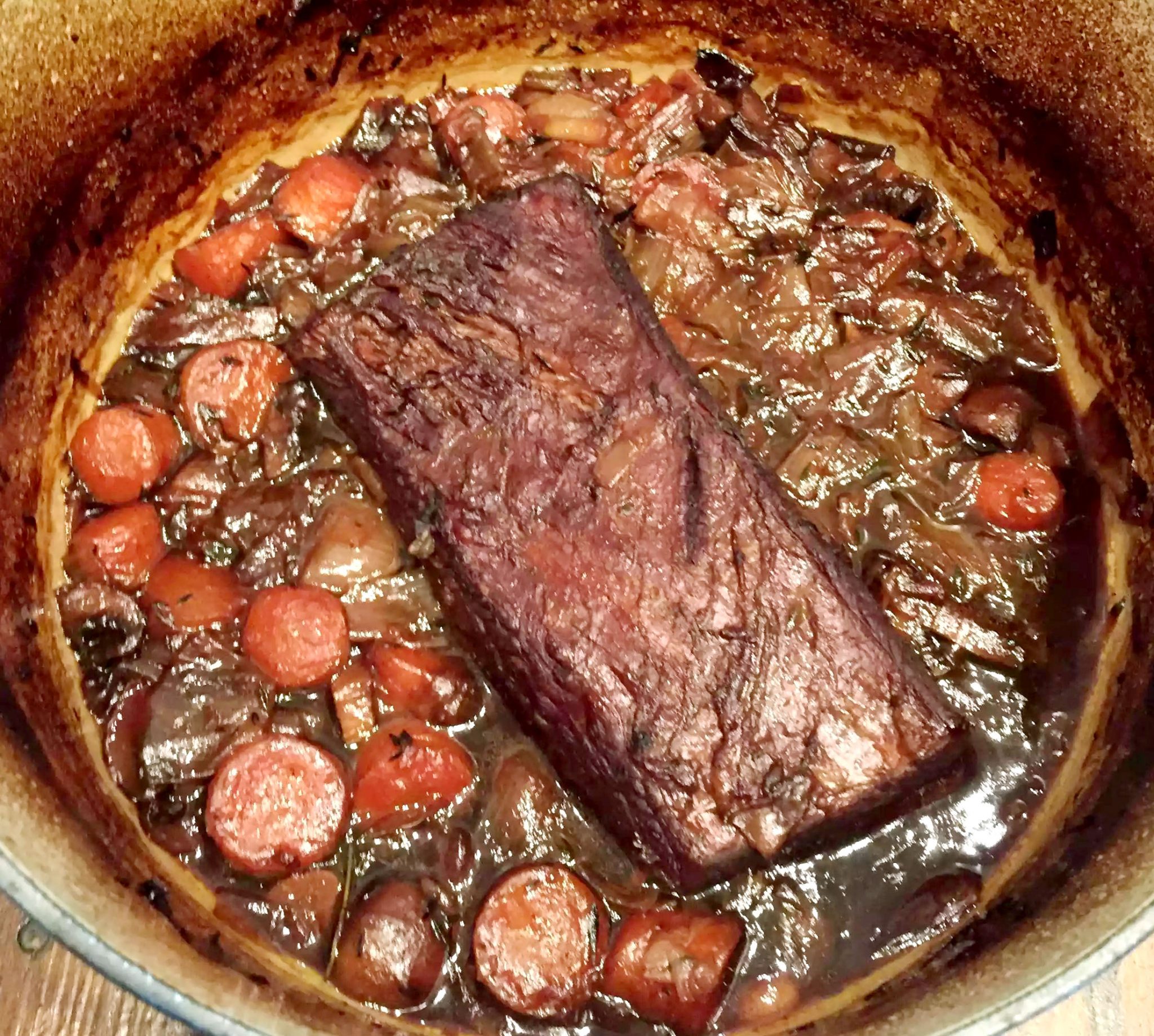 When it comes to serving the brisket, you don't even need a knife to cut it with.  It's so tender that it can just be pulled apart with two spoons.  I served it with sides of my Buttery Savoy Cabbage with Bacon and my Cauliflower Mash.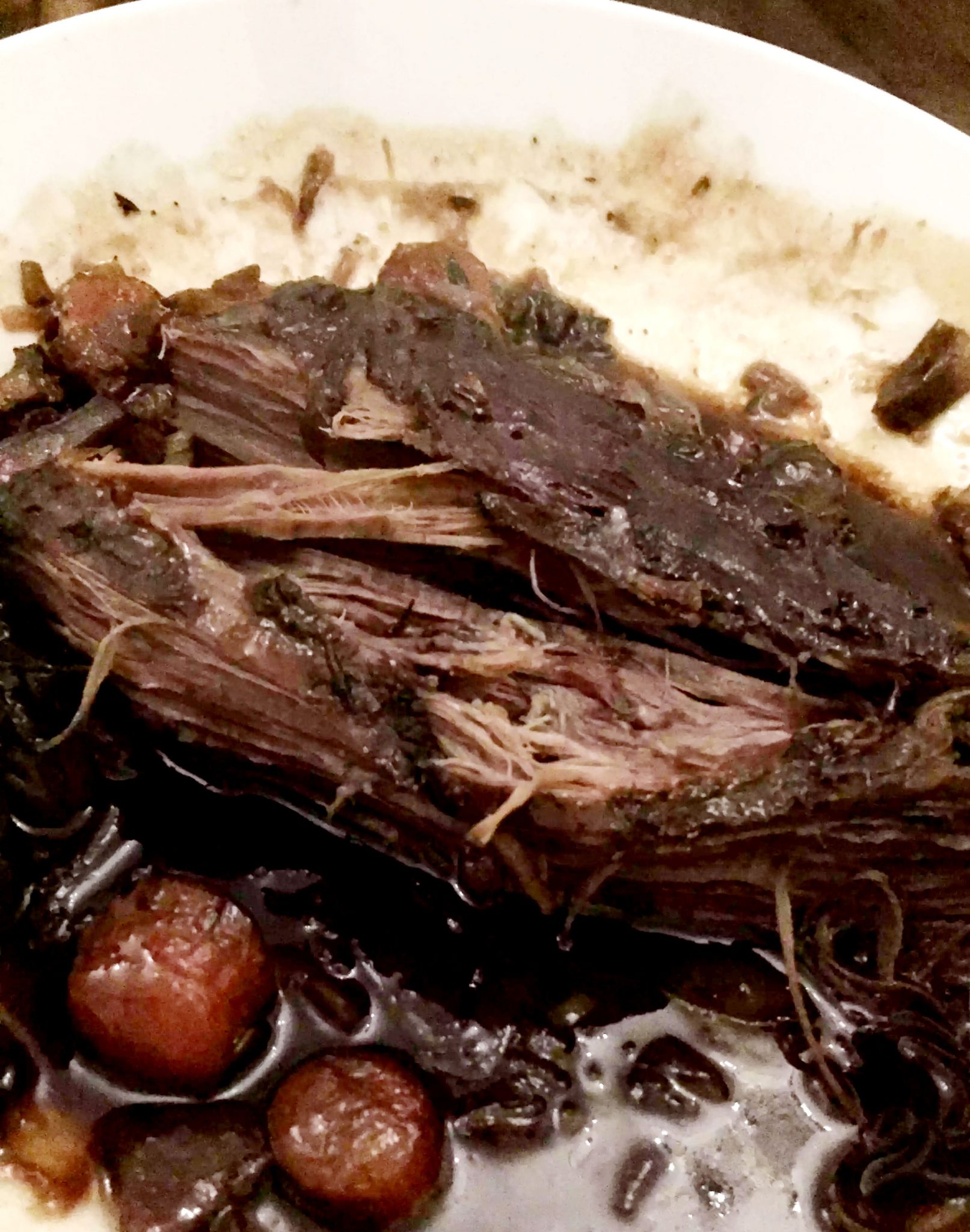 We ate our yummy dinner in front of the first fire of the year! All washed down with a special bottle of wine from our Brunello shipment that we'd ordered when we were in Montalcino a few months ago.  Delicious, and the first time we'd tried a bottle – we plumped for the Valdicava 2005 as this is one of the ones that's perfect to drink now (the other's could do with a few years maturing yet) and it tasted like dark cherries with a hint of oakiness and smoke, but we both agreed that it's fully mature now and ready for drinking so we'd better get through them soon!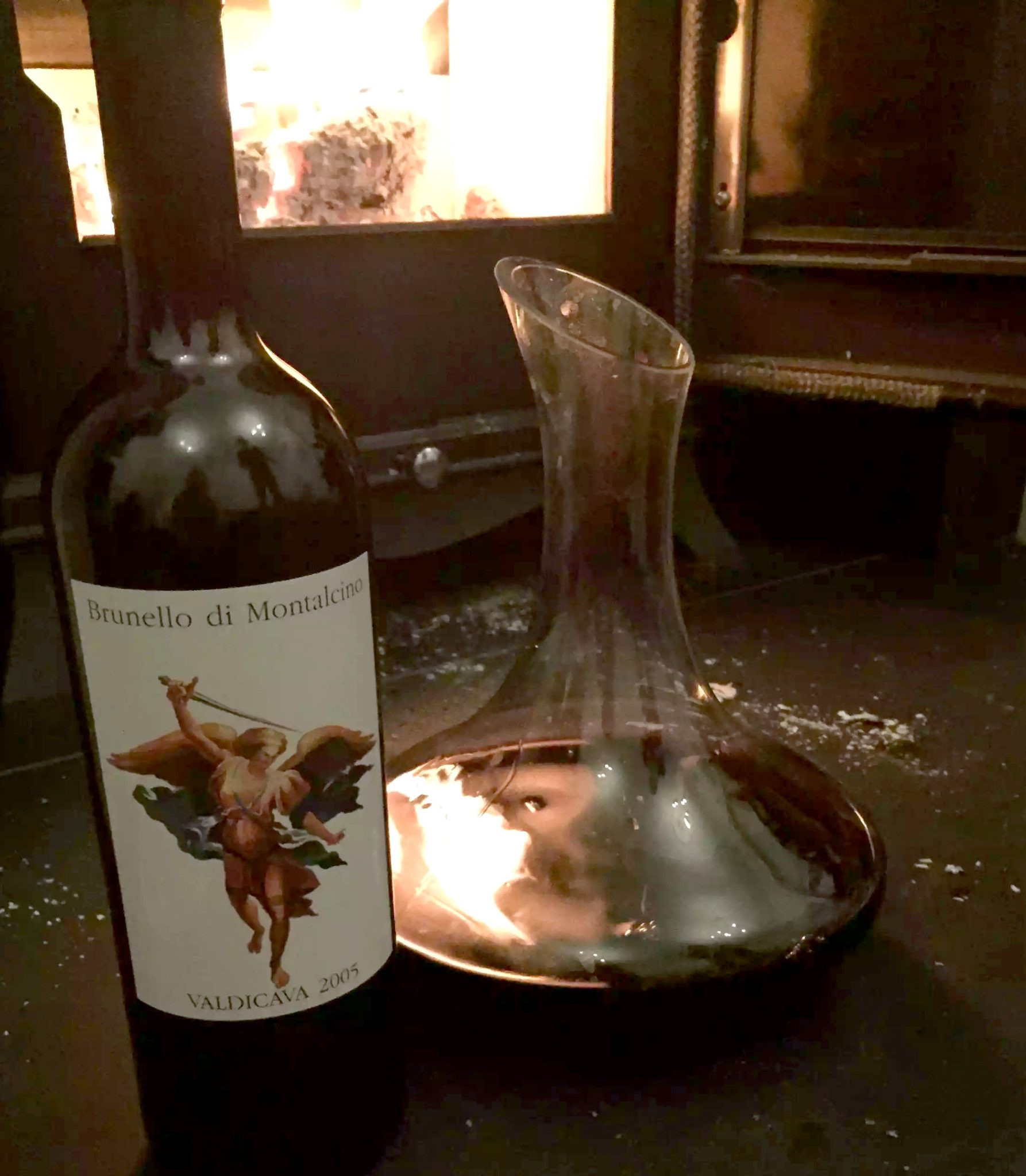 The brisket served both of us with some left over so a piece this size (500g ish) probably serves 2-3  – the leftovers are perfect for a steak sandwich the next day!
There really is nothing better than a home-cooked slow roast meal in front of the fire when it's cold outside.  It feels so cosy and Christmassy – the true definition of 'hygge' the new saying that's taking the world by storm (it's a Danish word that literally means the feeling of comfort, coziness and contentment)  and this was definitely that.  Full bellies, warm comforting food, delicious wine and a fire to snuggle down in front of.  I really do hope your weekend was as lovely as ours was!