Only managing a cheeky ski-weekend away this year instead of a week-long break, we picked Chamonix as our destination as it's very easy to get to.  It's only an hour from Geneva by car so it's perfect for a weekend trip unlike most of the other resorts which can be 2-2½ hours drive.  This is my How to ski Chamonix guide which I wish I'd known before going as it was a steep learning curve.  With so many different ski areas and different types of passes we finally worked it all out!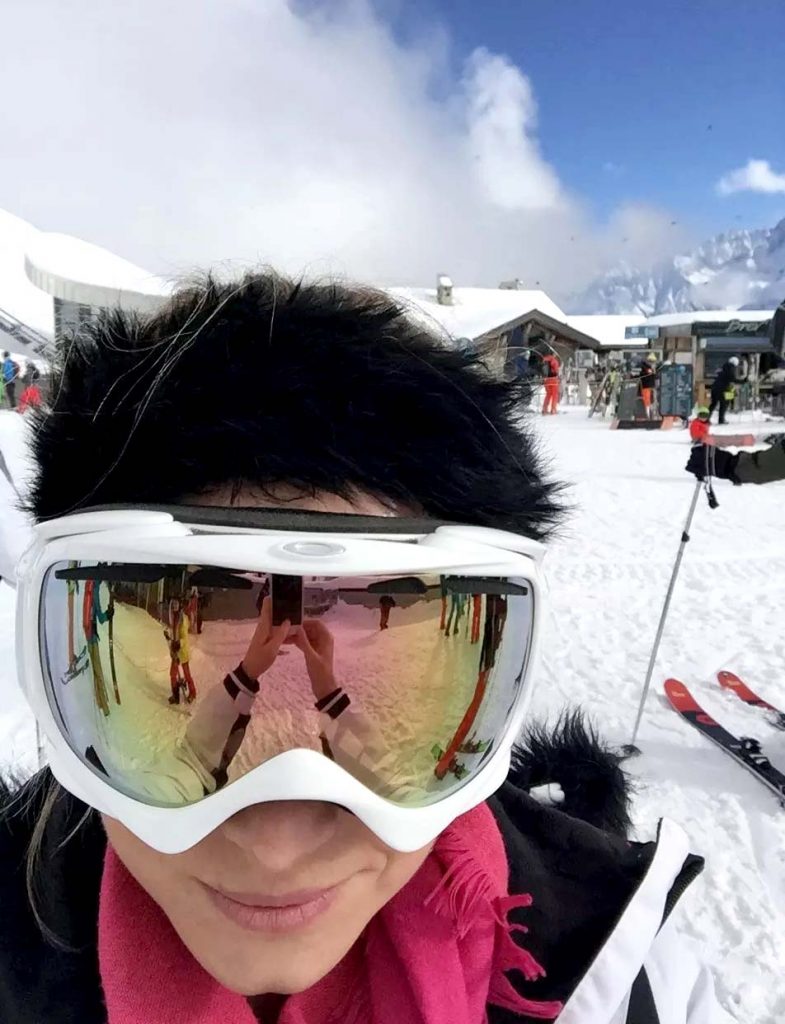 Chamonix in France is a resort with a huge ski area although it is quite spread out.  There are 5 main regions but also plenty of others within easy driving distance of the town so there's plenty to choose from each morning.  You can get a free bus to all of them but we chose to drive our hire car every morning to a different ski area.  There's only one ski area (Brévent-Flégère) that you can ski into and out of Chamonix Town from but even that is quite a walk from the main area so the bus or a car is still advisable.  You don't need to worry about parking – there are huge car parks at the bottom of each slope and the prices are not expensive (about €1 an hour if they're not free!)  We chose to ski Brévent-Flégère, Balme-Vallorcine and Les Grands Montets on our three-day trip.
Lift Passes
If you're skiing for a week, I'd recommend getting a six-day pass as you end up getting one free day's skiing.  We bought individual passes each day as we were only there for 3 days and weren't sure where we'd want to ski everyday.
All the 3 regions below (excluding Les Houches) are covered on the Ski Chamonix – Le Pass (€50.50 a day or €252.50 for 6) but to go up to the top of Grands Montets you need to purchase an add-on.
There is also a cheaper pass (€43 for 1 day or €215 for 6 days) which covers just Les Houches and would be a great option for beginners.
The more expensive Mont Blanc Unlimited Pass gives you access to plenty more areas (10 in total – in 3 different countries).  All of the Chamonix regions, plus Megève, and Evasion Mont Blanc – the top of Grands Montets and the Agulille du Midi.  You can also ski Courmayeur in Italy and Verbier in Switzerland.  If you purchase this then you also get to use the Cham Val' – a leisure centre with a pool, ice rink etc, 1 descent on the Luge and access to the Funivie Cable Car to take you up to the top of Mont Blanc where you can see 3 different countries (Italy, Switzerland and France).  This costs €62 for a day or €299 for 6 days.
You can see all available lift passes here.
Ski Chamonix – Le Pass
Brévent-Flégère
This ski area is very close to Chamonix town centre.  We skied this area on the first day and it was probably my favourite ski area of the lot.  Two separate mountains with a Cable Car to link them so you could ski two different peaks and valleys fairly easily.  The runs were a complete mixture and it would be suitable for all abilities with plenty of greens, blues, reds and blacks to suit everyone.  The only problem being that the run down into Chamonix is a fairly taxing black so if you are not an expert skier it is best to take the Cable Car down at the end of the day.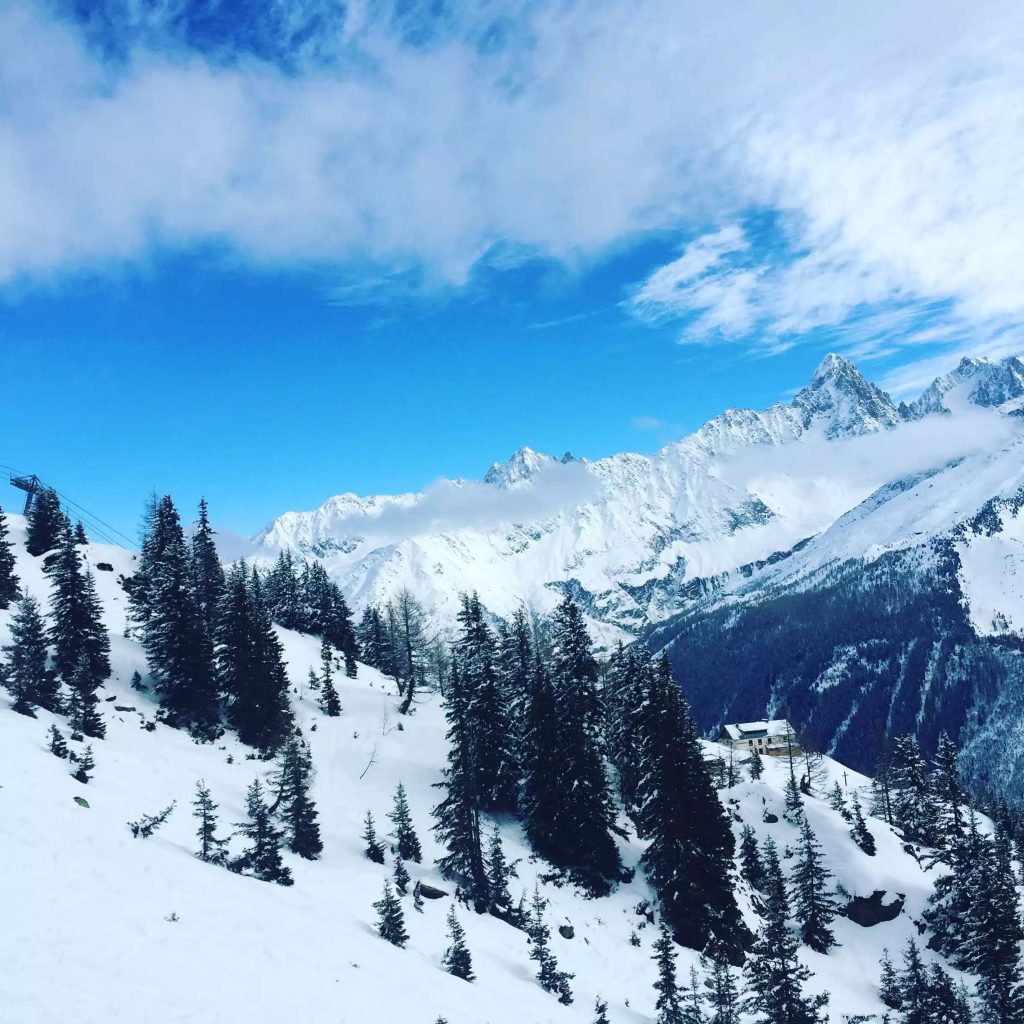 You can walk from town to the Plan Praz cable car to take you up the mountain (but it's quite a trek up a steep hill – we drove) and ski back into town at the end of the day.  For lunch – I'd highly recommend the La Cabane des Praz restaurant – just make sure you don't spend all afternoon there, it's easily done!).  An elegant fine-dining restaurant beautifully decorated like a ski lodge with a fantastic wine list.  It's ski-able from Les Praz, again though, with a black run back into town but you can also take a Cable Car instead.  You can read all about my fantastic lunch there in this blog post.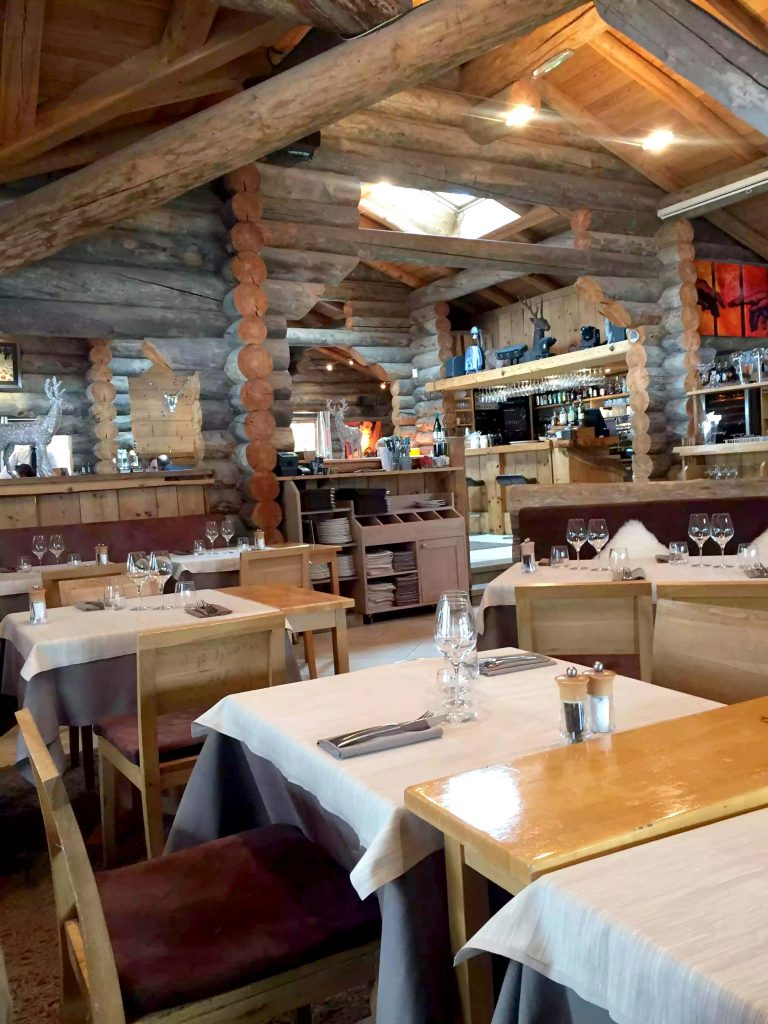 The mountains get the sunshine most of the day and you get to ski facing the incredible Mont Blanc.
Balme-Vallorcine
We skied this area on our second day and found this area great for off-piste, plenty of skiing to be done there.  If powder and off -piste are your thing, this is definitely the area for you.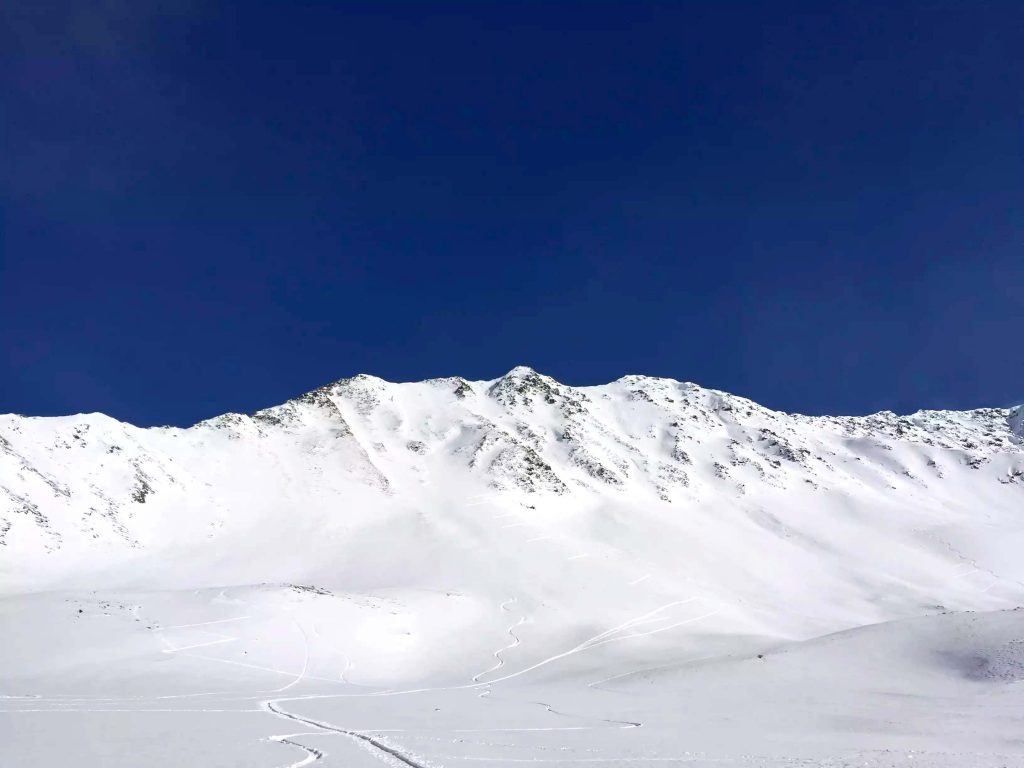 The actual pisted runs varied from fairly flat (not great for boarders) to fairly steep (not great for beginners) with little in-between.  We also felt like we skied it all in a day and there would not have been enough to do there to warrant spending any more time in this area.  There is also an amazing view down into the Chamonix Valley which is absolutely stunning.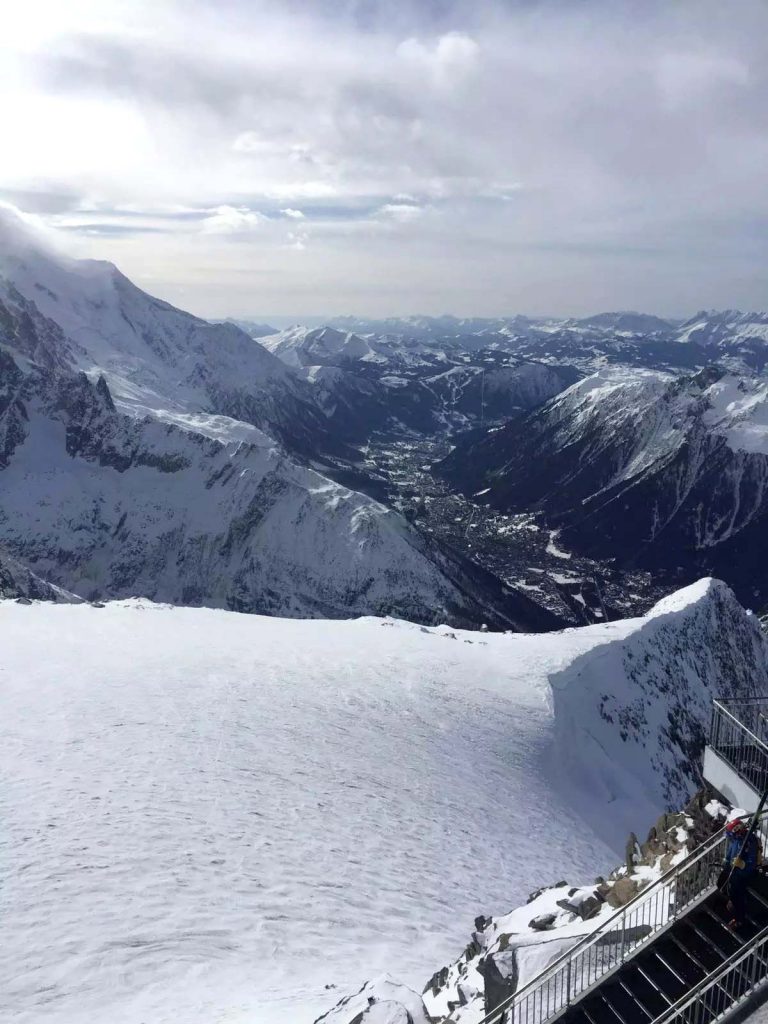 For lunch we skied down into the tiny picturesque village of Vallorcine to an amazing restaurant called Le Café Comptoir.  I can only suggest booking though as we weren't able to get into the fabulous restaurant.  We still had a lovely lunch on the terrace but it was from a very small set menu.  The menu inside is exquisite and definitely worth booking for.   Again, there is a steep black run back to the car park but it is also accessible by taking the Cable Car back down.
Grands Montets
The toughest of the ski areas, probably not recommended for beginners.  The runs are mainly red and black with not much for beginners at all.  It's steep and enables you to ski the greatest height losses in the world.  If you go to the top and ski the Argentière glacier you can even ski late in the year until May as it's so high.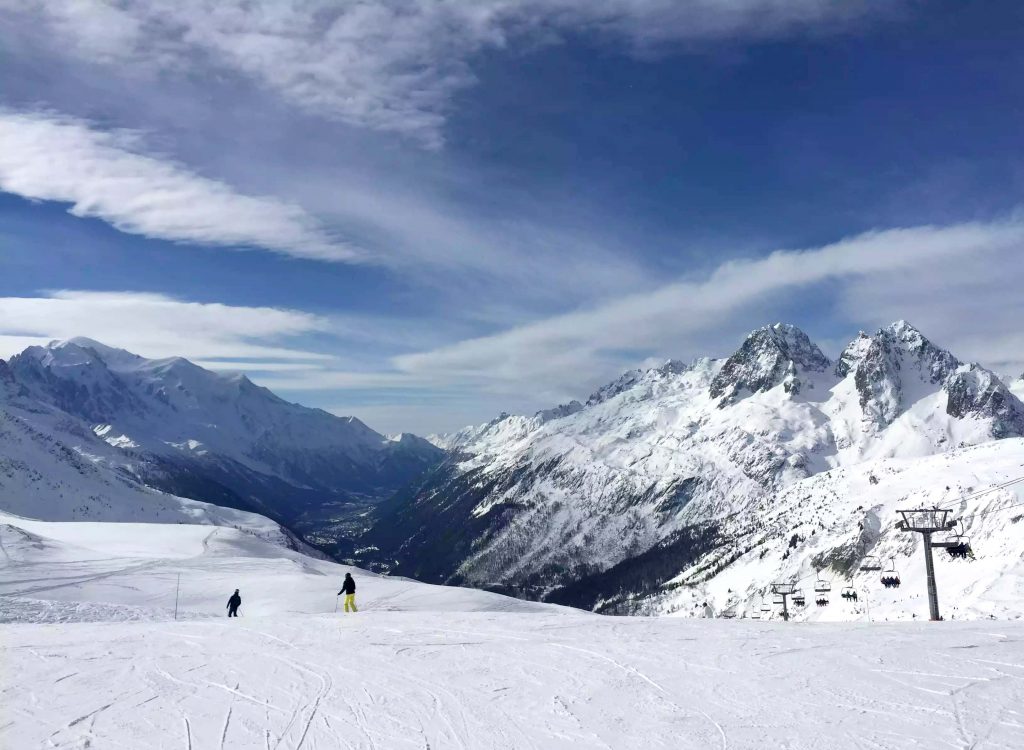 There's a lovely restaurant that we went to on the slopes called La Table du Plan Joran.  It has a buffet style restaurant with the usual pizza, pasta, salads etc and also a fine-dining area.  We went for the fine-dining set meal and were impressed at the standard of the food.  Not what you'd normally get up the mountain.  We had slow roasted beef cheeks, soufflés and an amazing truffle soup.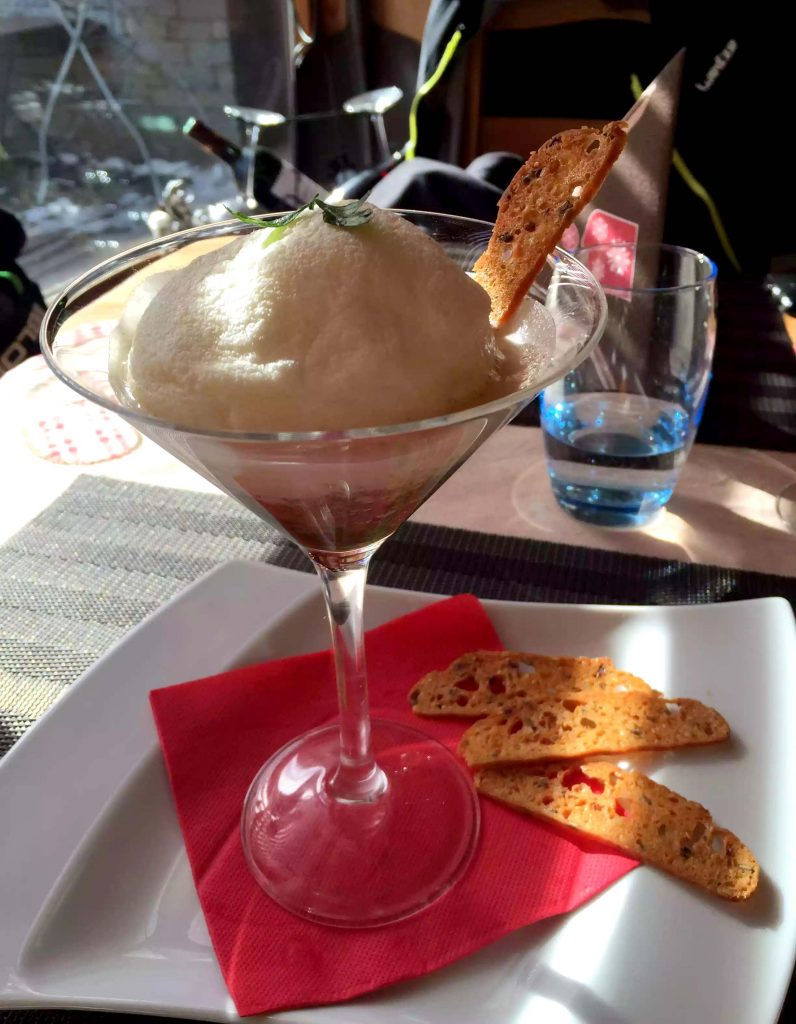 The main resort and most of the runs are available on the Ski Chamonix – Le Pass.  You need to pay extra to use the Grands Montets ski lift which takes you up to the top and pre-booking your ride is advised.  It fast tracks you through the main queue so you don't have to wait in line.  The lift takes you up so you can ski the Argentière glacier and plenty of challenging black runs.  The run back down to the bottom is a wide red which is doable for most abilities, or you can just take the Cable Car back down again to the bottom.
Les Houches Pass
Les Houches
We didn't actually ski this area but it's supposed to be the most picturesque of all of them.  Lots of easier runs (blues and greens) through the trees and a great choice for beginners.  The ski pass to this are is cheaper which reflects the level of ski runs I think – not so much here for he more advanced skiers.  Top Tip: buy your lift pass there rather than in town ahead of time as it works out cheaper
Mont Blanc Unlimited Pass
The Mont Blanc Unlimited Pass covers all the areas that the Ski Chamonix- Le Pass covers as well as Les Houches and plenty more regions…
Aguille du Midi – This is reached by a Cable Car from Chamonix Centre.  From its height of 3,777m, its laid-out terraces offer a 360° view of all the French, Swiss and Italian Alps. A lift brings you to the summit terrace at 3,842m, where you will have a clear view of Mont Blanc.  If you're brave enough you can try Le Pas Dans Le Vide – A Step Into The Void onto a 2.50 m glass cage out over a 1000 m precipice.  with nothing between you and the drop apart from a layer of glass, it's not one for those who are afraid of heights!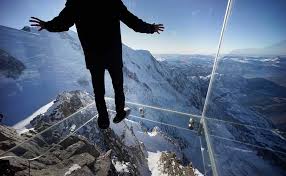 The Pipe is a long steel gallery of 32m to allowing you to walk right around the whole of the summit.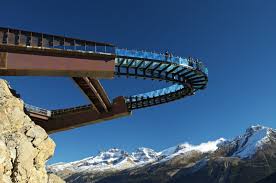 There is also the Panoramic Mont Blanc Gondola which takes you over the Glacier du Géant to the Pointe Helbronner in Italy. It is open from June to September.  You can even ski all the way down into town but the run is unpisted and you must have a guide with you.
The Mont Blanc unlimited Pass also allows you to Ski Mont Blanc and you can also ski Verbier in Switzerland and Courmayeur in Italy!
You will also have use of the leisure centre in Chamonix where you can ice-skate and swim.
Chamonix Town
Chamonix town itself is a typical picturesque Alpine Town.  Most of the centre is pedestrianised during the day and there are plenty of shops and cafés if you want some time off from skiing.  There are bars and restaurants aplenty, everything from the standard Irish Bars to some very chic nightclubs with serious dress codes!  We went to a couple of bars for après ski which were buzzing – one even had a live band and people dancing on the tables.  Elevation 1904 and Chambre Neuf are the ones to look out for!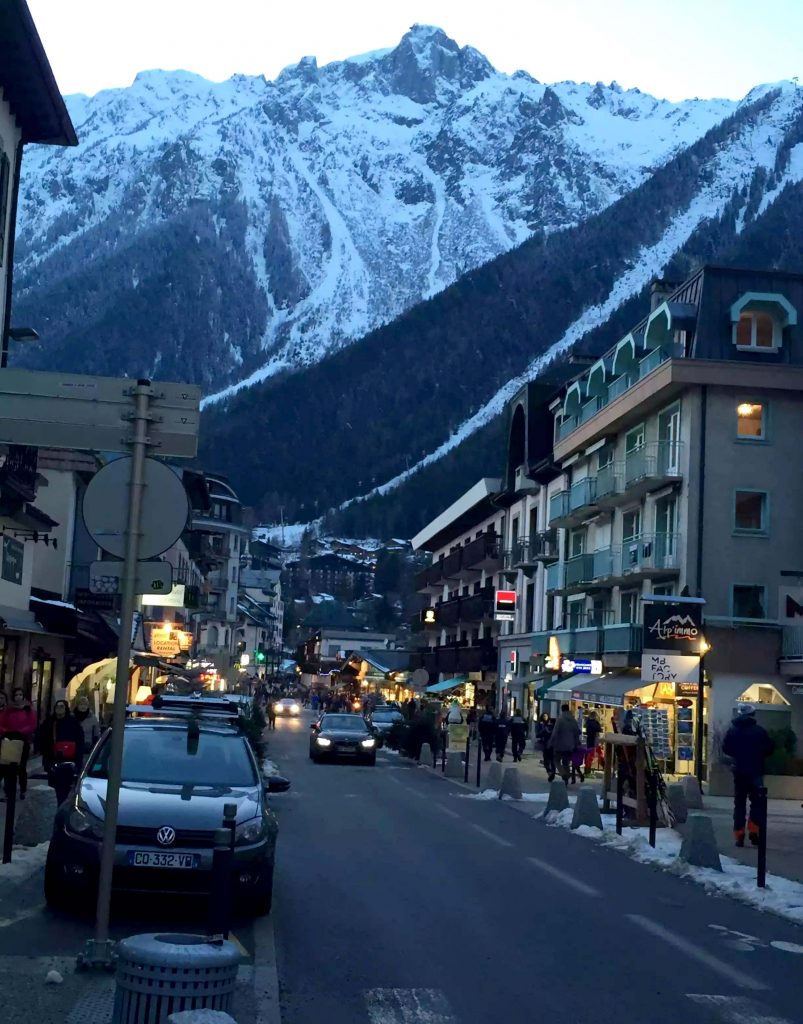 Our hotel was half board so we only ate out one night but I can definitely recommend Le Chaudron for all your Savoyard Specialities!  Fondue, Raclette, Tartiflette and Chateaubriand.  Perfect after a hard day's skiing.
I hope this gives you a bit of an insight into how to ski Chamonix.  As i said, for us, it was a steep learning curve so hopefully this post has given you some inside information to make your holiday planning that much easier!  Bonne voyage and good skiing!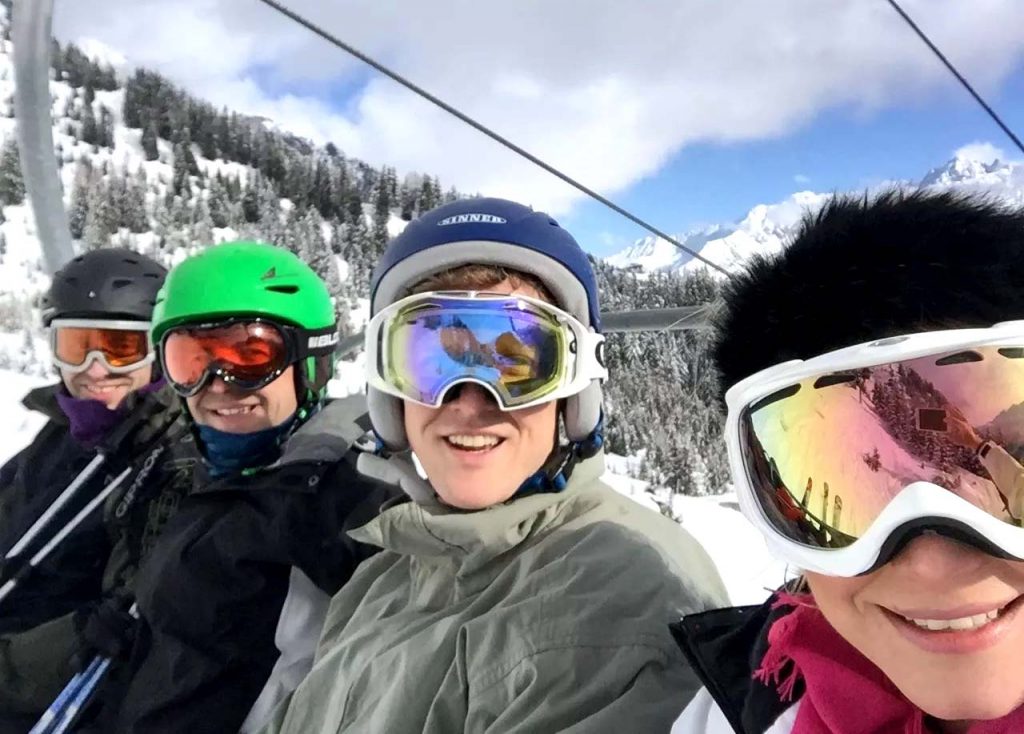 Pin it for later