Pan Chai is an Asian Fusion restaurant located in Harrods, on the Ground Floor in the Food Hall.  It is a counter style restaurant where you can watch the sushi chefs creating amazing rolls and platters while you eat!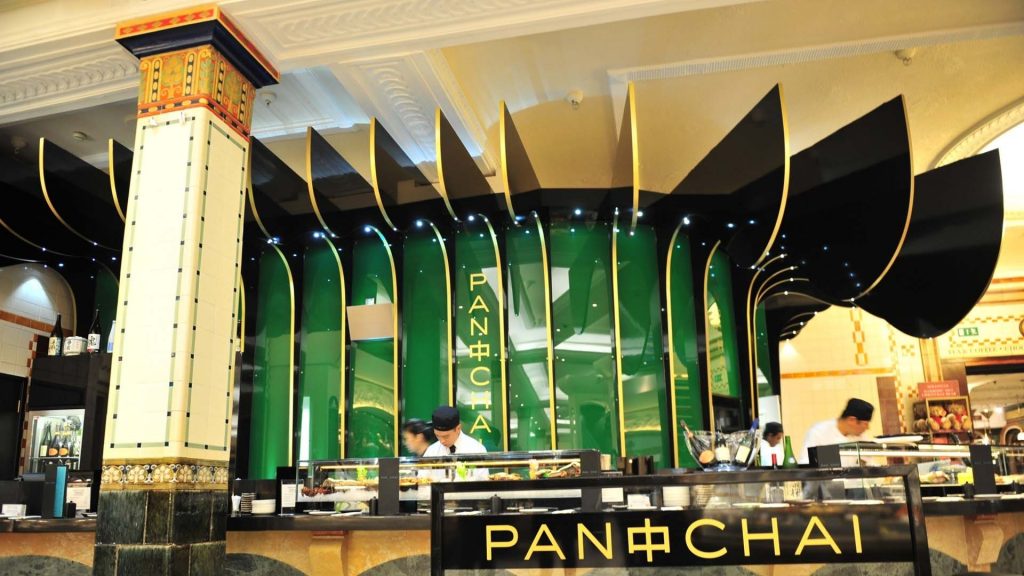 Chabile, the hostess, welcomed me warmly and showed me to my seat.  I decided to start with a glass of Moutard Vintage Champagne 2007 while I waited for Dan to arrive.  The champagne was delicious, lovely and toasty, you could tell that it was nicely aged, and was the perfect way to start off the meal.  Dan then arrived, ordered a glass of champagne too and we decided to take a look over the menu.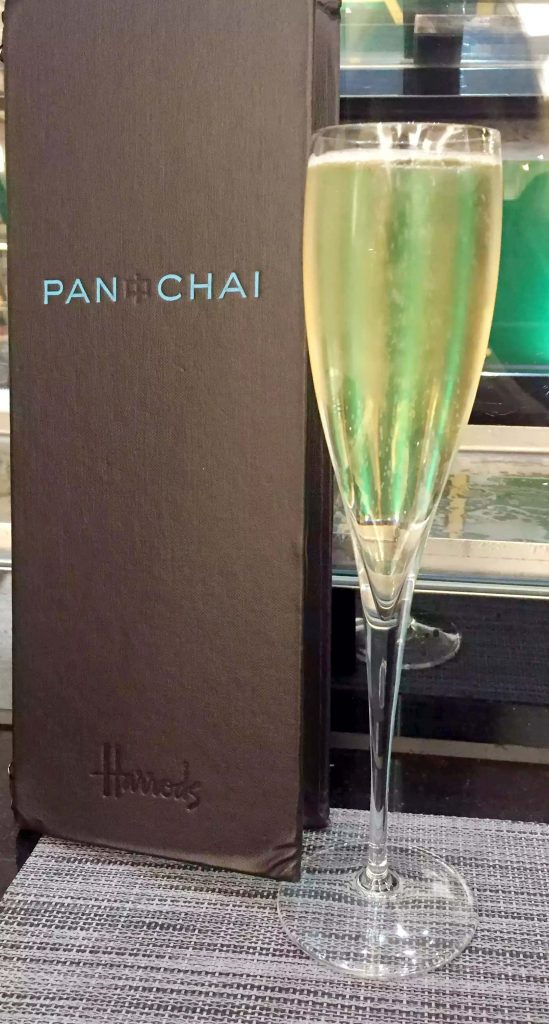 The menu is vast and there are plenty of options to suit a quick-lunch or a longer more decadent dinner.  There are dishes on offer from many Asian countries, from Malaysian Beef Rendang to Korean Wagyu Beef to Japanese Salads and Soups.  You can also have traditional sushi or nigiri or go for something a bit different.  We decided to try a few options and share everything so that we could get a sense of all the food that was on offer.
We ordered a bottle of the Puligny Montrachet, 1er Cru to pair with the meal.  I'm normally a red drinker but with all the light seafood that was on offer we decided to go for a white wine and Puligny Montrachet is one of my favourites.  An oaky Chardonnay is my favourite type of white wine and Puligny Montrachet is one of the best examples.  This was a fantastic offering from Pan Chai, a beautiful Chardonnay with well-integrated oak and hints of pineapple and citrus.  It had a buttery finish to it and would complement the seafood perfectly.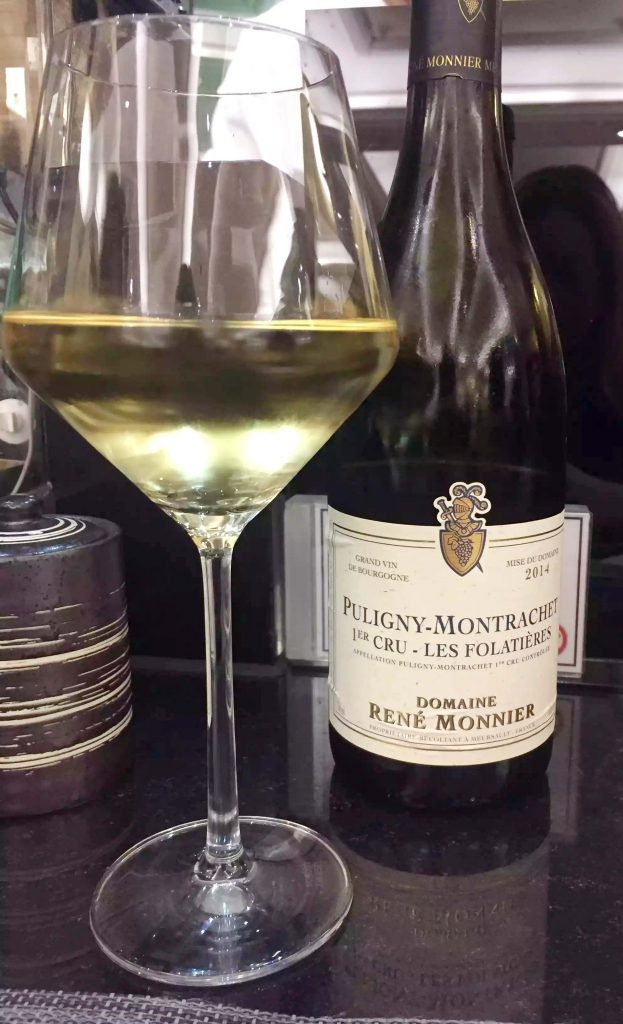 I asked our waitress Chabile for some food recommendations and she went straight to the Pan Chai platter section.  These were different platters for either 1 or 2 people with a selection of nigiri, sashimi,  sushi rolls and even more alternative choices such as foie gras or wagyu beef.
We decided to go with the sashimi platter (Gohin Platter – £75) for 1 to share as one of our starters.  It also came with a portion of edamame beans beforehand which we tucked into while we waited for the sashimi.  It was huge!  3 pieces each of salmon, tuna belly, eel, yellowtail, scallops, sea bass, snow crab and caviar toppings.  And what amazing sashimi it was.  It was the freshest seafood I think I've ever eaten in a UK restaurant.  The highlights for me were the scallops – so tender and flavourful and the tuna belly.  I've never had it as sashimi before but it was so rich and fatty that it just melted in my mouth.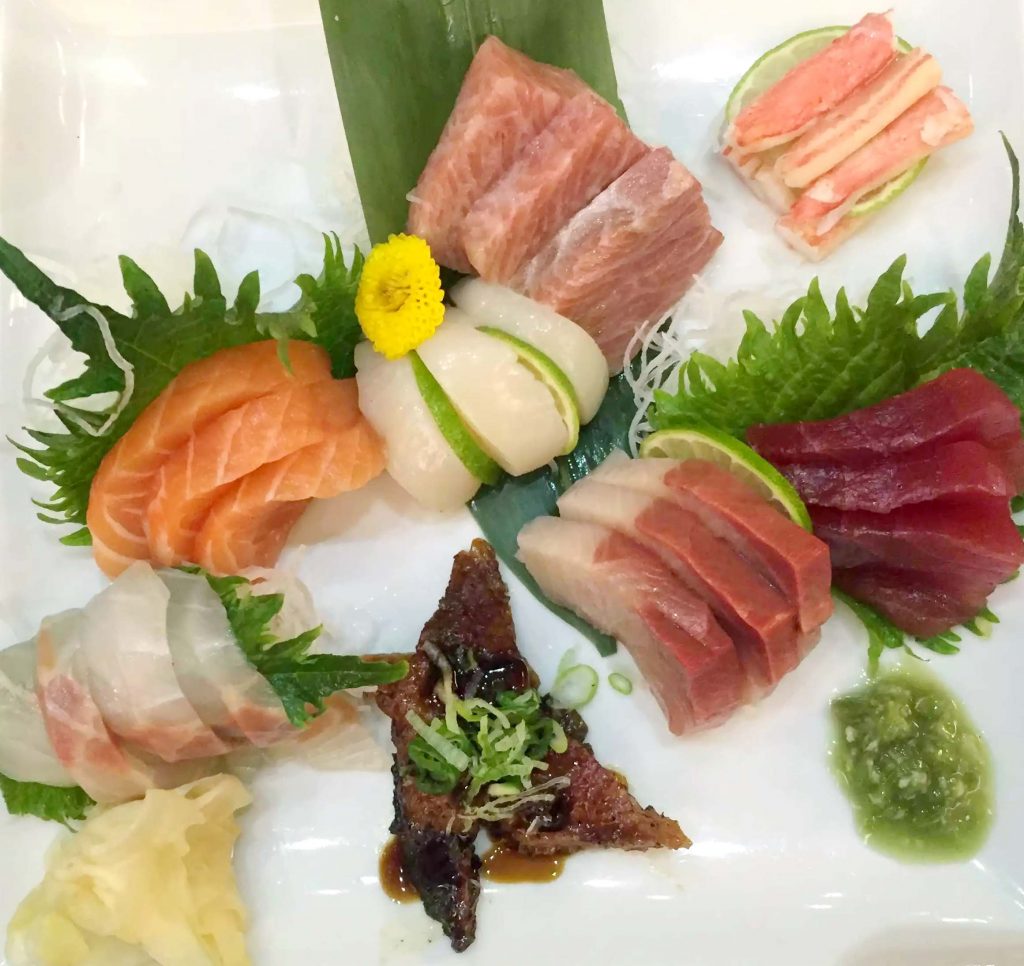 We were glad we only ordered the platter for one though!  It was plenty to share for both of us and that's what I tended to find with most of the dishes.  The prices are quite high but the portions are extremely generous.
Dan also ordered the Mixed Tempura £42.50 on our waitresses recommendation.  Crispy battered rock shrimp, soft shell crab, and lobster served with an orange ponzu sauce.  Not being able to eat the batter didn't stop me from picking it off and eating the delicious seafood.  The lobster was so firm and meaty and fresh – it really was amazing quality.  I've had many a badly battered shrimp and these ones were just incredible.  The crab was tasty and meaty and again, there was so much of it and so beautifully presented!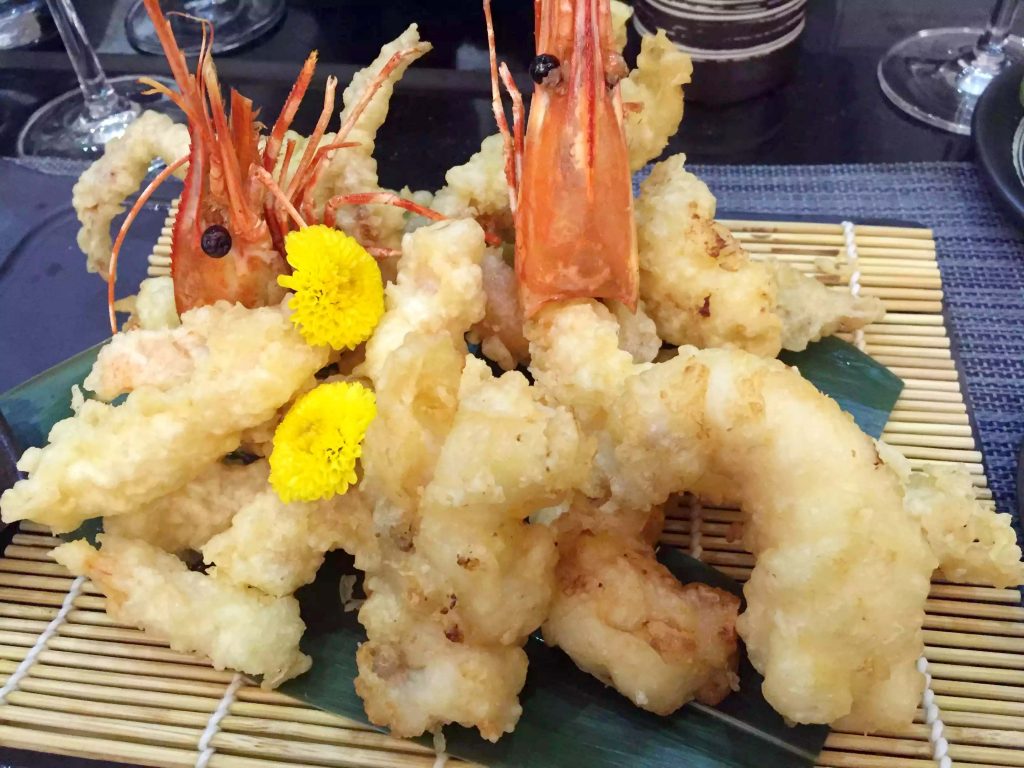 Next up we decided to go for the Tuna & Hamachi Tartare £26.00 which was yellow tail sashimi, topped with ginger puree, chive, jalapeno, caviar & miyuga.  Billed as a starter, this again, could very easily be a lunch for one person as there was so much of it.  It was fresh and delicious and I loved the pairing with the ginger and the tamari.  There was a nice crunch from the cucumber, and the caviar on top added another interesting texture.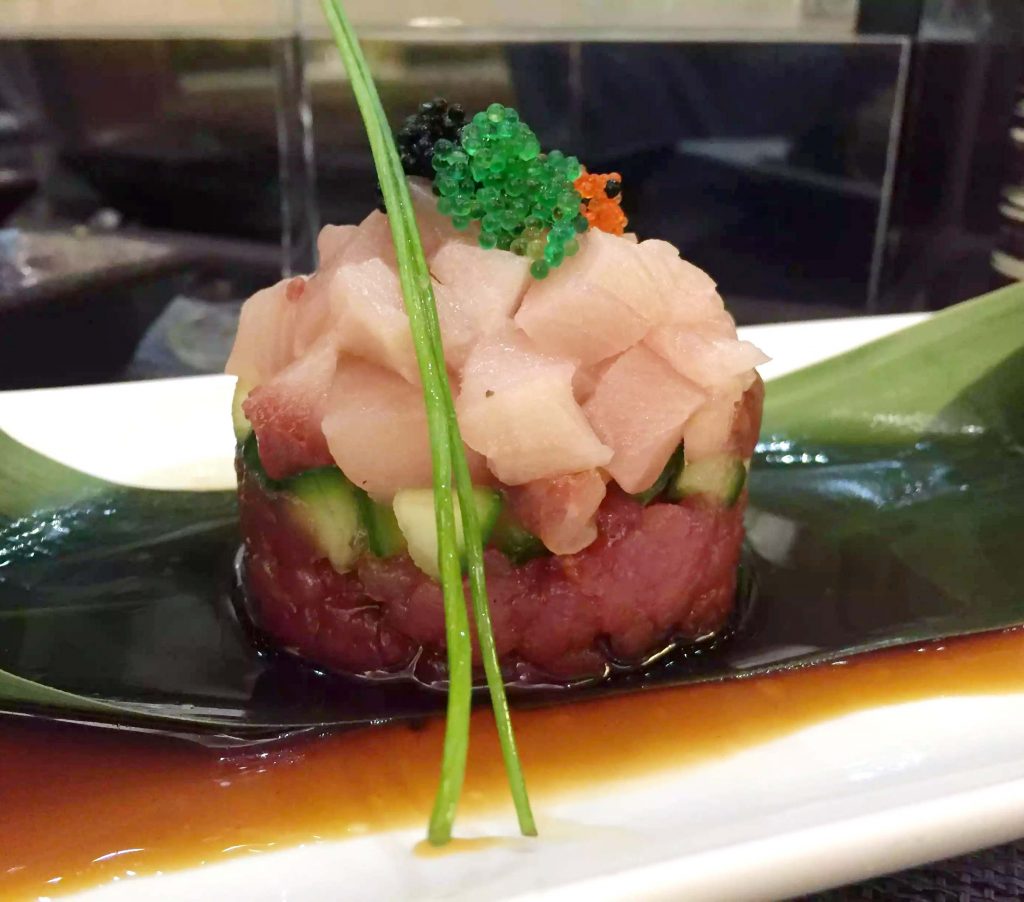 Finally, we decided that we should order something hot so we ordered the Chicken Medallion £22.95 from the grill menu. Chicken marinated in Korean chilli oil, fruit juice, herbs, grilled and glazed with spicy bulgogi sauce.  Again, it was double the size that we were expecting, two huge pieces of chicken came out covered in the most delicious spicy sauce.  Perfectly balanced with salt and sweet it was sticky and delicious and the quality of the chicken was nothing like I've ever had before.  I'm still not sure how they made it so juicy and tender!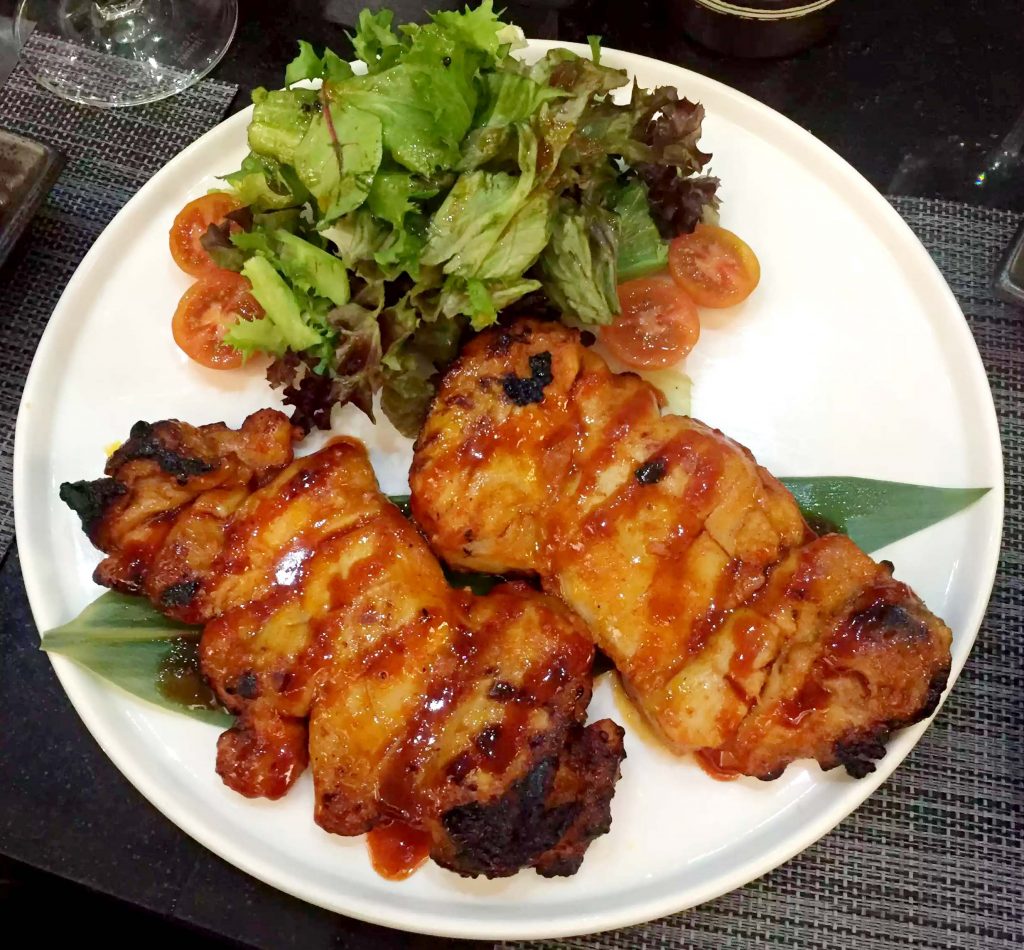 And when in Asia…we decide to finish with a glass of Sake.  Chabile recommended the Premier Plum Sake so we had a glass to end with each.  Syrupy and sweet, almost dessert wine like, it was a fantastic ending to what had been a really exceptional meal.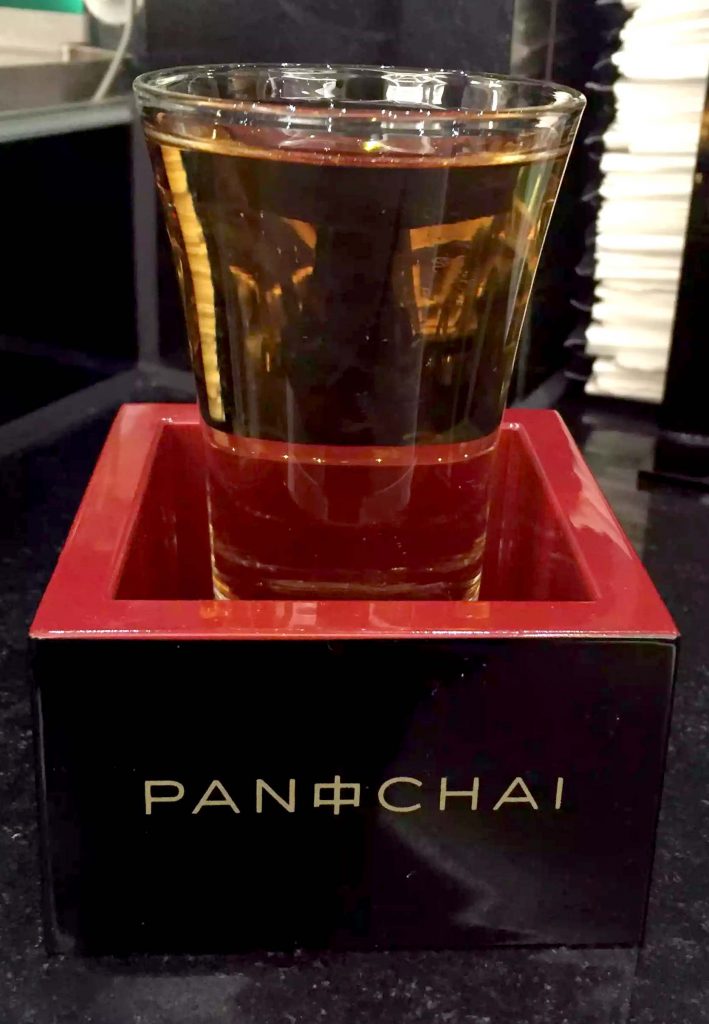 The seafood was some of the freshest I've ever eaten in the UK.  It's expensive but you can see why, the quality is phenomenal.  The portions were extremely generous and for me it is definitely value for money.  We ordered a lot as we wanted to try a few different things but would have been completely satisfied ordering less food due to the size of the portions.  The service was impeccable – very friendly and very hospitable and nothing was too much trouble.  Our waitress was very helpful and knowlegable when we asked for recommendations and we felt very well looked after throughout.
If there was one criticism, it's that the quality of the food and service that I received at Pan Chai is almost wasted on its location.  It's definitely restaurant quality service and food and offers so much more than you would imagine from the location and look of the place.  I've never been to a counter restaurant before with fine-dining.  It was definitely a more luxurious affair because of it.  Pan Chai would definitely benefit from a more upscale and intimate location.  I would love to see Pan Chai become so successful that they're able to open a restaurant in a different location – one more befitting of the food and the quality of the service.  If my experience was anything to go by I would expect Pan Chai to have its own premises very soon…watch this space!
Pin it for later