Last weekend, back in Essex, my mum and I decided to have brunch at Fred & Doug's on Epping High Street.  It's just celebrated its first anniversary and I couldn't believe that I hadn't been in to try it out yet!  Owned by cousins James and Max and named after their grandfathers (Fred and Doug obviously!)  I'd heard great things about this place and it always seems to be busy.  Today was no exception.  We walked in and although the place was pretty full we were greeted warmly and shown to a table.  It was light and airy with a serious buzz about it and a delicious smell of coffee. The cakes and pastries on the counter looked delicious but mum and I were after brunch food!
We sat down at our table and ordered a coffee for me and a peppermint tea for mum.  Then, with a quick glance over the menu we decided we just had to have one of their freshly squeezed juices.  They all sounded so delicious.  Carrot and ginger or fresh orange, but we went with the purple one to share.  Beetroot, blackberries, ginger and apple juice.  It sounded like it was full of goodness, the perfect way to start off a healthy brunch.  Fred & Doug's also serve alcohol so if you were feeling indulgent you could turn you meal into a champagne brunch but we decided to stick to the juice today!
Our drinks arrived and the first thing I was struck by was the quality of the coffee.  Strong, flavourful and with really complex flavours.  It was dark, rich and absolutely delicious.  The juice was obviously freshly pressed and the attention to detail with the cute glassware was a nice added touch.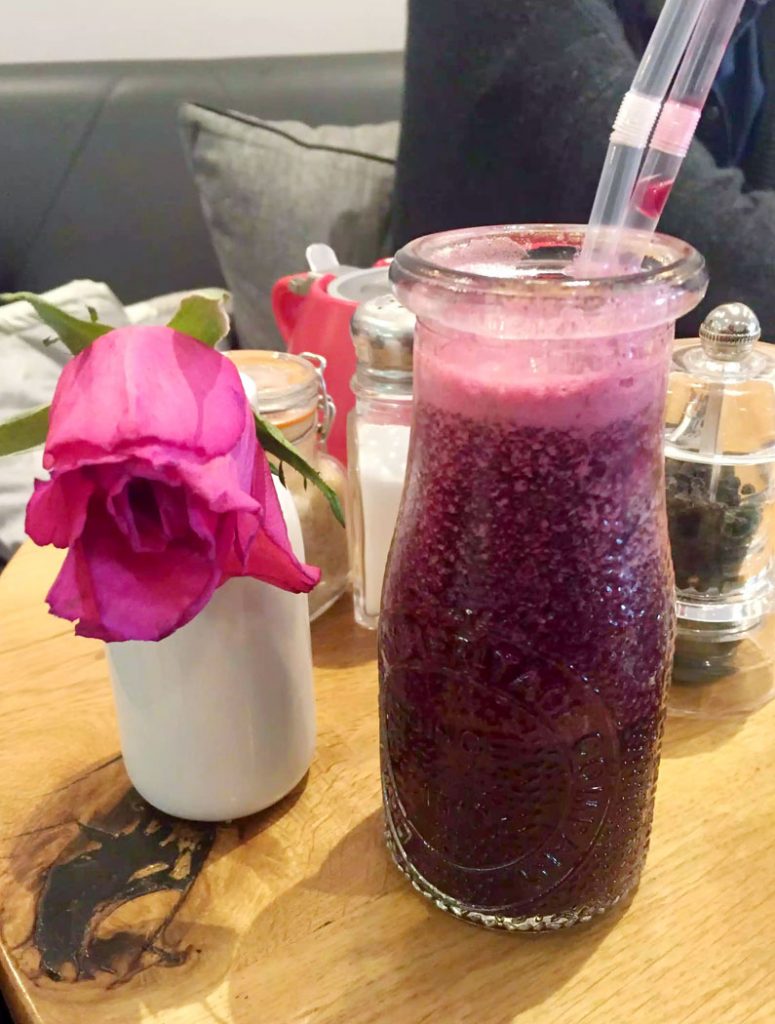 We enjoyed our drinks while we took a look at the menu.  There seemed to be something for everyone.  Most of the food has a healthy feel to it but there's a Full English if you're after something a bit more decadent.  Ranging from yogurt with granola to smashed avocado on toast, to scrambled eggs with smoked salmon there are plenty of brunch or all-day options.  Most of the food comes on toasted sourdough bread which I can't eat so I went with the option of poached egg with spinach on a portabello mushroom.  Then, just to be extra greedy I also ordered side portions of grilled halloumi and smashed avocado.  The perfect grain, gluten and refined sugar-free breakfast!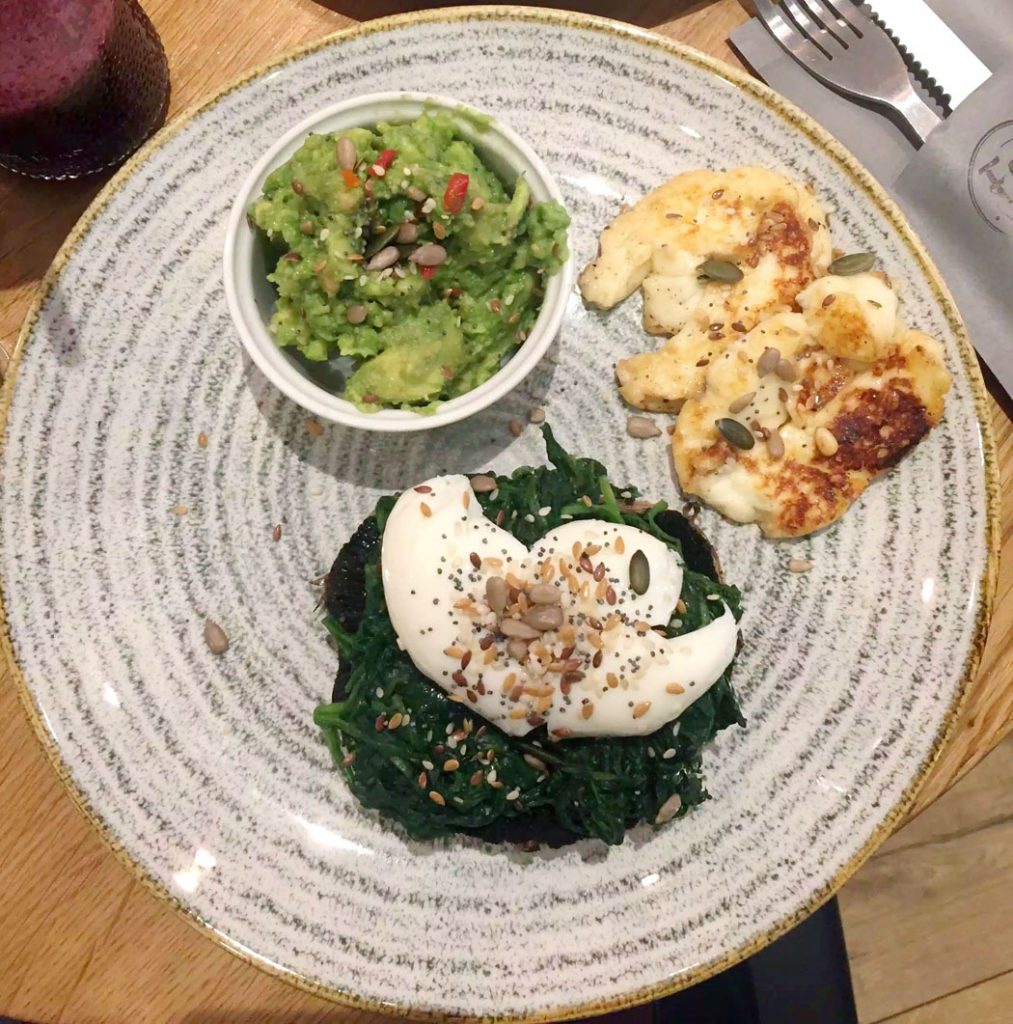 Mum, who eats the same diet that I do, went for the same option but chose smoked salmon instead of the halloumi.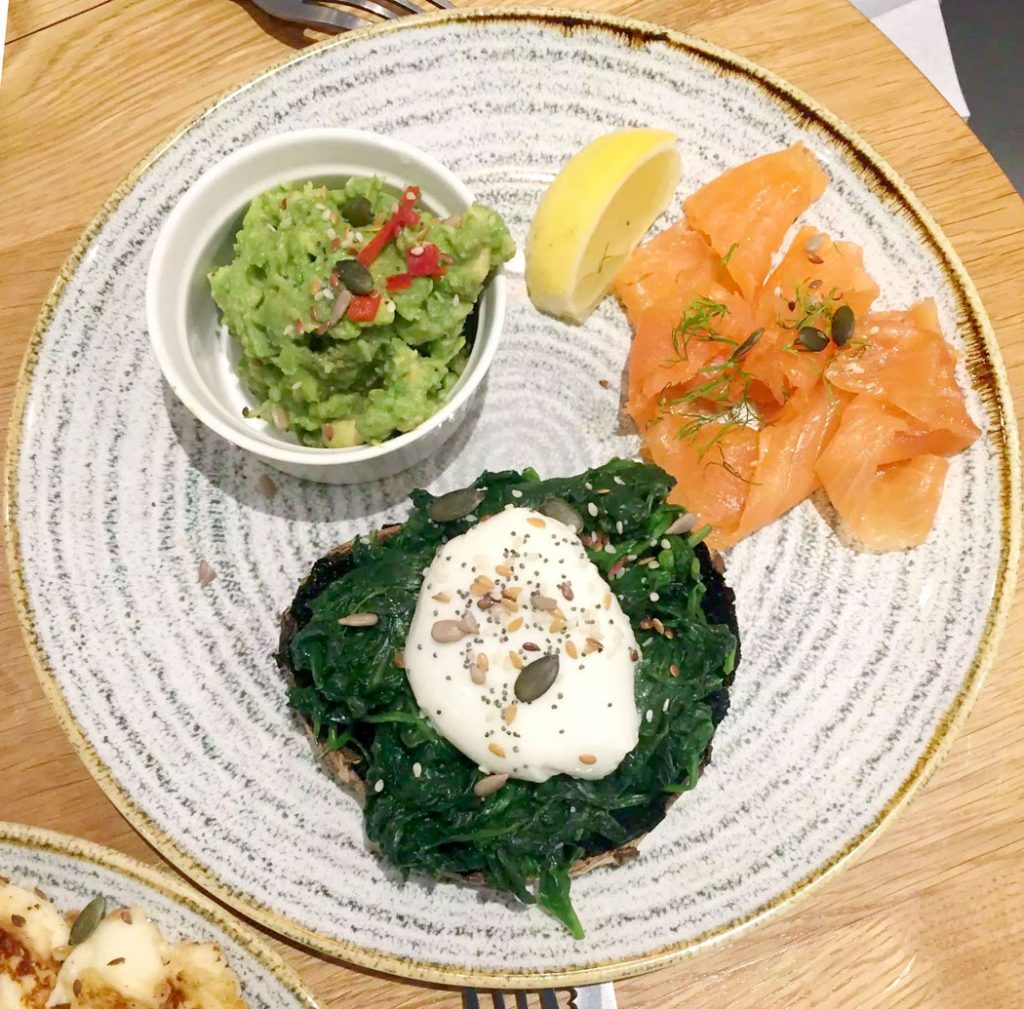 The food came out well presented and the ingredients looked really fresh and inviting.  I loved the crunch from the seeds which added some much-needed texture as most of the dish was quite soft!  The smashed avocado was delicious with just a hint of chilli and plenty of lemon and the halloumi added some saltiness to the whole dish.  The star of the show was the poached egg though.  It was perfectly cooked, just as I like it.  Gooey in the middle so that when you cut it open the yolk oozes out.
The whole meal didn't look huge but was so filling thanks to all the healthy fats and protein.  A delicious brunch that didn't leave me feeling heavy for the rest of the day.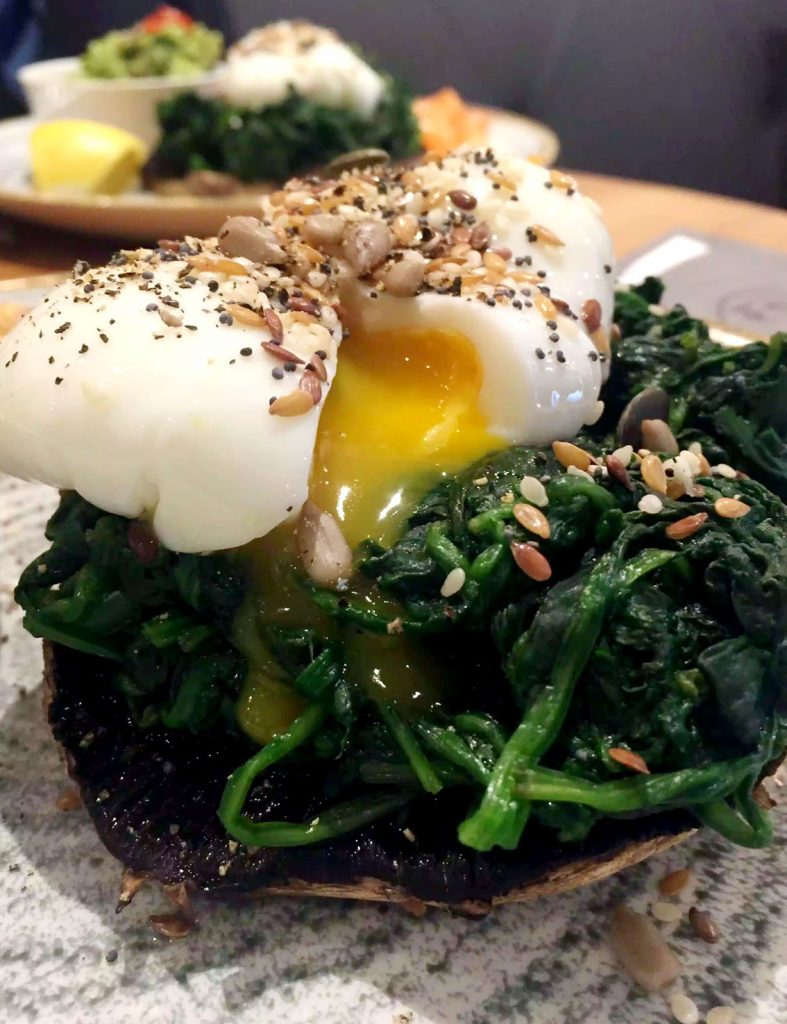 I have to say that all the food going to other tables looked delicious too.  The salads looked delicious and I definitely had food envy when the table next to mine got their order of butternut squash and feta salad!  Fred & Doug's do a takeaway service so I might have to pop in soon for one of the salad boxes.
Fred & Doug's also offer gluten-free bread as an option  or soy milk etc if you have food allergies or intolerances.  They're happy to swap things to suit your own specific needs.  Go along and give it a try – I might see you in there!
Pin it for later