A few months ago I was lucky enough to visit Andi Oliver & Kelly Miles' restaurant the Sugar Shack at the Jackdaw & Star in Homerton.  It seems that everyone loved the food as much as I did as Andi and Kelly have now got their own premises in Stoke Newington High Street.
Andi's Restaurant opened a few weeks ago and has been getting rave reviews.  I've visited for brunch and dinner and can say that both times the food and service were outstanding!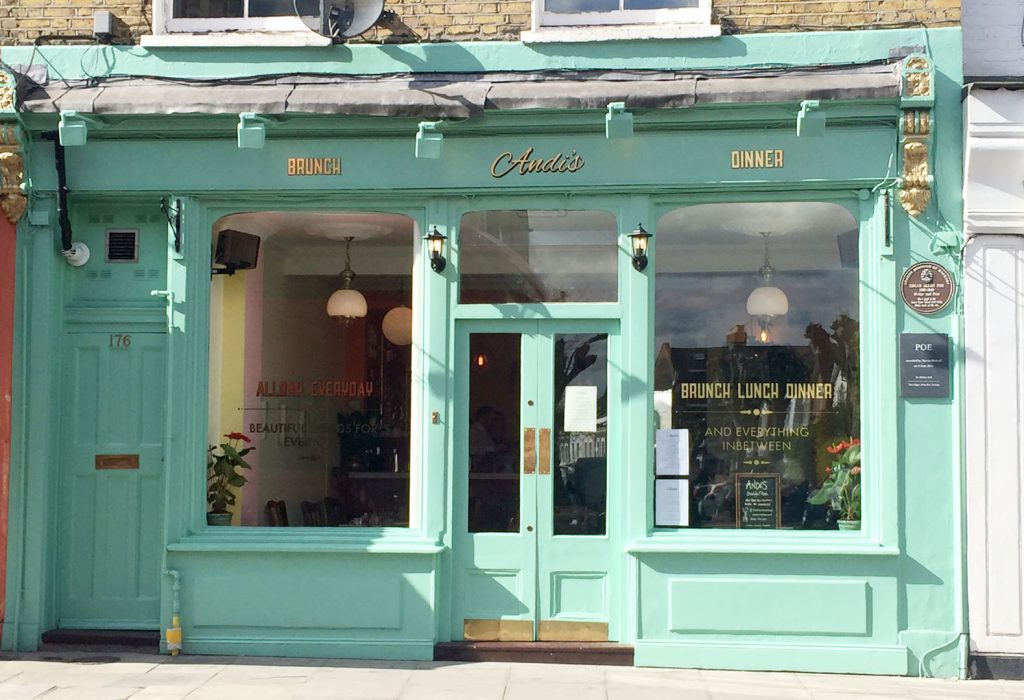 Brunch at Andi's Restaurant
Three of us went for Brunch at Andi's Restaurant in its opening week for Dan's birthday treat!  We walked in and immediately felt right at home.  The restaurant has a really cosy, neighbourhood bistro kind of vibe.  There are warm Mediterranean colours on the walls and plenty of fresh plants and flowers everywhere.
After being shown to our table we ordered a bottle of champagne.  Birthdays definitely deserve champagne and it was a really lovely way to start the meal.  It was citrussy and fresh with a hint of honey and creamy bubbles.  The perfect way to toast the birthday boy!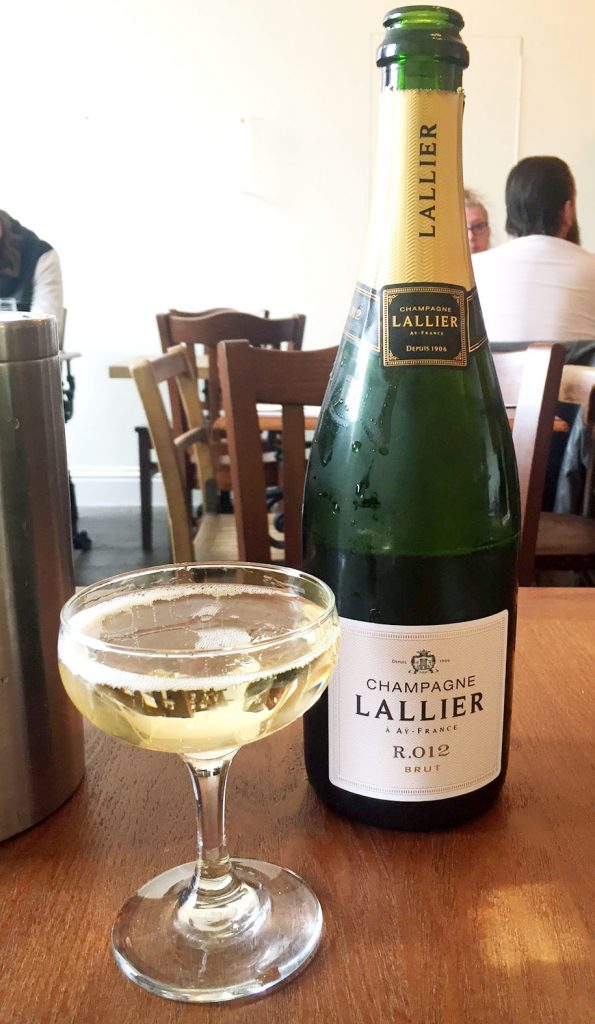 With the champagne sorted, we looked over the menu and Andi came out to explain the concept to us.  Andi's Restaurant philosophy is 'A little love in your tummy' meaning well cooked, comfort food with fabulous ingredients that makes you feel good!  They also want everything to be very affordable so that everyone can have a bit of something beautiful in their life!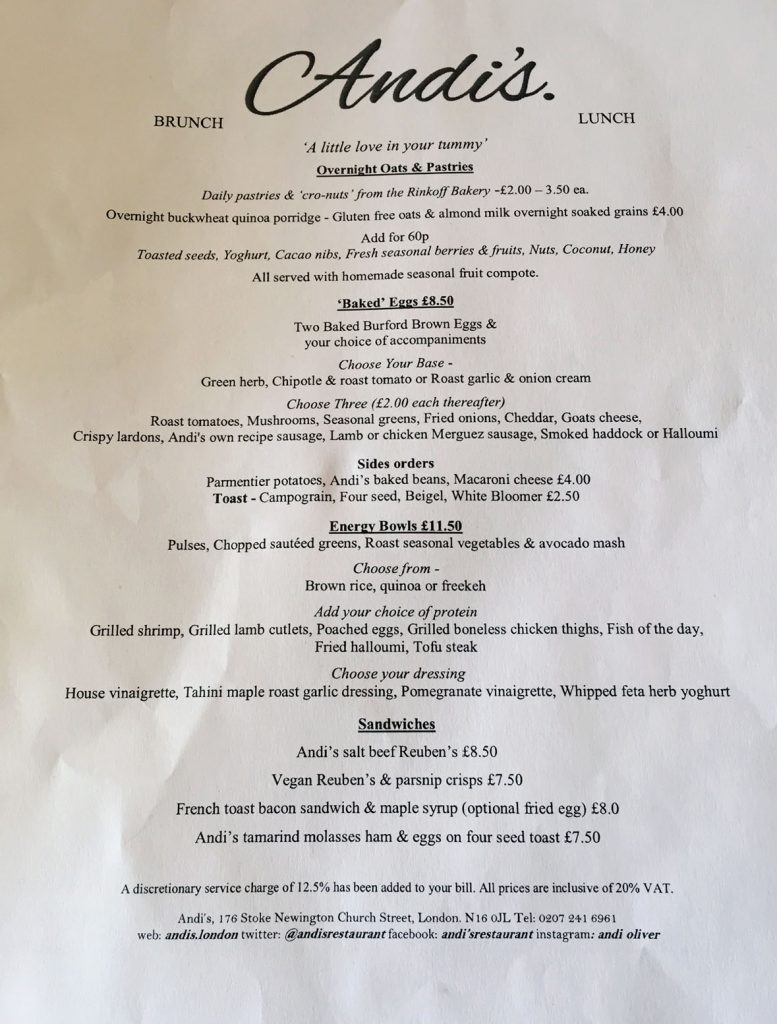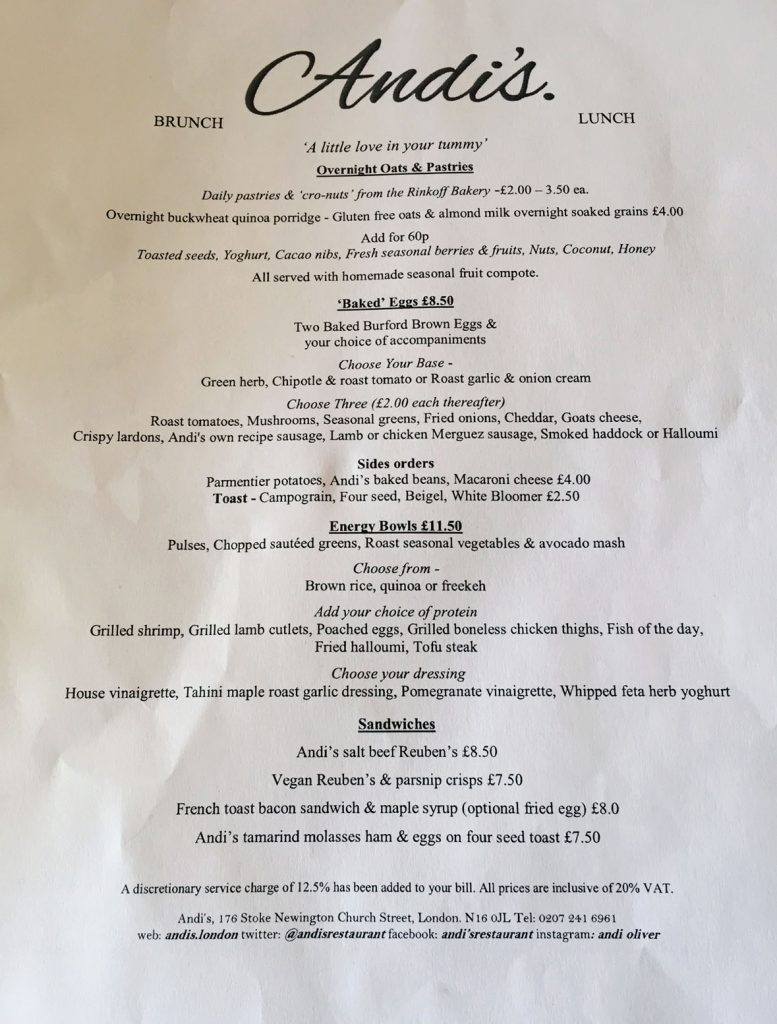 The whole menu looked delicious.  Plenty of healthy options interspersed with lots of more decadent dishes.  The Baked Eggs had my name all over it.  I loved that I could create my own meal with all my favourite flavors.  So often, there's one item on a dish that I can't eat so this was a perfect way to be able eat around my diet!  I opted for the green herb sauce as base, along with roast tomatoes, goats cheese and crispy lardons, but believe me it was hard to choose between all the ingredients!
Dan, the birthday boy went for one of the most decadent dishes on the menu.  A French Toast Bacon Sandwich with Maple Syrup, and of course he had to add-on the optional fried egg.  Matt opted for one of the Energy Bowls, which also sound delicious and I've got my eye on one of those for next time.  The bowl comes with pulses, greens, roast vegetables and avocado mash as standard and then he chose the freekeh, the grilled lamb cutlets and the whipped feta herb yoghurt to top it with.
It didn't take long for the food to come out and when it did, it looked incredible!
My eggs were cooked to perfection. Lovely gooey yolks and fresh herbs combined with the salty bacon and the tangy goats cheese made for one delicious brunch.  I love that it was all naturally grain, gluten and refined sugar-free without me having to ask for any amendments.  Packed full of protein, a brunch like this would definitely see you through until dinnertime!  They were proper hearty portions of comfort food!
Dan's was, as expected a very decadent brunch.  Perfect hangover food it was sweet, rich and filling without being greasy and heavy.  Matt's Energy Bowl was huge, so big in fact that he couldn't finish it and he has a pretty big appetite.  I tried some of it and the stand out was definitely the whipped feta yoghurt.  Creamy, tangy and delicious, it brought the whole bowl together.  It's definitely a dish I'm going to try next time.
The staff at Andi's Restaurant were so kind, they even bought Dan out a free birthday Creme Brulee Tart.  Even though the boys were super full it didn't stop them polishing it off pretty easily!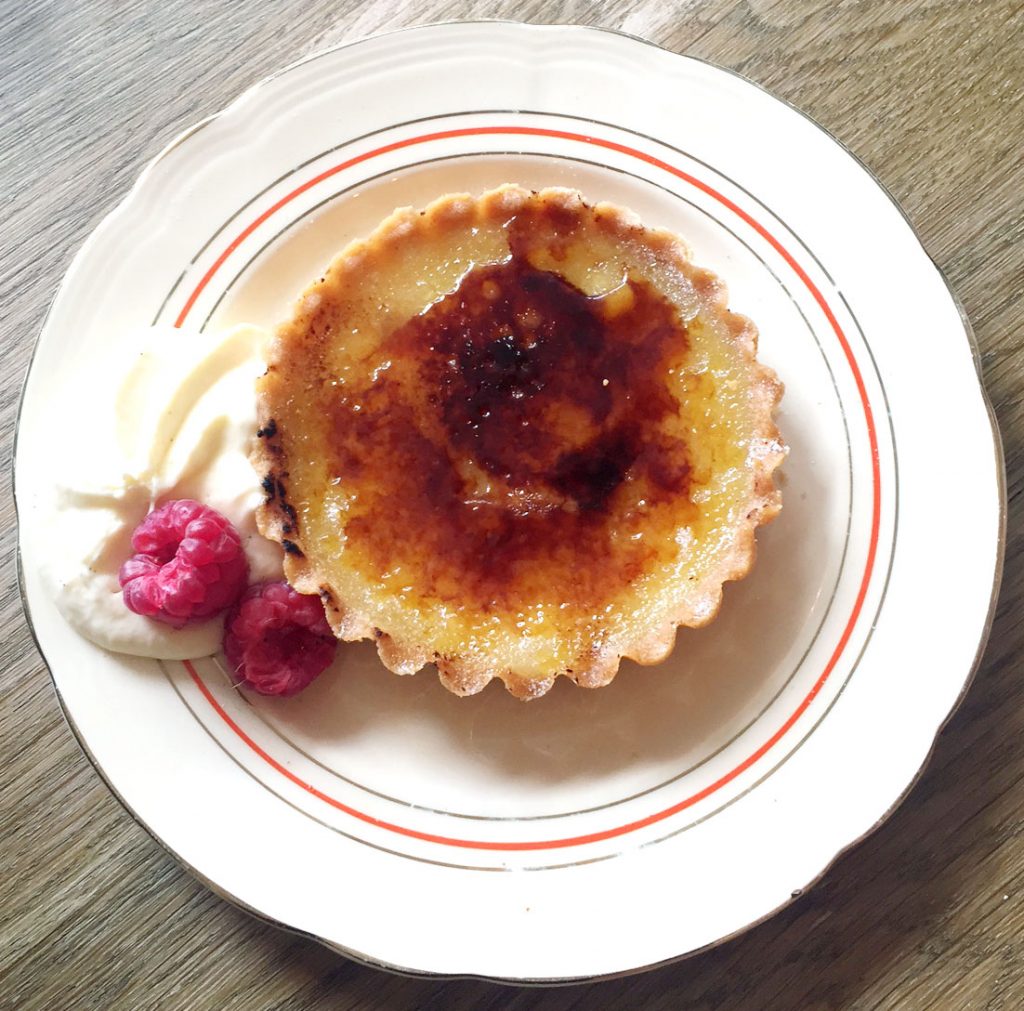 As birthdays are so decadent (and we'd heard that the cocktail list was pretty great) we decided to round off our meal with one each.  I chose the Dirty Martini, Dan chose the Penicillin and Matt chose the Grapefruit Sour.
Taking our cocktails outside as it was a lovely sunny day, we wandered out into the walled garden at the back of the restaurant.  I love it out there, it's like a fairy garden.  All the walls are covered in climbing plants and flowers, lanterns hang  everywhere and the paving stones have been painted multicolours to add to the whimsical feel.  Cocktails in the afternoon sunshine was the perfect way to round off a delicious meal!  And I love it when a restaurant gets a Dirty Martini right!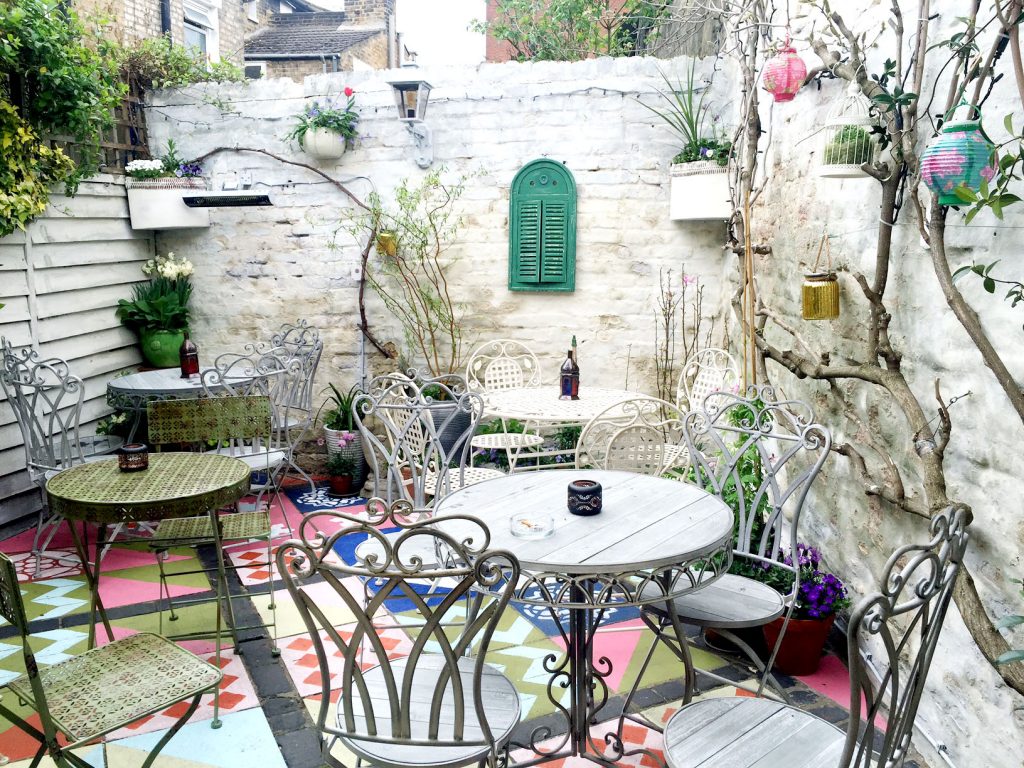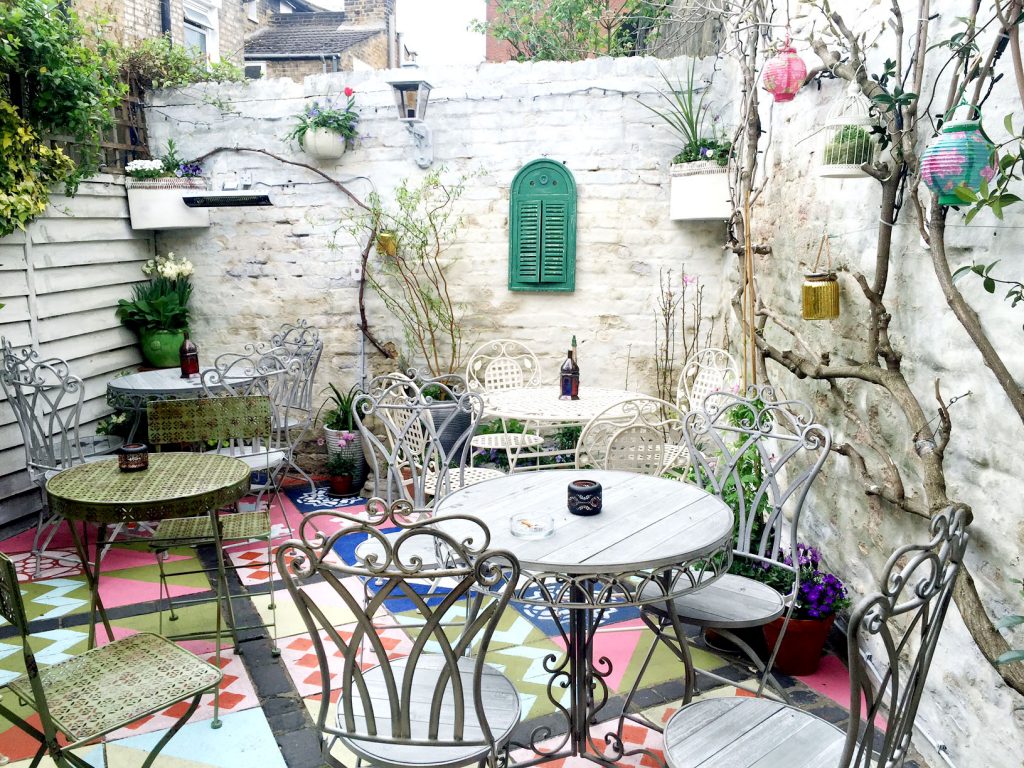 Everyone at Andi's Restaurant made us feel so welcome and really looked after us.  The food and drinks were all delicious and now I can't wait to return to try out the dinner menu!
Andi will be appearing as a judge on the Great British Menu Programme! It's on BBC1 weeknights so be sure to tune in and watch out for her!  And come and try her food for yourself!  Give yourself 'A little love in your tummy!'
Pin it for later