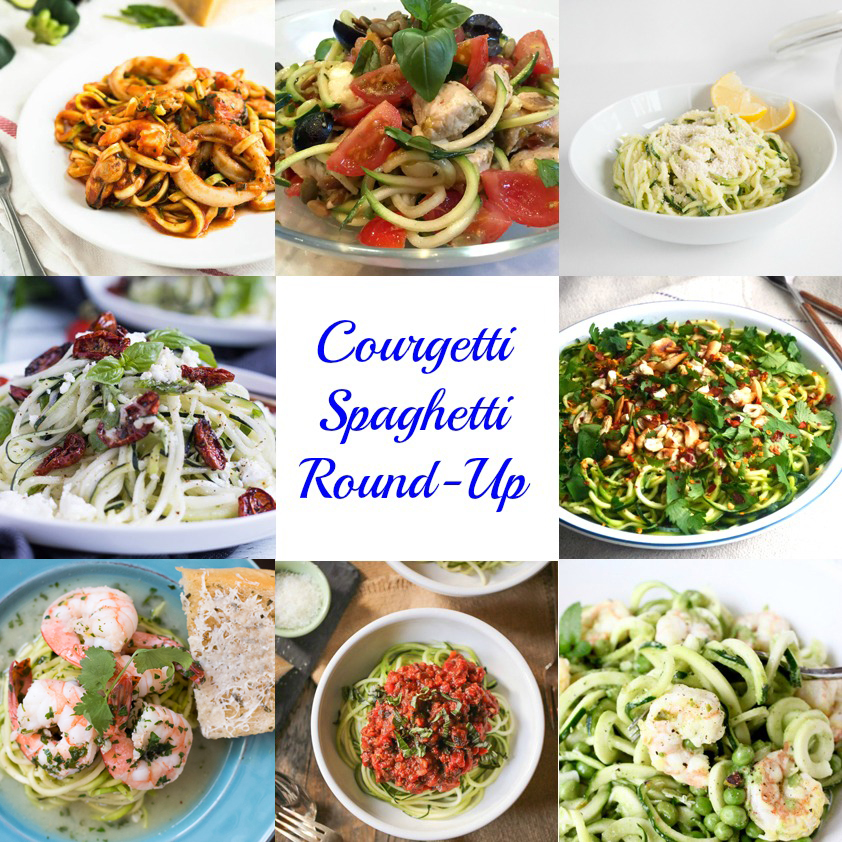 You say Zucchini, I say Courgettes, you say Zoodles, I say Courgetti…
I love my Spiralizer!  It allows me to eat all those gorgeous pasta sauces that I wouldn't otherwise be able to have (due to having to give up my delicious pasta).  It's so easy to use and clean (I use this 5-Blade Vegetable Spiralizer) that I get it out all the time and it makes dinner preparation pretty quick and painless.  Much lighter than pasta, these dishes won't leave you feeling bloated, heavy or weighed down, quite the opposite!  They're perfect for most diets as they're Grain-Free, Gluten-Free, Dairy-Free, Raw, Vegan, Paleo, Sugar-Free, Low-Carb or anything else you can think up!
Obviously there's no end to the sauces you can make, but here are just a few of my favourites from around the web.  Hopefully there'll be something that takes your fancy and gives you a chance to add a new dish to your pasta repertoire…
Seafood to me just screams summer and this Seafood Zucchini Marinara from Plated Cravings looks like the perfect summer evening dish, washed down with a glass of crisp white wine.  The seafood in it makes it seem very decadent for a weeknight meal and this one looks like the kind of dish that would impress guests!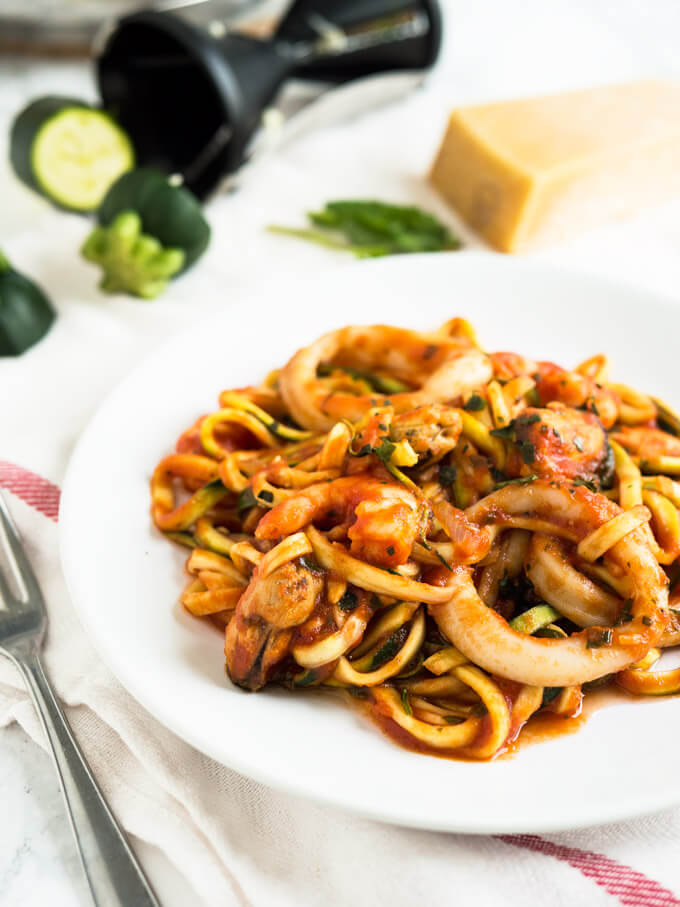 My Chicken Caprese Courgetti Spaghetti  combines all of my favourite mediterranean flavours, tomatoes, olives, mozzarella and basil and can be made SCD if you leave off the mozzarella (you could always substitute it for feta or avocado) or vegetarian by leaving out the chicken.  It comes together in a flash and is made a bit more filling by the addition of the chicken.  The crunch from the pumpkin seeds adds a lovely texture and it's definitely an easy meal to make.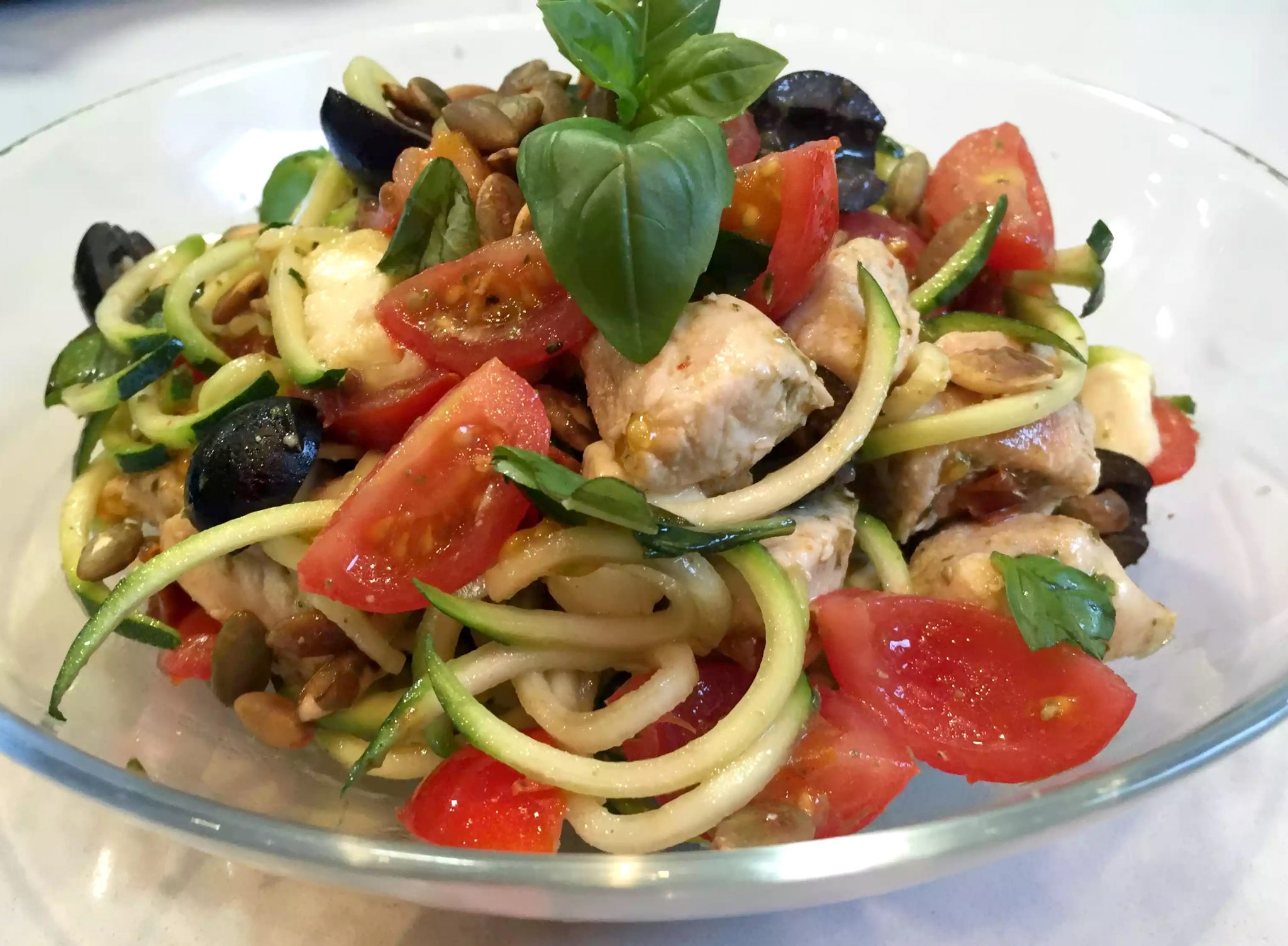 This Raw Vegan Zucchini Pasta with Avocado Sauce from the Elephantastic Vegan ticks all the dietary requirement boxes.  Grain-Free, Gluten-Free, Dairy-Free (she uses a Cashew Parmesan, made from Cashew Nuts and Nutritional Yeast – but if you can't eat this you could just use ordinary Parmesan) Vegan, Raw, Paleo, what more could you want, and it looks so simple and elegant!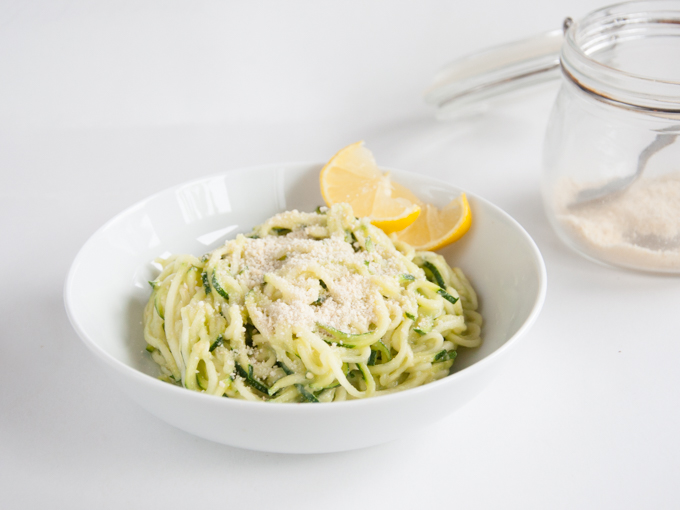 Next up is the Lemon Feta & Zucchini Noodles from The Cooks Pyjamas and it's definitely a personal favourite.  Feta and Sun-dried tomatoes is one of the greatest combinations ever, and pairing it with a lemon feta dressing? – well you can never have too much feta!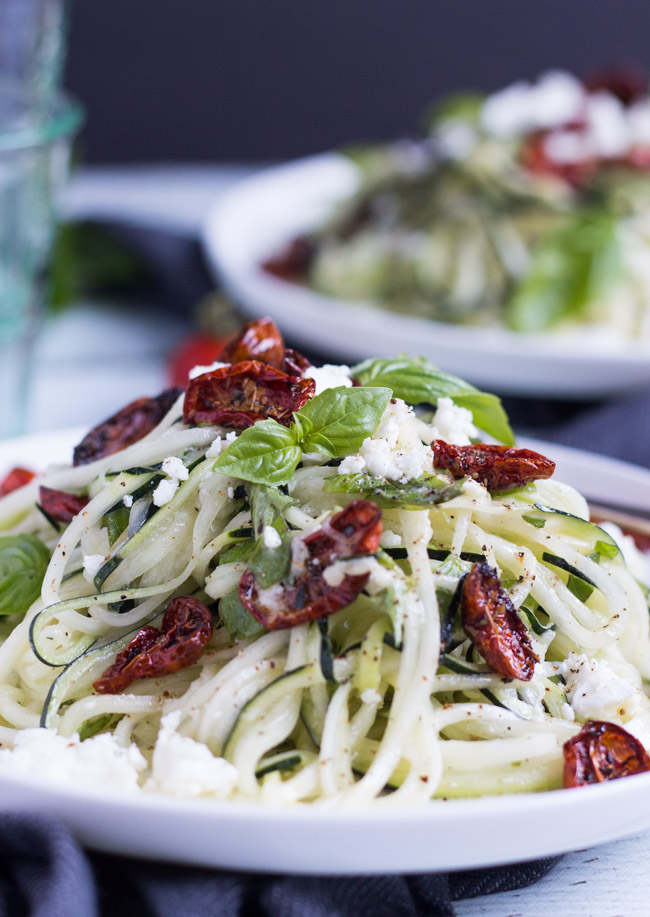 These Chilli Cashew Zucchini Noodles from Nourish Every Day pack a spicy punch and add a more Asian twist to the Courgetti Theme with the addition of coconut milk, ginger, coriander and lime, and everything's better with avocado!
Shrimp Scampi with Zucchini Linguine from Meg Is Well not only looks beautiful but is so light and fresh that it's the perfect 'lunch in the sun recipe.'  Lime, white wine and coriander combine to make the delicious sauce and the juicy shrimps top everything off.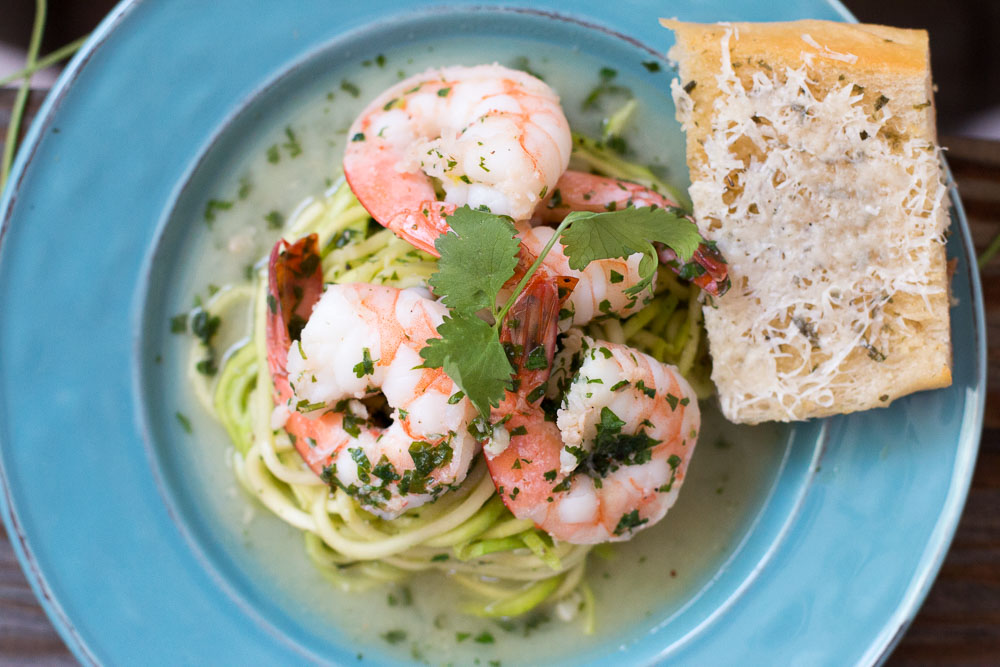 If you're after something a bit heartier, these Zucchini Noodles with Portobello Bolognese from Domesticate-Me seem more of an evening dish and would be perfect, paired with a nice glass of red wine.  You could even make your own (less vegetarian Bolognese if you get my drift) to make it even more filling and full of protein.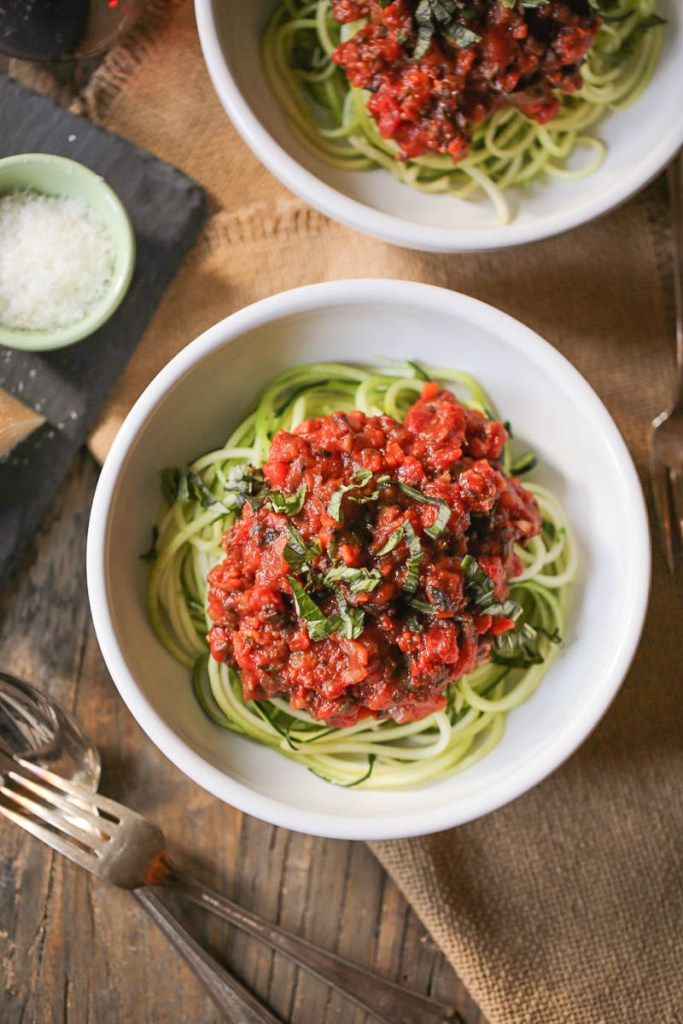 And finally a perfect Spring/Summer dish!  Shrimp Zoodles with Mint Pesto  from Lively Table.  The mint pesto sounds absolutely amazing and the addition of fresh peas makes the whole thing so tempting.  I love the sound of the pistachios too – a plate of green ingredients topped with juicy shrimp!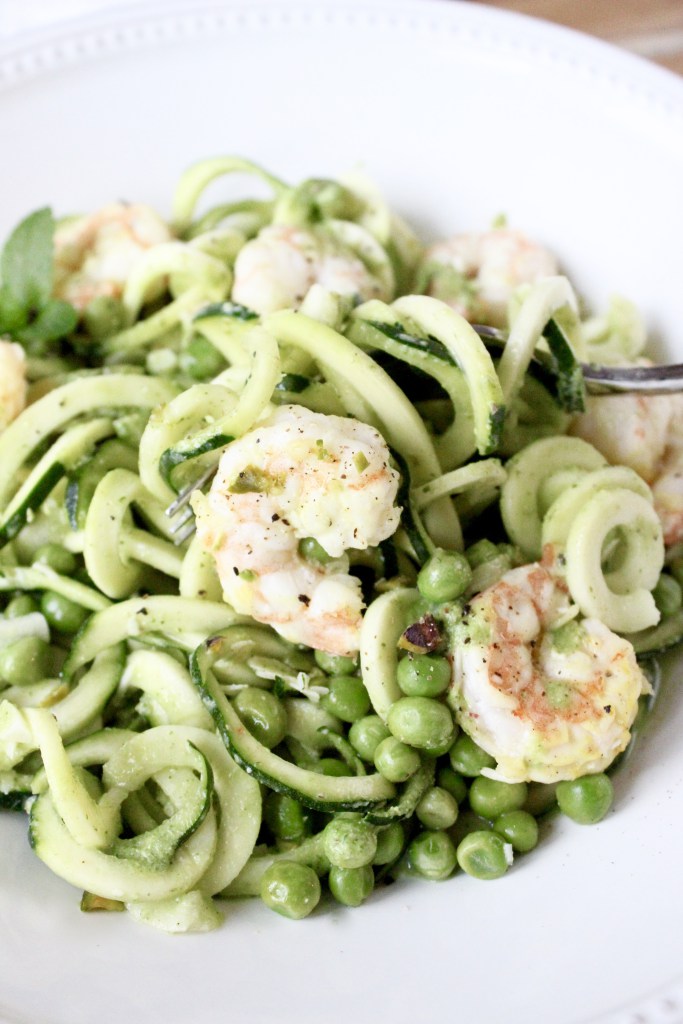 Hopefully something in these recipes has piqued your interest.  Let me know in the comments which one looks like it would be your favourite, or if you try any of them, let me know how they worked out!  Happy Spiralising!!