(Zucchini Noodles – Zoodles – with Garlic, Chilli & Jumbo Shrimp)
Apparently there is a courgette (zucchini) shortage in London (I'm  actually not joking) that I was completely unaware of.  My mum told me about it – it's been on the news and everything!  From what I've been hearing, everyone is on a New Year's Health Kick and there's some serious detoxing and spiralizing going on and courgettes are a sought after commodity!  So when I saw some in my local supermarket I grabbed them I decided to jump on the band wagon.  The classic Italian Dish of Spaghetti Aglio E Olio (Garlic, Chilli & Olive Oil) is one of my favourites so I decided to give it a re-vamp and make a lighter version for dinner.  I would spiralize some courgette (zucchini) in place of the pasta to make a quick, easy and super-healthy weeknight supper.
Not having used my Spiralizer in a long time, it was time to get it out and give it a whirl.  It really is so easy to use and the Spiralizer I have is also easy to clean.  Very important as I know if it was a pain I just wouldn't use it as much.  All you do is slice off the ends of the courgette, place it in between the prongs and the blade and turn the handle.  Out come the noodles and the whole process only takes a few minutes.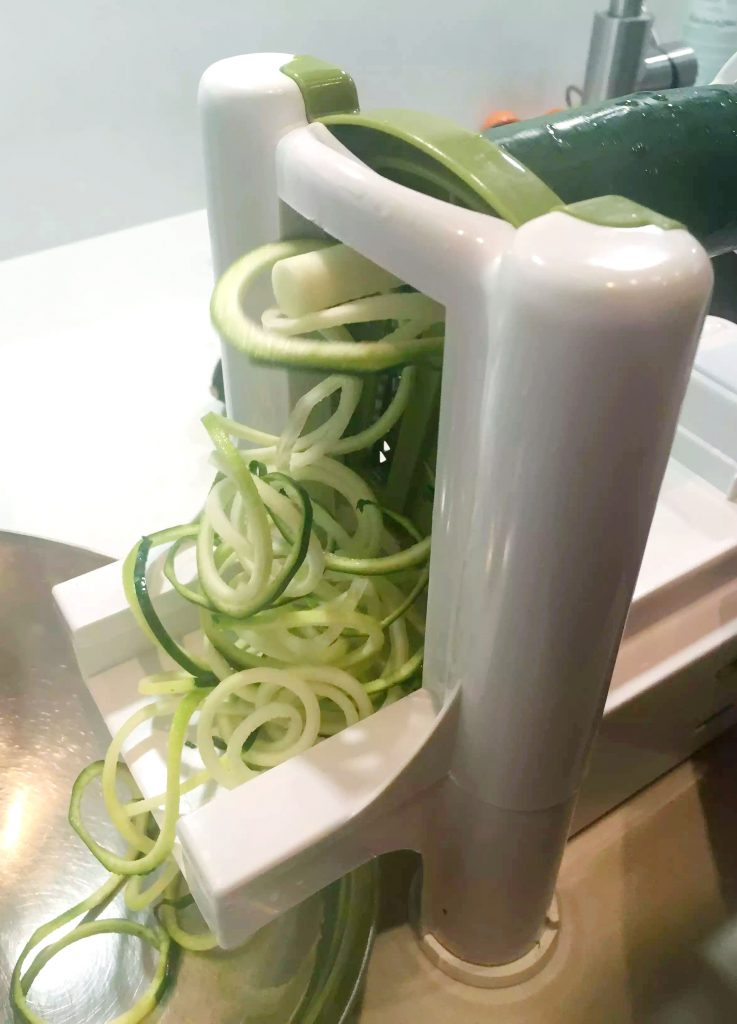 I did that first and then set it to one side while I prepared the rest of the meal.  Firstly, I heated the olive oil in a frying pan, diced a red chilli and sliced up the garlic.  I fried these of in a pan to soften them a bit and release the flavours (a couple of minutes).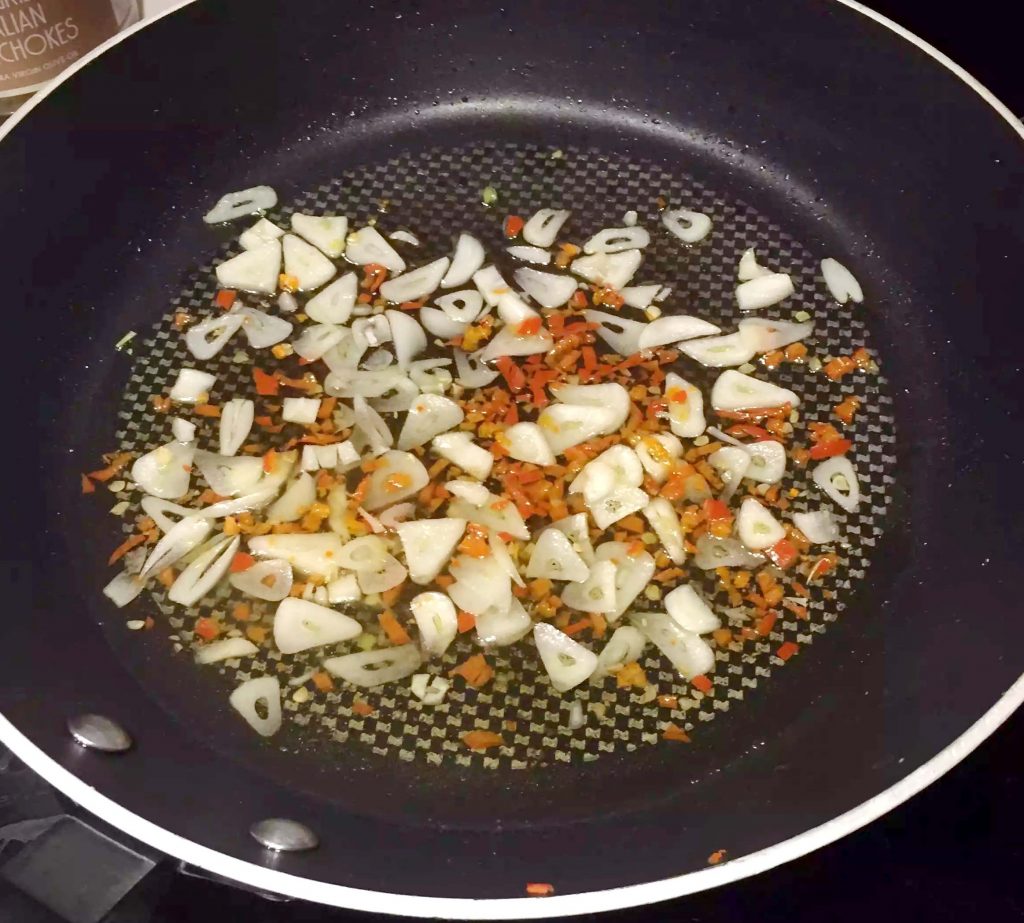 While these were softening I zested a lemon (grated the rind) and when the garlic and chilli were ready I added this to the pan too.  I added the King Prawns (Jumbo Shrimp) to the pan and cooked these until they turned from raw (grey) to pink (cooked).  (You could always just use cooked prawns instead and they wont need as much cooking, just a gentle heat to warm them through).  You have to be sure not to overcook prawns, otherwise they get quite hard and rubbery – a couple of minutes is fine, just until they have all changed colour.  A traditional Spaghetti Aglio E Olio doesn't have the prawns in it but I wanted to up the protein level in the dish to make it more filling and satisfying.  Also I loved my previous recipe of Courgetti with Avocado Pesto and King Prawns and wanted to re-create some of the same flavours!
Tear the leaves from the coriander (cilantro) and chop them roughly while you are waiting for the prawns to cook.  Add  the spiralized courgette to the pan and heat gently to warm it through – you don't need to cook it, it's best almost raw so that it's al denté (still has a bite to it)!  At the last-minute add the chopped fresh coriander (cilantro), season well with salt and pepper and mix everything thoroughly so all the ingredients are well-distributed.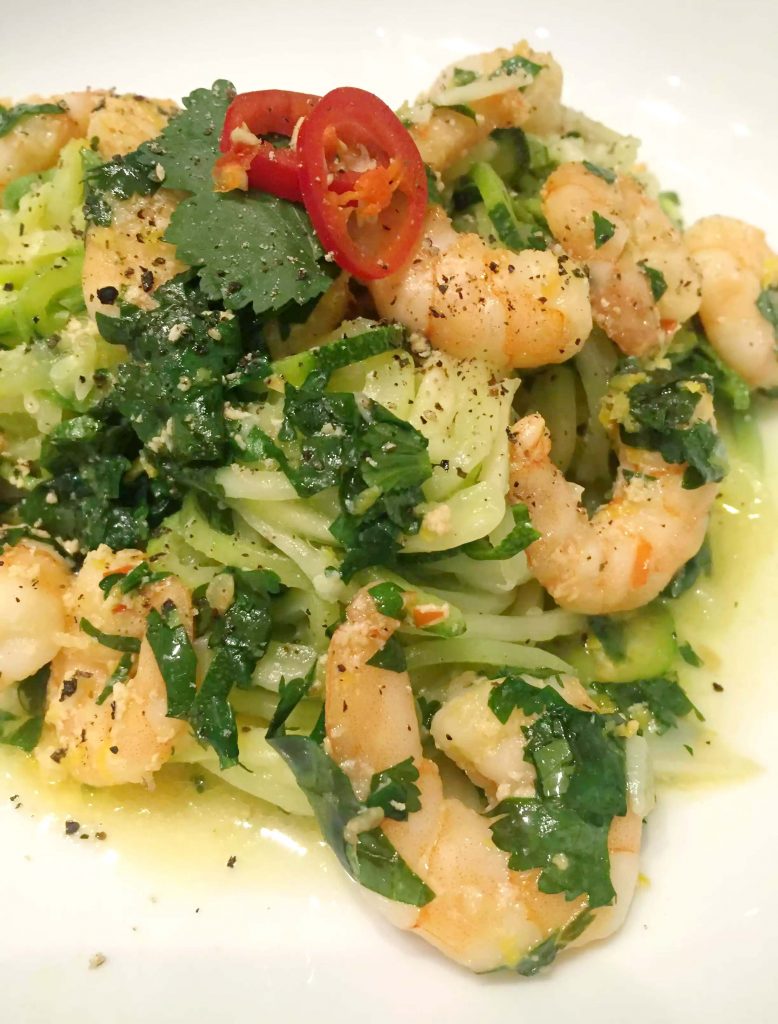 Then your healthy (and quick) meal is ready to serve!  The meal was so fresh and so healthy but so full of taste.  The hint of spice from the chilli and the tangy lemon paired so well with the prawns and the whole dish was delicious.  As a bonus, you don't get the heavy, weighed down feeling that you would after a big bowl of pasta!  Give it a go, I'm sure you'll love the courgetti and wont miss the pasta at all!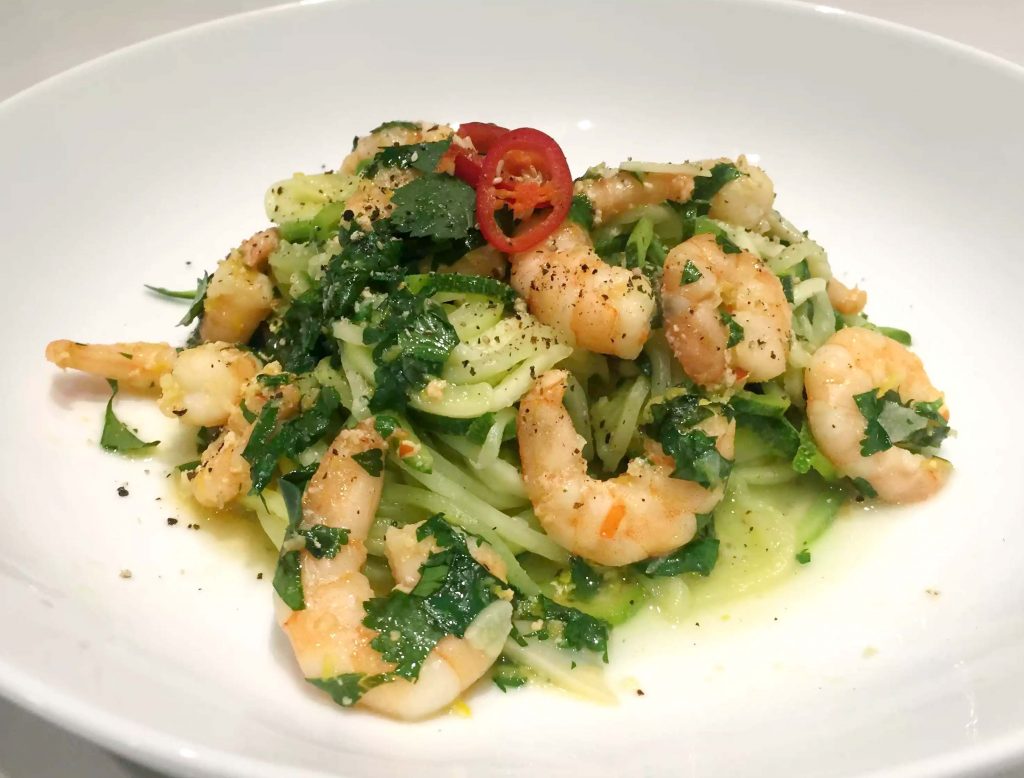 If you like the idea of this recipe, check out my round-up post of the best Courgetti Spaghetti recipes from around the web.  Something there is sure to tempt you and give you a reason to get that Spiralizer out again!
Print Recipe
Courgetti Aglio E Olio with King Prawns
Yum
(Zucchini Noodles - Zoodles - with Garlic, Chilli & Jumbo Shrimp)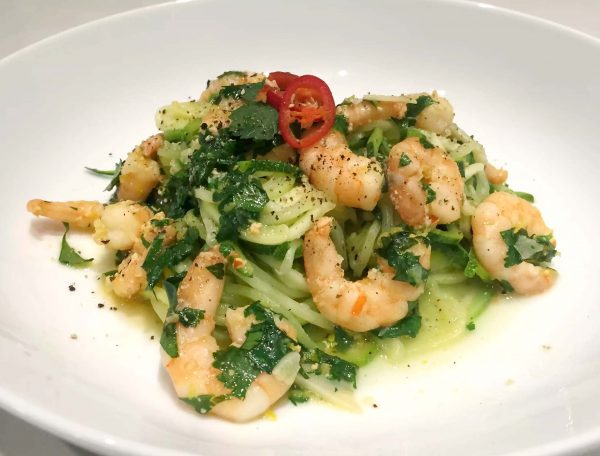 | | |
| --- | --- |
| | |
Spiralize the courgettes (zucchini) into noodles and set aside.

Heat the olive oil in a frying pan, dice up the chilli, slice the garlic and fry in the hot oil for a couple of minutes until they start to soften.

Zest the lemon using a grater and add this to the chilli and garlic.

Add the raw prawns (shrimp) to the pan and fry gently until they turn from grey to pink (a couple of minutes).

Add the spiralized courgettes (zucchini) to the pan and cook for a minute to heat the noodles through.

Chop the coriander (cilantro) leaves and add to the pan.

Season well with salt and pepper, mix everything through well and serve.
Allergy & Dietary Information for Courgetti Aglio E Olio with King Prawns
This Courgetti Aglio E Olio recipe is Dairy-Free, Grain-Free, Gluten-Free & Refined-Sugar Free.  It's also suitable for Paleo, Specific Carbohydrate Diet (SCD), Whole30, Low Carb and Pescatarian Diets.
See my Products Page for Ingredients & Bakeware that I recommend.
Pin it for later