My Grain Free Bread is just the best thing since…sliced bread.  It has such a delicious nutty flavour and makes the perfect sandwich bread.  It's great for toasting and is so rich that you only need a really thin slice.  Recently though I've been thinking about ways to change it up a little bit.  I made a sweet version recently, my Cinnamon and Raisin Bread, so today I decided to experiment with some more savoury flavours.  I love the combination of olives and rosemary and thought that they'd work well in a bread of this type.  So I decided to have a go at making this Grain Free Bread with Olives & Rosemary.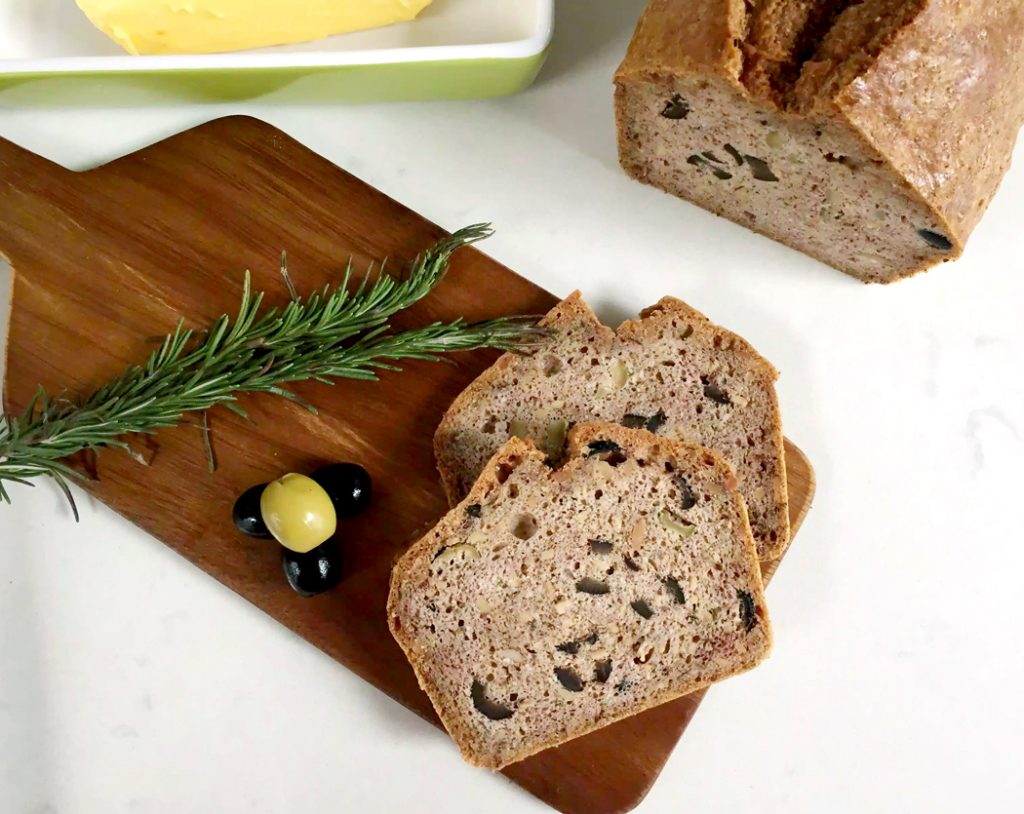 The first thing to do is pre-heat the oven to 180C (350F) and line a loaf tin with parchment paper.  I like to use these Loaf Tin Liners
 because they're so easy but greaseproof paper, cut to size, works just as well.  You could also maybe grease the tin instead (although I can't vouch for this method as I've never tried it).
Then it's time to make the Grain Free Bread with Olives & Rosemary.  I started by preparing the extra ingredients, namely the olives and the rosemary.  Deciding on a combination of green and black olives for the different colours and flavours, I sliced them up thinly.  I roughly chopped the sprigs of rosemary, removing the very hard, woody stalks.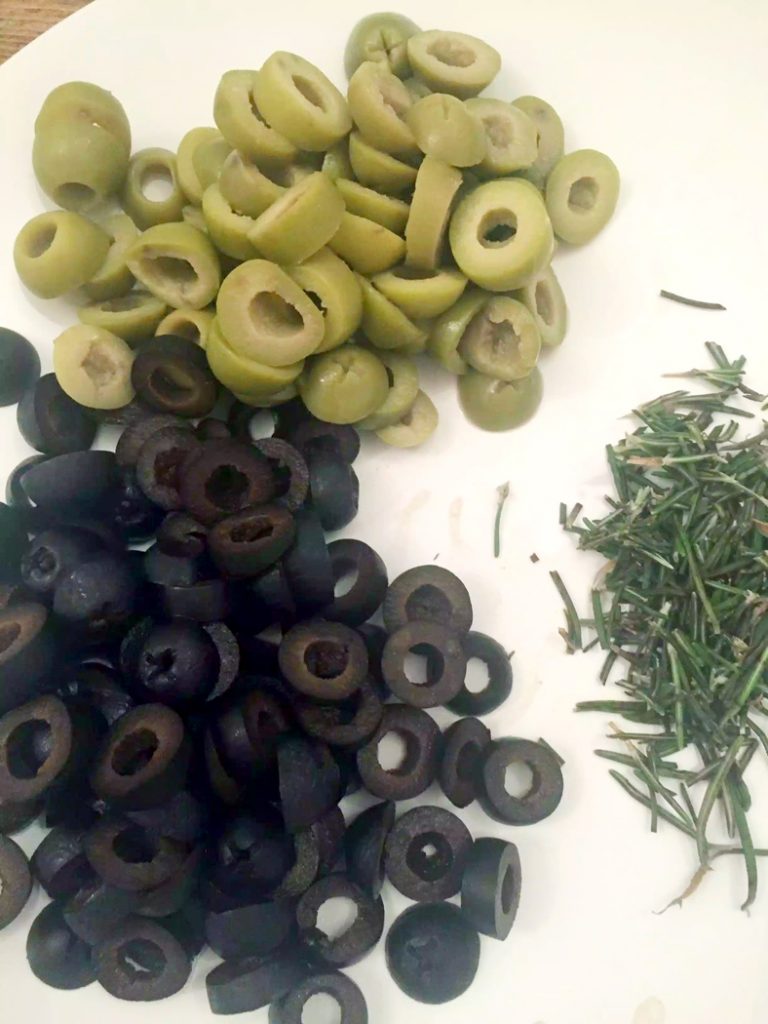 Then I set about making the bread batter.  The recipe is exactly the same as for my Grain Free Bread except I replaced the seeds with the rosemary and olives.
You start by emptying the crunchy almond butter into a bowl.  You don't need to use crunchy almond butter, you could use smooth, but i like the extra nuttiness it provides in the final loaf.  In fact, most nut butters would work, you could use cashew butter, but maybe not peanut butter as I think the flavour would be too strong. I use Meridian Crunchy Almond Butter
.
Add the eggs, the almond flour (ground almonds) and the salt and pepper to the nut butter and stir well to combine.  The mixture is a sloppy mix, more like a cake batter than a dough.  Best of all, it's a one bowl mix – which means less clearing up!
Add the chopped olives and the rosemary and stir well to ensure everything is evenly distributed.  Finally, add the bicarbonate of soda and stir well once more.
Pour the batter into the lined Loaf Tin
(I use one which is 9×5 inches) and bake at 180C (350F).  In a tin that size it should come fairly near the top (this bread doesn't rise all that much, maybe just a centimetre or so above the top of the tin).  At this point you can top the loaf with anything you want.  I just added some coarse sea salt, but it's down to personal preference here.  You could use poppy seeds, or sesame seeds or even more rosemary.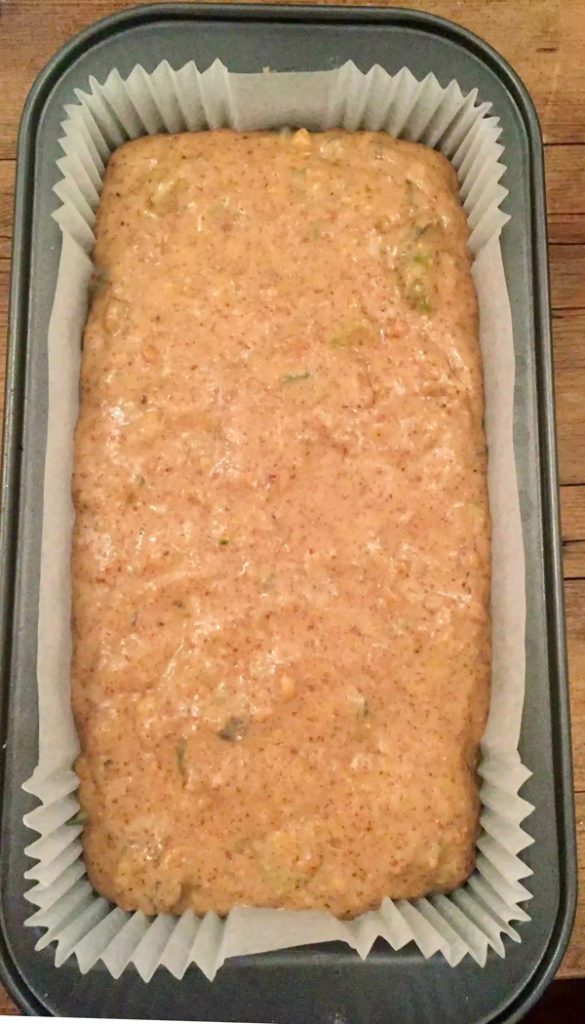 Then the tin goes into the oven for 35-40 mins or until a skewer comes out clean when inserted into the middle. Once baked, turn the bread out onto a cooling rack and allow to cool down completely.  Allowing it to cool means that it's much easier to  cut and you can get very thin slices.  This bread is so dense and rich that thin slices work much better.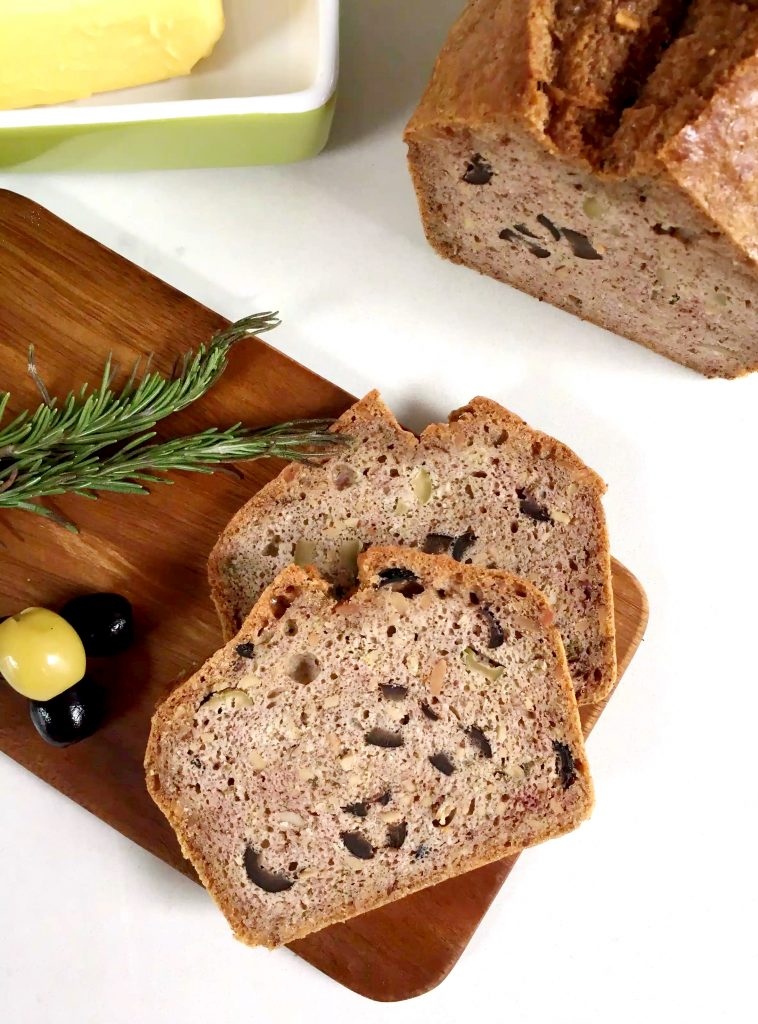 So how did the experiment go.  Grain Free Bread with Olives & Rosemary was a definite hit!  Savoury, salty and aromatic it has a real punch of flavours.  I loved how all the flavours worked so well together and the smells coming out of the oven when it's baking are absolutely divine!
Toasted, this Grain Free Bread with Olives & Rosemary would be fantastic for dipping into my Baked Camembert with Garlic and Rosemary.  I also love it topped with My Haricot Bean Houmous and it's perfect for an open sandwich using complementary Italian flavours like roasted peppers, or Mozzarella and tomato.
If you'd like me to experiment with other flavours I'd love to know in the comments section.  Maybe sun-dried tomato?  Or even a cheesy version, Parmesan sounds great.  I'm going to experiment!!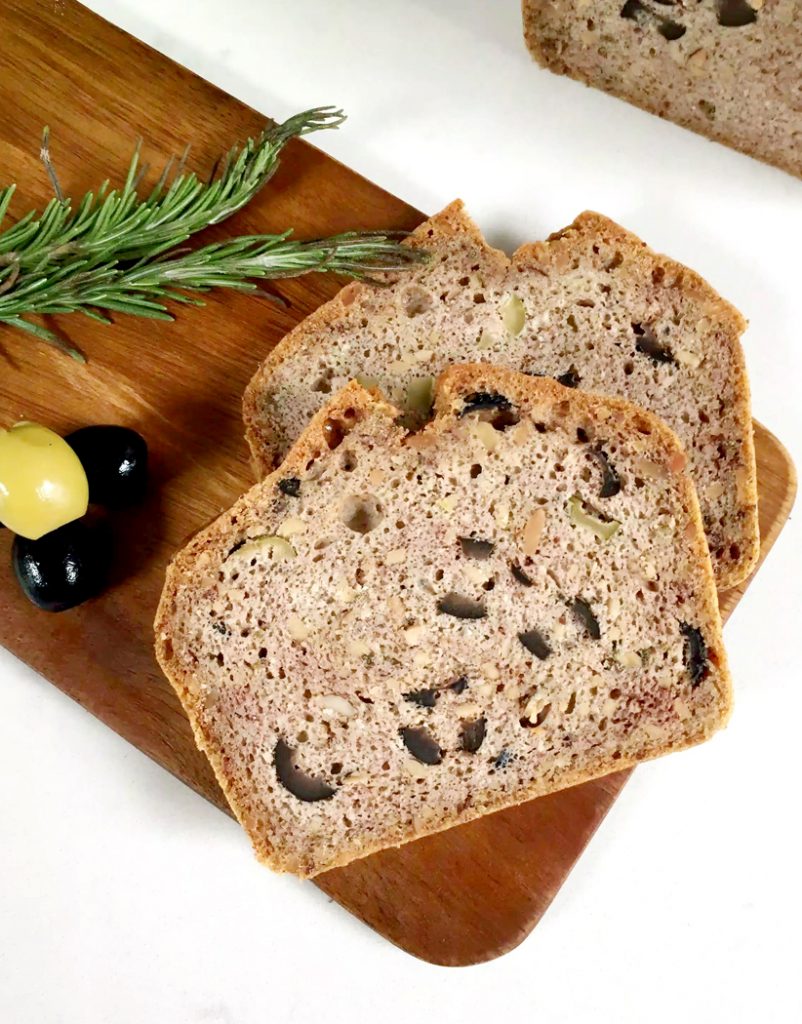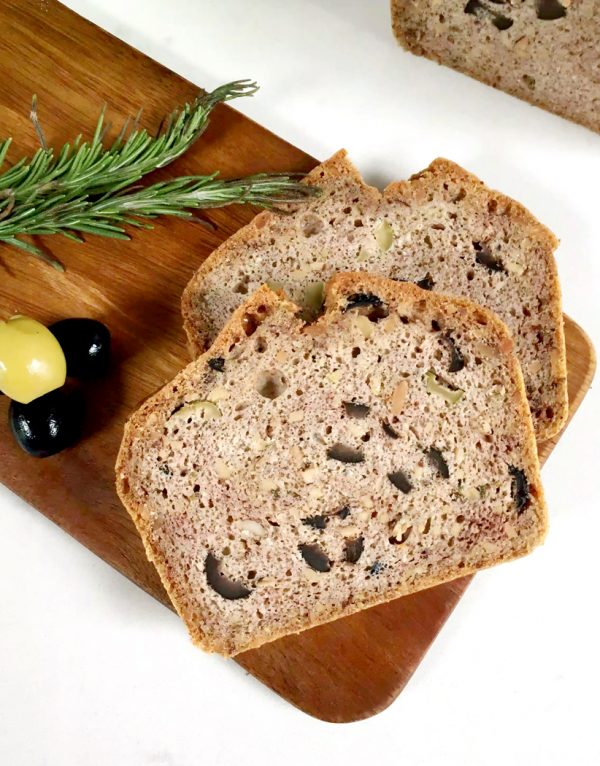 | | |
| --- | --- |
| | |
Preheat oven to 180C (350F) and line the loaf tin.

Slice the olives and roughly chop the fresh rosemary, leaving behind the woody stalks.

Mix the almond butter, almond flour, eggs, salt and pepper in a large mixing bowl until everything is combined.

Add the olives and rosemary to the batter and stir well to ensure even distribution.

Add the bicarbonate of soda, mix one final time and pour the batter into the lined loaf tin.

Grind some coarse sea slat over the top or any other toppings that you wish.

Bake the loaf in the oven for 35-40 minutes or until a skewer comes out clean when inserted into the middle of the loaf.

Turn out onto a cooling rack and wait until cool to slice.
Allergy & Dietary Information for Grain Free Bread with Olives & Rosemary
This recipe is Dairy-Free, Grain-Free, Gluten-Free & Refined-Sugar Free.  It's also suitable for Paleo, Specific Carbohydrate Diet (SCD), Whole30, Low Carb and Vegetarian Diets.
See my Products Page for Ingredients & Bakeware that I recommend.
Pin it for later