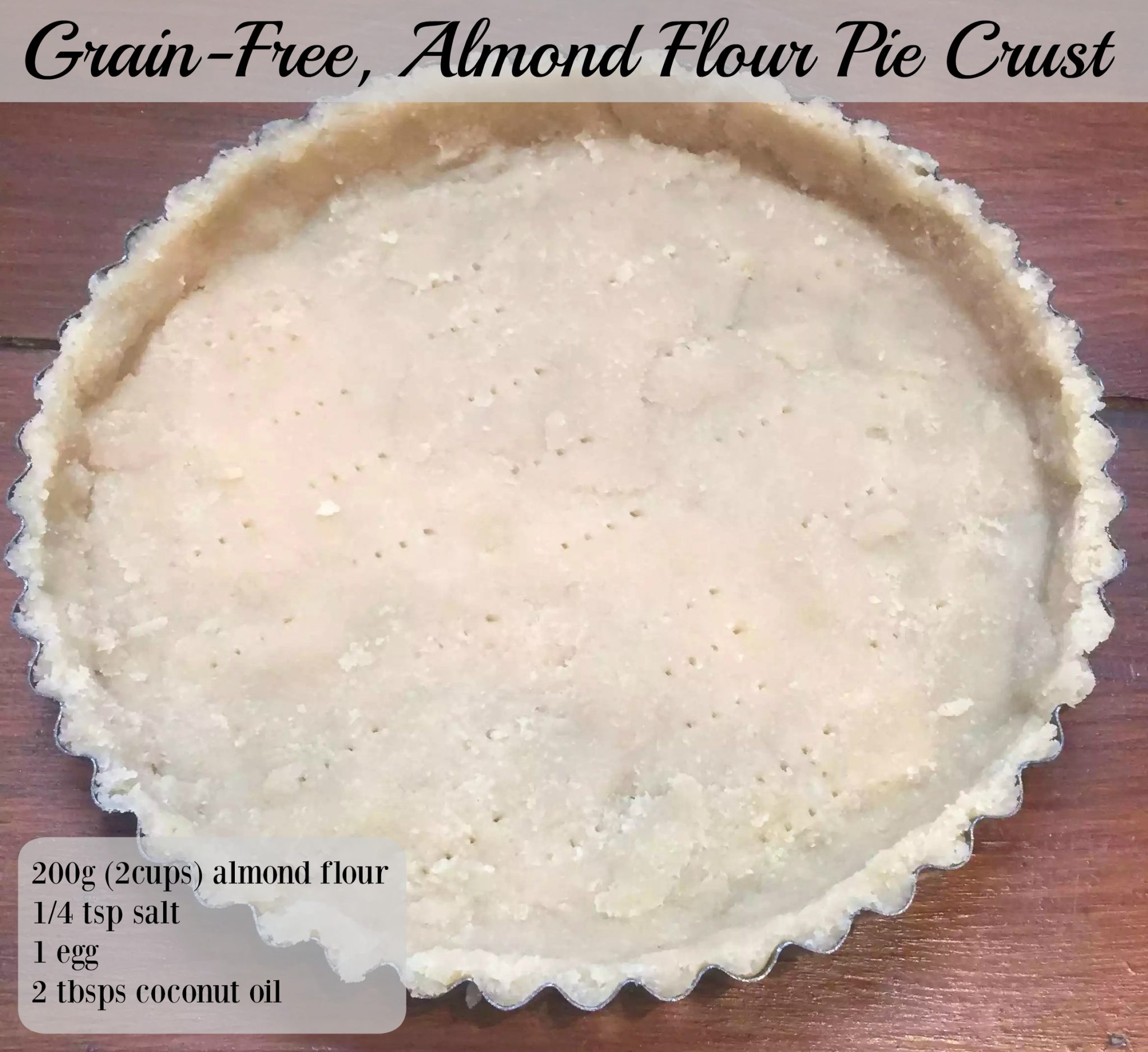 This recipe is a really easy one (much easier than making real shortcrust pastry – and much more forgiving).  It's only 4 ingredients and comes together in a flash.  It can turn a midweek supper into something that feels much more special and seems like you have put so much more effort into it than is actually required.
I used a 9inch/22.5cm fluted flan tin with a loose base as it makes it easier to turn the crust out once it's cooked.  If using a different sized tin you may need to scale the recipe up or down to get the quantities you need.
Preheat the oven to 180C.  This recipe is a one-bowl one (love not having to wash up loads of kitchen equipment).  Add the almond flour, salt, coconut oil and egg into a bowl and mix well with a fork until everything is combined and starts to form small clumps.  Then it's time to get your hands in.  Squeeze the mixture together in the bowl until you have it all combined into a ball and turn it out onto a chopping board.
At this point you have two options.  You can either go ahead and just start pressing the dough into the tin covering the base and sides evenly, or you can roll it out between two sheets of greaseproof paper first to get the desired thinness, then lay it over the tin and push it down.  I prefer the second method as I find it easier to start with a thinner layer of the dough rather than a big ball, but it really is personal preference.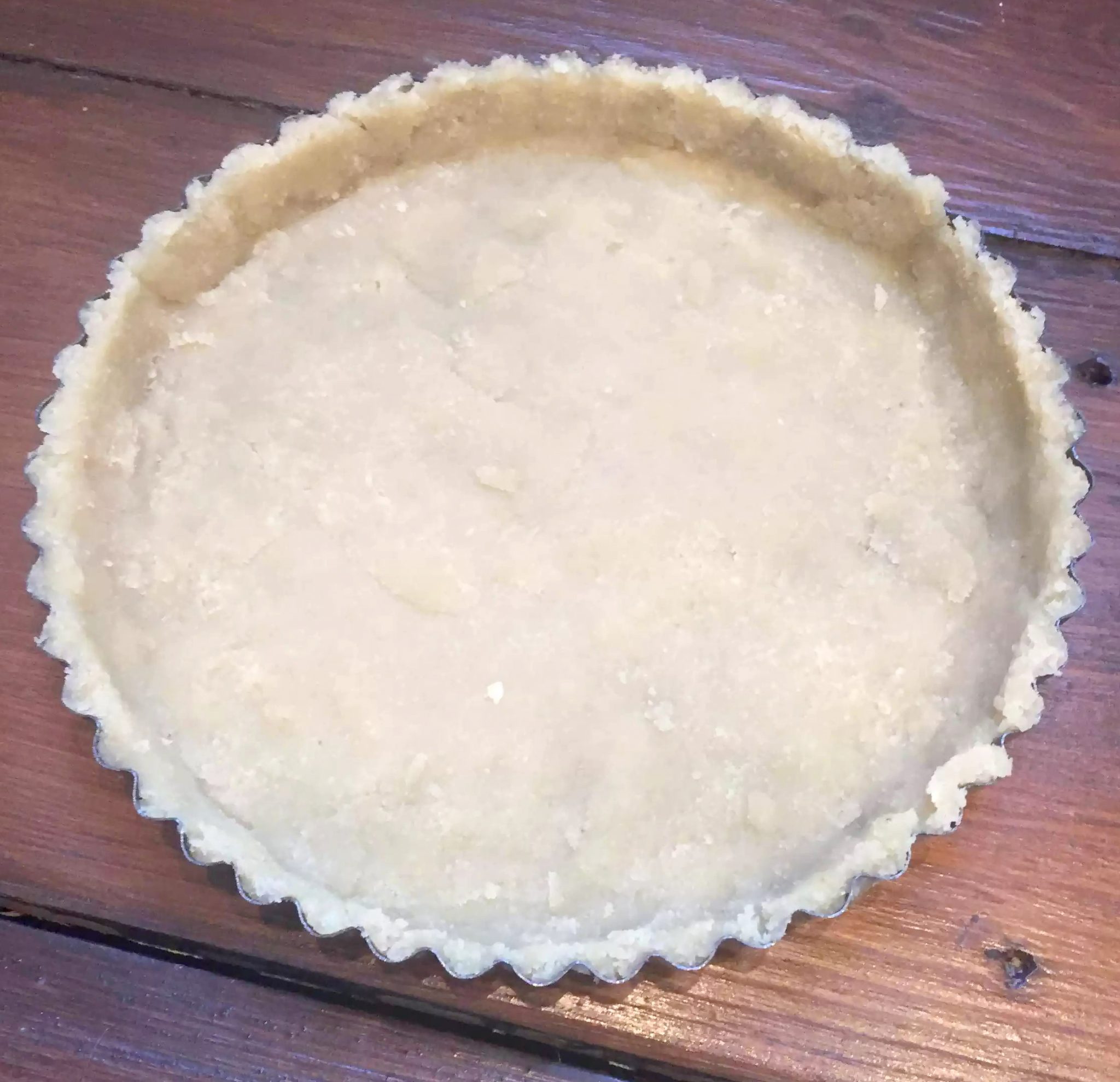 You need to make sure that the pastry is quite thin all over, otherwise you will have a very stodgy base.  It's better to leave some of the pastry aside if you have too much rather than try to use it all and make a thicker crust – thinner is definitely better and will make it easier for you to get a crisper base.
Then you need to prick holes in the bottom of the crust with a fork, all the way through to the tin to allow the air to escape while cooking.  This will stop the base of your crust trapping the air underneath and doming up.
Then you need to 'blind bake' the crust.  This just means baking it, as it is, without any filling in it so that the bottom will be nice and crisp.  It may go soggy or not cook enough if you add the filling at this point.  There are two options for the blind bake depending on how you intend to use the crust.
If you plan to fill the crust with a filling that doesn't require any further cooking, (think strawberries and cream, banoffee ingredients etc) then you will need to cook it for 15-20 mins until it is crisp and a golden brown colour.  Then you just need to let it cool and add your filling.
If you plan to use a filling that requires further time in the oven, (think quiches, meat pies etc) then you want to cook the pie crust for 8-10 mins until it is just starting to crisp up and dry out.  Then you add your filling and cook for the remaining time according to your recipe.  This will ensure that the crust doesn't spend too much time in the oven and burn.  If it looks like the edges are getting too brown you can cover them with tin foil to stop this happening.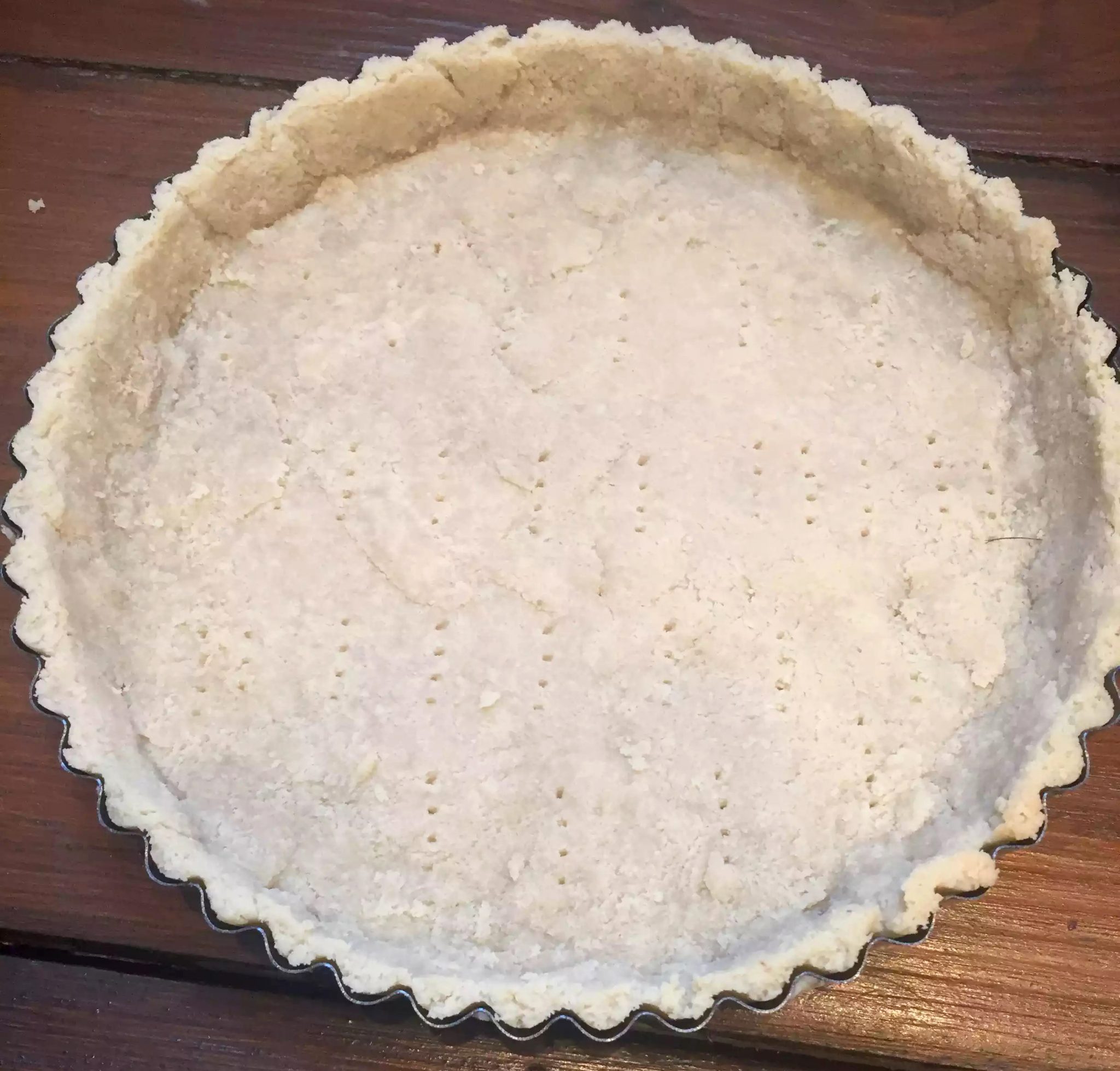 This pie crust really is incredibly versatile!  You can use it to turn a frittata into a quiche, making the whole thing seem so much more refined and elegant.  Or you can make any vegetable tart, or meat pie with this recipe, it's so versatile.  I used it to make my Salmon & Asparagus Quiche which was delicious and you can even use it to make individual tarts rather than one big one if you prefer.  You can even use it for sweet fillings just by leaving out the salt (or keep it in if you like the sweet salty balance) but I have a better recipe for a sweet Pie Crust to share with you soon!