This post may contain affiliate links. I may receive products, services or money from the companies mentioned in this post. All opinions are my own. For more information see my Disclosure Policy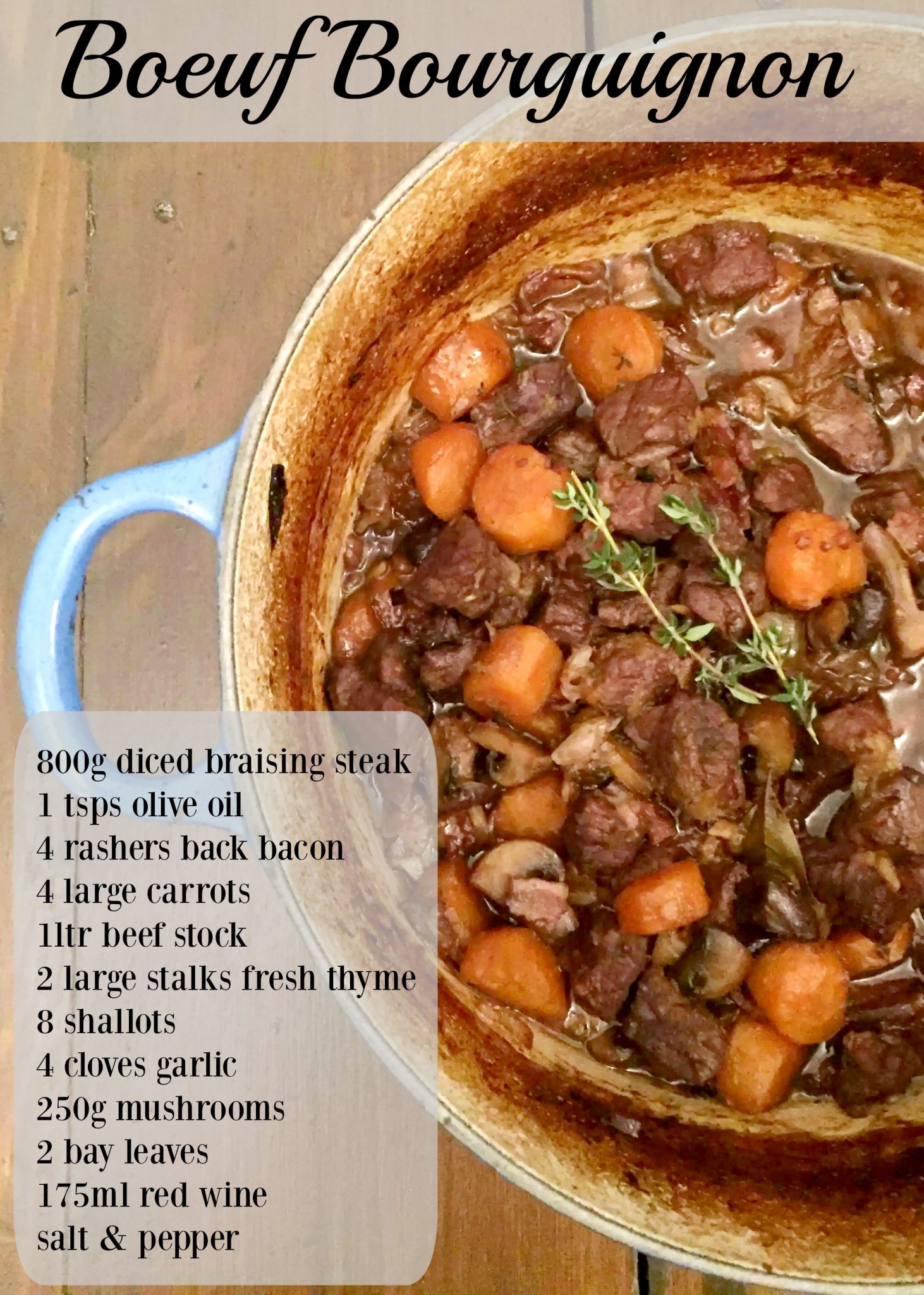 Is there anything better than a warm, hearty stew, when the weather is cold outside – and this is the most famous of them all, the classic French dish of Boeuf Bourguignon (beef casserole with added red wine and a fancy french name!) with a bit of a twist to make it grain and gluten-free.  Normally you would add flour to the pot to thicken the sauce but as I can't eat flour I had to come up with another way – nobody wants a watery casserole.  Read on to learn the secret…
Start by preheating the oven to 150C and then, on the stove top, heat some olive oil and fry of the steak until it is browned on the outside – you can skip this step if you're short on time but I think it gives a richer flavour to the end stew.  Make sure you're using an oven proof pan, or casserole dish, or transfer it to one before you pop it into the oven later (preferably one with a lid).
Remove the browned steak from the pan and set to one side.  Chop the bacon into small pieces – I find this easiest with a pair of scissors, and fry it off in the juices left over from cooking the beef.
Peel and chop the shallots into quarters and add them to the pot with the bacon and then peel and slice carrots and do the same thing.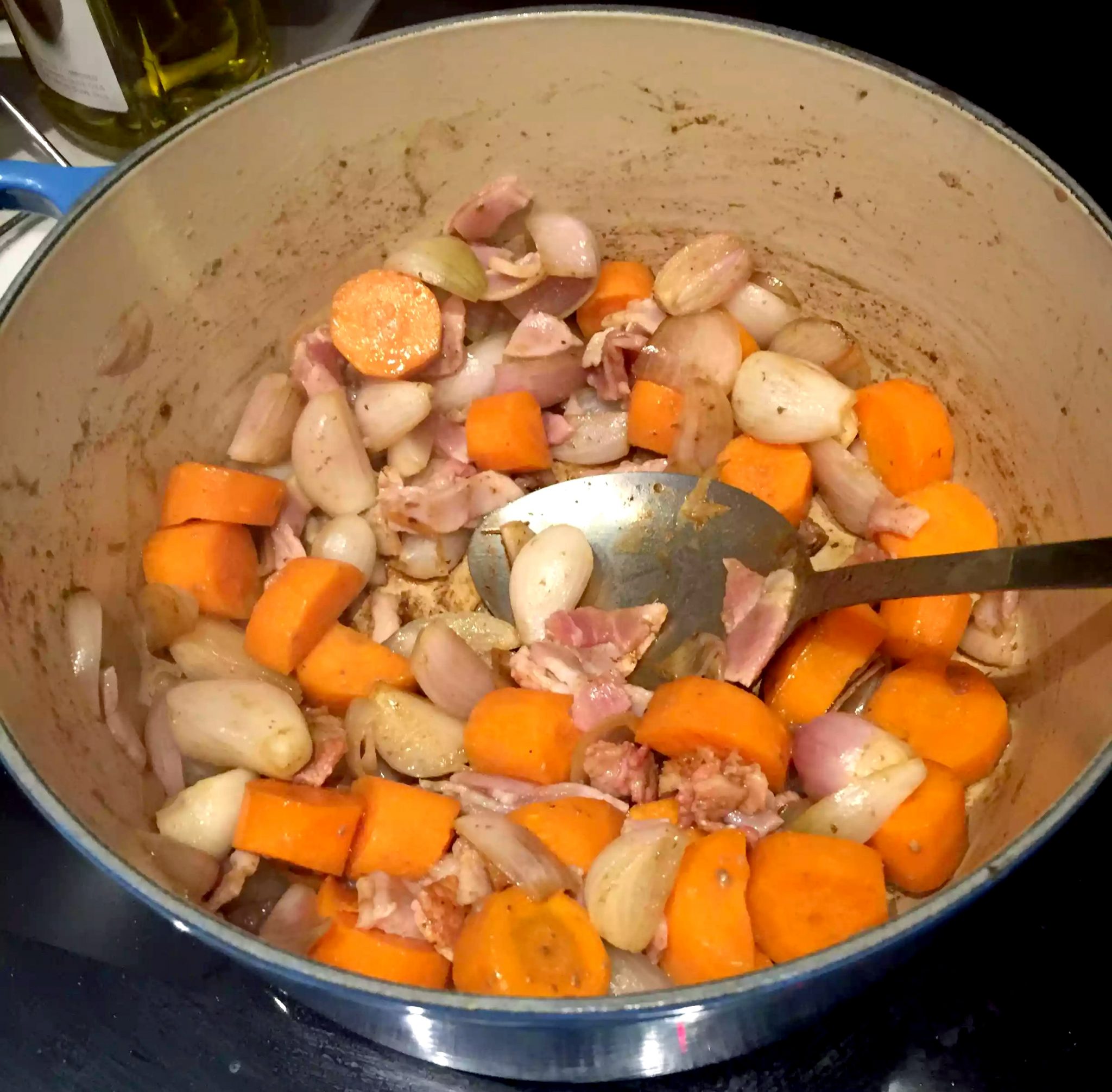 Chop the mushrooms into quarters and peel and slice the garlic cloves.  Add these to the pot aswell.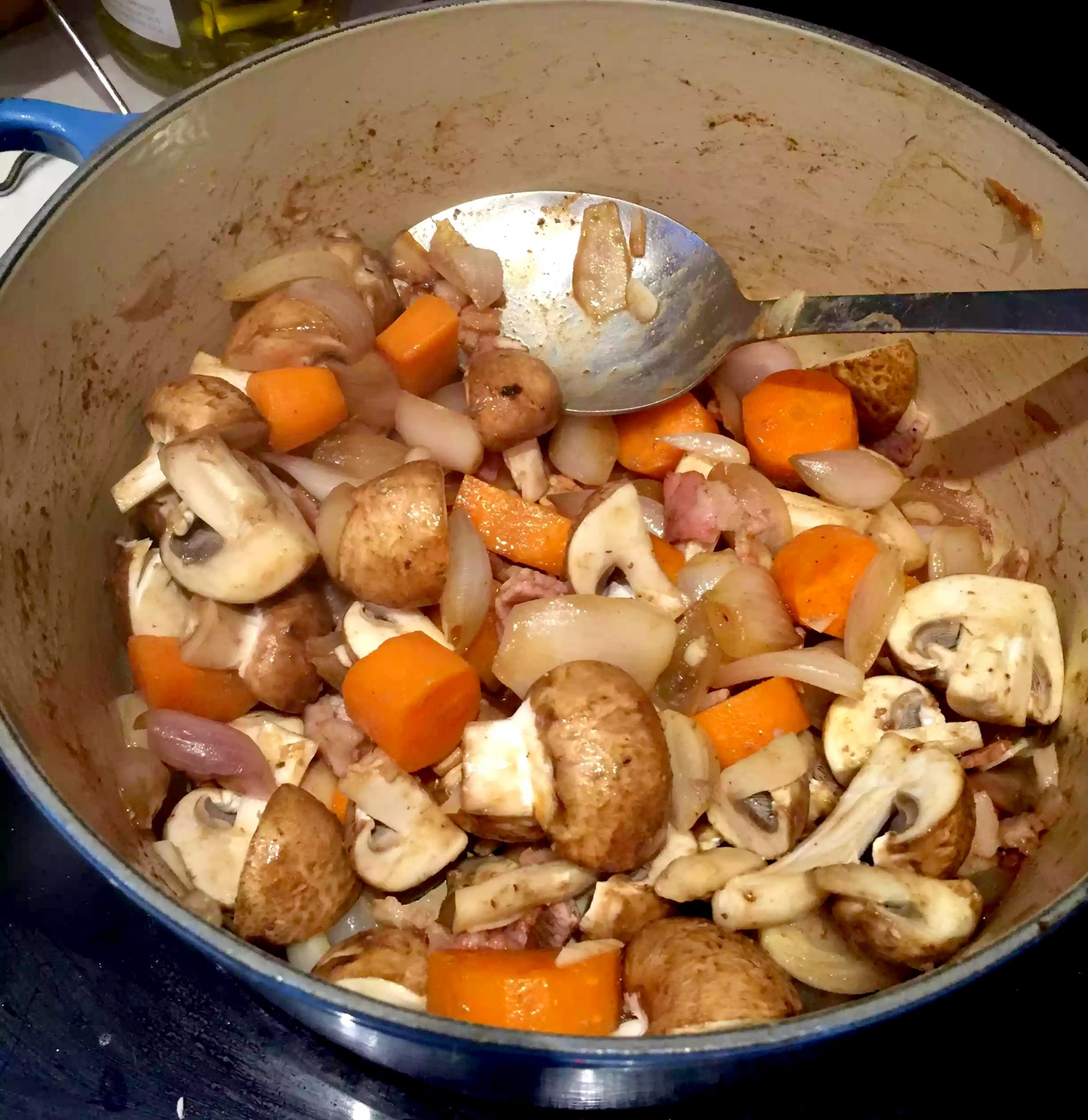 Add the beef back into the pot and season well with salt and pepper. Add the thyme and the bay leaves.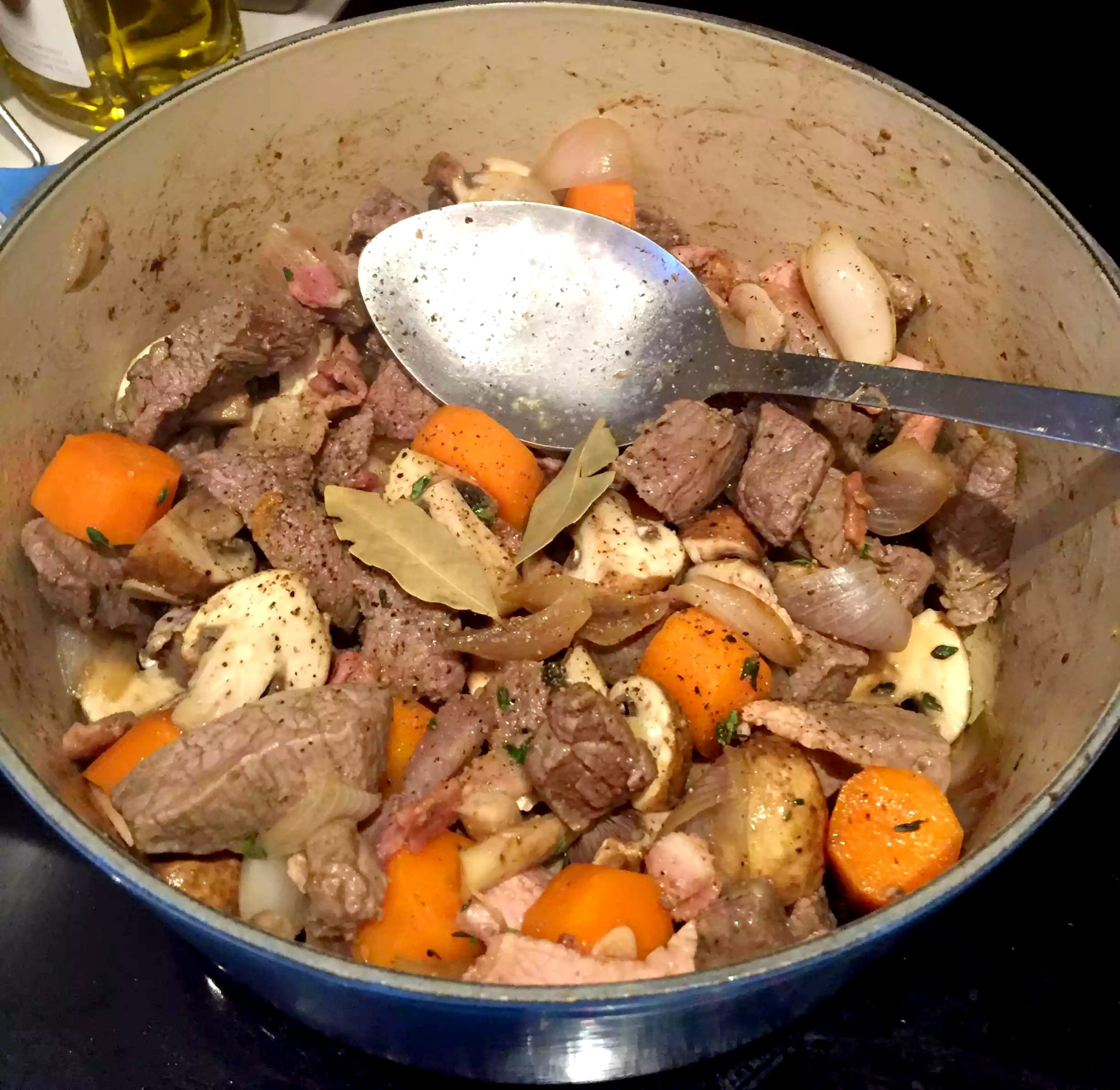 Add the beef stock and red wine (any cheap red wine will do – don't waste the good stuff on cooking!), put the lid on and place in the oven to cook for 2 and a half hours.  If your pot doesn't have a lid you can always cover the entire thing with tin foil and it will work in the same way.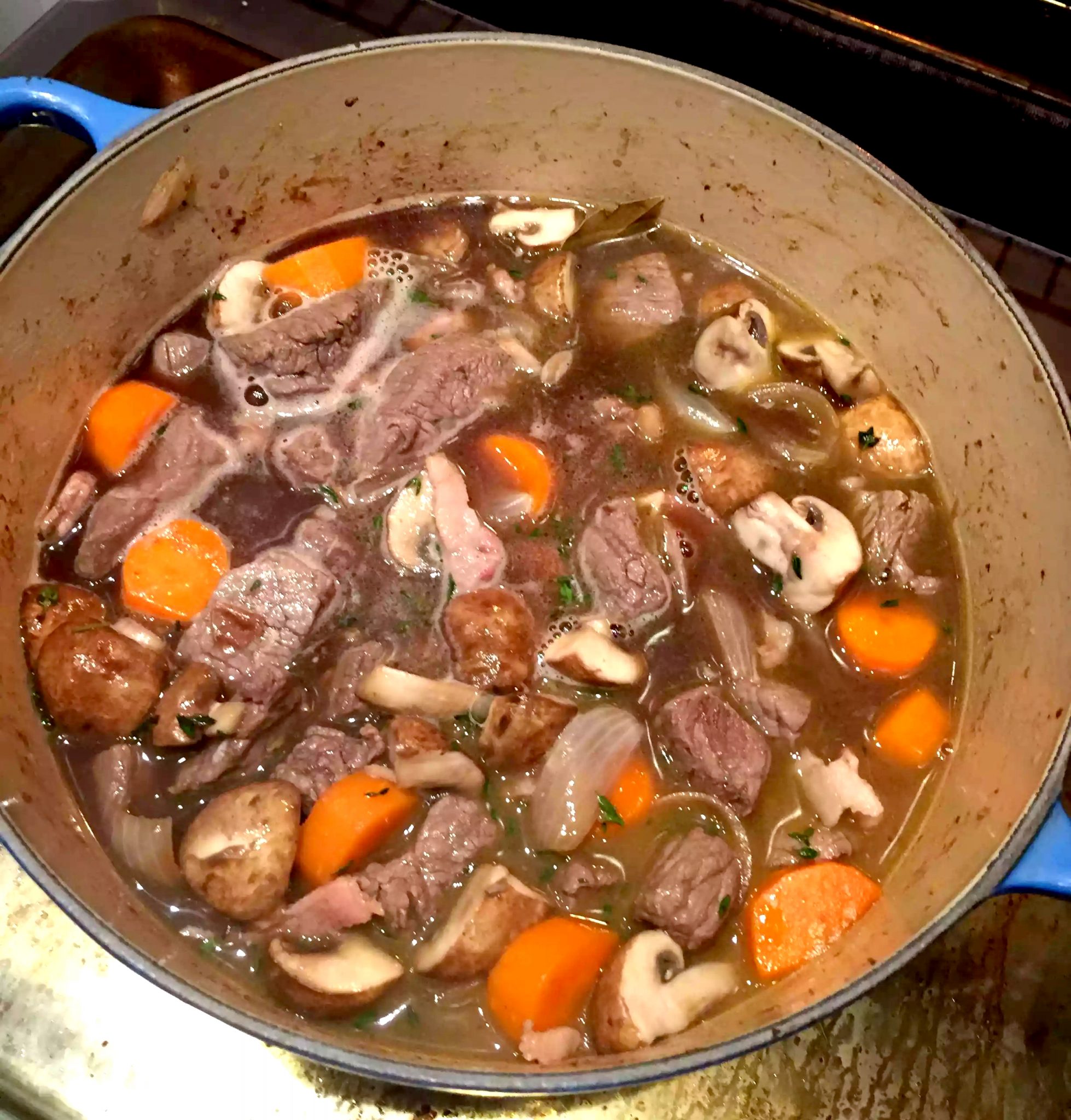 After 2 hours remove the lid and continue cooking for another 30-45 minutes, stirring occasionally (every 10 mins or so) so that the meat on the top of the dish doesn't dry out.  Leaving  the lid off for the last portion of the cooking time does two things.  Firstly it colours the meat to make it look more appetising and secondly, it evaporates off some of the liquid, thereby reducing the sauce, making it thicker without the need for flour.  Easy as that!
The Boeuf Bourguignon is ready when the sauce has thickened and the meat is tender and falls apart as you bite into it – the easiest way to test is to try a bit (cook's privileges!)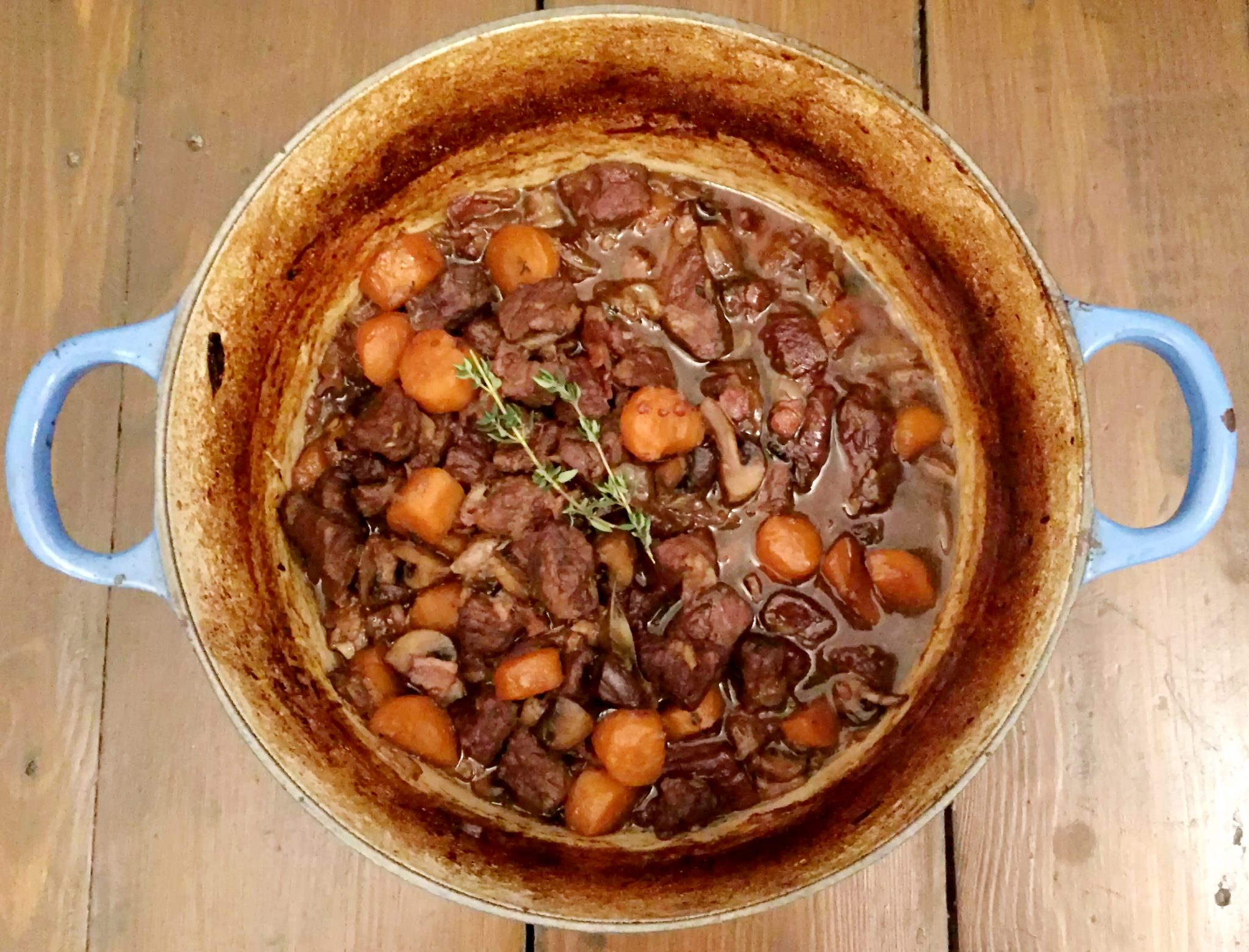 You can always leave the dish in the oven for much longer than the two hours if you want as long as its covered – a longer cooking time won't do it any harm.  Make sure to remove the bay leaves before eating!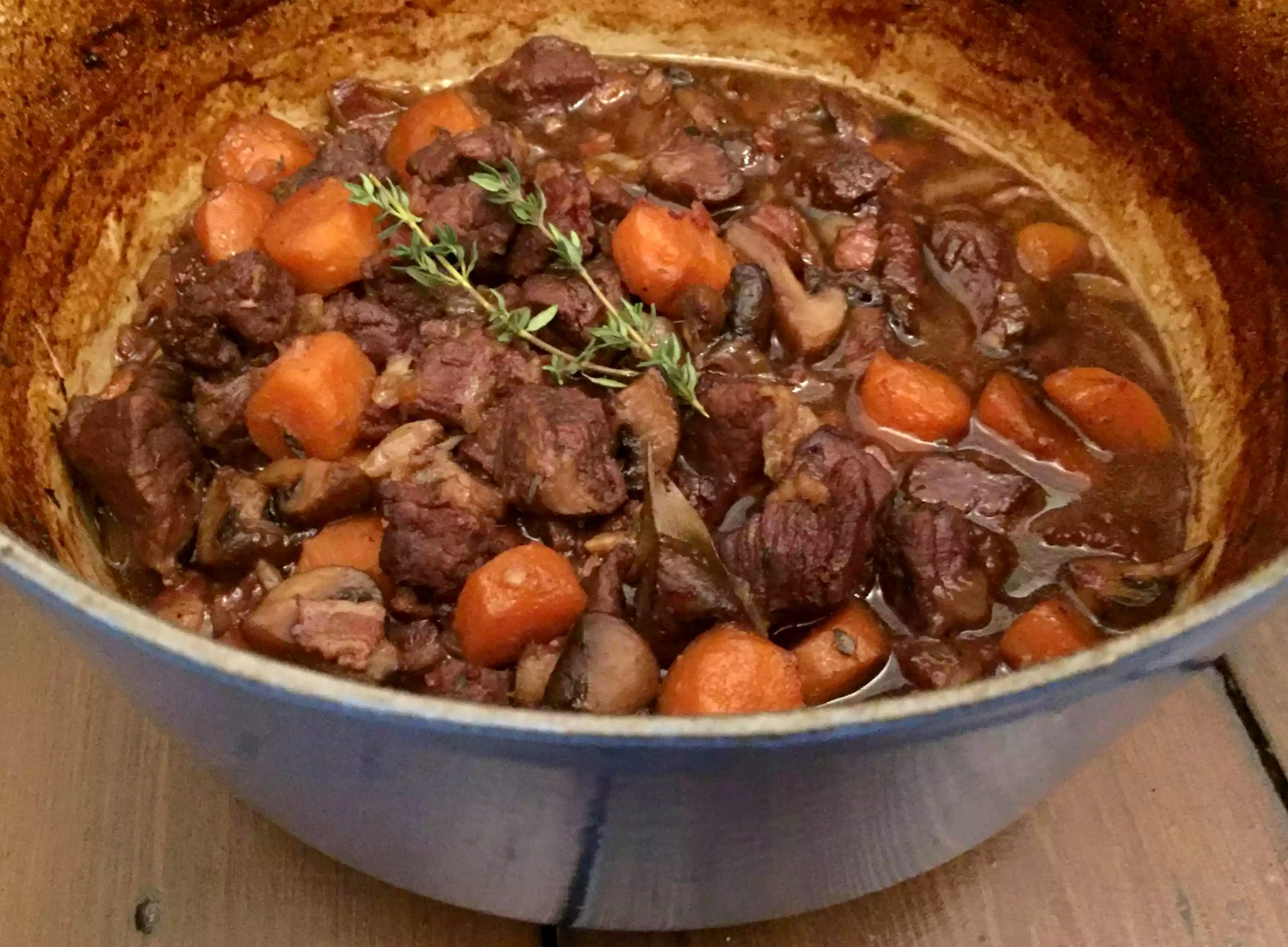 You could also put all the ingredients in the slow cooker too and set it to cook all day – just make sure you leave the lid off to wards the end of the cooking time to evaporate some of the liquid off.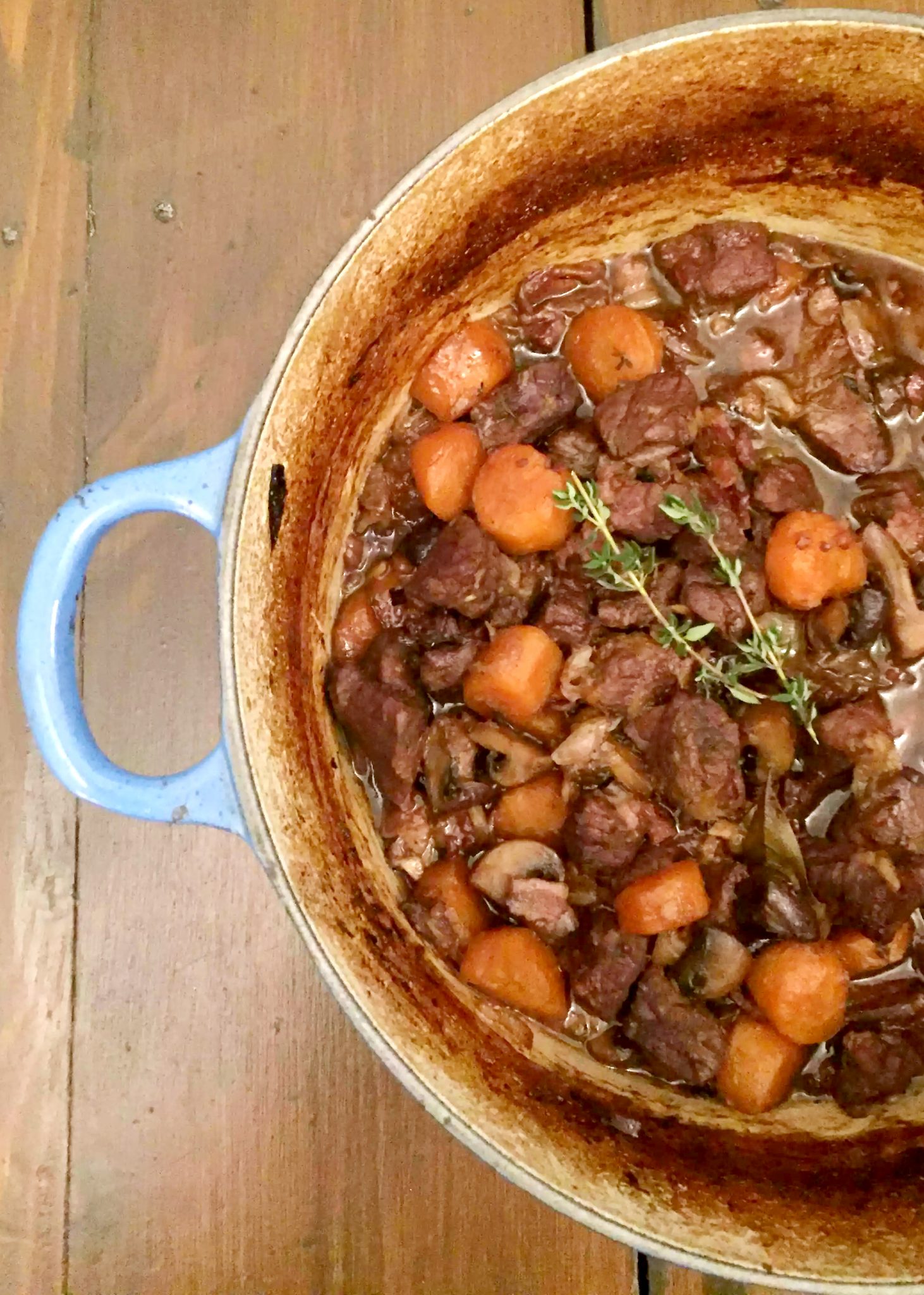 This is the perfect dish for a winter evening – it's hearty, delicious and so warming, full of protein and healthy veggies.  You can serve it with potatoes or dumplings if you want to add in some carbs.  I like it with green veggies and Cauliflower Mash.  It's a great one for preparing and then leaving in the oven to cook while you go for a nice Winter Walk (or a drink at the pub!)