It's my friend Liam's 40th Birthday and to celebrate we'd be spending a few days in Larnaca, Cyprus with a group of friends.  I've never been to Cyprus before and although the birthday boy had lots of plans already, I thought it would be a nice idea to hire a boat for us all to spend a morning on.
I went onto the Tripadvisor Attractions website and found the most amazing yacht.  It was an old wooden sailing yacht that looked just like a pirate ship!  And the best part, you could rent out the entire thing so we would have it all to ourselves.  I booked and paid for it all online via the TripAdvisor website and it was so easy.  The captain emailed me to confirm and ask if we had any special requests.  Champagne all round for the birthday celebrations!!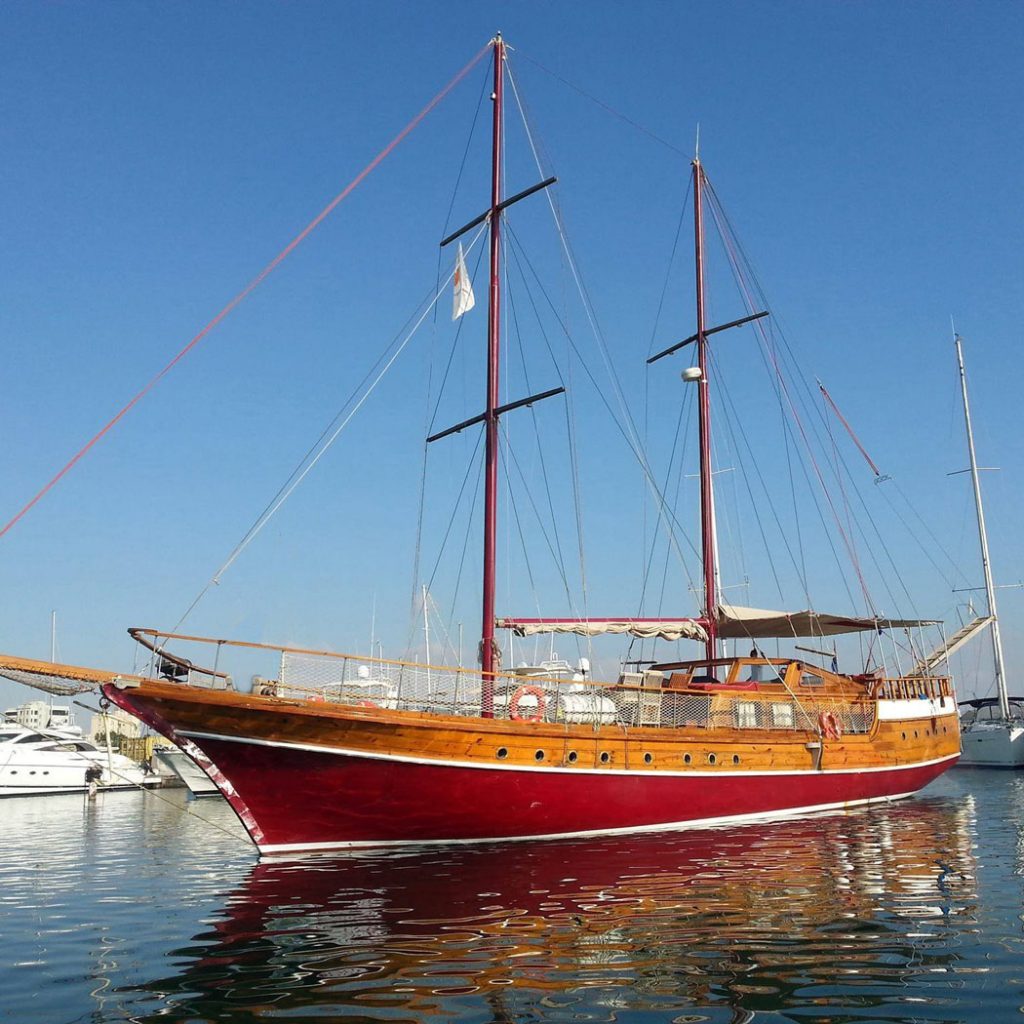 The morning of our boat trip we arrived at the marina and were shown to the Panormitis Sailing Yacht.  Permission to come aboard was granted and we hopped on.  There were huge platters of fruit for us to nibble on and a welcome glass of wine or a beer… at 10.30am!!  We set off and soon we were out of the marina and on the open water.  The captain had said the itinerary was up to us.  We had the boat for 3 hours so we decided to visit a couple of different spots in order to be able to jump off and swim.
We sailed along the Larnaca coastline, enjoying the sea air and blowing away the hangovers from last night.  Obviously, Dan and I just had to get the famous Titanic shot in – yes we are that cheesy!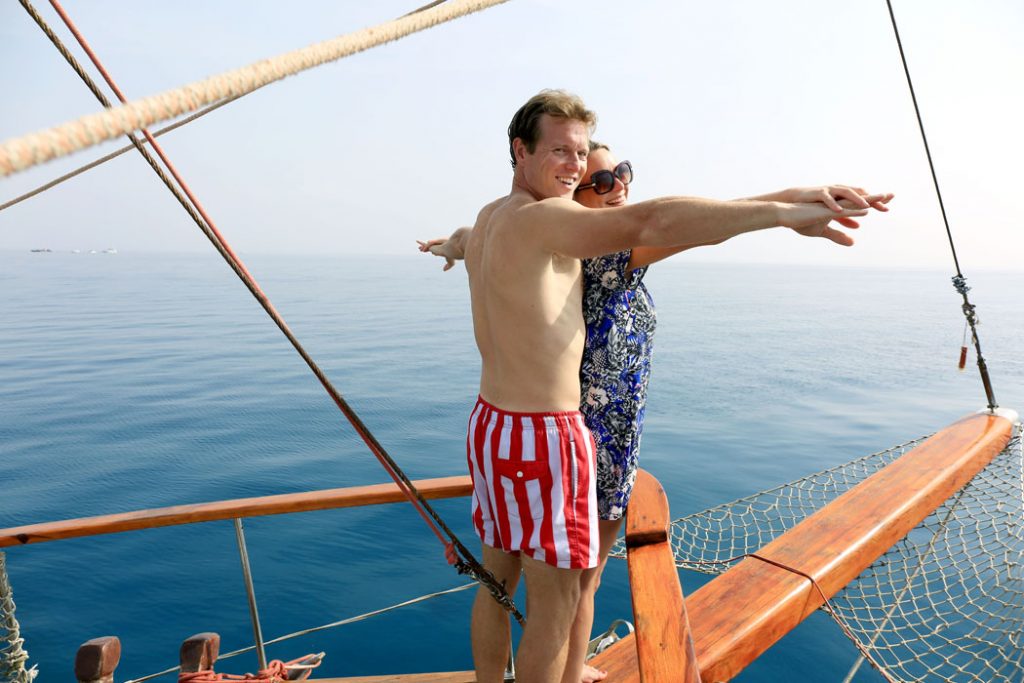 When we arrived at the first spot we dropped anchor and everyone jumped overboard.  Googles and snorkels were provided so we spent some time exploring the reefs underneath us and spotting the fish.  Cyprus in general is a well-known diving destination and if deep diving is more your thing than snorkeling there are plenty of wrecks to explore!  We swam around for a while before heading back on deck.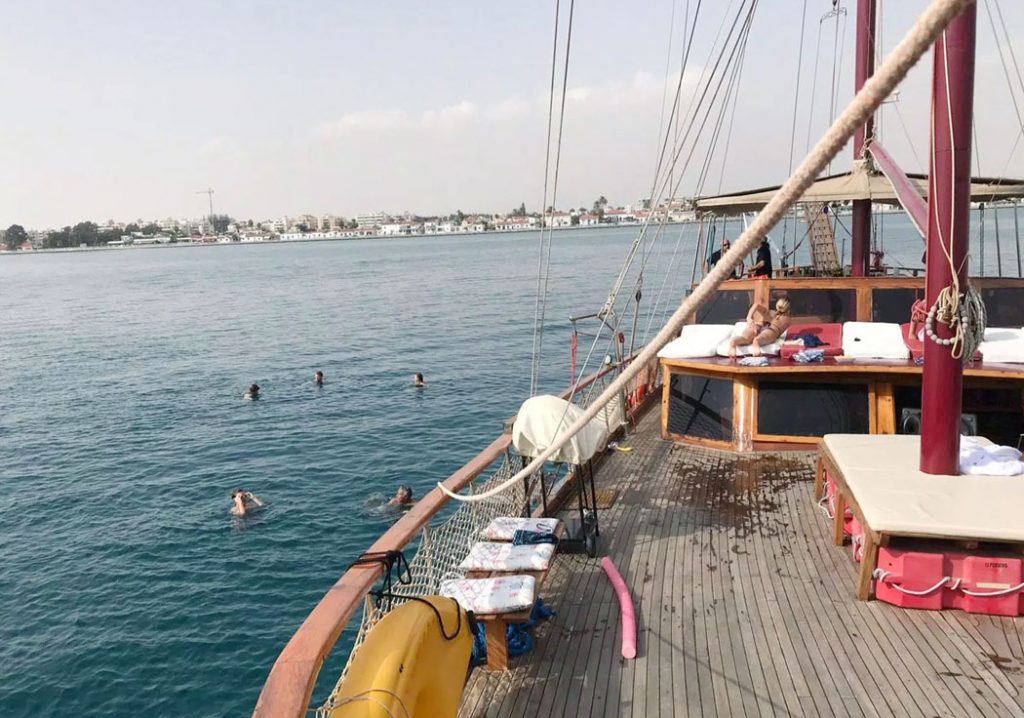 The boat has a ladder down to the water and a fresh water shower so we climbed up and washed the salt off and sat down to enjoy the next leg of the journey.  Out came the champagne and we all toasted Liam – they'd even arranged a surprise cake for him!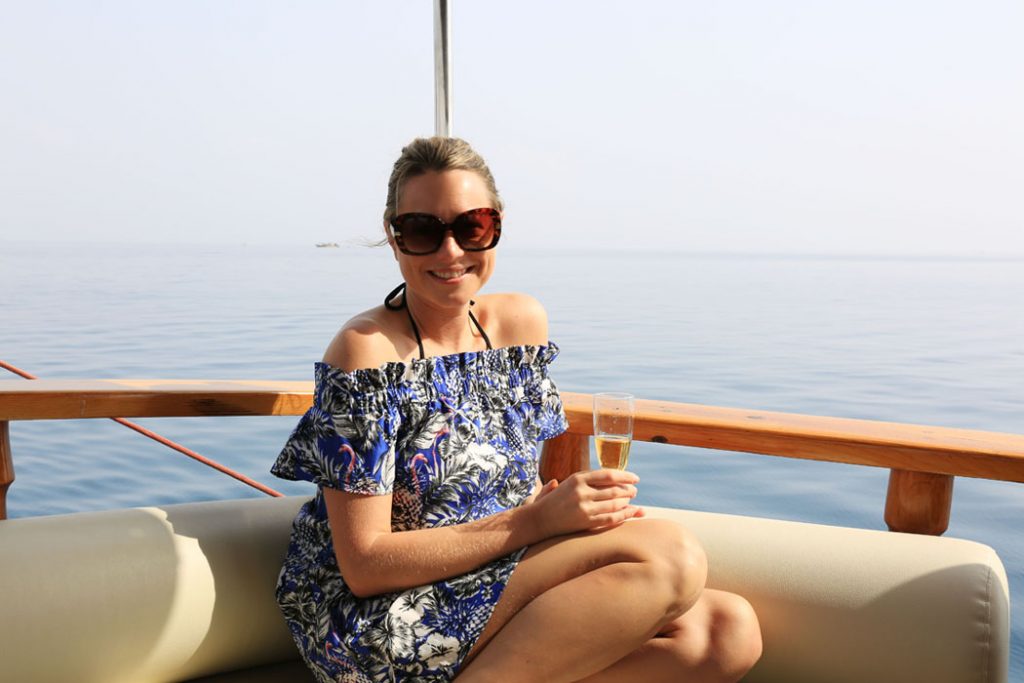 Soon it was time for our next stop.  By this time everyone had become a bit more adventurous and there were some interesting dives off of the boat!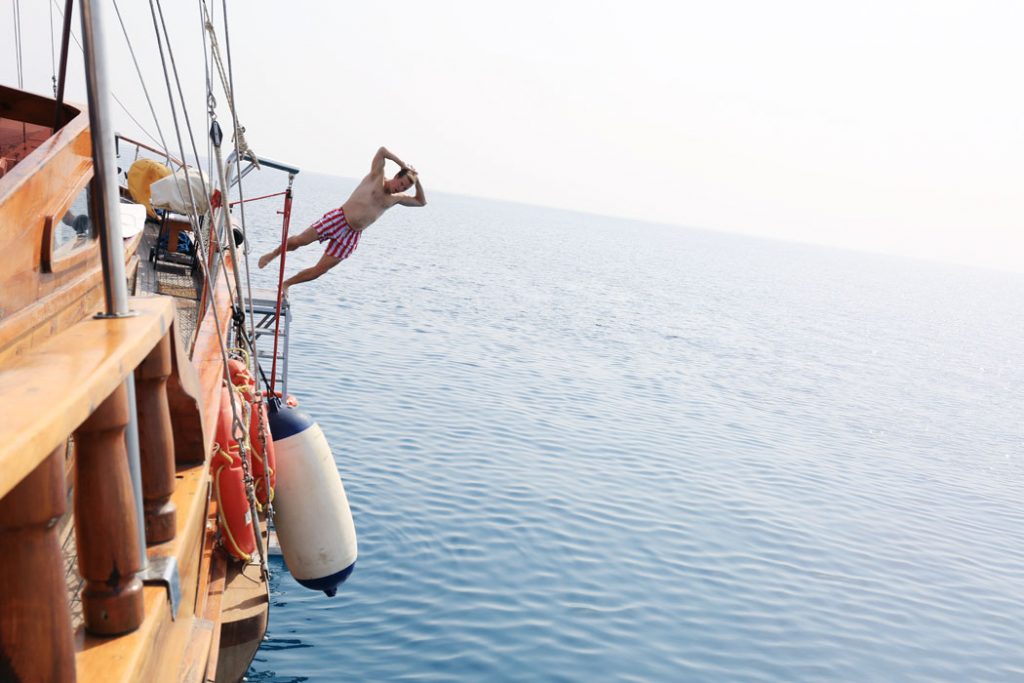 We all jumped in with a ball and played games in the water.  Although it was October the water was still really warm and it took no time at all to dry off after our swim.
Back on deck it was time to head back to the marina.  We were offered refreshments for the trip.  Fresh fruit and wine/beer were all included in the price of hiring the boat (which was about £600).  We loved that you could hire the boat for half a day.  It meant that we were back in Larnaca in time for a late lunch.   There are other options though, you can opt for an all-day or an evening cruise depending on your schedule.
It really was such a fun day out.  It was so lovely to do something a bit different!  Everyone really enjoyed themselves and it was definitely one of the highlights of our trip!
Pin Sailing in Larnaca, Cyprus for later