I'm one of those people who just can't get going in the morning without a coffee!  I think if it's possible, Dan is even worse than I am!  We both like our coffee super strong and so when TASSIMO offered to let me try out their new My Way machine I jumped at the chance.  We usually make our coffee on the hob in an old-school percolator so to have a machine to make it is like a dream come too.  It always feels like such a treat when I go away and the hotel room has a coffee machine.  It tastes so much better than the stuff you make yourself and feels just a little bit fancy!
When the machine arrived, they'd sent us some pods to get us started.  I didn't realise there was such a range of things to make with the TASSIMO My Way brewer.  All the pods were branded and there were Costa and Kenco, even Milka Hot Chocolate and Baileys Latte!
Also, it was much smaller and lighter than I'd imagined.  Great for us as we have minimal counter space and it didn't take up much room.  We used the TASSIMO machine to make ourselves a coffee on the first morning.  The great thing about the TASSIMO My Way brewer is that it creates a coffee to your flavour preference.  The shelf moved up and down to accommodate smaller or larger cups.  I like an espresso whereas Dan prefers an Americano.  I raised the shelf to the highest it could go for the tiny espresso cup I had.   Then, I popped in the pod and in a minute, the coffee was ready.  So much faster and less hassle than usual and no clearing up! It was so much smoother than my usual cup of coffee.  Then I lowered the shelf for Dan's big mug and made him an Americano!  No longer  do we have to make one pot of coffee to suit both of us!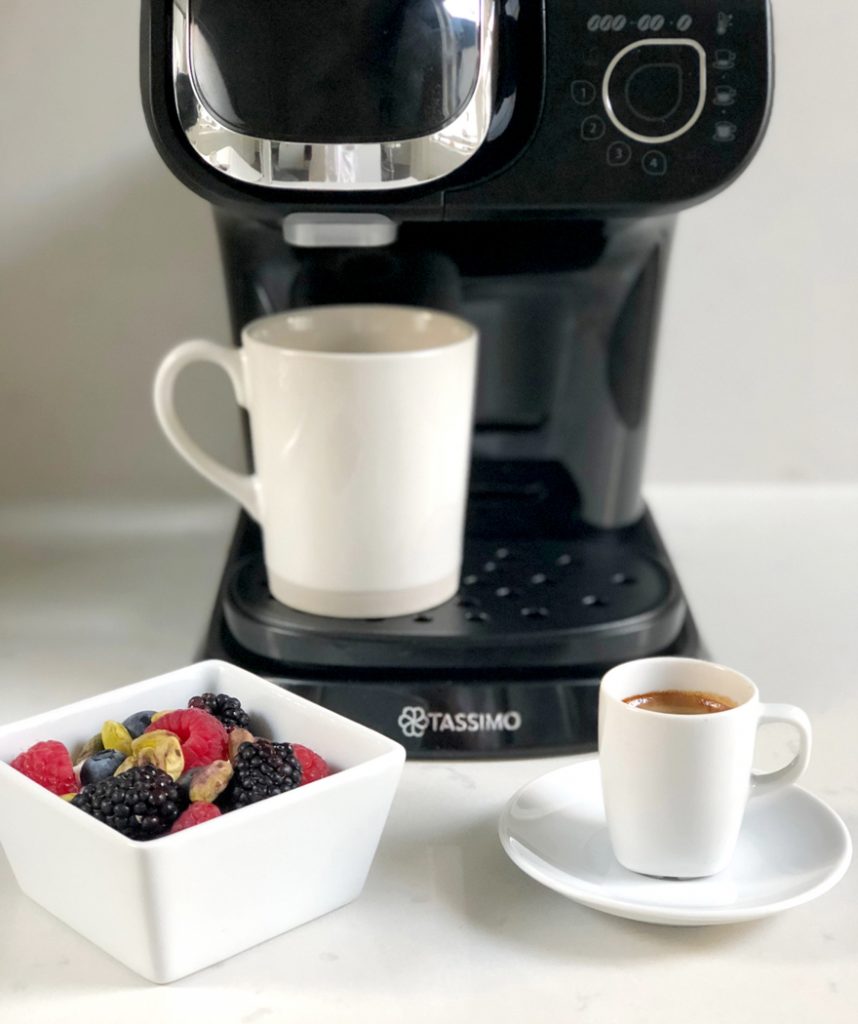 While I was enjoying it I started thinking recipes that could incorporate the coffee.  I decided to create some chocolate espresso pots as I thought the coffee would go really well with the 100% dark chocolate that I use.  Not being able to eat refined sugar, the chocolate I have is 100% Cacao
with nothing else added.  It is very dark  and almost has a coffee-like bitterness so I knew it would pair well with the espresso.
I got to work creating these delicious little desserts.  I started by warming the can of coconut milk on a medium heat.  (Make sure to use full fat coconut milk or the espresso pots will be too runny).  Make sure also that it is just coconut milk with no nasty chemicals or thickeners added like guar gum.  Once the coconut milk is warmed through, break up the chocolate bar
into small pieces and add to the saucepan.  Turn the heat down to low and allow the chocolate to melt slowly, stirring if you like.
Once the chocolate is melted (it may be slightly lumpy due to the nature of the chocolate – don't worry this will be rectified later) add the honey (to make these vegan you could use agave!).  Then, use the TASSIMO My Way brewer to make the coffee. I made the espresso on the strongest setting in the smallest size to make it as concentrated as possible for the most taste in the recipe.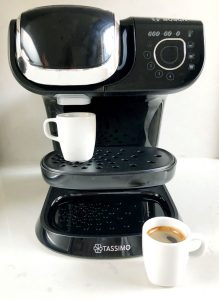 Mix well so that all the ingredients are combined.  Remove the saucepan from the stove and add the mixture into a blender or a food processor.  If you have a stick blender you could also just use this in the saucepan.  Blitz the mixture for a minute or so until it is silky smooth!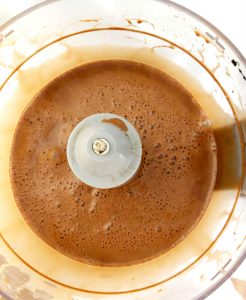 Pour into serving pots and chill in the fridge until set.  I like to use either espresso cups to serve it in or these pretty mini Kilner jars.
Once the desserts are set you can serve them as they are or add your favourite toppings.  Whipped cream, raspberries, crushed hazelnuts, whatever takes your fancy!  I like to add a couple of coffee beans to each one.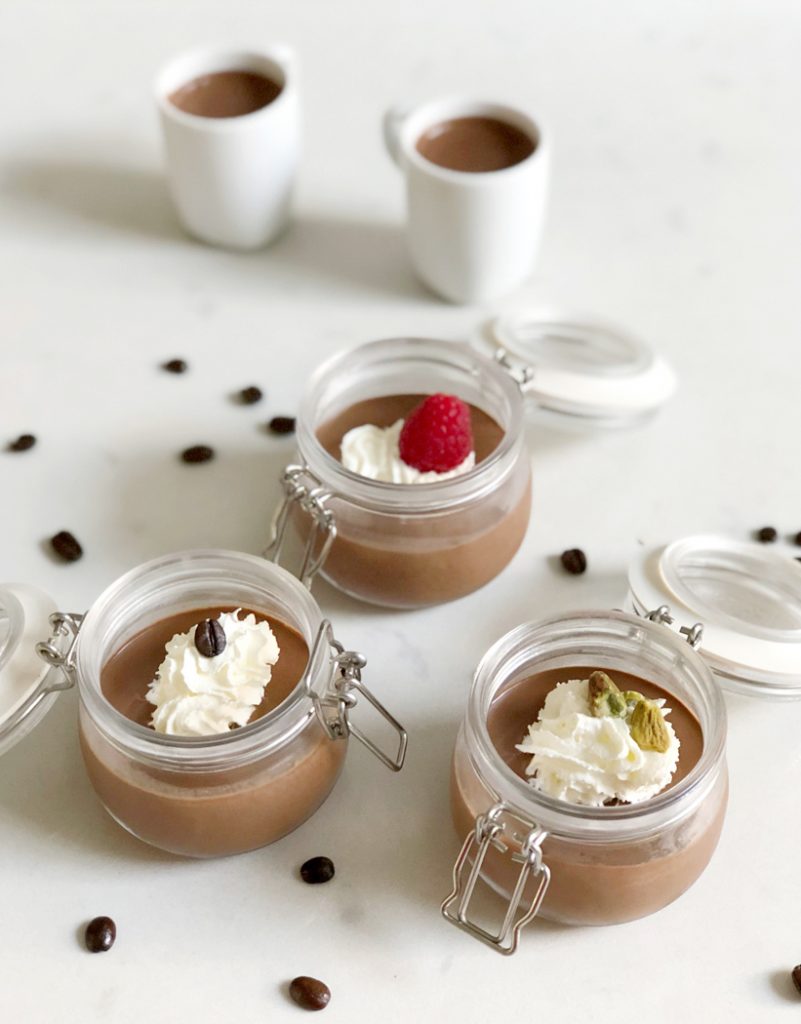 These little pots are deliciously rich so you only need a small amount.  I like to serve them alongside an espresso after dinner for a special treat!
Thanks to TASSIMO for sponsoring this post.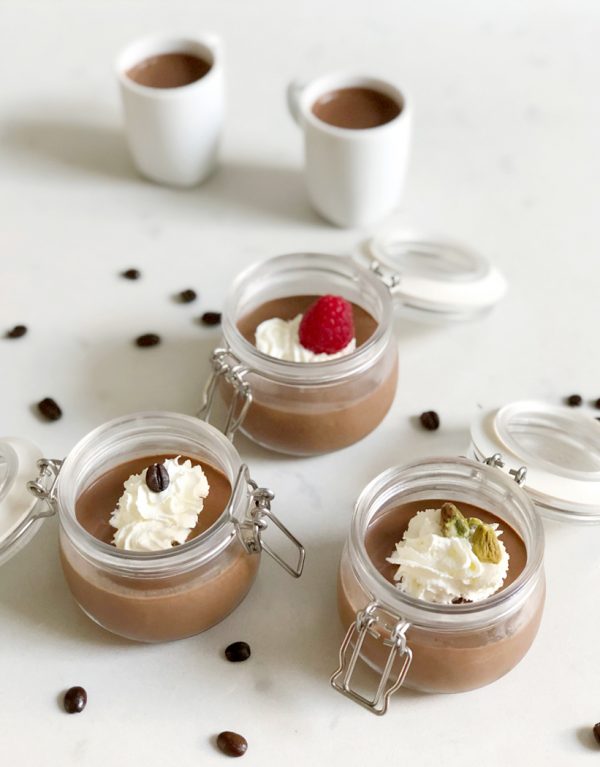 | | |
| --- | --- |
| | |
Warm the can of coconut milk on a medium heat.

Once the coconut milk is warmed through, break up the chocolate into small pieces and add to the saucepan.

Stir to melt and incorporate the chocolate.

Make the espresso and add to the saucepan with the honey.

Mix well and blitz in a food processor or blender until smooth.

Pour into serving pots and chill in the fridge until set.

Serve chilled and add your favourite toppings!
Dietary & Allergy Information for Chocolate Espresso Pots
These Chocolate Espresso Pots are Grain-Free, Gluten-Free, Dairy-Free & Refined-Sugar Free.  Also suitable for Vegetarian & Paleo & Vegan diets (with substitutions).
See my Products Page for Ingredients & Bakeware that I recommend.
Pin Chocolate Espresso Pots for later