I don't tend to cook with Pork – it's just not one of my favourite meats.  I find it quite dry and chewy unless it's a slow roasted cut like a Pork Belly or Pulled Pork.  When I saw these enormous pork chops in the supermarket though, I knew I wanted to make dinner with them.  They were huge – at least twice if not three times the size of any pork chops I'd seen before.  They looked like they had plenty of meat on them so hopefully they wouldn't dry out.  And what goes best with Pork…Apples?  I decided to do a take on traditional Apple Sauce and do Pork Chops with Butter Poached Apples to accompany our dinner.  Along with some Cauliflower Mash it would be perfect comfort food for this time of year!  Not too heavy and stodgy but still warming for when the weather isn't fantastic.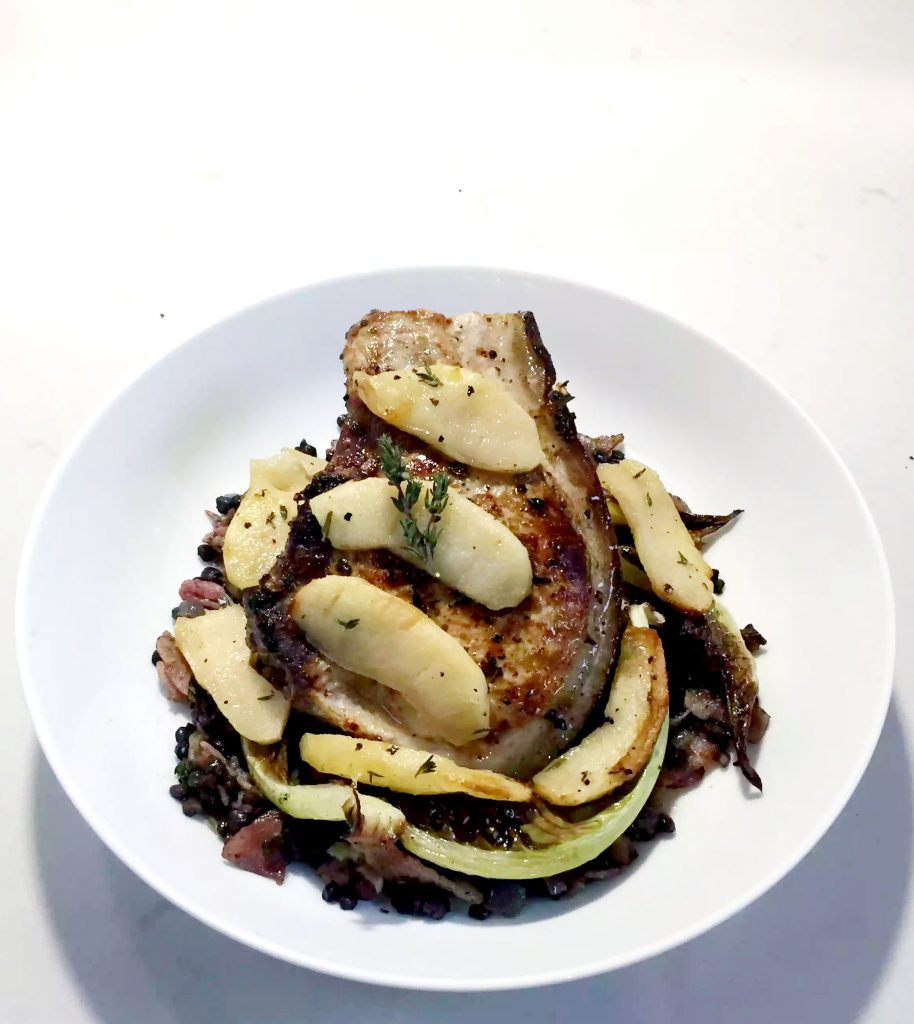 How to make Pork Chops with Butter Poached Apples
I started by peeling the apples, quartering them and slicing each quarter into about 5 slices.  Heating the butter in a frying pan on a medium heat, arrange the apple slices in the melted butter and allow them to cook gently – you don't want to fry them.  The butter needs to be just bubbling.  Turn every so often to cook both sides and prevent them going brown.  It will probably take about 10-15 mins in all.  Towards the end of the cooking, remove the thyme leaves from the stalk and sprinkle over the apples.  They're done when they've softened and lost their crunch, but you don't want them to be mushy or you'll end up with apple sauce.
While the apples are coking, season the pork chops and then heat the oil in a pan to a medium high heat.  Place the pork chops one side down in the pan and leave for 10 minutes without moving them at all.  This will ensure they get a nice brown colour and will caramelise.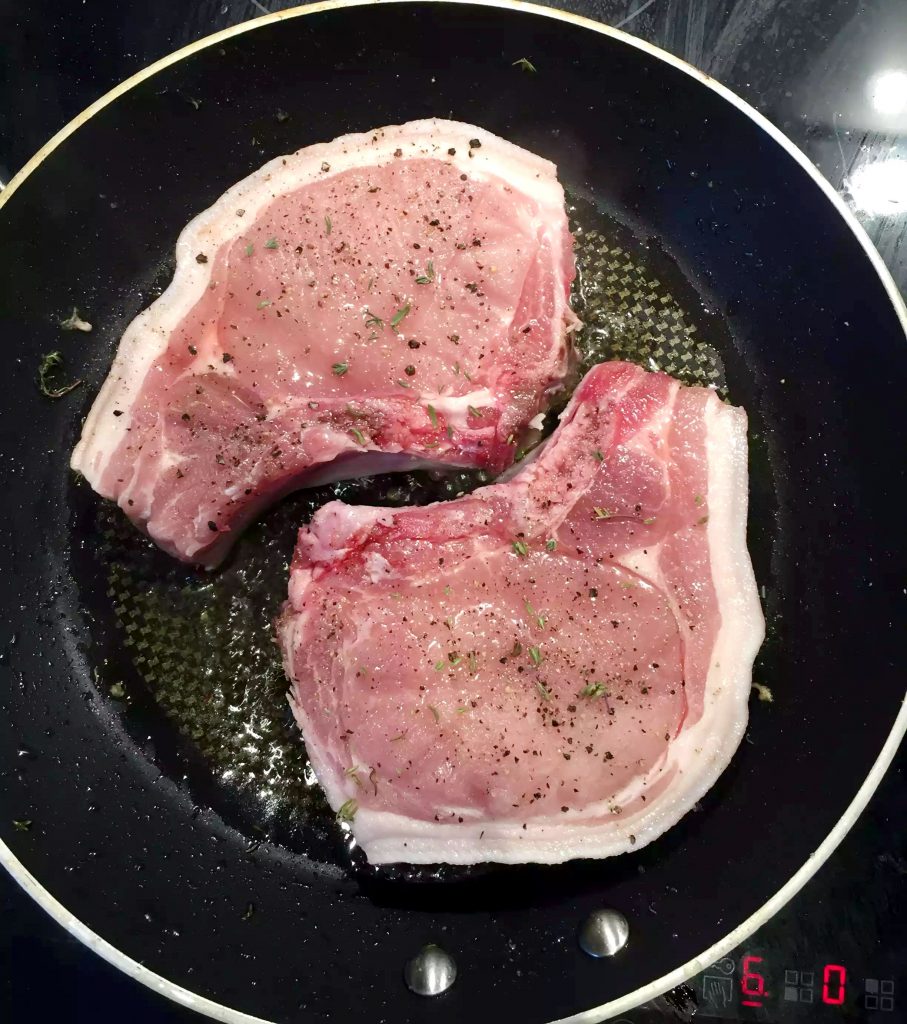 After 10 minutes flip them over and cook the other side.  They're done when they're golden brown and cooked all the way through but still juicy in the middle.  The ones I had (about 350g each) took about 25 minutes to be cooked properly.  Then remove the chops from the pan and allow them to rest for a couple of minutes before plating up.
I topped the Pork Chops with Butter Poached Apples and added plenty of side dishes.  Cauliflower Mash, some oven roasted Cauliflower Leaves and my Warm Lentil and Bacon Salad for a healthy but very hearty and filling dinner.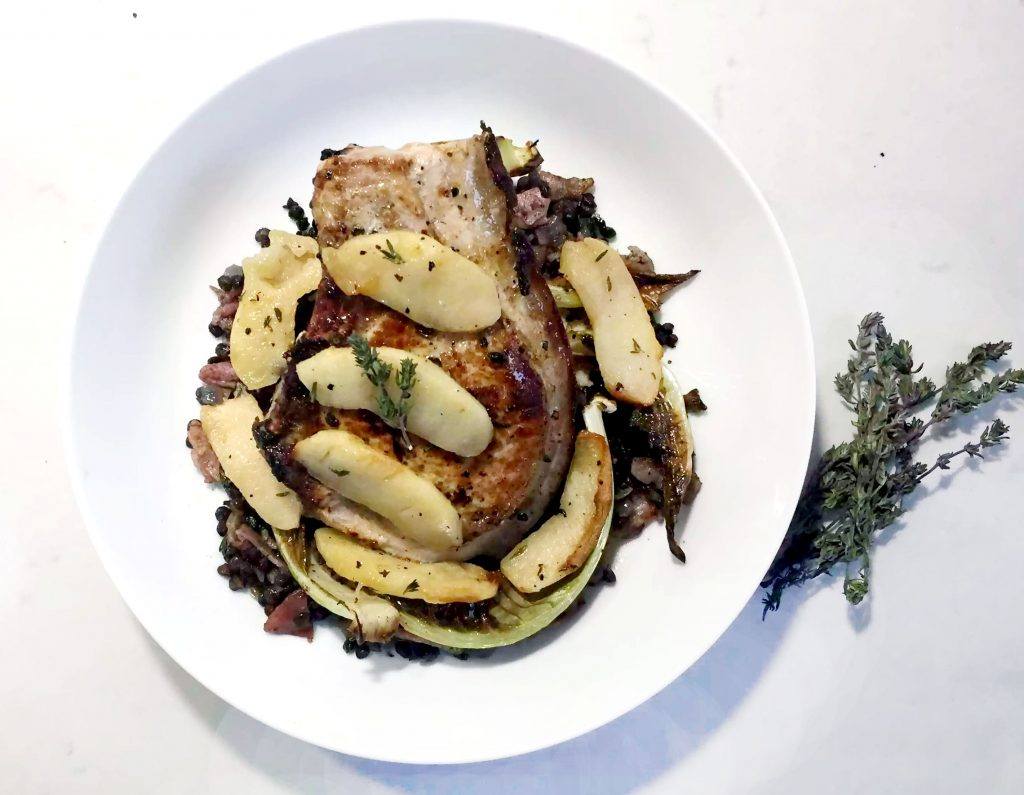 There's a reason pork is always served with apples.  The sweet juiciness of them pairs so well with the slight saltiness of the pork.  They were so buttery and soft that I didn't really feel a sauce was necessary but you could always serve the dish with a gravy if you thought it needed it.  Delicious comfort food that doesn't feel too heavy for a spring evening.  And you know what – I found a new way to cook pork that is absolutely delicious!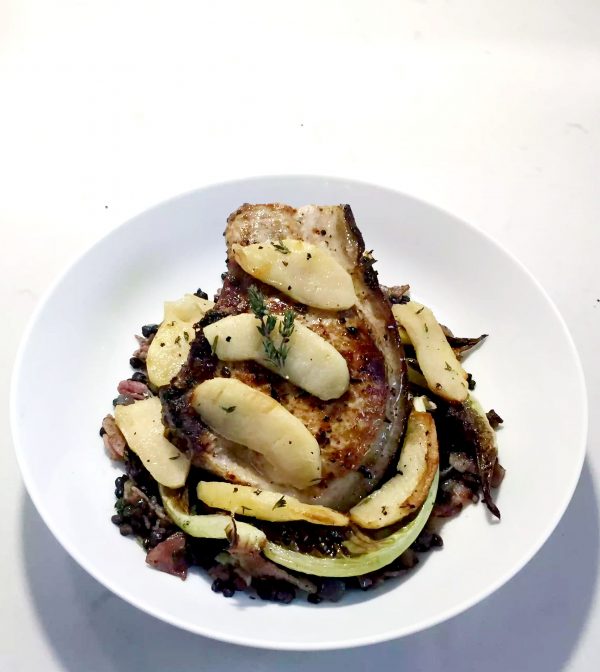 | | |
| --- | --- |
| | |
Melt the butter over a low heat in a frying pan.

Peel the apple and cut into quarters.

Slice each quarter into 4 or 5 slices.

Place the slices in the barely bubbling butter and cook for about 10 minutes, turning regularly. They should be soft all the way through, but not mushy.

Remove the leaves from the thyme stalk and add to the pan.

Meanwhile heat the oil in a frying pan on a medium heat and season the pork chops.

Fry the pork chops for about 10 minutes on one side and then flip and do the same on the other.

After 20-25 minutes in the pan, remove and allow to rest for a couple of minutes.

Serve topped with the butter poached apples and any additional sides.
Allergy & Dietary Information for Pan Fried Pork Chops with Butter Poached Apples
This recipe is Grain-Free, Gluten-Free, & Refined-Sugar Free.  It's also suitable for SCD (Specific Carbohydrate Diet), Paleo & Low Carb diets.
See my Products Page for Ingredients & Bakeware that I recommend.
Pin it for later