This weekend was my dad's birthday and I wanted to make him something delicious as a special little homemade present.  Last time I made him some of my healthy Salted Nut Brittle but I wanted to do something different this time.  He has a very sweet tooth, but he gave up chocolate (and anything with cocoa powder in it) 20 years ago.  Seriously, don't ask, it was an actual addiction – he had to go cold turkey!
That didn't stop his sweet tooth though and these days, fudge is his sugar-hit of choice.  In an attempt to make something I could eat too I experimented with some ingredients that I had in the pantry.  Instead of just sugar and butter this Healthy Peanut Butter Fudge.  I use the term 'healthy' lightly.  This is still extremely sweet and should be regarded as a treat, but it contains much healthier ingredients than the usual fudge!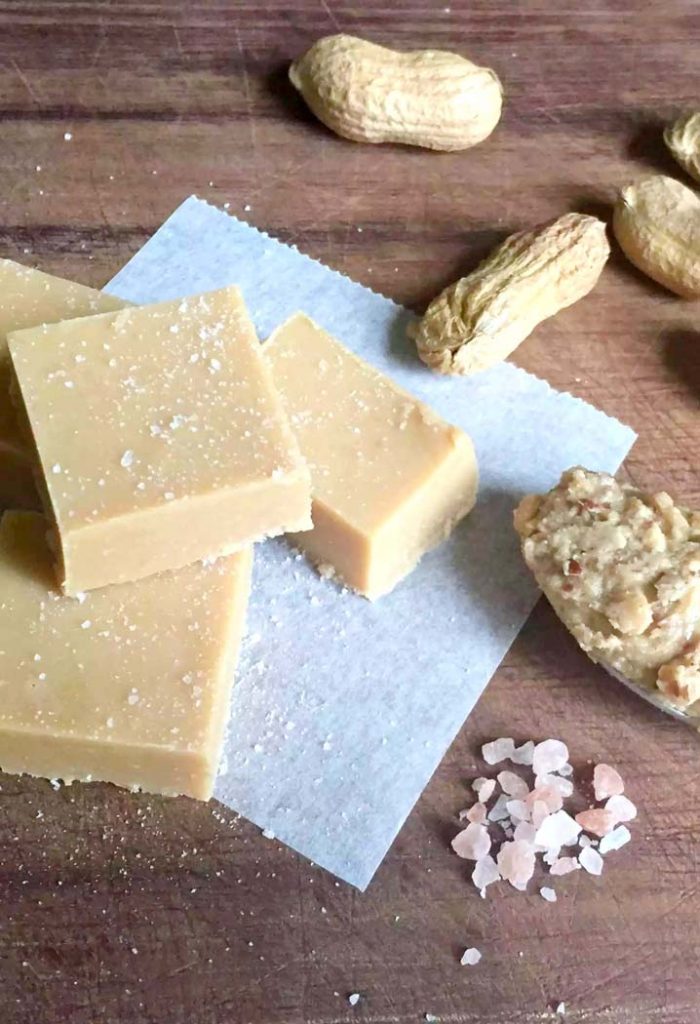 From start to finish this fudge only takes 10 mins to make.  Then it just needs to harden in the fridge for an hour or two.  Plus it only contains 4 ingredients, 3 of which you will probably have in the cupboard anyway.  The one ingredient you may not have is coconut butter.  This differs from coconut oil as it contains the flesh of the coconut too.  Its opaque rather than translucent and is sometimes called coconut manna or creamed coconut.
Basically its the entire coconut that has been blended to a smooth paste.  It is often completely solid at room temperature.  To use it in this recipe you need to liquefy it by standing the jar in a bowl of hot water for 5 mins or so.  Once the coconut butter has started to melt, stir it through to ensure that everything is mixed together.  Sometimes the oil separates and sits on top of the rest of the butter.  You can also heat the peanut butter in the same way too to help with pouring it later.  Once the contents have turned to liquid and been mixed up you are ready to make the fudge.
Create a bain-marie by placing a heatproof bowl on top of a saucepan of barely simmering water.  Add the coconut butter into the bain-marie along with the peanut butter.  I use an organic one that is just pure blended peanuts with no palm oil or anything added.  Add in the honey and whisk everything over the heat until it is all incorporated.
At this point I like to add a pinch of salt as I find it works really well with the peanut butter, but you can omit this step if you want.
Now you have your fudge mix and you need to pour it into a mould.  I used a Tupperware that I'd lined with clingfilm but you could use a lined loaf tin, or even ice-cube trays or chocolate moulds, whatever you have to hand.
Place the Healthy Peanut Butter Fudge in the fridge for about 2 hours and then it is ready to eat.  Cut into 1 inch squares with a knife and it makes about 10-12 squares – then just try not to eat it all at once!  Grind a bit of coarse sea salt over the top and store it in the fridge between parchment paper (or in the freezer if it disappears too fast in the fridge as I've found).  Let it sit for about 5 mins to soften before eating if you keep it in the freezer.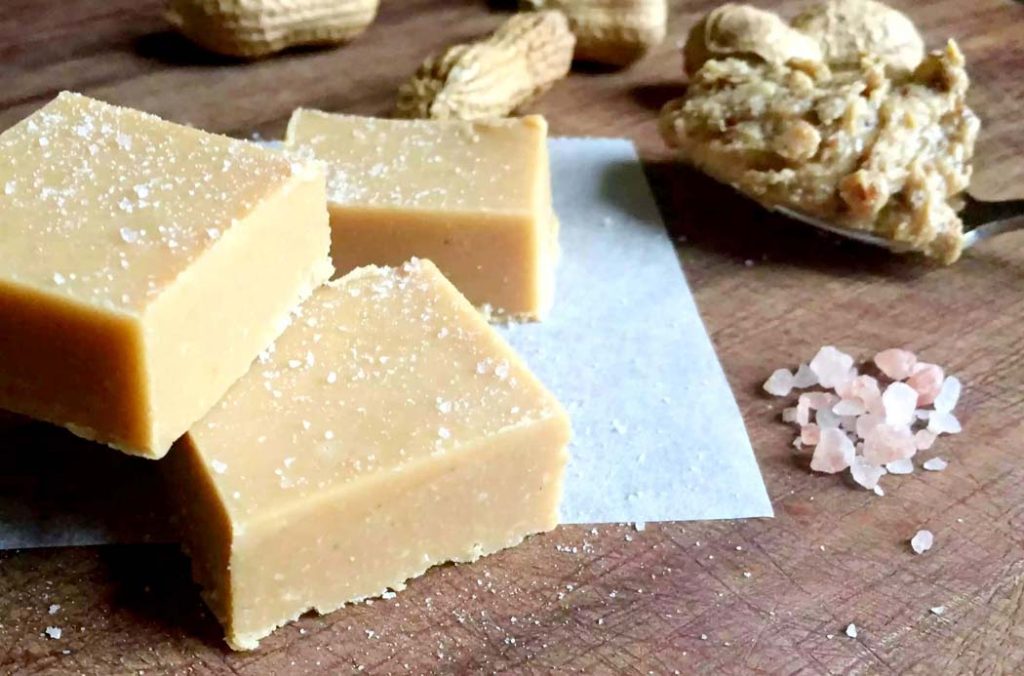 This stuff is absolutely amazing.  It tastes like the inside of a Reese's peanut butter cup but smoother and so sweet and rich! Its creamy and delicious and made with all natural ingredients so you can dial down the guilt factor a bit!  Great as a quick sweet treat or to have with a cup of coffee.  I promise you it will definitely hit the spot for any sugar craving!  If you're not a big fan of peanut butter or fudge you could try my healthy Coconut Ice or Salted Nut Brittle for a deliciously different sweet treat.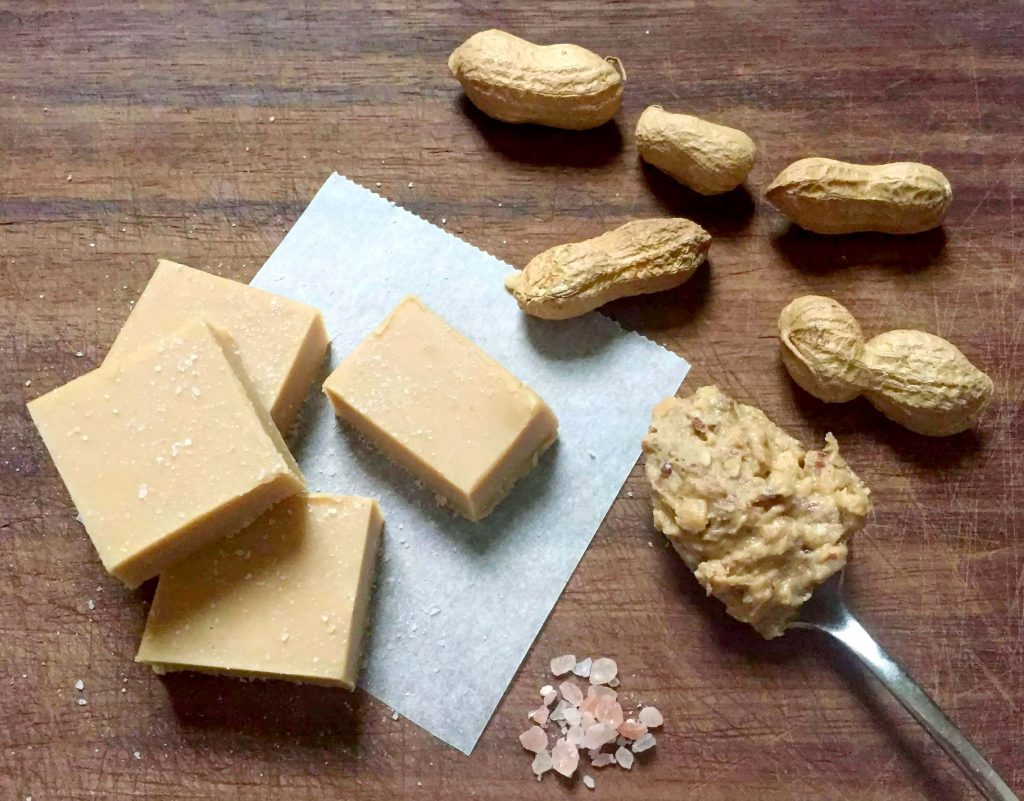 Melt or liquefy the coconut butter and peanut butter by standing the jars in a bowl of hot water for 5 mins and mix well.

Add all ingredients except the salt to a bain marie (a heatproof bowl over a saucepan of barely simmering water).

Whisk well over the heat until everything is incorporated.

Add a pinch of sea salt to the mixture. (Optional step)

line a mould (tupperware, baking tin or ice cube tray) with cling film.

Pour the fudge mix into the lined mould and freeze for 2 hours.

Cut into 1 inch squares and enjoy.

Store in the fridge or freezer.
Allergy & Dietary Information for Healthy Peanut Butter Fudge
This Healthy Peanut Butter Fudge recipe is Grain-Free, Gluten-Free, Dairy-Free & Refined-Sugar Free.  It's also suitable for SCD, Paleo & Vegetarian Diets.
See my Products Page for Ingredients & Bakeware that I recommend.
Pin it for later