Caviar has always been one of those things that has intimidated me a bit.  Great as a garnish on a canapé, blini or as a topping on sashimi but I've never really had it on its own.  The fantastic thing though is that it's a food that is great for my diet as it's completely grain, gluten and sugar-free.  Who says my diet has to be boring?  There's always room for a little decadence.   So how to taste caviar?  I did some research.
I knew that to taste and appreciate caviar correctly it has to be savoured on its own. The delicate flavour nuances can be overpowered by other foods so to reveal the true flavour it should be tasted by the spoonful.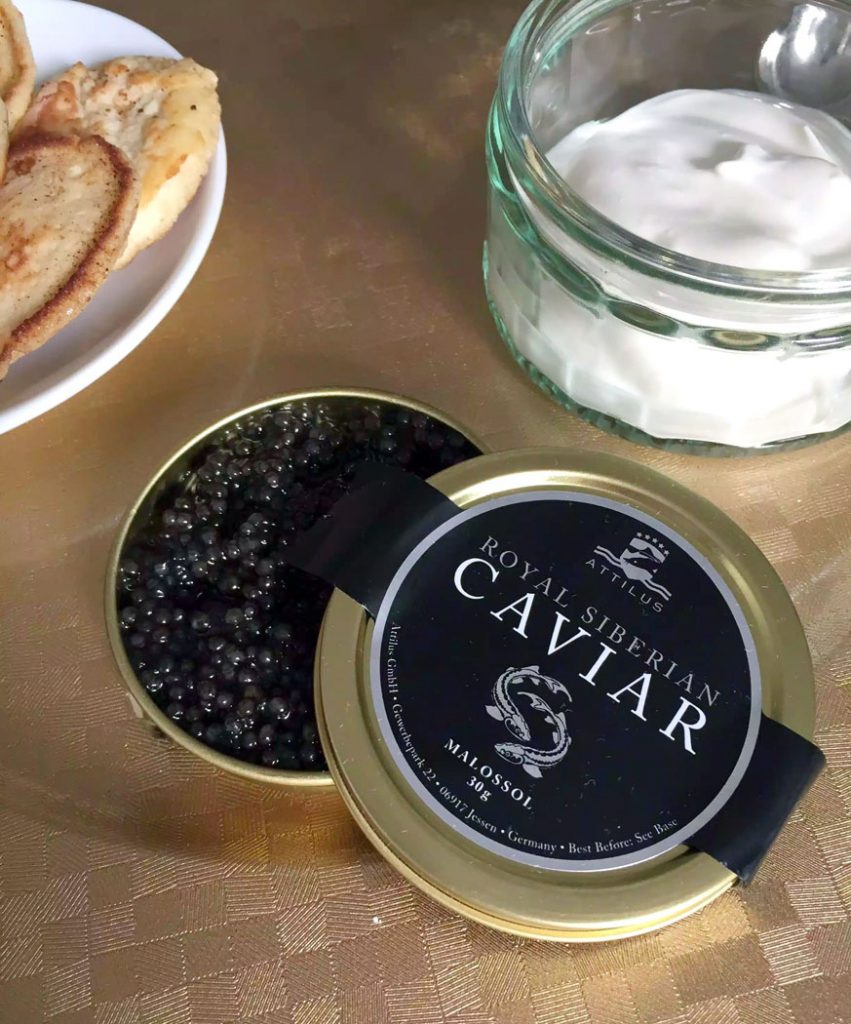 Step number one was to order the caviar.   This post is sponsored by Attilus Caviar for this experience and I was generously gifted the caviar by them.  They sent me two different types of caviar, Royal Siberian Caviar and Royal Oscietra Caviar.  This was perfect as it meant that while learning to taste caviar I could also do  a taste comparison between them.
The caviar arrived next-day delivery, packaged in a chilled, insulated container, as proper storage is crucial.  The correct temperature range for storing caviar is between -2 and +2ºC.   This meant it needed to be sent in a refrigerated parcel to maintain the low temperature.  Keep it in the lowest part of your fridge until you want to eat it!

Different Types of Caviar
Looking at the Attilus Caviar website I researched the two different types of caviar that I had received.  Both the Royal Siberian Caviar and the Royal Oscietra Caviar come from the sturgeon fish.  The first from the Siberian sturgeon and the second from the Russian sturgeon.
Royal Siberian Caviar can sometimes also be called baerii caviar.  The tasting notes provided by Attilus caviar suggest that it is 'recognised for its pure, elegant flavour and exquisite length which is both fine and clear.'  Both types of caviar are known as Malossol.  This means 'lightly salted' or that the salt content is less than 4%.
I invited some willing taste testers over so we could all learn how to taste caviar together.  I decided to make it a bit of a party so we popped open the champagne!   Even I, a complete novice know that you can't have caviar without champagne!  of course, you could also serve it the way the Russians do, with some ice-cold vodka!
When your guests arrive you should remove the caviar from the fridge and allow it to reach room temperature.  This should take about 5 minutes or so and will mean that the flavour will be more pronounced than if it was chilled.
How to Taste Caviar
Then it's time to taste the caviar.  I popped open the tins and was first struck by the difference in colour.  The Siberian Caviar was a black colour whereas the Oscietra Caviar was an olive-green colour.
Take a small spoonful of the caviar pearls.  Make sure to use a non-metallic spoon as the metal can alter the flavour.  The traditional spoon used is made from mother of pearl but you could use, plastic, ceramic or glass instead.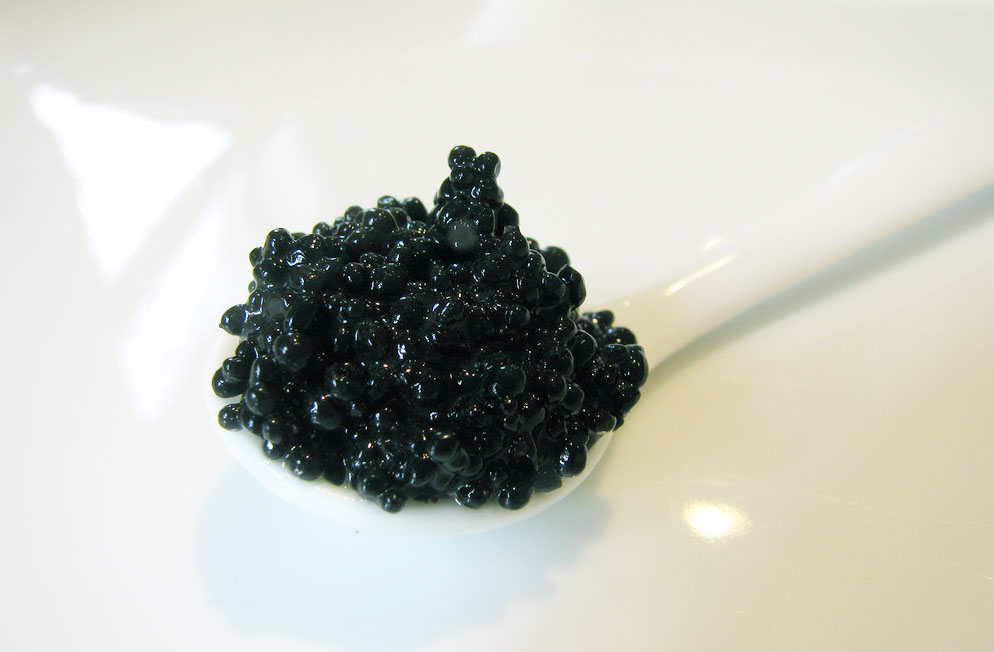 The authentic way to taste caviar is to tip a small spoonful of the eggs onto the back of your hand.  It should sit in the dip between your thumb and index finger. Then, toss the eggs into your mouth trying to avoid contact with your lips.  Press the caviar against the roof of your mouth with your tongue until the eggs pop revealing the flavour.
This tasting tradition came about because customers wanted to sample the caviar before tasting and vendors usually only had one spoon.  Also, human skin is at the perfect temperature to release the aroma of the caviar before tasting.
How did it taste?
To my surprise, the Oscietra Caviar had an almost creamy, buttery sweetness to it.  It had a slightly nutty flavour, almost like a hint of hazelnut.  In contrast the Siberian Caviar had a taste more like the sea.  It was saltier and brinier.  Both were delicious but my preference was for the nuttiness of the Oscietra caviar.
The fantastic thing about caviar is how healthy it is for you.  Full of antioxidants and vitamins it is definitely one of nature's superfoods.  It boosts your immune system which is a huge benefit to me as my Lupus means that my immune system is always compromised.  Anything that helps is a huge bonus in my book.
After we'd learned how to taste caviar properly I decided to serve the remaining caviar on some canapés that I'd made.  I know that caviar pairs well with eggs and fish so I made some Grain-Free Blinis and some Mini Dill Frittatas.  I topped both with smoked salmon, sour cream, dill and of course the caviar.
And the verdict?  Everyone loved them!  The caviar definitely added some decadence to the canapés and everyone was really impressed.
So why don't you have your own Caviar Tasting Party?  You can teach all your friends how to taste Caviar and  it makes for a fun and really different evening.  You can buy the caviar from
Attilus Caviar's website
– it really is the most amazing quality and they have a next day delivery service direct to your door.  Attilus caviar is fully ecologically friendly and sustainable.  The fish are cared for by experts so you can be sure you really are getting the best quality caviar.  Go for it – give it a try!
Special Offer
 Attilus Caviar is already very affordable as it comes direct from the producer.  However, they have a special offer on at the moment and over the Easter period with an 11% discount on the whole range. The offer is valid until the 2nd April and you can enter the code EASTER18 at the check out to receive the discount
Have you ever tried caviar before?  What did you think?
Pin How to Taste Caviar for later