This evening I'd arranged for four of us to go to the annual Wine Show, held at Chelsea Old town Hall on a Girl's Night Out.  We arrived at the wine show at 6pm and found that there were over 500 selected wines to taste from all over the world – right, time to get stuck in!
We started off with the bubbles and tasted so many different champagnes, cavas and proseccos but the find of the day was something called skinny cava – a cava that had been made with less sugar so that the whole bottle was only 175 calories!!  It definitely wasn't the best tasting champagne that we had but it was a novel idea that had everyone talking!
We tried a few whites but I didn't find any that I absolutely loved but we moved onto the reds.  Some lovely heavy reds from the New World had me making notes in my tasting book so I can look out for them next time I'm after something in the supermarket!
The building itself, Chelsea Old Town Hall, was absolutely stunning and I tried to get a photo of the gorgeous ceiling, once with us in and once, trying to be arty with a couple of wine glasses, but had an epic fail! Twice!!
The show finished at 9pm and knowing that we'd need to soak up some of the alcohol, Josephine had booked us into a nearby restaurant, called Nutbourne.  We jumped in a taxi and when we arrived we started with a nice bottle of red – not that we needed any more wine after all the tasting that we'd just done!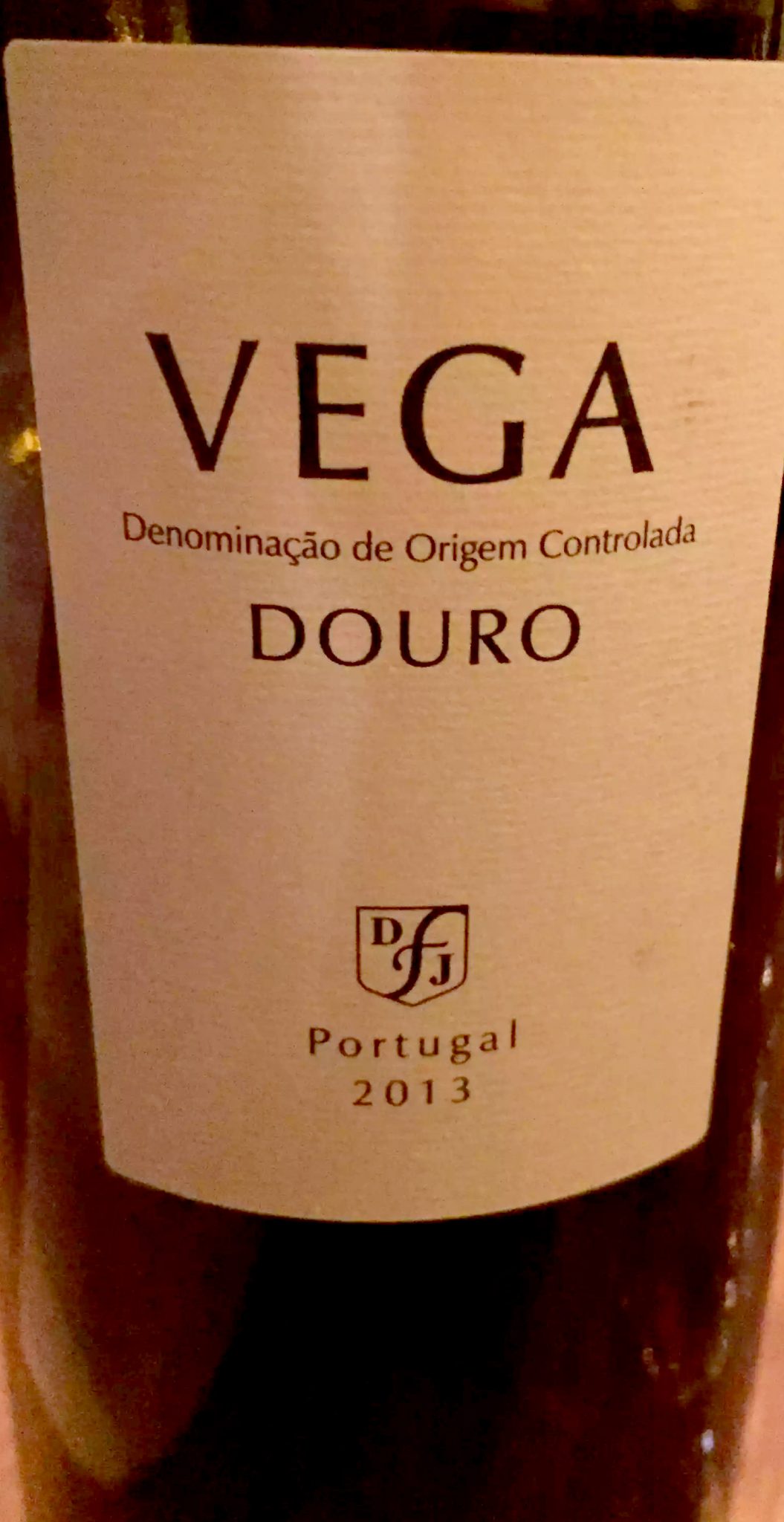 They brought us an amuse bouche of a squid ink prawn cracker with a seafood foam and salmon roe.  It was just all a bit too fishy for me, and don't get me wrong, I love my seafood but this just wasn't to my taste.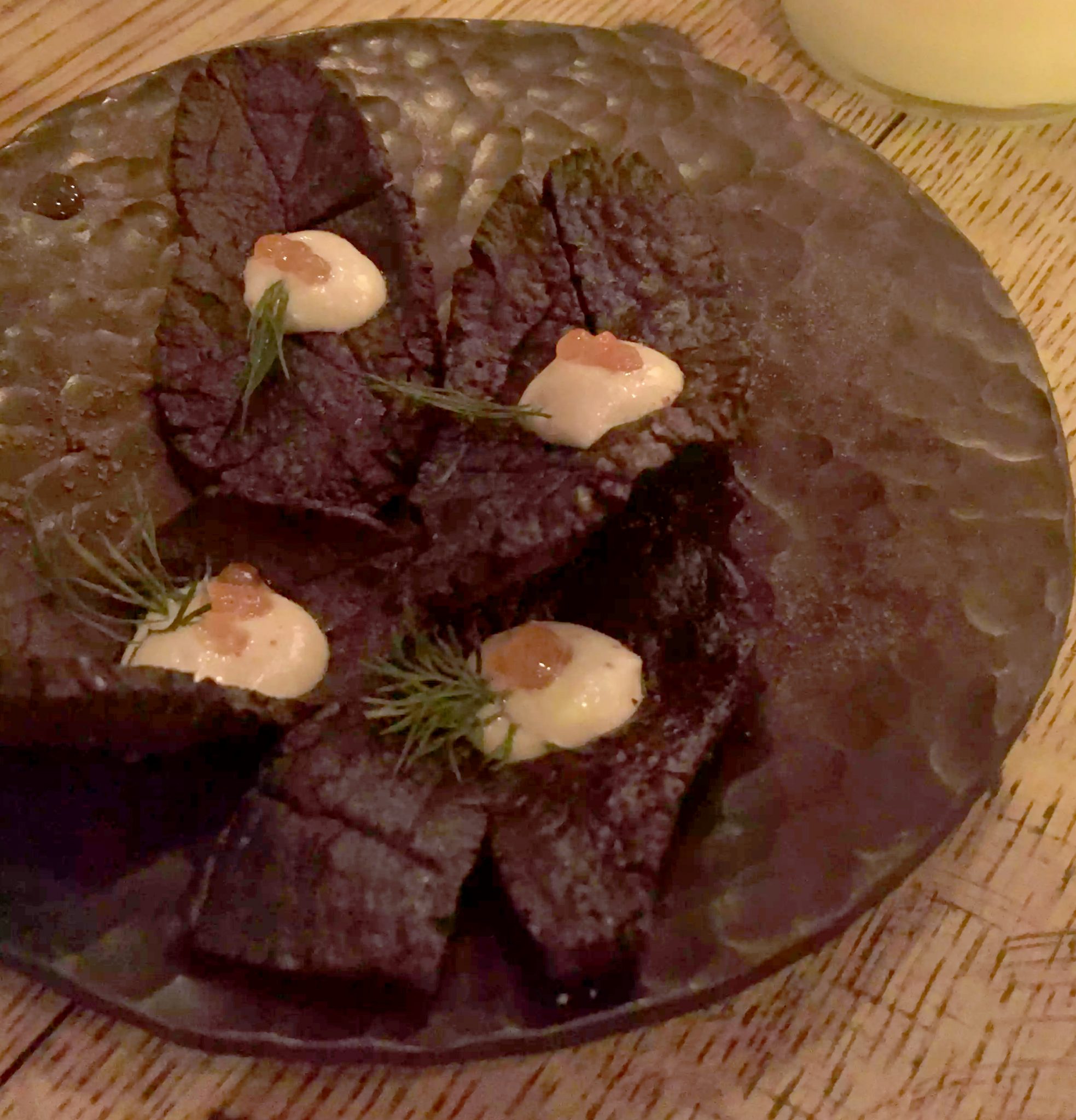 The menu was very inventive and we all had a lot of fun picking different dishes so we could try each others. 
The food was beautifully presented and we were all very impressed when it arrived.  I had ordered Langoustines with tomato, girolles, sea purslane and roasted pork bisque for my starter.  It was light and fresh and exactly what you'd want to start the meal with – I especially loved the mushrooms and tomatoes – my only criticism would be that the langoustine seemed a little mushy, it didn't have much bite to it, but it had such a lovely flavour that I overlooked it.
The other girls all had different starters – Josephine ordered the Grouse, served on a hot stone rock with plum jam, cheddar crumb and nasturtium.  I tried a bit, worried that it would be super-gamey like pigeon, which I ate once and didn't particularly like, but it was a bit more delicate and cooked very rare, almost like a carpaccio and I found it really tasty.
Katy had chosen the smoked bacon, potato spaghetti carbonara with chestnut mushrooms.  The spaghetti was actually made from the potato which was an interesting twist, but still not something I could try.  The other's all loved it though.
Wioletta went for the scallops with mushroom marmite, lemon potato puffs and viola and she won the starter contest – her's was definitely the tastiest.
Then it was time for the main courses – I'd ordered the fillet steak with truffle duxelles, as had Katy and I'd asked for it cooked rare.  It was perfectly cooked, I like my steaks charred on the outside but very rare in the middle and this was exactly that.  The truffle duxelles topping was to die for – everything's better when you add truffles to it, including steak – but I couldn't eat the jam, knowing it would have way too much sugar in for me.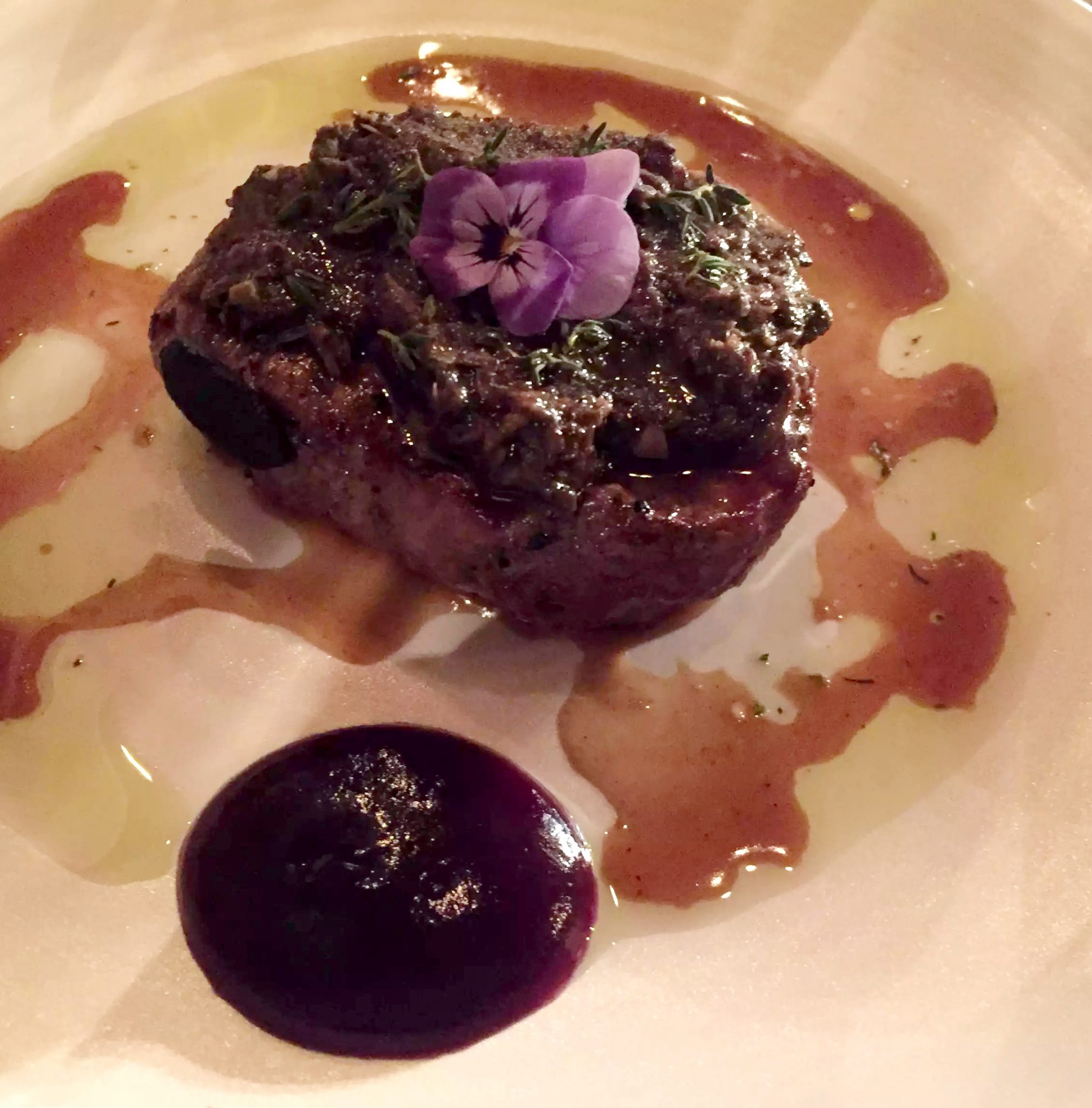 Josephine ordered the ox liver with mustard jus.  Having only tried calves liver before, I gave it a go, hoping to love it, but no – it tasted just like calves liver, and the taste is ok to me it's just not something I could eat a plateful of as it's so rich – one bite is always enough!
Wioletta had gone for the beetroot yoghurt pork steak with fennel and marjoram salsa and again, her's was definitely the most interesting but I was very happy I'd chosen the steak – it was just what I wanted and absolutely delicious.
We also ordered some sides to share between us all, heritage carrots with honey, almonds and thyme, wild mushroom ragu with celeriac puree and spaghetti squash with red peppers and samphire.  All were absolutely delicious, if I had to pick a favourite I'd say maybe the mushrooms, but honestly, all were really spectacular.
Too full for dessert we headed home to bed!