When I'm not eating and exploring, my other passion is wine.  In fact, I'm happiest when I can combine all three so I love visits to vineyards, wine tastings and trying amazing food and wine abroad.  It's definitely not a cheap hobby though so gifts are definitely appreciated.  I love receiving gifts of delicious wine or wine accessories as I know that someone has really taken the time to buy something with one of my passions in mind.  This Ultimate Christmas Gift Guide for Wine Lovers is sure to have something in it for the oenophile in your life.  I hope it helps!
Under £10 Stocking Fillers
If you've got plenty of empty wines bottle hanging around why not turn them into a feature?  For just £4 you can purchase one of these Bottle Cap Lights.  You pop the string of lights inside the bottle and put the cork in to create your own lamp.  Perfect for a table centrepiece or creating a cosy atmosphere
for dinner.  Cheap and beautiful at the same time!
Next up is the one things that no Wine Lover should be without.  This Wine Connoisseur's Accessories Gift Set is priced at £7.99 and contains a cork
screw, wine collar, foil cutter, bottle stopper and pourer.  Everything you need to open and serve the perfect bottle of wine in a presentation box!
£10 to £20
This Wine Breather  has been specially designed to provide just the right amount of aeration necessary.  It means that you don't have to prepare a fine bottle of wine in advance by decanting it.  It will aerate the wine allowing it to breathe in just a few seconds so that it is perfect for drinking almost as soon as you open the bottle.  At £13.99 it's perfect for anyone that loves a fine wine but isn't organised enough to remember to decant it n time. Or it's great if you have unexpected guests turn up and you want to offer them a drink straight away!  A very handy gadget that will come in super useful!
What goes best with wine?  Cheese obviously.  And this Cheese Board is the perfect way to display your snacks.  One of my favourite (lazy) meals is to chop up some cheese and some apple and celery and much it with a lovely glass of wine.  At £14.99, as the board quotes, 'There's always time for cheese and wine!'
£20 to £30
If you've ever fancied a glass of wine but not finished the bottle (I don't have this problem much!) then this OXO Good Grips Vacuum Wine Preserver will help keep the rest of the bottle fresh.  It has a pump action vacuum to draw the air out and comes with two rubber seals to
stopper the bottle.  Unfortunately this does mean there's not that extra excuse just to finish the bottle!  Priced at £27 it's a fantastic gadget to keep your wines drinkable for much longer!
Or how about simply giving the gift of wine?  With a Sipp Subscription Box you can have wine delivered to your doorstep!  Costing only £29 a month for 3 bottles,  they have a selection of wines that aren't available anywhere else.  Small batch wines from boutique vineyards mean that you get something really delicious to try.  You can choose from their monthly selection or be surprised with their choice for you!  Once you've got your wine you can use the app that comes with the subscription to find out more about each one.  Where it comes from, what flavour notes you should expect and what food to pair it best with!
What's more fun than your very own Personalised Bottle of Port for just £29.99.  The Port itself is great quality, a Late Bottle Vintage Variety, which is not always the case with these novelty gifts!  And it's always fun to see something made especially for you!  Perfect for sharing alongside a cheeseboard after your Christmas Dinner.
How about feeling like you're sitting in your own wine cellar, or even your own vineyard.  With these Wine Wallpaper Murals you can be surrounded by bottles or barrels all day long.  From only £26/m² you can make all your wine dreams a reality in your very own home!
£30 to £100
Who doesn't need an easier way to open a bottle of wine?  This Vertical Lever Corkscrew is only £35 and will make straining to open bottles a thing of the past.  It's the perfect gadget to get the cork out in one without it breaking off which it can sometimes do and requires little to no effort!
I love visiting vineyards so a Wine Tasting Experience or Vineyard Trip
would be an incredible gift.  I actually bought Dan a trip to the Bolney Wine Estate for Valentine's Day once and we loved our day there.  We also go to Berry Bros & Rudd for their tasting sessions occasionally and really love learning from the experts.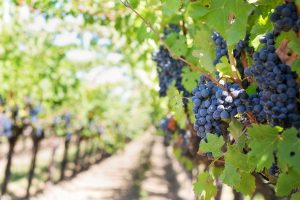 Over £100
And finally, for someone who really knows their stuff, there's no better gift than this Coravin Wine System.  Coravin allows you to drink fine wines without removing the cork so the wine doesn't spoil.  The wine is extracted through a thin needle that pierces the cork but it makes such a small hole that the cork re-seals itself afterwards.  The space left once the wine has been
removed from the bottle is filled with a pressurised gas and the wine stays fit to drink indefinitely.  Perfect if you have an amazing wine cellar and only fancy a glass sometimes instead of a whole bottle!  It's not cheap at £299 but when you're drinking expensive fine wines it means you're not wasting hundreds of pounds of delicious wine!
I hope something in this Christmas Gift Guide for Wine Lovers has tickled your tastebuds!  I can honestly say, the more you learn about wine, the more you appreciate it.  A little knowledge goes a long way and I hope you enjoy the journey!
Pin it for later – Christmas Gift Guide for Wine Lovers