These muffins do not have any added sugar!  They're just sweetened naturally with the bananas. The secret with this is using really ripe bananas.  They're so naturally sweet at the point when they're covered in brown spots that you really don't need any additional sugar which make them a perfect way to start your day.  Full of protein and good fats they are Low Carb and will keep you full until lunch without any kind of sugar crash.  Gluten-free, grain-free and dairy-free too, these Banana Cinnamon Breakfast Muffins are great for those on special diets such as Paleo, or the Specific Carbohydrate Diet.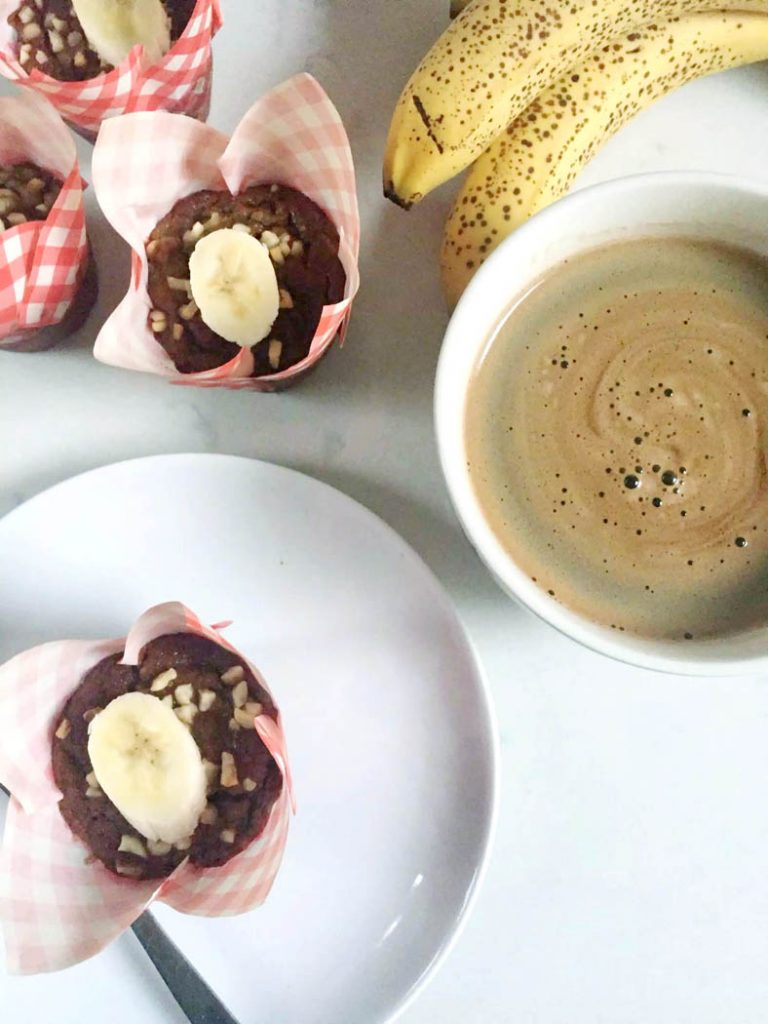 They're also incredibly easy to make!  Everything is done in one bowl so there's less washing up!  You start by pre-heating your oven to 180C (350F) and lining a muffin tin with muffins cases.
Next, peel the bananas and add them to a large mixing bowl.  Add the eggs, almond flour (ground almonds), cinnamon and melted coconut oil too.  Mash the ingredients (I use a potato masher) so that the bananas are broken up and distributed throughout the mixture and everything is thoroughly combined.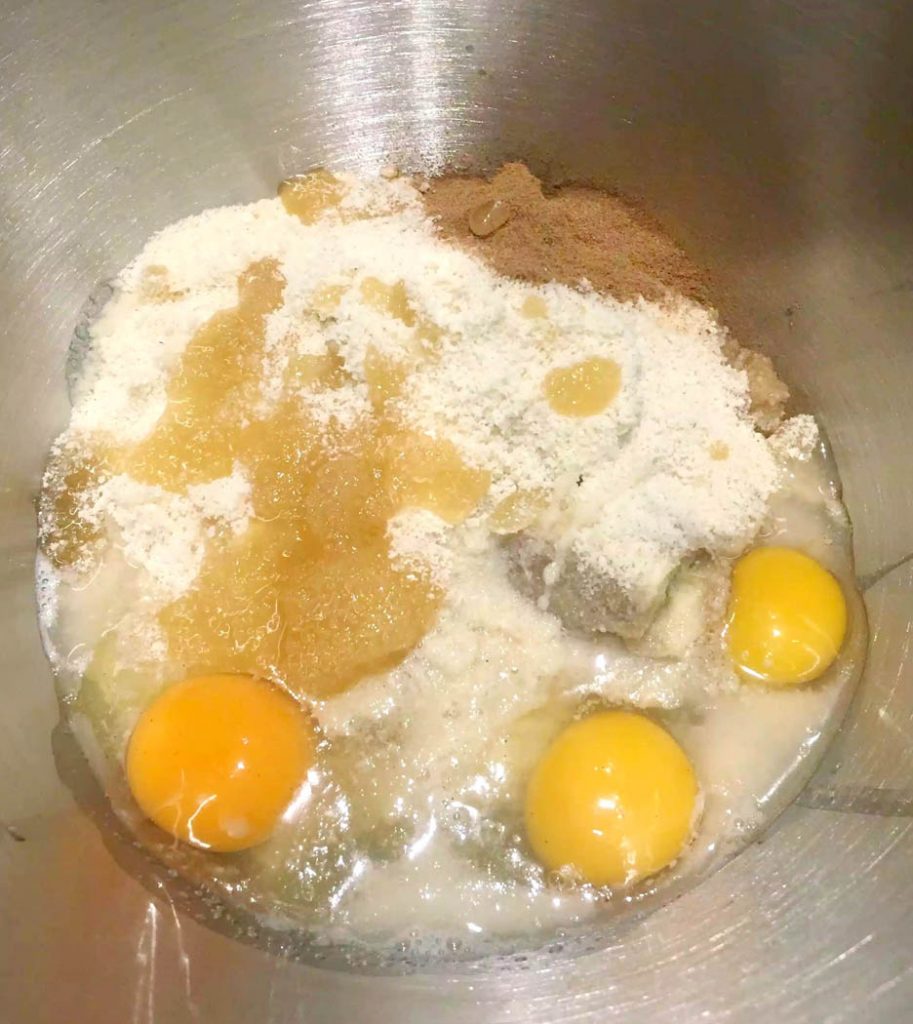 Add the bicarbonate of soda and mix again thoroughly.  Spoon the mixture into the muffin cases, filling them about two thirds full.  Sprinkle the nuts over the top.  I like to us chopped hazelnuts as I like the flavour combination but you could use any nuts you like.  Or you could leave them out altogether – 1 less step and ingredient to worry about!
Place the muffin tray into the pre-heated oven and bake for about 20 minutes or until a skewer comes out clean when inserted into the centre of the muffin.
These Banana Cinnamon Breakfast Muffins are best served warm straight from the oven or you can re-heat them for a few minutes.  You house will smell absolutely divine while these are cooking.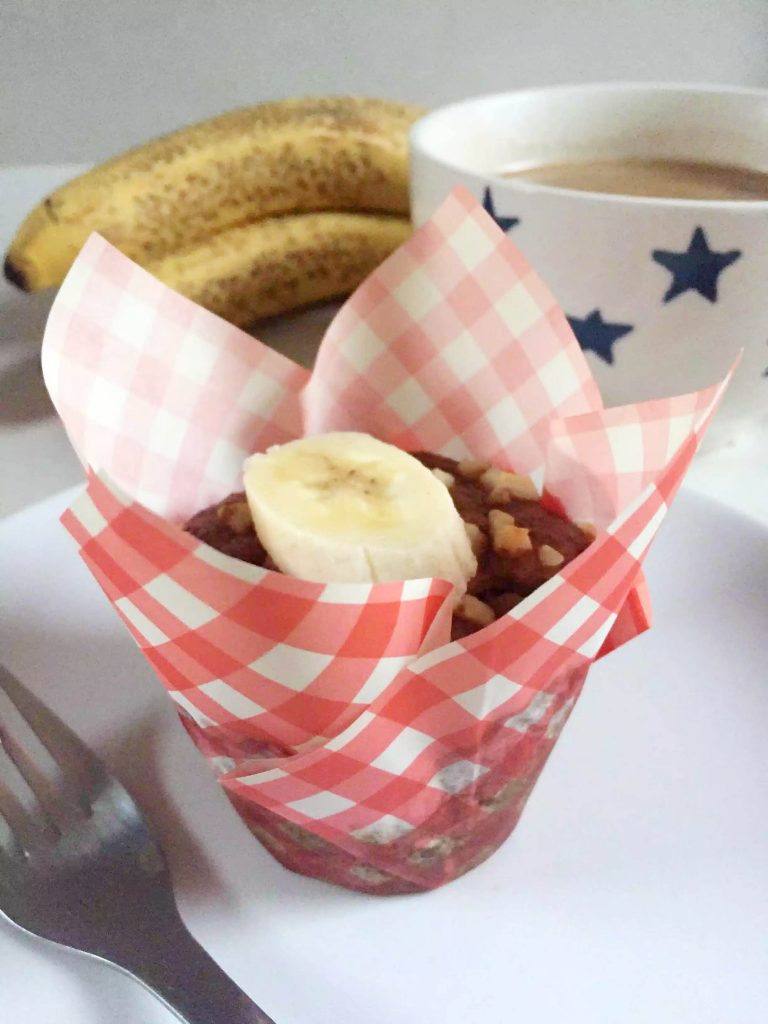 They're so delicious you could also serve them as a dessert or a snack.  No-one will guess they're refined sugar free or healthy!  If you love these, I have a slightly less healthier version for you to try as well.  My Chocolate Banana Muffins with Pecans are a more indulgent snack or my Grain Free Banana Bread makes a great tea-time treat!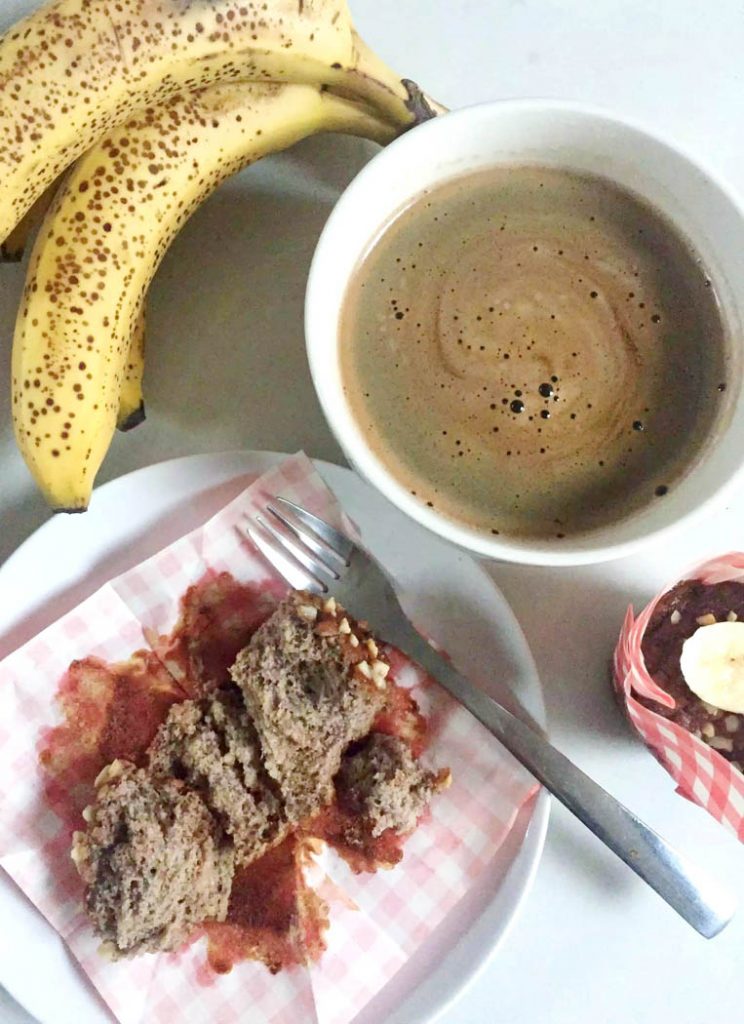 Preheat the oven to 180C (350F) and line a muffin tin with muffin cases.

In a mixing bowl, add the bananas, cinnamon, melted coconut oil, almond flour and eggs.

Mash well to ensure the bananas are broken down and all the ingredients are thoroughly mixed.

Add the bicarbonate of soda and mix thoroughly again.

Spoon the mixture into the muffin cases - about two thirds full.

Sprinkle with the chopped hazelnuts and bake in the oven until a skewer inserted comes out clean.

Top with a slice of banana and serve. Best served warm.
Allergy & Dietary Information for Banana Cinnamon Breakfast Muffins
This Banana Cinnamon Breakfast Muffin recipe is Grain-Free, Gluten-Free & Refined-Sugar Free.  It's also suitable for SCD, Paleo, Low Carb, & Primal Diets.
See my Products Page for Ingredients & Bakeware that I recommend.
Pin it for later