So the real reason that we had come to Siena for the weekend was for the wedding of a friend of mine, Mylene to her fiancé Tommaso (he's from Siena).  Mylene and I have known each other for 10 years since we lived in Paris together and it was a real privilege to be invited to her wedding.
The ceremony was to be held at 4pm in the Town Hall.  This was no ordinary Town Hall…it was one of the most beautiful buildings in Siena and situated right in the middle of the Palazzo di Campo, the main square (the building with the huge clock tower is the one the wedding would be held in!)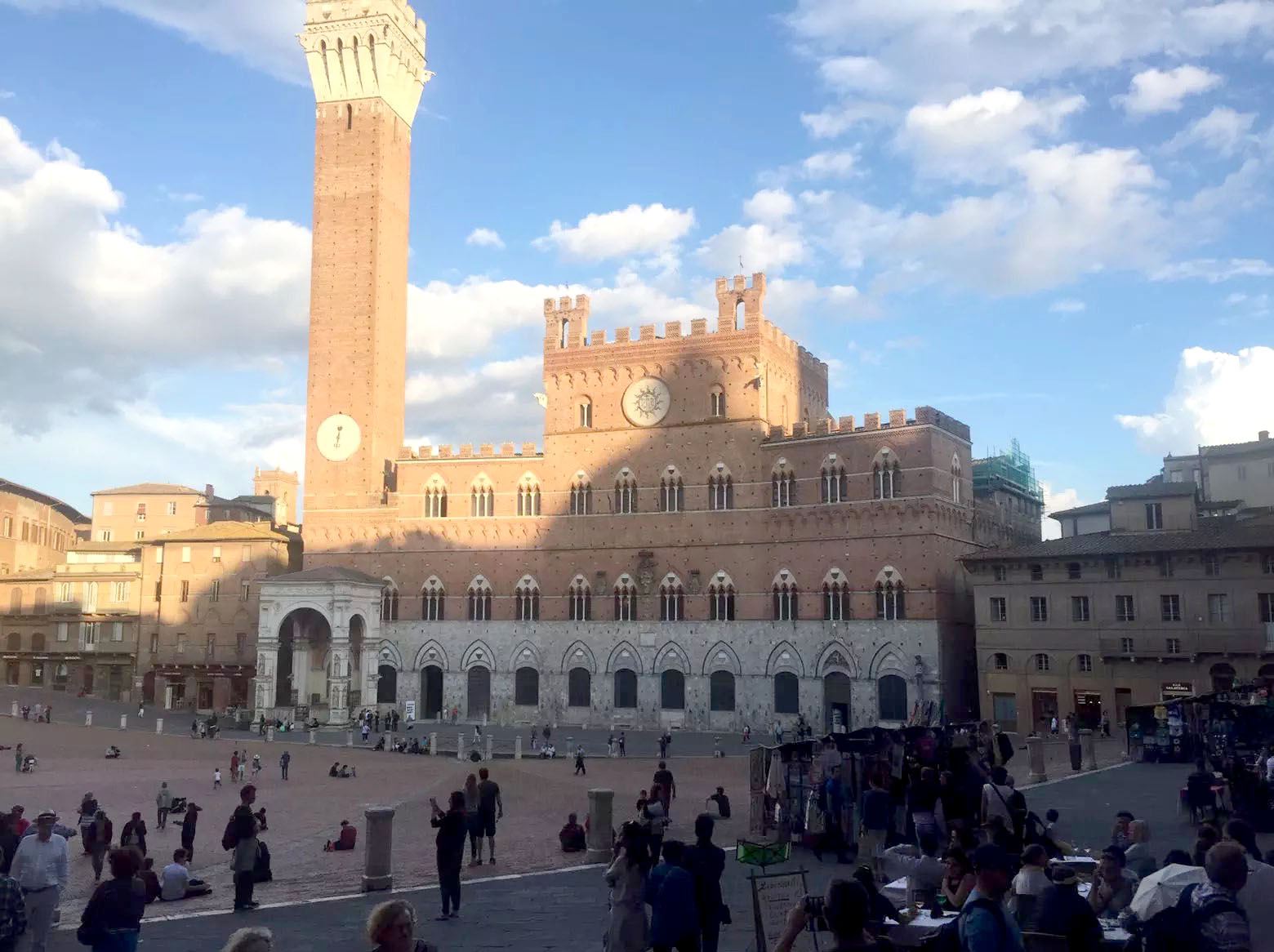 Because of this we attracted quite a crowd, everybody was waiting in the square to see the bride…
…and she didn't dissappoint.  Wearing a stunning pale pink gown by Inbal Dror she turned up with her parents and looked absolutely breathtaking.
Everybody wanted their picture taken with her and I managed to get a sneaky shot of Dan, Mylene and I!
Disclaimer:  All of the good photos in this blog post are shot by Harmony Lynn of Harmony  Lynn Photography – an amazing wedding photographer from Melbourne, Florida – check out her blog posts for the rest of the pictures from the day.  All of the rubbish photographs were shot by me!! 🙂
The ceremony was to be held in a part of the building with a huge beautiful medieval door as the entrance.
We were shown into a stunning room where the official ceremony was to be held.  It was a very official and administrative ceremony dictating the laws and legaglities of the marriage and it was performed in both English and Italian.  It was a short ceremony and after the rings were exchanged then Tommaso and Mylene were married.
After the ceremony we had a chance to wander round the beautiful palace while Mylene and Tommaso had their photos taken.
We went outside back into the square and formed two lines to throw confetti at the couple. Mr and Mrs Montagnani appeared and we showered them with white rose petals.
Then we all headed off to Villa di Geggiano, the venue where the reception was to be held.
It was about a 20 min drive away, up in the Tuscan Hills in the stately home of a vineyard belonging to the Bianchi Bandinelli family and they have lived there for nearly 500 years.  The house itself dates back to the 14th century and has been declared a National Heritage site of outstanding beauty.
While the bride and groom took photos in the beautiful grounds…
We started with canapes and cocktails in the rose garden.  It was a beautiful setting looking out over a view of the Tuscan hills and the gardens themselves were stunning.
We drank Prosecco or Aperol Spritzs and there was a never ending supply of canapés being brought out to us.  Everything from mozzarella and tomatoes to frittatas to deep fried courgette flowers and arancini.  Everything was delicious and we are plenty – but not too much as we knew we had a big Italan meal to come!
As the sun set we had the most beautiful view out over the hills and the most amazing sunset in shades of pink and yellow.
Then we headed inside for dinner Italian style, that meant a lot of courses!!  The room was beautiful and the table arrangements with huge pink roses were absolutely stunning.
Dinner started with a salad of pear and pecorino cheese and walnuts with a balsamic and honey dressing which was the perfect way to kick everything off, light and fresh but really tasty.
The next course was a porcini mushroom and truffle risotto and I knew I shouldn't but I couldn't resist having a taste.  It was delicious – the best dish of the evening I thought, cooked perfectly and creamy and gooey and what doesn't taste better when you add truffles!
The next course was a ricotta filled ravioli in a cherry tomato and basil sauce with pine nuts.  I had a sneaky taste of this one too, but it was easier not to eat all of this one as it was good, but not a patch on the risotto.
The last dish was a traditional Sienese dish of Cinta Senese Pork Fillet with Lard and Prunes.  I'd been hearing a lot about this dish since I'd been in Siena – it's from a special breed of pig, only found in Tuscany. It was very tender and not as fatty as other pork that I've eaten. Absolutely delicious and not a huge portion which was lucky as we were pretty full by then! And I loved the addition of the prunes that it was served with. The sweetness really complemented the pork and I ate the whole thing.
The food was delicious but the wine was outstanding.  Chianti Classico from the Villa di Geggiano vineyards.  Dark and powerful with flavours of cherry and violets, it was oaky and full of soft tannins – and very moreish!! We found out that they actually have a restaurant in Chiswick so it's on our list of places to eat at soon for another taste of their delicious wine!
Because the ceremony had been so administrative, Mylene and Tommaso had written some lovely heartfelt vows and they expressed these in front of all their guests at dinner – a tear or two may have been shed – they are obviously so completely in love that it shone through in their words for each other.  There were no other speeches from anyone else, so then it was time to cut the cake – a huge 5-tiered blue and white creation and we all had apiece for dessert.  Then it was time for the party!!
After we'd finished eating we headed back outside into the garden, grabbing a sparkler on the way out. We lined up along the path and created a corridor of sparklers for the bride and groom to walk through to the dance floor, which was outside in the garden. There was a dessert table and a cocktail table where people could get after-dinner drinks and sit around and chat, but most people headed straight for the dance floor. The DJ was great, playing a mixture of the classics and modern day songs with some Greek music thrown in to reflect Mylene's heritage – the Greek dancing was so much fun. I loved it!
We jumped in a taxi back to Siena at the end of the evening and fell into bed exhausted but having had such a fabulous day.