Tonight was the start of a new class at my local gym.  BODYVIVE which described itself as a mix between BODYATTACK, CX WORX and BODYBALANCE – all LES MILLS classes I've taken before and enjoyed so I wanted to give it a go.  It was a 45min class and the first 25mins were devoted to cardio, so very much like a BODYATTACK class.  Lots of jogging, jumping, squatting, lunging etc to keep the heart rate up and I was a sweaty mess at the end of it.  After that it turned to a mix of CX WORX and BODYBALANCE for about 15mins, doing toning, sculpting and balancing exercises with the help of weights and resistance bands.  It was challenging in a completely different way and my muscles are definitely feeling it.  The last 5mins were a cool down and stretching track including some yoga poses.  All in all I thought it was a great class – changing all the time so there wasn't time to get bored with any specific exercise or routine and I felt it challenged me in a way that the individual classes don't do on their own.  I'll definitely be making time to fit this class into my schedule more often.
After class it was back home to prepare dinner.  Tonight I'd decided on chicken breasts stuffed with feta and sundried tomatoes and wrapped in prosciutto (mainly because I had feta and sundried tomatoes to use up).  Recently I've taken to buying chicken breasts from Marks & Spencer as they seem to hold their moisture and not dry out during cooking, making them extra juicy.  So I used Oakham Chicken Breasts from M&S to make this recipe.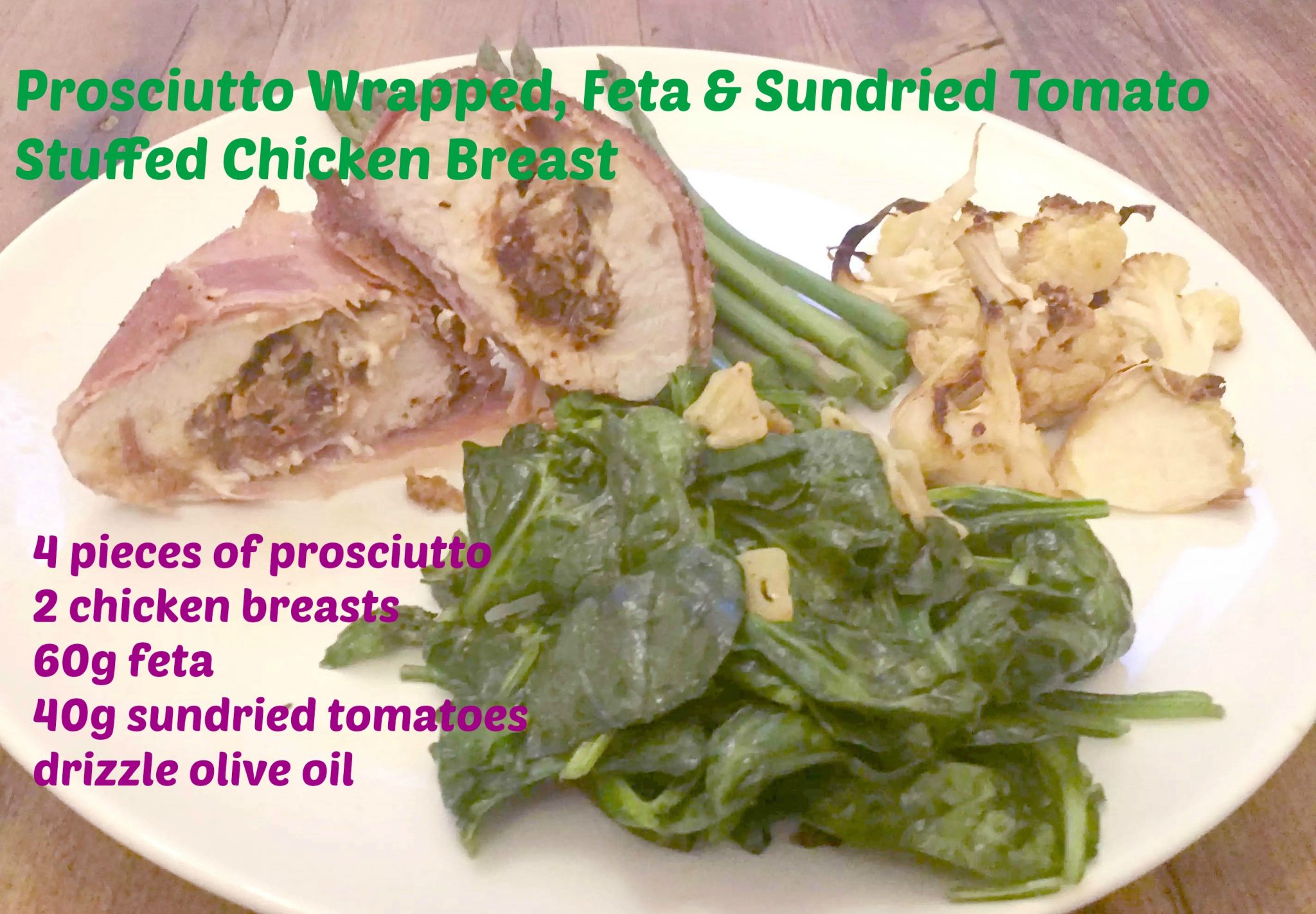 This recipe served the 2 of us and I started by crumbling the feta and chopping the sundried tomatoes and mixing them together in a bowl.  You could always leave out the cheese if you follow the Paleo Diet – or replace it with pesto)  Then Dan got involved too: he made his and I made mine so he could see how it worked.  I cut a slice on the side of the chicken breast and made a pocket in it, making sure not to slice through to the other side.  I stuffed the pocket with the sundried tomato and feta mixture and pulled the chicken skin closed, trapping the mixture inside.
Then I wrapped the entire chicken breast as tightly as possible in prosciutto, making sure to cover up the join where I had made the slit in the chicken.  A small drizzle of olive oil and a few grinds of black pepper and I put them into a hot oven (about 200C for 25-30 mins) while I prepared the sides.
After 25mins I pulled them out to check if they were done but they looked like they needed 5mins more.  Once done, I plated up with the vegetables, steamed asparagus, garlic spinach and roasted cauliflower and we were ready to eat.